Exclusive: Egypt Observers Report Ballot Stuffing, Bribes In Constitution Vote
Elections monitors describe an atmosphere of outright intimidation and chaos at polls across Egypt. "What I saw at the polling stations were not just problems, they were disasters."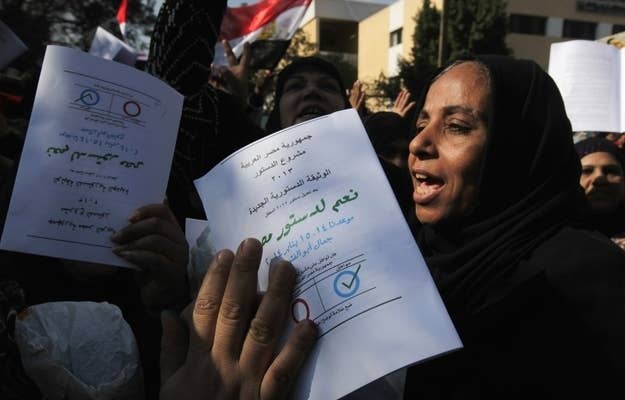 Threats of violence, bribes, and outright ballot stuffing were among the numerous complaints made during Egypt's two-day vote on the new constitution, according to documents obtained by BuzzFeed Wednesday.
More than 268 complaints have been made according to the Egyptian National Council for Human Rights, the largest organization taking part in the Egyptian Coalition to Observe the Elections (ECOE), but many more have complaints have streamed in from the more than 50 smaller groups taking part in monitoring the vote.
An overview of their findings show the extent to which the vote on Egypt's new constitution has become a battleground between pro-military groups urging a "yes" vote on the constitution as an endorsement of Egypt's military-led government, and the pro-Muslim Brotherhood groups who have attempted to disrupt the vote, which they see as part of an illegal, military-led coup of the country. Egyptian army chief General Abdel Fattah al-Sisi, is widely expected to run for president if the voter turnout on the Egyptian constitution is higher than that of previous votes, an action he said will show him that the Egyptian people have given him a mandate to run for office.
Egyptians who wanted to go to the polls these last two days, had to contend with bribes from both sides of the political spectrum in cases described to BuzzFeed Wednesday.
"What I saw at the polling stations were not just problems they were disasters," said Sherif Shalenda, head of "My Rights" NGO, which helps handicapped people in Egypt, and was one of the monitoring groups approved by the ECOE. He described calendars being handed out as small gifts to Egyptian voters by army personnel stationed inside the polling station. He also reported seeing explicit cases of ballot stuffing, "I saw two women taking extra ballots and putting them in the box. Nobody saw them."
Across polling stations, monitors saw police and election officials urging people to vote in favor of the constitution, and encouraging pro-Sisi chants in the polling booths.
"This was something widespread we saw that was disheartening, to say the least. There was a strong strong feeling in the polling station that no was not an option," said one international election observation monitor, who could not be quoted by name because he had not been approved to speak to the press. "There was strong intimidation. If you were in that polling station, you were voting yes."
He added that due to high rates of illiteracy in Egypt, army and police officers often helped voters fill out their ballots.
"They would say to them, 'you want to vote yes, is that correct?'" he said. "It was not the type of situation where the voter could then say no."
Of dozens of polling stations visited by BuzzFeed over the course of the two days, not a single voter would admit to casting a ballot against the constitution. On Tuesday, as voting began, Egyptians who had gathered in the upper-class neighborhood of Zamalek tried to create a festive atmosphere, waving Egyptian flags and chanting Sisi's name.
"Why would I have a problem with the polling officials urging us to vote yes? I consider that to be part of them doing their duty for Egypt," said May Fahmy, a 23-year-old student.
Perhaps tellingly, only ten complaints were made over advertisements and rallies at polling stations urging people to vote "Yes," – despite the fact that nearly every one of the thousands of polling stations in Egypt had posters urging people to vote in favor of the constitution, while some even had marching bands and singers praising the military and urging a yes vote.
Egyptian voters were also being pressured by pro-Muslim Brotherhood groups who attempted to keep them from the polls. Complaints received by the ECOE ranged from Muslim Brotherhood-linked groups bribing voters in upper Egypt with blankets, to blocking roads with their cars in an effort to stop people from the villages from reaching polling stations.
ECOE monitors said they had recorded Broterhood supporters offering gifts to voters in the Bene Sweif area of upper Egypt if they agreed to hand over their ID cards for two days. Without IDs, Egyptians cannot vote.
The most serious complaints were from areas of Egypt where pro-Muslim Brotherhood protesters clashed with police, leaving 8 people dead on Tuesday. In one incident in the upper Egypt city of Suhag, a clash in front of a teaching hospital left six Egyptians dead, including 14-year-old Ibrahim Sultan. Two policemen, including local police chief Ahmed Abedel Hamid, were injured with shots to the leg an voting was disrupted for several hours.
In another case, a protester named Mahmoud Said Gomah was killed by a shot to the chest in the Nasr City neighborhood of Bene Sweif, after protesters clashed with police.