Elusive Gaza Cease-Fire Remains Elusive Despite Kerry Efforts
After a long term cease-fire fails, a 12-hour cease-fire will reportedly go into effect on Saturday.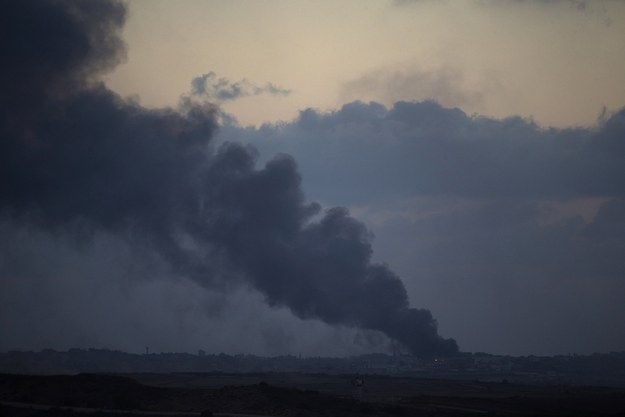 RAMALLAH, West Bank — U.S. Secretary of State John Kerry said Friday that no cease-fire deal had been reached yet to stop the fighting raging between Israel and the Gaza Strip.
Kerry, who has been spearheading international efforts to reach a cease-fire, said he remained hopeful that both sides would agree to a deal he presented on Friday, but that at the moment they "still have some terminology" to agree on.
"They may have rejected some language in the proposal within the framework ... but there was no formal proposal submitted from me," he said.
Kerry's proposal is only a temporary fix to the many issues on the table between Israeli Prime Minister Benjamin Netanyahu and the senior Hamas leadership that governs the Gaza Strip.
Hamas demands the release of Palestinian prisoners in addition to an end to the 7-year-old blockade imposed by Israel and Egypt after the group seized control of Gaza in June 2007. Israel has said that it will not withdraw from Gaza until it destroys dozens of attack tunnels built by Hamas that run from Gaza into southern Israeli communities. In recent days, Israeli officials have also said that they would like to see a "demilitarized" Gaza Strip.
Unable to convince the two sides to accept an Egyptian proposal for a truce last week, international players are now working toward a seven day halt in fighting that they hope to leverage into a longer-lasting cease-fire.
"They can't get anyone to agree on a truce so they thought a seven-day break was the best they could do," said one Palestinian official involved in the talks, who spoke on condition of anonymity. "Now they can't even get seven days, so they are talking about 12 hours."
Kerry said that Netanyahu had agreed to a 12-hour humanitarian cease-fire, which would allow desperately-needed aid into the Gaza Strip. Haaretz, however, reported that Netanyahu and his cabinet had rejected Kerry's proposal, and that Israeli Defense Minister Moshe Ya'alon told soldiers Friday night "to be prepared for the possibility IDF will be ordered to expand Gaza ground operation very soon."
In Gaza, fighting continued even as truce efforts were being discussed. Israeli airstrikes hit more than 80 sites in Gaza, among them the home of Salah Abu Hassanein, an Islamic Jihad leader, who was killed along with his sons, according to Gaza's health ministry. Militant groups in Gaza fired more than 50 rockets at Israel Friday, including a volley of long-range rockets which were shot down over the central Israeli city of Tel Aviv.
The death toll in Gaza now stands at more than 840 people, mainly civilians, while Israel announced that a soldier died in Gaza early Friday, brining the Israeli death toll to 38 people, mainly soldiers. In the West Bank, five Palestinians have been killed in demonstrations against the Israeli offensive in Gaza over the last 24 hours.
Sheera Frenkel is a cybersecurity correspondent for BuzzFeed News based in San Francisco. She has reported from Israel, Egypt, Jordan and across the Middle East. Her secure PGP fingerprint is 4A53 A35C 06BE 5339 E9B6 D54E 73A6 0F6A E252 A50F

Contact Sheera Frenkel at sheera.frenkel@buzzfeed.com.

Got a confidential tip? Submit it here.