Egypt's Sisi Finally Announces What Everyone Knew: He's Running For President
Even his supporters are asking: "Have we invited back a dictator?"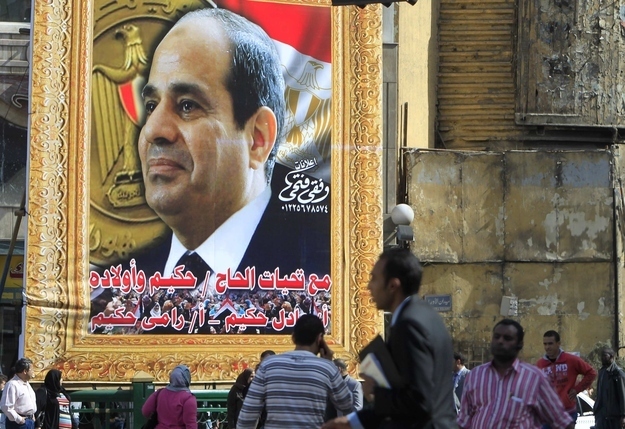 CAIRO – Egyptian army chief Abdel Fattah el-Sisi ended months of anticipation Wednesday when he packed his desk in Egypt's Defense Ministry, handed in his resignation letter to the army's top brass, and announced his candidacy in Egypt's upcoming presidential elections.
He took advantage of his last hours in military uniform to record a statement aired on Egyptian State TV and re-broadcast on most of Egypt's cable news outlets. He told Egyptians, "I give up the uniform to defend the nation... I can't offer miracles, but I can offer hard work."
"My nomination for office should not deny others their right and duty to run if they see themselves competent to undertake the responsibility. I will certainly be pleased with the choice of the people and the winner of the voters' trust," said Sisi.
As soon as the announcement ended, Egyptian State TV began airing a documentary about his achievements in the military, and radio stations began playing nationalistic songs peppered with enthusiastic comments about his "handsome appearance" and "wise words."
Sisi's announcement followed months of near-announcements by the army, foreign leaders, and newspaper editors.
"There is no surprise here, can't we just save everyone the time and energy and have Sisi announce he is the president, instead of a candidate?" asked Majed Salim, a political science student.
Egyptian military officials told BuzzFeed they hoped the upcoming elections, expected to be held in the coming months, would fulfill Egypt's "democratic roadmap" as outlined by the U.S. government, and allow the full restoration of aid to Egypt.
"We believe that the elections process which will happen in these next few months will satisfy the White House, even though they haven't told us exactly what they want to see from us we are sure these elections will be democratic," one senior Egyptian military officer said during an off-record briefing this week.
Secretary of State John Kerry said earlier this month that he hoped to resume military aid to Egypt in the "days ahead," a move that would require the U.S. government to acknowledge that Egypt is making progress on what is loosely being called a "democratic roadmap." In the weeks since, however, Egypt has taken a number of steps that have drawn the criticism of the international community, and led critics to ask whether the U.S. would not be supporting an ever-harsher totalitarian rule if it backed a Sisi presidency.
In the 48 hours leading up to Sisi's campaign announcement the following events occurred in Egypt:
An Egyptian judge sentenced 529 people to death in the largest mass death sentence in modern history.

The same judge held the opening trial session for charges against 683 prisoners, while Egypt's judiciary announced that in a third case over 900 Egyptian prisoners will stand trial together for being part of the Muslim Brotherhood and supporting terrorism.

Three Al Jazeera journalists, held in jail for months on charges including harming Egypt's national security and doctoring footage – though prosectors couldn't name said footage – were denied bail.

And on Wednesday, an Egyptian student was shot and killed by Egyptian police during a protest against the verdicts of the Egyptian courts.
The U.S. has stuck to its line that Egypt is on the road to democracy. "If Egypt's leaders want to ensure a political transition to democracy that ultimately improves the stability and economic prospects of their country and their people and that's respected by the Egyptian people, they must unequivocally ensure an environment that is free of intimidation or retribution. This includes ensuring due process and fair trials for all Egyptians accused of crimes," the State Department said in a statement Tuesday.
The initial excitement over Sisi has begun to dwindle in some corners. "Even Egyptians who very much loved Sisi when he got rid of the Muslim Brotherhood in the summer are starting to have questions about what we invited back now," said one Egyptian editor, who helped start a "grassroots campaign" to elect Sisi but admitted he was now having second thoughts. He spoke on condition of anonymity because he was still involved in the campaign to elect Sisi. "Have we invited back a dictator? We may have to admit to ourselves that is exactly what we did. But now, it is too late. He is here and it is better to accept him and be seen celebrating him than try to be on the opposition."
While Sisi is widely expected to win the popular vote, few know his campaign platform, or his plan for solving a multitude of crises expected to hit Egypt.
"Everyone was so excited for him to become president because we thought he would be the miracle, the answer to everything to making it better," said Mahmoud Mazzar, a 34-year-old shopkeeper in Cairo. "But that was months ago, I think people now have more questions, they see more problems and they are getting frustrated and want him to fix it already."
For many in Egypt, the nationalistic fervor that swept through the country following the July 3 military ouster of the Muslim Brotherhood government has faded as rising prices, persistent blackouts, and high unemployment have taken root. The imprisonment of thousands of people that began with Muslim Brotherhood members and supporters has broadened to include secular activists, and months-long detention of citizens without trial.
Sheera Frenkel is a cybersecurity correspondent for BuzzFeed News based in San Francisco. She has reported from Israel, Egypt, Jordan and across the Middle East. Her secure PGP fingerprint is 4A53 A35C 06BE 5339 E9B6 D54E 73A6 0F6A E252 A50F

Contact Sheera Frenkel at sheera.frenkel@buzzfeed.com.

Got a confidential tip? Submit it here.