Egypt's President Just Passed A Law That Would Allow Him To Free At Least One Of The Jailed Al Jazeera Journalists
The new law would grant the Egyptian president the authority to send foreign nationals on trial in Egypt back to their home countries.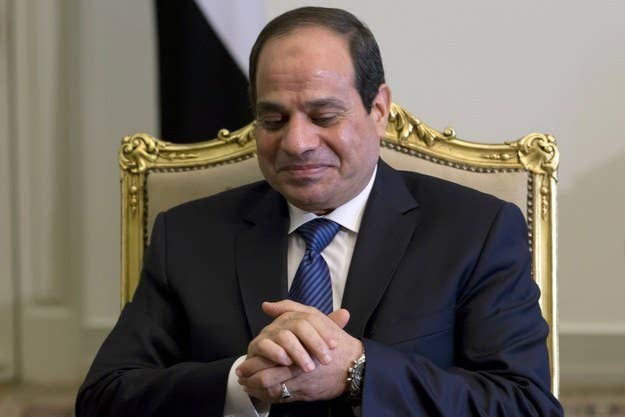 Egypt's President Abdel-Fattah El-Sisi announced on Wednesday that he had issued a decree that would allow him to transfer non-Egyptian nationals from Egyptian courts or prisons back to their home countries, where they could be tried or serve their sentences.
The decree stipulates that the cabinet has to approve the transfer of the foreign nationals, and that the request for their transfer must be made by Egypt's general prosecution.
'This law was issued to uphold the interest of the state and to maintain the international image of Egypt," Presidency Spokesman Alaa Yousef said in a press conference on Wednesday.
The decree gives hope that at least one of the three Al Jazeera journalists, now in prison for more than 300 days, could soon be released. Peter Greste, an Australian national, was only in Egypt a few weeks when he was arrested and then tried on charges of spreading false news and supporting the Muslim Brotherhood.
Al Jazeera did not immediately respond to BuzzFeed News' request for comment.
Convicted with Greste were Egyptian national Baher Mohamed and dual Egyptian-Canadian national Mohammed Fahmy.
It was unclear on Wednesday whether Sisi's new decree could also be applied to Fahmy. In the past Egypt has not recognized dual nationals, and insisted that those holding two passports be tried in Egyptian courts first and foremost as Egyptian nationals.
Fahmy has recently received new representation from the lawfirm of Amal Clooney. Last week, her firm filed a petition calling on the Egyptian government to release Fahmy, calling the trial against him "fundamentally unfair and his imprisonment a travesty of justice." The petition revealed Fahmy needed urgent medical treatment for hepatitis C and a shoulder injury that had worsened during his time in prison.