Egypt's Gun Boom
"Business is better now than ever before," one arms dealer said.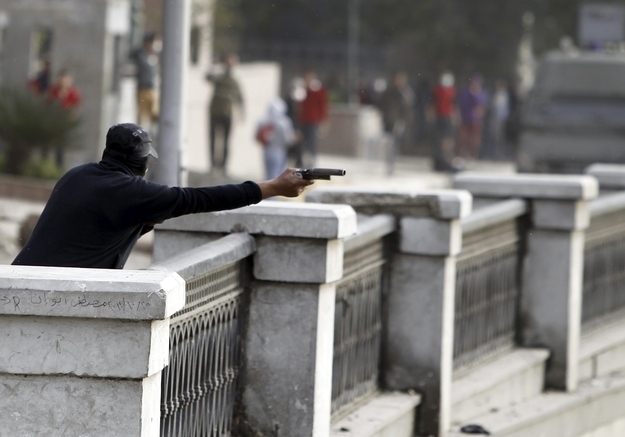 CAIRO, Egypt — Ashraf el-Sobky bought a handgun for his family last year but is now looking to upgrade. The 39-year-old lawyer drove from his middle-class Cairo neighborhood of Dokki this week to visit his family in upper Egypt and voted in the referendum on the new constitution there. In the small and often quarrelous atmosphere that has overtaken the villages there, a hunting rifle — or something — is needed to keep his family safe.
"Egypt today is not safe. Everyone knows that you have to have a gun to protect yourself," he said. "There are thieves, criminals, and terrorists. These are dangerous times."
As Egyptians took to the polls this week to vote for their third constitution in as many years, one issue was raised again and again: "stability." When asked what they meant, many described a yearning for safety for themselves and their families, and said they were exhausted by the last three years of political turmoil and uncertainty over their country's future. On Tuesday morning, just hours before the polls opened for Egyptians to begin voting in a nationwide referendum, a small bomb exploded in the working-class neighborhood of Imbaba. El-Sobky said that for him it was the final straw. Not only did he go vote in favor of the constitution, he forced his wife and two brothers to do the same.
"I am not voting for the constitution because I like it. I haven't even read it, and as a lawyer I can read and understand such things," el-Sobky said. "I am voting in favor of the constitution because I hope it will bring stability and military order to Egypt."
Various criminal groups, petty thieves, and militant organizations have taken advantage of the upheaval in Egypt to try to expand their operations. Egyptians now worry about violence ranging from politically motivated shootings and bombings, to random street crime. Egypt's interior ministry told BuzzFeed that gun crimes in Egypt have risen by over 250% percent since 2011.
Homicides in Egypt tripled from 774 in 2010 to 2,144 in 2012, a figure that includes some killed in politically charged protests breaking out sporadically throughout the country, according to a recent report in the Financial Times that cited Egypt's interior ministry. Home invasions jumped from 7,368 in 2010 to 11,699 in 2012, while armed robberies went from 233 in 2010 to 2,807 in 2012, it said.
Kidnappings, bombings, and assassinations that were once limited to Sinai have now found their way into Egypt's largest cities. Last month, a bombing in the Nile Delta city of Mansoura killed 16 people, and assassinations have targeted Egyptian ministers in Cairo. Egyptians, especially those with political connections, have started to hire bodyguards, in addition to arming themselves.
According to several weapons experts and black market arms smugglers interviewed by BuzzFeed, the price of a gun in Egypt has increased tenfold in the last three years. A Russian-made Kalashnikov that would have been purchased for $500 in 2011 would now cost nearly $5000 on the black market.
"It's because there is so much demand for a gun that they can charge whatever they want," said el-Sobky. "Egyptians are this desperate for safety and protection."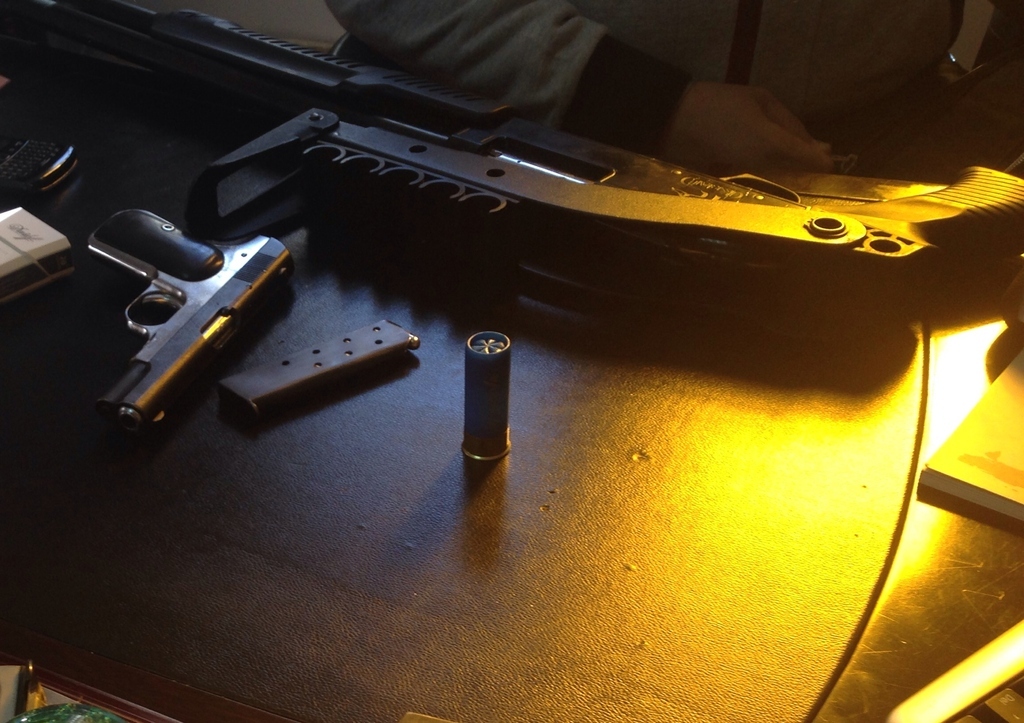 Online forums, including several Facebook groups, have sprung up to deal guns online. In the comments, people ask if they can get a price reduction on the gun, and if it's possible to buy more than one.
As Gen. Abdel-Fattah el-Sissi, the head of Egypt's army, likely readies a run for the presidency, he appears to have chosen on a platform of "restoring stability." Egypt's constitutional referendum, the results of which are expected in the next 24 hours, was seen as a final confirmation of public support for his campaign before he throws his hat into the ring. For el-Sobky, the prospect of a military leadership similar to that of the longtime government of Hosni Mubarak, ousted by popular protests in 2011, may be a return to the past, but it also means a return to more stable times.
"In the last two years I have seen people dead in the streets; a neighbor's son was shot and almost died when someone tried to steal his phone. This is not an Egypt I feel safe raising my family in," said el-Sobky.
Mokhtar el-Shazly, a lawyer, also said that he has recently bought new guns for himself and his family, after witnessing the new crime wave in Egypt firsthand.
On the night of Aug. 2,2011, el-Shazly was leaving a friend's home in downtown Cairo when he heard a shot fired. He then saw the figure of a man, lying in the middle of the street, who had just been shot in the thigh. He said he rushed him to the hospital, and only later discovered from police that the man had been shot by thieves trying to steal his cheap mobile phone.
"Different kinds of criminals appeared in Egypt after the revolution of 2011; they were opportunists and they are desperate to steal anything," he said. "I became worried because I realized that a mobile phone worth 50 Egyptian pounds [$8] is worth killing a person for."
In his office in Cairo's 6th of October suburb, el-Shazly showed BuzzFeed some of the weapons he had collected, including various shotguns. His favorite, he said, was an American-made Colt model 1903, passed down from his great-grandfather. It's one of the rare registered weapons in Egypt.
"This is legal because my great-grandfather was a parliamentarian. This was a gift to him and so it was legally registered in Egypt," said el-Shazly. Most of his other guns, he added, were not.
"In our homes in upper Egypt, we have submachine guns and other things. This has become a normal thing for us, and for every family," he said. "It used to be that you would only bring your gun to a wedding, to shoot in celebration, now you need it for protection."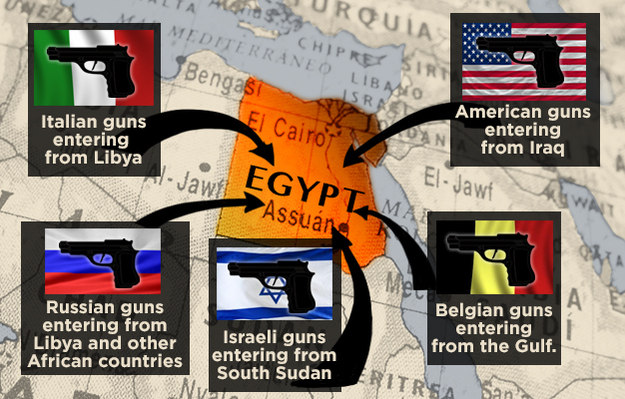 Guns have been streaming into Egypt from surrounding countries in recent years to fill the demand, according to one black market arms dealer who spoke to BuzzFeed on condition of anonymity, due to his trade.
"Most of our weapons come through the Western desert, from Libya and Sudan. Those are big markets because they have both had wars," said the arms dealer, whose family has long been involved in the Egyptian military and in intelligence. "Business is better now than ever before. People are panicked. When there is a lack of government, people start looking for their own way of protecting themselves."
He joked that quite a few people had no idea how to use the guns they had purchased, especially since arms have been entering the Egyptian market featuring increasingly sophisticated types of weaponry.
"Years ago no one had a submachine gun. Now I know people with this type of gun," said el-Shazly, the lawyer. "This is not the type of gun you have if you are just playing around or trying to warn someone."
He recalled that just a few years ago, a man would be laughed out of a village if appeared in public hoisting his weapon.
"We would have joked that this was an insecure man, trying to show off," he said. These days it has become an all too common sight. "Today, I would say this was a smart man."
Sheera Frenkel is a cybersecurity correspondent for BuzzFeed News based in San Francisco. She has reported from Israel, Egypt, Jordan and across the Middle East. Her secure PGP fingerprint is 4A53 A35C 06BE 5339 E9B6 D54E 73A6 0F6A E252 A50F

Contact Sheera Frenkel at sheera.frenkel@buzzfeed.com.

Got a confidential tip? Submit it here.