Egyptian Judge Breaks Own Record, Sentences 683 To Death In Mass Trial
"This shows us how lost Egypt's judicial system truly is."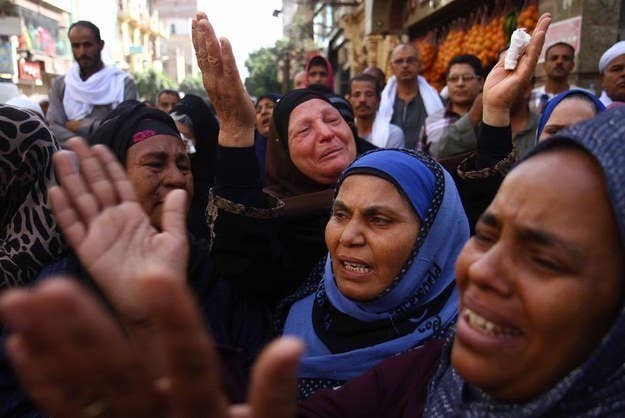 An Egyptian court sentenced 683 people to death on Monday, among them top Muslim Brotherhood leader Mohamed Badie, after only two brief court sessions that were largely boycotted by lawyers for the defense. The defendants were found guilty of killing a police officer in August, in a decision their lawyers described as farcical.
The verdict was the first against Badie, the spiritual head of the Muslim Brotherhood, in the trials he faces on various charges along with ousted Brotherhood president Mohamed Morsi and other Brotherhood leaders.
The decision by the court, led by Judge Said Youssef Sabry, follows a ruling by the same judge just over a month ago, when he sentenced 529 people to death after only a single session.
"This shows us how lost Egypt's judicial system truly is," said defense lawyer Ahmed Shabib. "How can you call this justice?"
The sentence came less than one week after the Obama administration decided to restore some of the $1.3 billion in annual military aid that it had frozen following the ouster of the Brotherhood.
In a statement issued Monday, State department spokeswoman Jen Psaki said the U.S. was "deeply concerned" about the sentence, calling the decision "unconscionable."
"It is impossible to believe that such proceedings could satisfy even the most basic standards of justice, let alone meet Egypt's obligations under international human rights law," Psaki said. She called on the Egyptian authorities to reverse the rulings.
"These court decisions run counter to the most basic democratic principles and foster the instability, extremism, and radicalization that Egypt's interim Government says it seeks to resolve," Psaki said.
The 683 Egyptians sentenced on Monday were convicted of the same crime as the 529 who were sentenced to death in April — involvement in the murder of a policeman in Minya province on Aug. 14, and other acts of violence. Most are also accused of being members of the Muslim Brotherhood, and taking part in violent acts. Defense lawyers have called the decisions farcical, asking under which circumstances over 1,200 people could be held responsible for the death of one man.
Defense lawyer Khaled Elkomy said that 60% of the original 529 defendants, including teachers and some doctors, have evidence that "proves they were not present the day they were accused of attacking the police station" in Minya. Among the defendants are also several people who were out of the country at the time of the crime, and at least one person who had died several years before, but whose name was still listed among the guilty.
Under Egyptian law, death sentences are referred to the top Islamic scholar for an advisory opinion before being ratified. A court may choose to commute the sentences, which can later be challenged at an appeals court.
On Monday, an Egyptian court commuted the sentences of 492 out of the 529, giving them life sentences instead. The judge upheld the death sentence on the remaining 37.
Outside the court, tearful family members scrambled to try and determine if their family members were among those commuted or sentenced. Many argued that their loved ones had no part in the death of the police man, or were even members of the Muslim Brotherhood movement.
The government has defended the court's handling of the first mass case, insisting that the sentences were passed only "after careful study" and were subject to appeal. Prosecutor Abdel Rahim Abdel Malek told AFP that he had strong evidence including "videos, witness accounts … documents that prove that the Muslim Brotherhood had called on its supporters to attack police stations and public and public and private property in case the sit-in at Rabaa al-Adawiya (in Cairo) was broken up, and that's what happened." Egyptian military strongman Abdel Fattah al-Sisi, currently the front-runner in Egypt's presidential race has recently said he is proud of Egypt's judiciary.
But human rights groups, including Amnesty International and the United Nations have condemned the decision by the Egyptian courts, and called for a revision of Egypt's judicial system.
"The mass imposition of the death penalty after a trial rife with procedural irregularities is in breach of international human rights law," said Rupert Colville, spokesperson for the Office of the U.N. High Commissioner for Human Rights.
Human rights groups are also questioning the decision made by the White House last week to restore some military aid to Egypt.
Secretary of State John Kerry and Secretary of Defense Chuck Hagel announced that the U.S. believed that Egypt was fulfilling its obligations to the peace treaty with Israel and maintaining its strategic relationship with the U.S. and decided to restore some of the $1.3 billion in annual military aid. U.S. officials had previously said that Egypt must adhere to a "democratic roadmap" and show "democratic principals" in order to receive the aid, but has never defined what either of those phrases mean.
A U.S. diplomat based in the Middle East told BuzzFeed last week that the decision to restore aid to Egypt was baffling and undermined the influence of diplomats on the ground. Reached by phone Monday, he said that the mass death sentences were an example of the type of incidents happening in Egypt which the U.S. should take a strong stance against.
"What does it say that a week after we restore some aid, this type of sentence happens again? You can argue that this is one judge acting independently — and surely some will argue that — but then why aren't we hearing condemnation from Egyptian officials? That's what we should be urging but we don't have that influence," he said.
Egyptian human rights groups say that at least 1,000 people have been sentenced to death since December 2013 – all in groups of 10 or more. Amnesty International has reported that more than 1,400 people have been killed in the police crackdown since the army overthrew the Muslim Brotherhood-led government.
Sheera Frenkel is a cybersecurity correspondent for BuzzFeed News based in San Francisco. She has reported from Israel, Egypt, Jordan and across the Middle East. Her secure PGP fingerprint is 4A53 A35C 06BE 5339 E9B6 D54E 73A6 0F6A E252 A50F

Contact Sheera Frenkel at sheera.frenkel@buzzfeed.com.

Got a confidential tip? Submit it here.