Egypt Turns To Russia For Weapons
A longtime U.S. signals that it's ready to look to other allies. "The start of a close partnership," says a Russian official.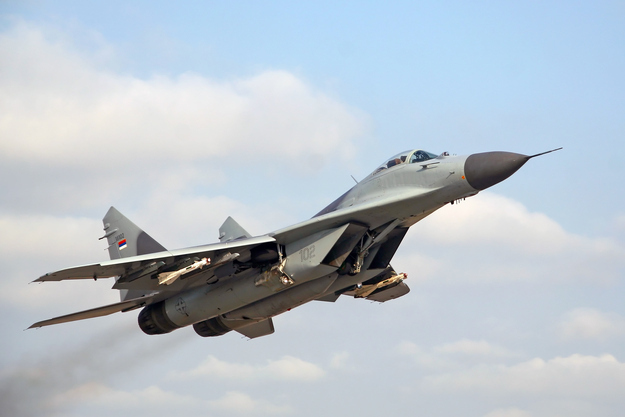 CAIRO — Russia is negotiating its biggest weapons deal with Egypt since the Cold War, moving in to fill the gap created by U.S. President Barack Obama's decision to cut hundreds of millions of dollars in defense aid to Egypt.
The Russian foreign and defense ministers met with their Egyptian counterparts in Cairo Thursday, one of the highest-level meetings between the two countries in years.
Egypt is looking to purchase over $2 billion in Russian weapons, including MiG-29 fighter planes, air defense systems, and anti-tank missiles. A Russian official told BuzzFeed that they were looking to verify that Egypt had secured the funds to pay for the military equipment, but "had no problems with this being the start of a close partnership."
U.S. defense officials said the massive purchase of weapons signaled that Egypt is looking to develop familiarity on the Russian weapons and prepare itself to move away from the American systems it has used for decades.
"This has moved past being posturing and a threat. This is Egypt sending a very clear message to the U.S. that they don't want to be dependent on us anymore and can seek allies elsewhere," said one U.S. diplomat based in the Gulf. "This is the kind of thing that should raise the alarm bells."
He, like many others, said that for Egypt to transition away from U.S.-made arms to Russian would be difficult and expensive, but warned it was not "impossible."
Tensions between Egypt and the U.S. have risen in recent months, with diplomats in Cairo admitting that anti-American sentiment is at "astonishingly high levels."
Egypt's military was said to be furious with President Obama over his decision to withdraw some military aid following the killings of thousands of protests this summer and the overthrow of President Mohamed Morsi and his Muslim Brotherhood party.
Egypt's state TV channels have repeatedly accused the U.S. for supporting Morsi and the Muslim Brotherhood, although the U.S. has insisted that it merely backs a democratic process and transition from power that would see Egypt hold free elections.
"The view in Egypt now is that the U.S. might not be the type of ally we can continue to rely on, and that it would be best of Egypt to seek allies elsewhere," said one Egyptian Foreign Ministry official.
Egyptian foreign minister Nabil Fahmy told AFP on Saturday that Egypt will expand cooperation with Russia.
"Independence is having choices. So the objective of this foreign policy is to provide Egypt with choices, more choices. So I'm not going to substitute. I'm going to add," Fahmy said.
On Thursday, Russian Foreign Minister Sergei Lavrov and Defense Minister Sergei Shoigu met with Egyptian strongman Gen Abdulfattah al-Sisi, who has emerged as an Egyptian strongman.
Egyptian foreign minister has said that he intends Egypt's new foreign policy to move beyond the ties that former President Hosni Mubarak fostered with the United States.
And in an interview with Al Ahram daily, Lavrov said that his country was eager to offer support to Egypt.
"We are quite confident that Egypt will overcome its current crises and put into consideration the interests of all political, ethnic, and religious blocs within society," he said.
In a sign of Russia's warm reception in Egypt, a Russian warship docked at Alexandria on an official visit Monday was met with marching bands and a 21-gun salute.
Sheera Frenkel is a cybersecurity correspondent for BuzzFeed News based in San Francisco. She has reported from Israel, Egypt, Jordan and across the Middle East. Her secure PGP fingerprint is 4A53 A35C 06BE 5339 E9B6 D54E 73A6 0F6A E252 A50F

Contact Sheera Frenkel at sheera.frenkel@buzzfeed.com.

Got a confidential tip? Submit it here.