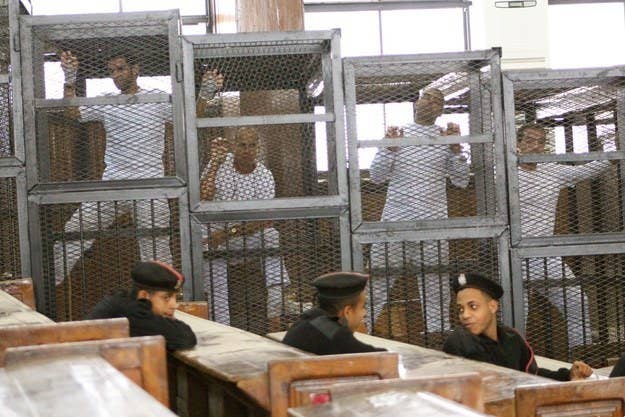 Egypt has arrested dozens of people for comments they have posted online as part of a new crackdown on its citizen's social media accounts, according to the head of the Interior Ministry's media department.
Gen. Hani Abdellatif told BuzzFeed that Facebook and Twitter accounts are being increasingly monitored as part of a new expanded government effort to track what is happening online. Abdellatif said as many as 70 members of the recently outlawed Muslim Brotherhood group were arrested based on material they had posted online, in addition to other Egyptians who posted "illegal statements" ranging from atheist manifestos to defamatory information about Egypt's senior leadership.
"This is not censorship. We are not against freedom or people's lives, we are just trying to develop the way we monitor crimes," said Abdellatif. He added that Egypt was "expanding" existing laws, rather than creating new legislation to allow them to monitor online behavior.
Over the last six months, Egyptians have suddenly found themselves facing charges based on Twitter hashtag campaigns or Facebook groups. Officials said they were monitoring hashtags such as "Elect the Pimp," which was created last month to mock Abdel Fattah el-Sisi, the Egyptian military strongman who won a landslide victory in recent presidential elections.
"We are looking at those people who are insulting religion, taking part in terrorism and insulting public figures," said Abdellatif.
Egypt's Al Watan newspaper on Sunday published a draft of the interior ministry's new regulations on monitoring social networking sites. The document claims that outlets such as Twitter and Facebook are increasingly being used to promote illegal activities such as "mocking religion, twisting facts in a misleading manner, making accusations against public figures, calling for calling for protests, pornography, and degeneration."
A new system will identify trending topics and words, including tweets and retweets on Twitter, and followers of pages on Facebook, to identify prominent or influential online users, according to the draft. A new database will keep a chronology of online activity, as well as drawing webs of online relationships that will allow them to crack down on entire groups.
The report in Al Watan also said that online news sites and blogs would come under increased scrutiny.
Egyptian lawyer Yasmin Hosam El Din said the government's new monitoring campaign was illegal under the country's newly established constitution.
"Egyptian constitution gives the right for personal freedom, you can't interfere with that," she said.
Egypt's government, however, has long used data collected online in cases brought against its citizens. In October of last year, a group of students was arrested for liking and commenting on a Facebook page that promotes atheism.
El Din said she and other human rights lawyers were concerned that there was no oversight of the government's newly expanded efforts to monitor online activity.
"Egyptians have international bills and agreement which force the Egyptian government not to interfere with our personal lives," said El Din. "They have been doing this for a long time quietly, without announcing it, now they are just being more public about it."
On May 19, Egypt's Interior Ministry announced an auction for companies who could assist them in gathering and storing online data. Companies had to pay nearly 70,000 Egyptian pounds to make a bid for the contract, the results of which have not yet been announced.