Egypt Looks To Russia To Fill American Shoes
Secretary of State John Kerry made a short stop in Egypt as the first visit senior U.S. official to visit the country since the ouster of the Muslim Brotherhood. Egyptian officials are saying it could be too little too late.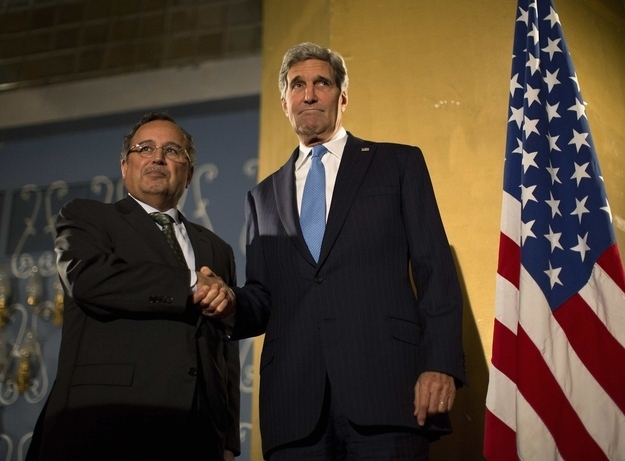 CAIRO — Egyptian officials have said they are in "serious talks" with other countries, including Russia, to fill the gap left in United States military aid, even as Secretary of State John Kerry spent six hours in Cairo on Sunday during a brief unannounced visit.
One senior Egyptian official, who asked not to be named because he was not authorized to speak to the press, said there had been several rounds of talks between Egyptian and Russian officials over a possible weapons deal.
"There has been more than one deal. We are speaking here of serious weapons that would boost our abilities to defense our country against terrorists," the official said, adding that an air defense system and new fighter jets were among the equipment being discussed.
A Russian diplomat in the region confirmed that senior Russian intelligence and defense officials had visited Egypt in recent weeks and were discussing possible military cooperation between the two countries.
Egyptian officials have been vocal about their disappointment with U.S. policy, particularly after the Obama administration announced it would withhold part of an annual $1.3 billion aid package last month. The U.S. has also frozen delivery of military equipment including Apache helicopters, F-16 aircrafts, M1A1 Abrams tank parts and Harpoon missiles until it sees some progress on democratic reforms.
Egyptian Foreign Minister Nabil Fahmy said his meeting with Kerry would be a "frank, honest dialogue between friends," but added that Egypt would look beyond the U.S. to meet its security needs if the aid freeze continued.
"There is no question in our mind that we will fulfill our national security needs as they are required from whatever source we need," Fahmy said.
The Al Arabiya newspaper reported on Thursday that an Egyptian delegation had visited Moscow, and said the Egyptian government was looking to buy MiG-29 planes.
Gulf states have also announced that they would help Egypt with some of the monetary aid it lost from the U.S., and with the purchase of weapons from other countries.
Regional analysts have been warning for months that the Obama administration's decisions regarding Egypt were leading to strong anti-U.S. sentiment, both by the public and in government. While some believe that the Egyptian threats to pivot towards Russia are bluster intended to pressure the U.S., others argue that a Russian–Egyptian military partnership could make sense.
Russia could be looking to establish new naval ports in the Middle East, and Egypt could receive steady access to an arsenal of advanced Russian weapons, The Sunday Times reported recently. The report also claimed President Vladimir Putin was planning a state visit to Cairo last week, though Putin's spokesman, Dmitry Peskov, told BuzzFeed Sunday that no such discussions had taken place. Russian foreign and defense ministers intend to meet with their Egyptian counterparts in Cairo for 2+2 format talks later this month, however, according to Russian business newspaper Kommersant.
During his visit Sunday, Kerry met with Egypt's foreign minister and interim president, as well as with Egyptian Gen. Abdel Fattah al-Sisi.
"We are committed to work with and we will continue our cooperation with the interim government," Kerry told a joint news conference with Fahmy, urging "inclusive, free and fair elections."
"The United States is a friend of the people of Egypt, of the country of Egypt, and we are a partner," said Kerry.
Calling the suspension of aid a "very small issue" between the U.S. and Egypt, Kerry stressed that the relationship between the two countries should not be defined by assistance.
Fahmy, who has previously criticized the aid suspension, said there was hope that the U.S. would soon renew its aid to Egypt.
"I said a few days ago that Egyptian-American relations were tense, and I believe after my talks with the U.S. secretary of state today that there are good indications that we seek to resume these relations in a positive manner," said Fahmy.
But in off-record talks, Egyptian officials said they would continue to seek out aid from Russia, amid other countries, rather than "wait for the U.S. to give Egypt money."
"We do not see a reason to be reliant on that relationship, we are certainly interested in expanding our options," said one official.
Max Seddon contributed reporting from Tbilisi, Georgia.
Sheera Frenkel is a cybersecurity correspondent for BuzzFeed News based in San Francisco. She has reported from Israel, Egypt, Jordan and across the Middle East. Her secure PGP fingerprint is 4A53 A35C 06BE 5339 E9B6 D54E 73A6 0F6A E252 A50F

Contact Sheera Frenkel at sheera.frenkel@buzzfeed.com.

Got a confidential tip? Submit it here.