Egypt Is Making A Habit Of Arresting People With Facebook Pages They Don't Like
Over the last six weeks, Egyptian officials have arrested at least five individuals for creating Facebook pages which call for revolution.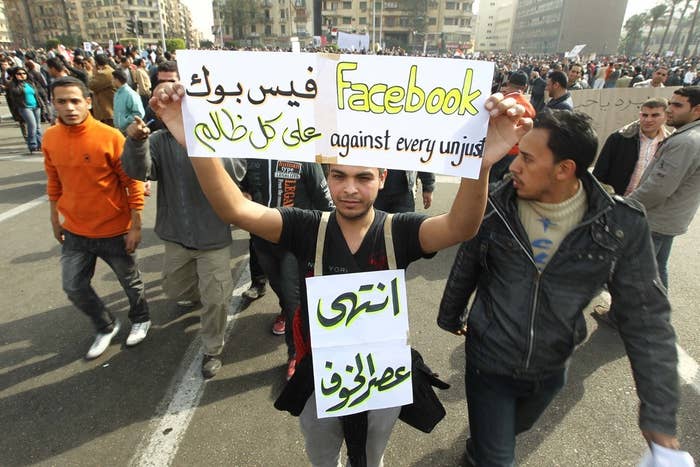 SAN FRANCISCO — Egyptian police arrested three people this week who officials said acted as administrators on multiple Facebook pages that encouraged protests among supporters of the outlawed Muslim Brotherhood movement.
Egypt's Interior Ministry said that security forces had arrested a 26-year-old man who managed 41 Facebook pages, and a 22-year-old woman who managed another six.
"The administrators of these pages were arrested on charges of inciting against state institutions and spreading the ideas of the Muslim Brotherhood, as well as calling for marches on the coming Jan. 25," Interior Ministry spokesman Abu Bakr Abdel Karim said on an Egyptian talk show late on Wednesday night.
The privately-owned Veto news portal reported that a third person, a student named as Mahmoud A., from Zagazig University in Sharqiya Governorate, was arrested in on Wednesday after police identified him as "the administrator of several Facebook pages linked to the terrorist Brotherhood."
The arrests came just two weeks after Egyptian officials announced that they had arrested three people for activities on Facebook which advocated for anti-government protests around the upcoming, five-year anniversary of the January 25 uprising which ended the 30-year rule of Egyptian leader Hosni Mubarak. In 2011, social media, including Facebook and Twitter, played a large part in organizing protests.

BuzzFeed News has reached out to Facebook for comment on the multiple arrests.

Fears that the five-year anniversary could serve of as a rallying point for those hoping to topple the current Egyptian government, have led Egyptian authorities to crackdown on anyone they believe is sowing discontent. In the last week of January Egyptian police arrested four members of the pro-Democracy April 6 Movement, and issued arrest warrants for other members. Police have also shut down cultural gathering spaces, and sent text messages activists warning them against organizing protests.
Last week, the Egyptian government also started promoting the message that taking part in January 25 protests violates Sharia, or Islamic Law.
Sheera Frenkel is a cybersecurity correspondent for BuzzFeed News based in San Francisco. She has reported from Israel, Egypt, Jordan and across the Middle East. Her secure PGP fingerprint is 4A53 A35C 06BE 5339 E9B6 D54E 73A6 0F6A E252 A50F

Contact Sheera Frenkel at sheera.frenkel@buzzfeed.com.

Got a confidential tip? Submit it here.