Egypt Fumes Over Cuts In Aid
Egypt experts also criticize the way the Obama administration handled the move. "We were kept completely in the dark," a state department official says.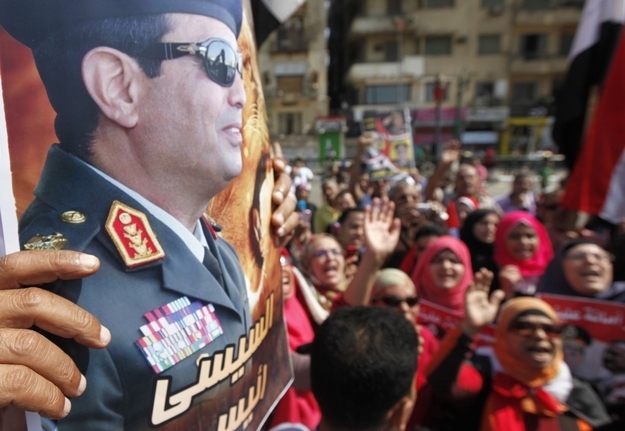 CAIRO -- U.S. officials said Wednesday that they are "recalibrating" the massive military aid package handed to Egypt each year and removing hundreds of millions in military aid.
But in Egypt, the recalibration was quickly seen as a condemnation.
"Who are they to dictate to us how our country should be run? The Egyptian people don't need the United States and would be much happier if they left us alone," said Ahmed Tansour, a 26-year-old Egyptian graffiti artist who on Wednesday was busy practicing his English-language skills so that he could tag "No more U.S. in Egypt" on a wall in downtown Cairo.
"If they think that their money can tell us what to do, they will soon learn they are very wrong," he said.
Like many Egyptians, Tansour said he believes accounts in the Egyptian press that U.S. money helped start the revolution that ousted longtime Egyptian president Hosni Mubarak in 2011 and then installed the Muslim Brotherhood's candidate for president, Mohammed Morsi. This summer, Tansour celebrated the Egyptian army's removal of Morsi from office alongside millions of Egyptians and earlier this week took part in nationalistic Oct. 6 celebrations that glorified the Egyptian army and its top general Abdel Fattah Sisi.
"All of Egypt loves Sisi. If the U.S. doesn't want to love Sisi they can go to hell," he said.
While U.S. officials announced months ago that President Barack Obama was reconsidering the $1.5 billion in aid given annually to Egypt, the timing of the announcement Wednesday that part of that aid would be halted couldn't have been worse.
Some argued that Obama's hand had been forced by leaks to CNN late on Tuesday that claimed all military aid to Egypt would be cut.
"Someone leaked this to CNN, and it's unclear why or for what motivation, because from our standpoint it wasn't true at all," said one State Department official who works in the Middle East. "No one, not here in our office or from our diplomatic teams, knew what sort of decision the president was leaning to on Egypt. We were kept completely in the dark."
CNN was eventually forced to alter its story to clarify that only "part" of U.S. military aid was being removed. In the end, the amount being withheld was only a "slap on the wrist," the official said, but "the damage has already been done."
"There is already a lot of talk in Egypt about what this means and how the U.S. is punishing them and all sorts of messages that shouldn't be out there. The feeling on the Egyptian street right now is very negative towards the United States and the way this decision was handled — that is, the way it was made public — is only going to make things worse," he said.
In an off-record briefing Wednesday, senior U.S. officials refused to detail exactly how much of the $1.5 billion in annual aid to Egypt would be withheld. One official said that the freeze would amount to "hundreds of millions of dollars."
In addition to a $260 million cash transfer that had been promised to Egypt, the U.S. will also withhold a $300 million loan guarantee, the officials said. It is also halting the delivery of Apache helicopters, F16 fighter jets, Harpoon missiles, and tank parts that together are worth upward of $500 million.
Egypt analysts said the move came as public support for the Egyptian military was at an all-time high and anti-American sentiment was exploding on the streets of Cairo.
"This is just an example of how poorly this administration is handling their policy in Egypt," said Eric Trager, an Egypt expert at the Washington Institute for Near East Policy. "The U.S. cutting a lot of military aid to Egypt because of disagreements with the Egyptian military over the way they handled Morsi's removal is very shortsighted. Withholding military aid to Egypt now is not going to reverse what already happened in the past, and the administration has undercut its ability to influence events moving forward."
The Obama administration, Trager said, was having an "emotional response" to the violent way in which the Muslim Brotherhood had been removed from office and its protest sites cleared of supporters. Dozens of people have been killed.
Senior administration officials confirmed that the motivation behind withholding the aid was partially to encourage the military to begin a "democratic transition" in the months going forward, and partially to show U.S. displeasure at the way the Egyptian military forced the Muslim Brotherhood out of office and put many of its members under arrest.
"Part of this action is meant to send a message of concern, I think holding up hundreds of millions of dollars yes, sends a message of concern about Egypt," said one senior official.
A separate official, who cited a phone call recently made between U.S. Defense Secretary Chuck Hagel and Sisi, said the U.S. had stressed that it want to maintain close ties with Egypt.
"Hagel emphasized how important this relationship was for the broader Middle East … He made the point that the U.S. continues to provide assistance on issues that advance our shared vital security issues," he said. Those issues include counterterrorism work being conducted by the Egyptian military, especially in Sinai, cooperation with Israel on the peace agreement, and securing Egypt's borders.
In Cairo, Sisi described Egypt's relations with the United States as "strategic" and founded on mutual interests. But he said his country would not tolerate pressure, "whether through actions or hints" in an interview with the Egyptian daily Al Masry al-Youm.
Egyptians were quick to respond to the cut in U.S. military aid with outrage.
Though some, as usual, saw the bright side.
Sheera Frenkel is a cybersecurity correspondent for BuzzFeed News based in San Francisco. She has reported from Israel, Egypt, Jordan and across the Middle East. Her secure PGP fingerprint is 4A53 A35C 06BE 5339 E9B6 D54E 73A6 0F6A E252 A50F

Contact Sheera Frenkel at sheera.frenkel@buzzfeed.com.

Got a confidential tip? Submit it here.