Did Someone Just Kill The Head Of Iran's Cyber Warfare Program?
An Iranian officer turns up dead. Could he have been a key figure in Iran's cyber wars?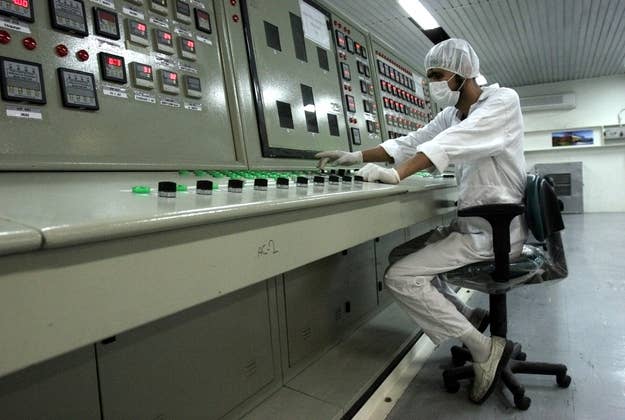 JERUSALEM — Somebody wanted Mojtaba Ahmadi dead.
The prominent officer in the Iranian Revolutionary Guard may also have been the head of the country's cyberwarfare department. In the age of covert warfare and stealth online terrorism, he would have made an attractive target.
So when his body was found with two gunshots on September 20, in a forested area near his home in Karaj, a town just northwest of Tehran, police immediately thought of foul play.
He had left his home only two hours earlier. Police told the Alborz news agency that two men on motorcycles were seen leaving the area where Mojtaba was shot, and that his killers appeared to be "professional."
Iran's Revolutionary Guard later said they were investigating the death, but called it a "very sudden incident" and denied it was an assassination.
In photos posted online, yellow police crime tape squares off an area near a parking lot, as onlookers mill around. Photos published on the Khamelmehr website claim to be from Ahmadi's funeral. In one, his portrait hangs above a large crowd carrying floral wreaths.
"Exactly who he was, and any admittance of his role in Iran's cyber warfare department will remain murky, if the Iranian government has its say," said one British intelligence officer based in the Middle East. "In fact, I would assure you that we will see fingers pointed over his assassination before any admittance of his role in Iranian cyber warfare."
The importance of cyber warfare in the modern military arsenal became apparent in 2011, when dozens of specialized cyber defense and attack units were set up in countries ranging from Panama and Chile to Lebanon and Kenya. What prompted them was the single most complex and effective cyberattack known to-date, the Stuxnet virus.
"In the world of cyber warfare there is before Stuxnet and after Stuxnet," said the British officer.
For Iran, it was a wake-up call.
In December 2011, the Iranian government announced it had embarked on an offensive to boost its cyber warfare capabilities and would invest $1 billion in its new program.
Western intelligence agencies agree that Iran's cyber warfare capabilities have improved by leaps and bounds since the formation of the unit. Many believe that Russia has provided training and software to Iran to help them get up to speed.
Ahmadi's role in Iran's cyber warfare department has never been confirmed or denied. But if he did, indeed, take part in advancing Iran's cyber abilities, his death could have served the same purpose as the five nuclear scientists killed in Iran from 2007 to present – all of them played crucial roles in building a part of Iran's current defenses and had the knowledge to help re-build in case an attack ever wiped out Iran's nuclear facilities or defensive systems.
In recent weeks, Iranian President Hassan Rouhani and U.S. President Barak Obama have successfully warmed relations to the point where a diplomatic solution that would see a compromise over Iran's nuclear program is once again on the horizon. But for Israel and Iran, a tense standoff continues. As Israeli Prime Minister Benjamin Netanyahu flew to New York to speak at the United Nations General Assembly this week, his press office was busy releasing details of an alleged Iranian spy caught in Tel Aviv.
"Just because the Iranians go to the US and smile doesn't mean they are really ready to play nice," said an Israeli official who gave reporters a background briefing ahead of Netanyahu's speech. "We are still very aware of the threat Iran poses to the world."
Israeli officials, he added, were aware that in the future, Iran could look to hit Israel "quietly" in a way that could not be traced back to Tehran.
"A cyber attack is something Iran would very much like to still carry out against Israel," he said.
Just a few days ago, anonymous U.S. officials told The Wall Street Journal that Iran had hacked unclassified Navy computers in the most serious attack against the U.S. military to-date.
An unnamed U.S. official told the paper there was growing concern that U.S. military data could be breached, "The [Iranians'] ability to also play in this [cyber] sandbox compounds that concern."
In Iran, talk has already turned to how Ahmadi was assassinated and who could be next. The Telegraph reported that the Facebook page of the officers of the Cyber War Headquarters confirmed that Ahmadi had been one of their commanders.
On Alborz, users posting condolences were quickly stopped by others who warned that they could be helping Ahmadi's assassins.
"Stop giving more information about him. The counter-revolutionaries will take advantage of his murder," said one post. "It sounds like a hit job for a security officer of this importance."
Sheera Frenkel is a cybersecurity correspondent for BuzzFeed News based in San Francisco. She has reported from Israel, Egypt, Jordan and across the Middle East. Her secure PGP fingerprint is 4A53 A35C 06BE 5339 E9B6 D54E 73A6 0F6A E252 A50F

Contact Sheera Frenkel at sheera.frenkel@buzzfeed.com.

Got a confidential tip? Submit it here.