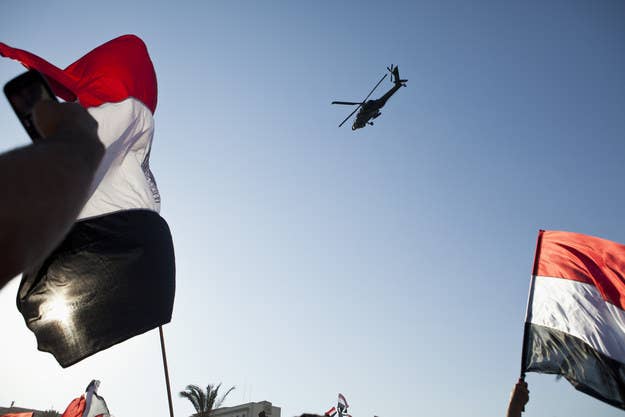 The Obama administration's decision to resume part of its military aid to Egypt is a "baffling" move that illustrates a wider failure to put forward a coherent policy in the Middle East, diplomats and Egypt experts said on Wednesday.
"First they freeze the aid, and give only the vaguest of explanations of how Egypt is meant to get it back, and they resume the aid with yet more vague explanations. They are making our jobs here on the ground impossible," said one U.S. diplomat based in the Middle East who only agreed to be interviewed on condition of anonymity as he was not authorized to speak to the press. "We have our counterparts in Egypt calling us and asking for explanations, and we honestly have no answers to give them. We find the decision-making process of this White House baffling."
In the past, State Department officials have criticized the White House for its handling of Egypt's aid, saying they are "kept in the dark" about the decision-making process.
The Obama administration announced late Tuesday night that it had certified that Egypt had upheld its strategic relationship with the U.S. and its peace treaty with Israel, qualifying itself for the resumption of some of the annual $1.3 billion military aid package to Egypt and 10 Apache helicopters. Israeli officials have long petitioned the U.S. to resume military aid to Egypt, arguing that the aid is necessary to secure the often violent Sinai peninsula that connects Israel and Egypt.
U.S. Secretary of State John Kerry informed Egypt's foreign minister, Nabil Fahmy, of the decision in a telephone call. A statement released by the State Department noted that Kerry, "is not yet able to certify that Egypt is taking steps to support a democratic transition. He urged Egypt to follow through on its commitment to transition to democracy, including by conducting free, fair and transparent elections, and easing restrictions on freedom of expression, assembly and the media."
In an interview earlier this month, an Obama administration official involved with U.S. aid to Egypt told BuzzFeed there were "no clear parameters" as to how the U.S would resume aid.
The official, who spoke on condition of anonymity, said it was unclear whether there was a plan beyond the vague notion of a "transition to democracy."
"By not sending clear parameters for what Egypt must do to restore its aid we have dimmed the influence we could have had, that is the message we could have sent, by freezing that aid following the violent ouster of the Muslim Brotherhood government," said the official.
In just over one month, Egypt will hold presidential elections that military strongman Abdel-Fattah al-Sisi is widely expected to win. Egypt watchers had previously suggested the U.S. would restore its aid to Egypt following the vote, despite concerns that the arrest of journalists and ongoing mass trials did not adhere to a democratic roadmap.
"If the U.S. was going to use the withholding of aid to pressure Egypt to adopt its policies, let's say, by releasing the imprisoned journalists, then it should have done so over the last six months. That has not happened," said the official. "Instead we have seen Egypt sending us messages that it doesn't need us, with public shows of closeness between Egypt and Russia for instance."
Russian officials have reported that Egypt is close to signing two billion-dollar deals for Russian military equipment, signaling a willingness by the Egyptian army to restock its Soviet-made arms after decades of purchasing equipment from the U.S.
Unlike the American-made weaponry, Russian arms come with no caveats or political oversight, said one Egyptian military officer, who spoke to BuzzFeed in a background briefing last month.
"For us it is attractive to diversify. For many reasons at this stage, to not be reliant only on American-made military equipment," he said.
U.S. officials have long tried to persuade Egypt to buy border-defense equipment, rather than tanks and fighter jets that would do little to secure the porous borders through which illegal arms and militants are flowing into Egypt.
In his conversation with Egyptian defense minister Col. Gen. Sedki Sobhi Tuesday night, Defense Secretary Chuck Hagel said the delivery of Apaches was meant to serve shared strategic interests.
"The secretary noted that we believe these new helicopters will help the Egyptian government counter extremists who threaten U.S., Egyptian and Israeli security," Pentagon spokesman Rear Adm. John Kirby said in outlining Hagel's call to his Egyptian counterpart. "This is one element of the president's broader efforts to work with partners across the region to build their capacity to counter terrorist threats, and is the United States' national security interest."