Cornered Muslim Brotherhood Rails Against Referendum In Egypt
"We will not submit." Their neighbors turn against them.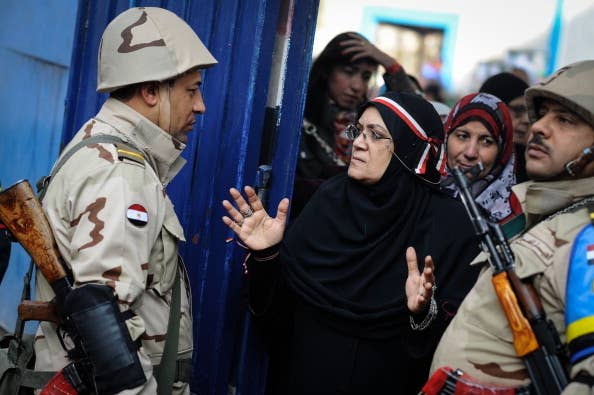 CAIRO, Egypt — Yumna Muhammed kept one eye on her fellow protesters and the other on police who are lurking in the narrow allies of the working-class neighborhood of Helwan, amidst those voting on Egypt's latest proposed constitution.
"Down with Sisi, to hell with the constitution," yelled the pro-Muslim Brotherhood protesters who had gathered to protest against the referendum vote on the military-backed Egyptian constitution. "We will not submit."
Their numbers, however, were small and their chants drowned out by the those in favor of the referendum. Gone are the days were thousands of Muslim Brotherhood supporters would march through central Cairo in defiance of the military ousting of Mohamed Morsi, and the rest of the Brotherhood's top leadership. Today, they are relegated to the outskirts of the Egyptian capital, in neighborhoods like the old market of Helwan, where they can flee into the twisting alleyways when the police inevitably arrive. Across Egypt, the referendum is being seen as a mandate to allow army chief General Abdel Fattah al-Sisi to run for the presidency in a still-unscheduled election. Once that happens, said Muhammed, the crackdown on the Brotherhood would turn into a deadly blow.
"Of course, when it becomes about Sisi running for president and his campaign, it will become even more dangerous for us to even show our faces," said Muhammed, who asked that her full name not be used, for fear of being caught up in the months-long crackdown on Brotherhood supporters, whom the army has labeled terrorists. "We will continue to fight but I am afraid this will be our last fight… This isn't just a mandate for Sisi, this is a mandate for them to wipe us out."
Overwhelmingly, those who came out to the polls Tuesday morning told BuzzFeed that they would vote in favor of the referendum. Indeed, voting against the constitution didn't appear to be much of an option. Across Cairo, entrances to polling stations were covered in posters urging Egyptians to vote yes, and a festive atmosphere included speakers blasting nationalistic songs honoring the military.
Just hours before the polls opened, a small bomb exploded in Cairo's Imbaba neighborhood. There were no injuries, but police blamed the incident on pro-Brotherhood supporters. In the polling stations, Egyptians said the bombing had spurred them to come out and vote in favor of "stability" and Sisi.
"That is what happens — they blame the bombings and the shootings on us to help themselves," said Muhammed, who insisted that all the protests in which she has participated have been peaceful. "But too many Egyptians believe we are violent."
Egyptian security forces have claimed that the Brotherhood brings weapons to their protests and blames them for deadly acts of terrorism across Egypt. Their claims are widely reported in the Egyptian media, and Brotherhood supporters say they are now frequently attacked by locals in neighborhoods where they once freely staged protests. Neighbors, they add, who were once friendly, now help police track them down and arrest them.
One of those unfriendly neighbors is Fatima, a former psychiatrist in Helwan who allowed BuzzFeed to come into her home and speak with her family while police combed the streets looking for the Brotherhood supporters who had fled the protest.
"We know each home that is Brotherhood," she said. "We are glad the police are back, and that they are arresting the Brotherhood. This place was not safe and we want the police to bring back stability."
Fatima, whose husband served in the military and whose son works in the local Helwan police station, said the whole family would vote for Sisi.
"There is no other option but Sisi, he must run for president," she said, adding that she hoped that under his rule Egypt would be "free" of the protesters, once and for all.
For Brotherhood supporters like Muhammed, the sense that a net is closing around them is palpable.
"I am afraid, I am very afraid," said Muhammed, who lists on her fingers the arrests of her friends over recent months. "All of my friends have been arrested. I know they will come for me too."
For every Brotherhood supporter who took to the street in Helwan Tuesday, many more stood on balconies and rooftops, flashing the four-fingered sign of support popularized at Morsi's last stand at Rabaa, but then quickly running inside to hide in case police were filming the area.
The protesters wound their way around the narrow allies, but just a few minutes after they reached a larger thoroughfare police advanced and started firing rubber bullets.
Those who could ran into alleyways and ducked into shops. One Brotherhood supporter said he knew of several dozen who had been arrested, though he said the number could be much higher as he hadn't checked with other organizers at the march.
There are no exact figures, but human rights groups estimate that thousands of Brotherhood supporters have been arrested in recent months. The top leadership is in jail, or has fled the country and is currently directing the group's followers through Facebook and other social media sites.
When Muhammed first spoke to BuzzFeed three months ago, she took a very different tone. She boasted of the organizational capabilities of the Brotherhood, and the tens of thousands who would flood the streets daily to demand that the military reinstate the Morsi government.
"We will not stop fighting until Morsi is reinstated in the presidency, until the legitimacy has returned to Egypt," said Muhammed as she gathered with friends in a makeshift office used to organize the then-daily protests. "The people of Egypt are behind us."
Today, she admits that she may have been too hopeful.
"I don't know what our leadership has planned for the Brotherhood. They tell us to boycott the vote, to keep protesting," she said. "But people are scared, and they are getting more scared."