Can Israel Win In Gaza?
As Israeli forces continue their offensive into Gaza, many have been surprised by Hamas' ability to fight back. Some are beginning to ask whether Israel can achieve the kind of victory it wants in Gaza.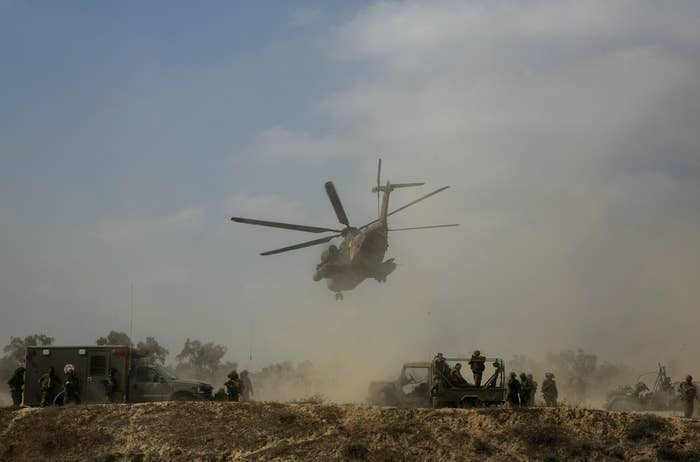 EREZ CROSSING, Israel — The Israeli intelligence officer cast a suspicious eye on the dry and dusty field that stretched along the border with Gaza. To the east, the black plumes of smoke hung in the sky, drawing a thick line marking where the Palestinian territory begins. More than a dozen tunnels are underfoot, he said, and no one is sure how the intelligence community missed the "underground city" being built by Hamas beneath the Gaza-Israel border.
"We knew that there were tunnels, but not that there were so many, or that they would be so well-enforced and professional, it's an underground city!" said the officer, who gave a briefing to a group of reporters, on the condition he not be named. He stomped on the ground, a combination of clay and silt he said was "ideal" for building tunnels. "We were not aware of the preparedness, the advancement of Hamas' fighters either. It was a large, and punishing, surprise."
As Israel's offensive in Gaza comes toward the end of its second week, senior Israeli intelligence and military officials have begun to question whether the army can achieve its objectives without absorbing a significant number of casualties. Twenty-nine Israeli soldiers have already been killed, as have two civilians. In Gaza, 637 people have been killed, more than 149 of them children, according to Gaza's Health Ministry.
Israel's military spokesman said that, as of Wednesday morning, 210 Hamas fighters were amongst the dead Palestinians. When asked about civilian casualties, he said Israel did not keep numbers of civilians killed. The United Nations and Gaza Health Ministry, which both keep independent counts of the dead in Gaza, estimate that 75% are civilians — roughly 478 people — meaning that for every Hamas fighter killed, 2.3 civilians have lost their lives.
Those numbers, accompanied by graphic videos and photographs of entire families dying in Israeli airstrikes, have been widely circulated on Twitter, Facebook, and other social media sites, bringing a human face to the high civilians casualties in Gaza to homes across the world.
Meanwhile, of some of the Israeli soldiers waiting to enter the fray along the border, many have begun to question the very purpose of the mission.
"We just want to know what we are doing," said Israeli reserve soldier Matan Varom, 28, who was called up nearly a week ago. "What are we trying to win?"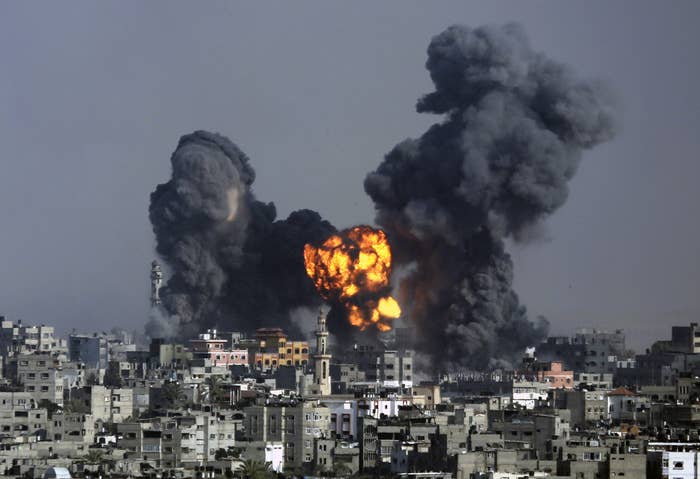 Operation Defensive Edge, which was initially launched with the objective of routing out the 10–15 tunnels Israel believed snaked their way underneath the Gaza–Israel border, has since expanded into troops on the ground more than a mile into Gaza, engaged in close-quarters fighting with Hamas. Israeli officials say it could take "days, even weeks" to "deal a blow" to Hamas.
As of Tuesday, 24 tunnels had been found and Israeli intelligence estimates that there are a dozen more. The tunnels, reinforced by concrete and steel and supported by bunker rooms throughout, are "professional standard" according to Israel.
But it's not just the tunnels that are larger, and more complex than Israel had originally anticipated. Hamas is no longer the strappy, clumsy militant force that saw hundreds of its members killed in a single day in 2008, when Israel opened Operation Cast Lead by bombing training grounds and police headquarters. In the years since, Hamas fighters have received training from militant groups practiced at evading Israel's military, among them Hezbollah, and has shifted its tactics to engage Israeli forces in cat and mouse games which make the most of its home-ground advantage.
"The Israeli army has been surprised by the skill and the tactics being used against it," said Amir Buhbot, a military correspondent for the Walla news site. "Hamas is no longer standing in the open, waiting for Israeli drones to come and get them. They are forcing Israeli troops to get on the ground, or actually below ground, and fight them face to face."
Hamas, has also succeeded in hiding its rockets in bunkers deep under the surface. And, despite Israel's punishing offensive, dozens of rockets are still being fired into southern Israel each day. On Tuesday, a long-range rocket landed near Israel's largest international airport on the outskirts of Tel Aviv. American and European airlines began cancelling flights to Israel — a step last taken when former Iraqi President Saddam Hussein fired scuds into Israel during the first Gulf War. This came as a psychological blow to Israel, who after years of insisting that the rockets were a dangerous threat to Israeli civilians suddenly had to persuade the FAA that they were not dangerous enough to re-route plans from landing near Tel Aviv.
"Whether or not flights in and out of Israel are suspended for any length of time, the suspension of flights by several major air carriers is Hamas' first major achievement of this conflict," wrote Anshel Pfeffer, a columnist with the Haaretz newspaper. Israel's Channel Ten news led its evening broadcast with the question, "Did Hamas succeed in closing down Israel's airports?"
"It was the first big victory they've had," said Arab-Affairs commentator Zvi Yehezkeli, to which the anchor replied, "But we are sure there are Israeli victories too that we will hear about shortly."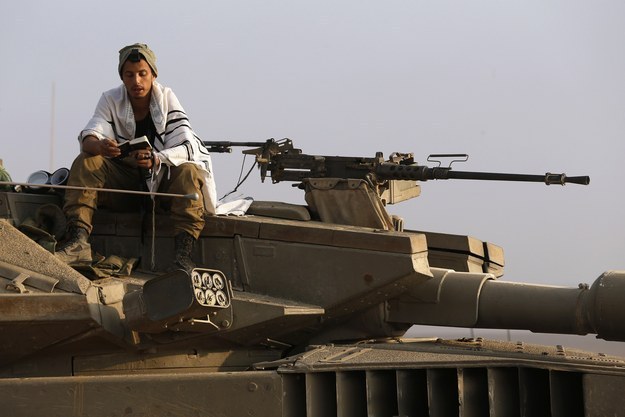 "We've been told to expect with Hamas the type of tricks we used to train for with Hezbollah," said Israeli reserve soldier Varom, who also fought against Hezbollah in Lebanon. "We were warned to take them seriously, that this wouldn't be a walk in the park."
In 2008, Israel lost 10 soldiers, three of them to friendly fire, during the three weeks it fought Operation Cast Lead. In 2012, during the eight-day Operation Pillar of Defense, two Israeli soldiers were killed. In the last two weeks since Israel launched its ground offensive in Gaza, 28 soldiers have been killed and one has been declared missing, though likely dead. This means more Israeli soldiers have been killed in the last two weeks than in the 2008 and 2012 offensives into Gaza combined.
"Everyone is talking about the soldiers who were killed. It's, of course, sad and maybe also scary. I would say it has people on edge," said Varom. Still, he said, he's prepared to go in and fight.
Earlier this week, Varom was lying in one of the few shaded areas near the border with Gaza known as a staging area for soldiers. The mid-July sun baked the ground and the solidiers was listless, yet nervous.
Tal Selkin, a 30-year-old reservist who was called up with Varom, said he had started to feel uneasy on Tuesday, when he read about the soldiers who had been killed when a 50-year-old APC they had been using exploded.
"Of course we are going to go in there and fight. I see Hamas as a terrorist group and I wish they weren't my neighbors," said Selkin, who lives in the coastal city of Ashkelon just north of Gaza. "My family is hiding from rockets and I don't want them to live like that."
But the last three rounds of fighting in Gaza have failed to stop the rockets and Selkin said he's found himself wondering how this time is going to be different.
"They say we are going in to stop the tunnels this time — they aren't even talking about stopping the rockets — and then they say there are a lot more tunnels than they originally thought and hey, maybe we couldn't get all the tunnels," said Selkin. "It's just hard to get yourself mentally psyched up for a war, when you feel like you're going to come out without really winning anything. They should at least tell us what we're trying to win here."
In the empty fields around him, few had answers. The soldiers heard clear orders from their officers and poured over maps showing the area to the east, where no-man's-land ends and Gaza begins. Occasionally, they would feel the ground shudder from the impact of the artillery thuds being shot into Gaza from nearby.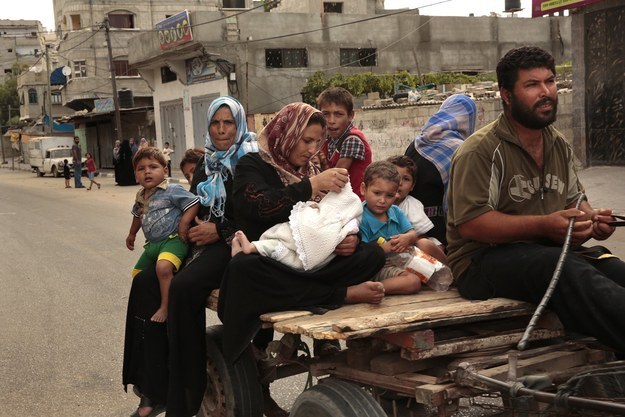 In Gaza, support for Hamas has steadily risen over the last two weeks, according to local reports. The Islamist group, which had not paid salaries to employees for months and was on the brink of a financial crisis when the war with Israel started, has since enjoyed a rebound in popularity.
"When we see this, when we see the Israelis bombing everything, what else are we supposed to do but protect the one group which is fighting for us," said Eman Aboujad, a 37-year-old nurse and mother of two. "Of course we love Hamas. We have no other choice."
Aboujad, like hundreds of thousands of other Palestinians in Gaza, has moved her family in recent days to a location she hopes is safer. She and her husband decided their home near the eastern edge of Gaza City was too close to where the fighting, and moved to her mother-in-law's home closer to the beach four days ago.
But nearly every night since, shells have hit the sand on the beachfront near where her family is sheltering.
"One night the shell will go a bit further and hit the building where we are sleeping and we will all be dead," said Aboujad. "Death finds you anywhere in Gaza, there is nowhere safe."
Her husband, she said, has started to talk openly, passionately, about supporting Hamas and teasing their oldest, a 5-year-old son, about growing up quickly so he can join the resistance.
"This is new, for our family," she said. "We didn't always speak like this."
In Israel, many of Israeli Prime Minister Benjamin Netanyahu's cabinet ministers have spoken openly of bringing down Hamas. In interviews last week, ministers Naftali Bennet and Avigdor Lieberman both said the ultimate goal of Israel's operation should be to deal a crushing blow to Hamas.
But in Gaza, Aboujad, and others, don't see it happening. "They have left us with nothing else to cheer for but Hamas," she said. "That's what they have achieved."
Sheera Frenkel is a cybersecurity correspondent for BuzzFeed News based in San Francisco. She has reported from Israel, Egypt, Jordan and across the Middle East. Her secure PGP fingerprint is 4A53 A35C 06BE 5339 E9B6 D54E 73A6 0F6A E252 A50F

Contact Sheera Frenkel at sheera.frenkel@buzzfeed.com.

Got a confidential tip? Submit it here.