British Nationals Among Hundreds Of Volunteers Showing Up To Fight ISIS In Iraq
"We thought maybe he would fight like James Bond or have a fancy British gun."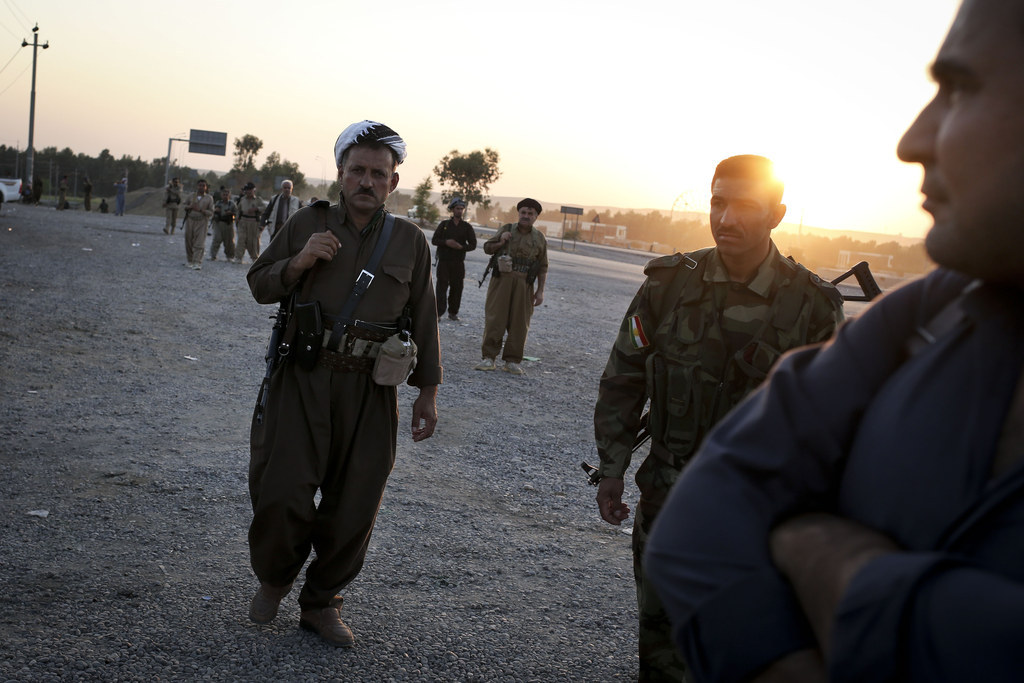 KALAK, Iraq – When Faisel Maloor heard that ISIS had conquered Mosul, Iraq's second-largest city, in June, he knew it was time to leave his comfortable home in Newcastle to join the fight against the terrorist group.
The 31-year-old had never picked up a gun before last month, but is now waiting to fight alongside the other new recruits to the Kurdish Peshmerga forces.
"Every day new volunteers are turning up," said Maloor, a British national of Kurdish descent. "We all get training, and we feel this the right place for us, this is the right fight for us to join."
But just how prepared the hundreds of recently arrived Peshmerga volunteers truly are remains to be seen. The weapons recently sent by the U.S., France, and Finland to bolster the Peshmerga are being delivered to regular, enlisted soldiers. Maloor and the rest of the ragtag group that make up the volunteer forces bought their own guns. Their comrades-in-arms joke that despite coming from the U.K., they didn't bring much money or support.
"We thought maybe he would fight like James Bond or have a fancy British gun," said Haider Alam, a 29-year-old Kurdish fighter from the nearby city of Irbil. "They came empty-handed but they are our brothers, and we love that they came to fight with us."
The Peshmerga say that the new volunteers are a sign of the Kurds' willingness to take on ISIS, a group that has, until now, ratcheted victory after victory as it seeks to establish an Islamic Caliphate across the Middle East. Many Western officials have pinned their hopes on the Kurds, arguing that only the much-vaunted Peshmerga can stop ISIS from capturing the areas of northern Iraq that are home to a variety of other ethno-religious groups in addition to the Kurds.
British officials believe that hundreds of British nationals are fighting alongside ISIS, at least two of whom have died fighting in Iraq and Syria. But Maloor saw it as his duty to come to Iraq to fight alongside the Peshmerga against the radical extremists.
"I know some British nationals left England to fight with ISIS. I want to say now that I condemn that, and we, as British nationals, are here to fight against them," said Maloor.
Another British national, Amin Nawzad Seuh, decided to leave his home in West Yorkshire just a few weeks ago. Seuh, a 47-year-old father of three, said his wife declined to make the journey with him but supported his decision.
"We are Kurds, this is our homeland, I knew we had to join and defend it," Seuh said with a broad smile as he took in the dusty fields around him.
The small town of Kalak where they have been stationed is less than 15 miles from the front lines of the fighting with ISIS, but the men here mill listlessly about, awaiting orders. Their ages range from 17 to 70, and only the oldest have ever been in battle.
"My heart is in this war, and I felt strongly that it was the right thing for me to leave Britain and join the Peshmerga," Seuh said. "I maybe could be trained more, but in either case I will fight."
He said his oldest son, who just turned 17, wanted to join him.
"Every Kurd is ready to die for Kurdistan, to defend it against the terrorists," he said.
Sheera Frenkel is a cybersecurity correspondent for BuzzFeed News based in San Francisco. She has reported from Israel, Egypt, Jordan and across the Middle East. Her secure PGP fingerprint is 4A53 A35C 06BE 5339 E9B6 D54E 73A6 0F6A E252 A50F

Contact Sheera Frenkel at sheera.frenkel@buzzfeed.com.

Got a confidential tip? Submit it here.