At Least 15 Palestinians Were Killed Inside The U.N. School Where They Had Taken Shelter
The latest attack brings the Palestinian death toll to 734.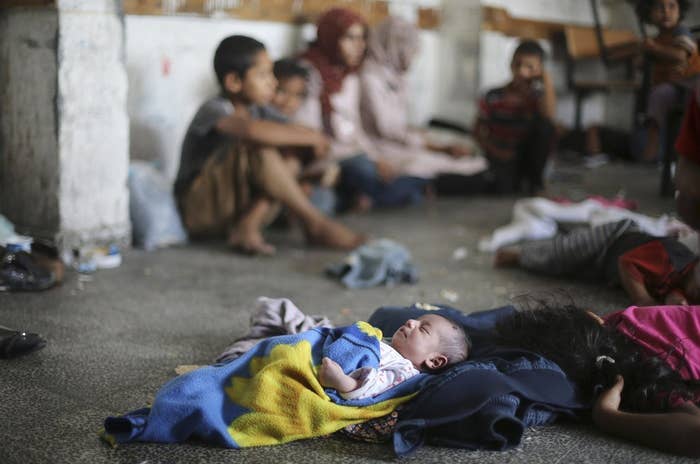 JERUSALEM — At least 15 people were killed Thursday when Israeli shells hit a United Nations school where hundreds of people had taken shelter.
U.N. officials said they had given the precise coordinates of the school to the Israeli military and made it clear civilians were being sheltered there. The school, which is on the northeast edge of Gaza close to where Israeli soldiers were engaged in close-quarters fighting with Hamas fighters. U.N. officials said the school had taken in hundreds of refugees in recent days who had fled their homes.
In a series of tweets, U.N. spokesman Chris Gunness explained that local staff had tried to evacuate people from the school earlier in the day.
Gaza's Health Ministry estimated that at least 30 people had been injured and 15 killed.
"We are still pulling people from the rubble," said Palestinian medic Ahmed Mansour, who spoke to BuzzFeed by phone. "They are being sent to hospitals nearby, but it is hard to evacuate them since they, the Israelis, are still firing nearby."
He estimated that dozens more could still be buried under the rubble.
"Such a massacre requires more than one hospital to deal with it," said Ayman Hamdan, director of the Beit Hanoun hospital, Reuters reported.
Immediate reports from the area said that Israeli tank shells hit the school. Israel's military spokesman said it was investigating the incident and did not have an immediate comment.
Gunness said it was the third time this week one of its buildings had taken a direct hit from Israeli shelling.
Israel has said U.N. schools have been used as safe havens for armed Palestinians. And U.N. officials have criticized Palestinian groups at various times for using U.N. schools to hide fighters and weapons. The U.N. has said that inspections of its facilities had turned up two cases of hidden rockets being stores in schools. The rockets were immediately removed, and reported to international bodies. In the first incident, the rockets were handed back to Hamas.
Photos posted online showed images of children who had been injured at the school.
Mansour and other medics who arrived at the scene said they had arrived to see school desks and benches used as makeshift beds "covered in blood."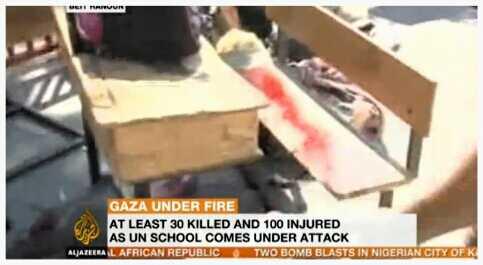 More than 140,000 Palestinians have fled their homes because of the fighting, and many of them have sought refuge in buildings run by the U.N.'s refugee agency.
U.N. officials have said that their facilities are "severely overcrowded," and have warned that they are running dangerously low on clean drinking water and food.
The attack on the schools brings the death toll in Gaza to 734, most of them civilians, according to Gaza's health ministry. Thirty-four Israelis have been killed, 32 of whom were soldiers.
The official IDF spokesman account said Israeli forces were present in the area at the time of the deadly incident:
Late Thursday, U.S. Ambassador to the U.N. Samantha Power, said she was "deeply concerned" about the attack.
We are deeply concerned about reports of the striking of an UNRWA school in Beit Hanoun, in the Gaza Strip, today. This terrible incident has resulted in the deaths of many innocent civilians who were seeking shelter from the ongoing conflict. Our deepest condolences go out to the families and friends of those who lost loved ones.

As we have said before, UN facilities must be respected and protected, and we call on all parties to act consistently with this principle. UN facilities in Gaza are sheltering more than 140,000 Palestinians, including many innocent children, and must be safe, neutral sanctuaries for fleeing civilians. We condemn the use of these facilities to house rockets and launch attacks on civilians in Israel, and we emphasize that civilians seeking shelter in those facilities must be respected and protected.

Today's loss of life only further underscores the importance of Secretary Kerry's and Secretary-General Ban Ki-moon's efforts to facilitate a cessation of hostilities based on a return to the 2012 Israel-Hamas cease-fire agreement.
Sheera Frenkel is a cybersecurity correspondent for BuzzFeed News based in San Francisco. She has reported from Israel, Egypt, Jordan and across the Middle East. Her secure PGP fingerprint is 4A53 A35C 06BE 5339 E9B6 D54E 73A6 0F6A E252 A50F

Contact Sheera Frenkel at sheera.frenkel@buzzfeed.com.

Got a confidential tip? Submit it here.