Arrest Warrants Issued For Men Who Took Part In What May Be Egypt's First Gay Wedding
Egyptian police are hunting for seven men, after a video surfaced of them taking part in what might be the county's first gay wedding.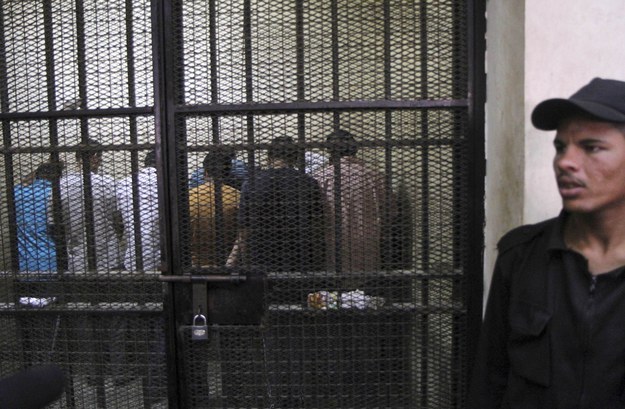 Egyptian officials issued arrest warrants for seven men this weekend, after the men appeared in a video celebrating what may be the country's first gay wedding.
Egypt's prosecutor office ordered that the men be detained and physically examined over accusations of "debauchery." While same-sex relationships are not illegal in Egypt, other laws have been used to imprison gay men including charging them with debauchery or "violating public decency."
The prosecutor's office cited a video that went viral in Egypt nearly one week ago, showing two men in suits putting rings around each other's fingers and hugging as friends celebrate on a Nile river boat. The video has since been removed from YouTube, and other social media sites to protect the identities of those involved in the celebrations. The prosector's office wrote that the video "violates public decency" and that the footage was "humiliating, regrettable and would anger God."
One of the men who appeared in the video made a phone call to Egyptian television show host Tamer Amin, and argued that the party in the video was a birthday celebration blown out of proportion.
The Mada Masr news site reported that the man, who remained unnamed, said he had bought a silver ring for his close friend on his birthday and that their friends jokingly celebrated with wedding songs when he gave it to him.
"I had to speak up, I can't sit by idly and watch my reputation be tarnished. I'm scared of walking in the streets now, I feel like screaming out and telling people I'm not like this," he said.
The video, added the site, was filmed nearly a year ago, and only went viral on Egyptian social media sites a few weeks ago.
Police crackdowns and arrests of Egypt's homosexual community have become increasingly common over the last year. In April, four men were sentenced to eight years in prison for debauchery after police said they had found the men holding parties that involved women's clothing and makeup.
Sheera Frenkel is a cybersecurity correspondent for BuzzFeed News based in San Francisco. She has reported from Israel, Egypt, Jordan and across the Middle East. Her secure PGP fingerprint is 4A53 A35C 06BE 5339 E9B6 D54E 73A6 0F6A E252 A50F

Contact Sheera Frenkel at sheera.frenkel@buzzfeed.com.

Got a confidential tip? Submit it here.