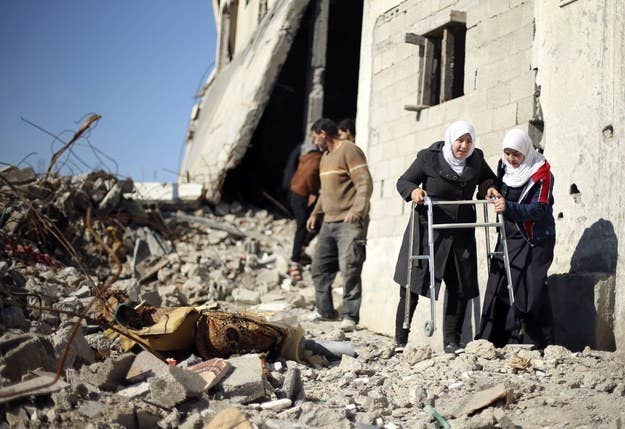 JERUSALEM — Within two weeks, the U.N.'s agency for Palestinian refugees says they will be forced to shut a key program to help Palestinians rebuild their homes in the wake of the Gaza war.
The U.N.'s program, which helps provide transitional housing to hundreds of thousands of people, has run out of funds. The funds of another program providing cash assistance to vetted families to allow them to repair their homes have also been depleted. A U.N. spokesman told BuzzFeed News that out of $5.4 billion pledged to Gaza following the war, only $100 million has actually been delivered.
"So many months after the devastating summer conflict, people are living in freezing temperatures under tarpaulins in the ruins or what were their homes. Children are reported to have died from exposure to the cold; so the lack of reconstruction is leading to anger and frustration. The gap between expectations after the October Cairo conference and present realities is widening. There are genuine fears that if UNRWA halts this program, the consequences could be dramatic," said Chris Gunness, an UNRWA Spokesman.
At the end of the latest Gaza war in August, the U.N. estimated that 16,735 families (consisting of approximately 100,410 individuals) in the Gaza Strip had seen their homes totally destroyed or heavily damaged during the fighting. In the last month, as the U.N. has completed a full survey of the damage in Gaza, U.N representatives told BuzzFeed news that that they might need to double their initial assessment made in August to well over 30,000 who need assistance to rebuild their homes.
During the conference in Cairo in October 2014, Qatar promised $USD 1 billion and Saudi Arabia $USD 500 million. The United States and the European Union pledged a combined $USD 780 million. Along with a myriad of other Arab States, the total in pledged funds was $5.4 billion – of this total, only $100 million has been received. All of it, said U.N. officials, has come from European states.
"The Arab countries haven't paid anything until now," Mufeed al-Hasayna, the Palestinian housing minister, told Reuters last month. "The Europeans just a few millions, maybe something from the Swedes."
Representatives from donor states would not comment on the lack of delivered funds when contacted by BuzzFeed News. One, who only spoke off-record, said it had become increasingly difficult to transfer money to the Gaza Strip due to the lack of progress made in reconciliation between Hamas, which controls the Gaza Strip, and the western-backed Palestinian Authority (PA), in the West Bank.
While there has long been talk of reconciliation between those two groups, the efforts have stalled and halted in the last six months. It was initially thought that Gaza aid money would be transferred to the PA, which would in turn administer the money to the Gaza Strip, as part of reconciliation efforts.