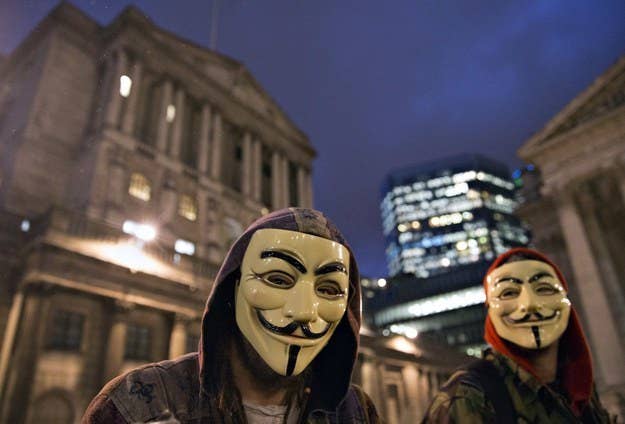 Hackers working with the collective Anonymous have begun taking down websites and targeting "al-Qaeda, the Islamic State and other terrorists who are against freedom of speech" in retaliation for the attacks in Paris last week.
Hacktavists with the collective began listing Facebook and Twitter accounts on Pastebin that they said belonged to people who promoted Islamic extremism online.
Anonymous also released videos in French and English featuring a male reader with a digitally altered voice saying, "We are declaring war against you, the terrorists."
Anonymous also posted an explanation for #OpCharlieHebdo on Pastebin:
"On Jan 7, 2015, freedom of speech has suffered hard. Terrorists breached into "Charlie Hebdo" newspaper's premises and shot several satirical cartoon artists, journalists and two policemen. The criminals are still on the run. Disgusted and also shocked, we can't fall down, it is our responsibility to react....

It's obvious that some people don't want, in a free world, this sacrosanct right to express in any way one's opinions. Anonymous has always fought for the freedom of speech, and will never let this right besmirched by obscurantism and mysticism. "Charlie Hebdo", historical figure of satirical journalism has been targeted. Anonymous must remind every citizens that the press's freedom is a fundament of the democracy. Opinions, speech, newspaper articles without threats nor pressure, all those things are rights you can't change.

Tackle the freedom of speech is a direct hit to democracy. Expect a massive reaction from us, because this freedom is what we've been always fighting for."
At publishing time, several of the Islamist-linked social media being targeted by Anonymous appeared to be offline.
As was Ansar al-Haqq, a website used by French Islamists.
French intelligence is still investigating ties between Islamist groups and the three men involved in the attacks — Cherif Kouachi and Said Kouachi, who carried out the attack on Charlie Hebdo, and Amedy Coulibaly, who held hostages at a kosher store on Friday. On Sunday, a video surfaced showing Coulibaly swearing an oath of allegiance to the Islamic State of Iraq and Syria (ISIS). Last week, U.S. officials revealed that at least one of the Kouachi brothers had travelled to Yemen to train with al-Qaeda.
It remained unclear, however, if al-Qaeda or ISIS were directly involved in the attacks on Paris, or if the three men had carried out the attacks on their own. Al-Qaeda and ISIS have not been known, in the past, to cooperate on attacks on foreign targets and have been fighting each other in Syria.
Anonymous has clashed with hackers claiming to represent the hardline Islamist movements before.
In June 2014, Anonymous members issued a call to action after it was revealed that ISIS had hacked into an Anonymous Twitter account.
"I'm sorry but that's like poking the sleeping bear," wrote one user on the website AnonHQ. "Our Anon brothers and sisters around the world have launched a cyberwar against ISIS."
In an interview with Forbes in June, an unnamed Anonymous member said that the group was focusing on DDoS attacks against countries including Saudi Arabia, Turkey, and Qatar, which had been known to support ISIS.
"We plan on sending a straightforward message to Turkey, Saudi Arabia, Qatar, and all other countries that evidently supply ISIS for their own gain," the member told Forbes. "In the next few days we will begin defacing the government websites of these countries so that they understand this message clearly. … We are unable to target ISIS because they predominately fight on the ground. But we can go after the people or states who fund them."
Pro-ISIS hackers, meanwhile, have continued to try and boost their presence online. This week they claimed to have hacked into the websites of several municipalities near Paris, replacing the site logos with ISIS flags.
Tweets posted online show screengrabs of the Goussainville, Ézanville, and Jouy-le-Moutier municipality pages with ISIS logos, although all the websites are working fine now.