An Egyptian Reporter Brought Her Son To Work And Everyone Has An Opinion About It
Egyptian journalist Lamia Hamdin says she is "shocked" by the reaction to the photo of her.
This photo, of Egyptian reporter Lamia Hamdin, was uploaded to Facebook on Thursday when a Cairo University student named Mohamed Abdel Nasser saw her interviewing people on his campus.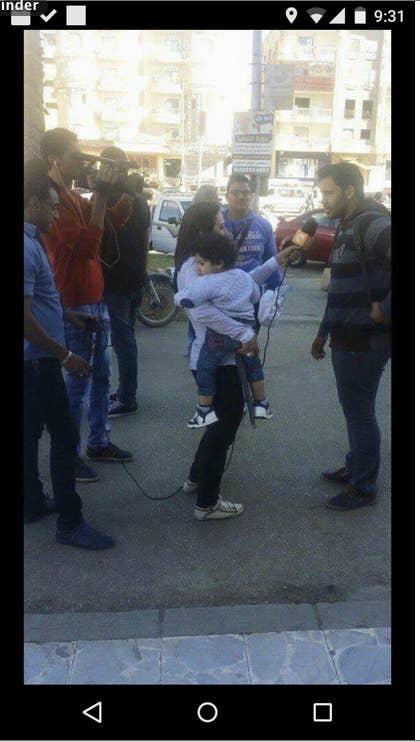 The original post was taken down by Abdel Nasser, who said he didn't like the misogynist comments his post was attracting, (he had only intended to insult media, as a profession). But on other Facebook pages, debate continued.
Abeer Gamal, an Egyptian mother of two, posted the photo of Hamdin with a comment urging more Egyptian women to take to the workplace.
On Twitter, some compared Hamdin to E.U. lawmaker Licia Ronzulli, who made headlines when she brought her child to a voting session.
Hamdin told BuzzFeed News that she was "shocked by the reaction" online. She said that her son had been released from school early that day, and she had nowhere else to take him. "I was off camera," said Hamdin. "The reaction to this has hurt me."