Al Jazeera Says It Did Not Pay For Swiss Institute To Investigate Arafat Death
A spokesman for the channel says he believed the Lausanne University Hospital did the work for free.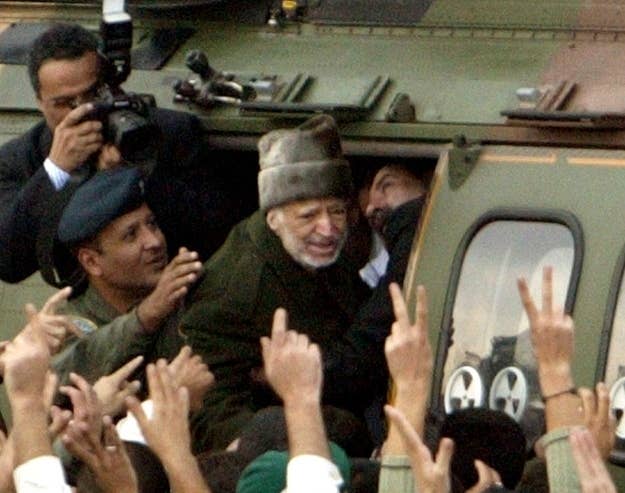 CAIRO — Al Jazeera said on Thursday that it didn't pay for Arafat's exhumation or for forensic tests done on his person or belongings.
"We were not part of any of that. The PA exhumed the body in accordance with the wishes of Arafat's wife," said Osama Saeed, a spokesman for Al Jazeera in Doha, referring to the Palestinian Authority. "All we did was pen the report."
Saeed said that during the initial investigation into Arafat's last effects, Al Jazeera was involved in moving the items to the forensic lab at the Lausanne University Hospital in Switzerland and commissioning a test on them. Saeed said he believed the lab did the tests pro bono.
The Lausanne University Hospital could not be reached for comment Thursday. Palestinian officials said they would need time to read the full report before they commented on the exhumation or its findings.
On Wednesday, Al Jazeera reported that a Swiss study of Arafat's remains showed evidence that the Palestinian leader may have died from polonium-210 poisoning.
David Barclay, a leading forensic pathologist quoted by Al Jazeera, said he was almost certain the former Palestinian leader was poisoned in November 2004.
"If I was a judge and jury, this is absolutely stone cold certain. This is beyond any doubt in my opinion that it was polonium that caused the death of Yasser Arafat," Barclay said.
Al Jazeera's investigation into Arafat's death began when Clayton Swisher, an investigative reporter for the Doha-based channel, met with Arafat's widow Suha in 2011. He convinced her to give him access to Arafat's French and Palestinian medical files, and a green duffel bag containing Arafat's final possessions which he personally delivered to the Lausanne University Hospital for testing in January 2012. The Swiss report noted that the chain of custody of Arafat's final belongings or medical files could not be confirmed.
The results of that test, which showed polonium-210 on Arafat's last effects, led the Palestinian Authority to order Arafat's body exhumed and for more thorough tests to be conducted.
While Al Jazeera has broadcast reports arguing that the results are nearly conclusive, other experts who have examined the report have questioned the accuracy of its findings.
Sheera Frenkel is a cybersecurity correspondent for BuzzFeed News based in San Francisco. She has reported from Israel, Egypt, Jordan and across the Middle East. Her secure PGP fingerprint is 4A53 A35C 06BE 5339 E9B6 D54E 73A6 0F6A E252 A50F

Contact Sheera Frenkel at sheera.frenkel@buzzfeed.com.

Got a confidential tip? Submit it here.