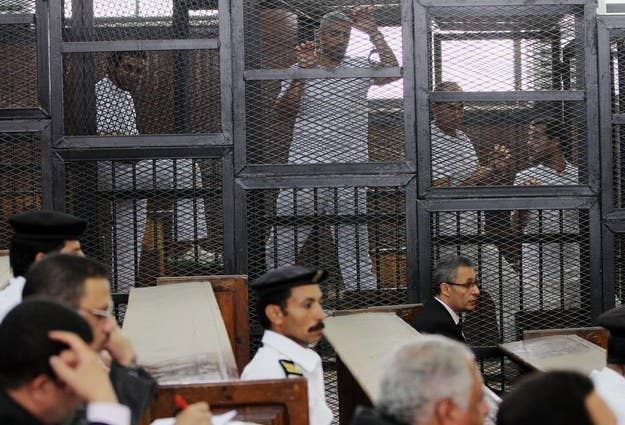 Al Jazeera's last remaining employees in Egypt were informed Wednesday that they will receive their last paychecks this month, as the Qatar-based network closed its offices in Egypt.
The shocking news comes as Egypt continues to crack down on media outlets. No organization has been targeted more frequently, or with harsher consequences, than Al Jazeera, which Egypt sees as an extension of Qatar's pro-Muslim Brotherhood agenda. Three of its journalists are currently on trial, on charged with "terrorism-related" activities.
Al Jazeera has not reported from Egypt since Dec. 29, 2013, when the three reporters were arrested while working out of Cairo's upscale Marriott Hotel. But the network has continued paying salaries to drivers, cameramen, and office workers.
Many of those still employed worked with local Al Jazeera affiliates, and did not report for the news team due to fears that any person with a connection to the network was at risk of arrest.
On Wednesday, however, several dozen of these employees were asked to attend a meeting where they were told after this month they would no longer receive a salary, and that they be given a compensation package going forward. Four of those employees spoke to BuzzFeed on condition of anonymity, because they were not allowed to publicly discuss their contracts.
"The whole office knows, they are letting everyone go," said one office employee of Al Jazeera, ahead of the meeting. "We are all looking for new jobs."
Hasan Patel, a spokesman for Al Jazeera, said, "Al Jazeera currently does not comment on HR issues relating to freelance staff who may have worked for us in Egypt, mainly due to their safety, especially during a volatile period."
Al Jazeera once boasted one of the largest news networks in Egypt. During the 2011 uprising that toppled longtime Egyptian President Hosni Mubarak, dozens of Al Jazeera teams reported from across the country, and for many in the Arab world the network became the face of the protests in Tahrir Square.
But since then, Al Jazeera has seen its license to broadcast in Egypt revoked and its offices repeatedly raided. Many of those who worked with the network have been arrested or detained, while others have left Egypt to avoid arrest.
Three Al Jazeera journalists who were arrested on Dec. 29 — Peter Greste, Mohammed Fahmy, and Baher Mohammed — are currently standing trial on terrorism-related charges, the first such case against reporters in Egypt. A verdict is expected on Monday.
The three men have spent nearly 100 days in jail, and many believe the trial was punishment for the Qatari government's support for the Muslim Brotherhood.
State prosecutors said they would provide proof of the terrorism charges, but much of the "evidence" has been spurious at best.
In court, prosecutors introduced an award-winning BBC documentary made by Greste in Somalia, and photos of the men on holiday with their families as evidence. They also aired footage of a press conference in Kenya, and five Sky News stories filmed in Cairo, as evidence to support their claims that Al Jazeera was "conspiring with the Muslim Brotherhood to broadcast news that falsely portrayed Egypt as being in a state of civil war."
On Tuesday, a fourth Al Jazeera journalist, Abdullah Elshamy, was released from prison Tuesday after a four-month hunger strike. ElShamy, who has been incarcerated for more than 10 months, never had charges brought against him. Though he was released from prison, Egyptian authorities said that he was still being investigated.