Actress Praises Egyptian Leader's "Bronzed, Gold Skin" And "Analytical Fire"
A new article takes Sisi's cult of personality to new levels.
A lot has been written about the Cult of Sisi. There have been cupcakes, pop songs, a dedicated Tumblr, and even this bizarre pseudo-wedding poster.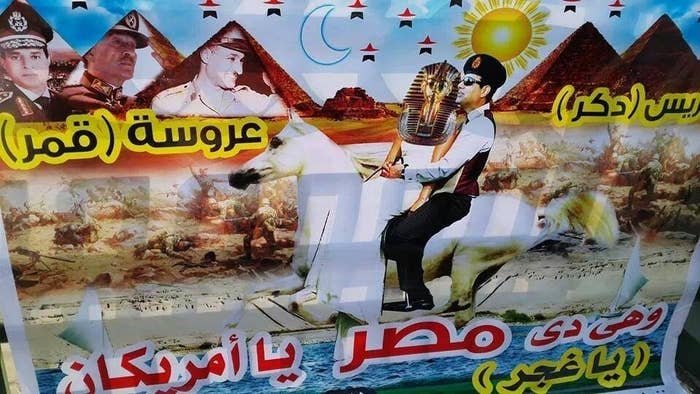 Here are some choice excerpts from her article:
In the full vigour of his prime, he exudes a magic charm, afforded to a select few. His physical appearance — and appearance counts — is flawless....

His bronzed, gold skin, as gold as the sun's rays, hides a keen, analytical fire within. He challenges the world not with bellows and bravura but with a soft, sombre reproach, with an audible timbre of compassion.

There is almost poetry in his leadership, but the ardour of the sun is in his veins. He will lead us to victory and never renounce the struggle, and we will be right there at his side.
#CatchTheSisiMania is now going strong on Twitter.


Sheera Frenkel is a cybersecurity correspondent for BuzzFeed News based in San Francisco. She has reported from Israel, Egypt, Jordan and across the Middle East. Her secure PGP fingerprint is 4A53 A35C 06BE 5339 E9B6 D54E 73A6 0F6A E252 A50F

Contact Sheera Frenkel at sheera.frenkel@buzzfeed.com.

Got a confidential tip? Submit it here.