Acting Head Of U.S. Embassy In Egypt Named
U.S. personnel and policy in flux in Cairo.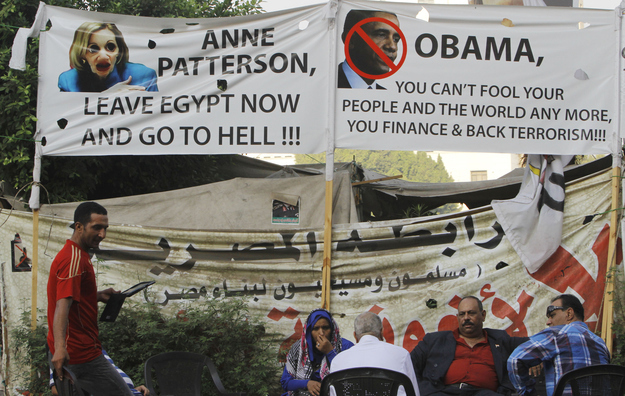 The US embassy in Cairo quietly announced Tuesday that longtime diplomat Marc Sievers would be assuming charge of its embassy in Egypt as Chargé d'Affaires, while it continues its search for a new ambassador.
Sievers is a career foreign service officer whose past postings include Baghdad and Algiers. But he may be best known as the embassy official who signed off a controversial statement on September 11, 2012, which appeared to some as though the U.S. was apologizing for freedom of speech, in which the embassy condemned "the continuing efforts by misguided individuals to hurt the religious feelings of Muslims."
As the statement was being tweeted, and then defended in a number of follow-up tweets, the U.S. embassy in Cairo was being attacked. That night, militants in Libya attacked U.S. facilities in Libya killing U.S. ambassador Christopher Stevens.
Sievers, who was then the Deputy Chief of Mission, was the official on the ground in Cairo who signed off on the statement and ensuing tweets.
"We need a clearer policy not just in Egypt but in the region," said one State Department official Tuesday. "Appointing Sievers is a good first step, as he comes with experience and knowledge of Egypt, but it is very unfortunate that we have been without an ambassador in Egypt for months, during one of the most sensitive times in that country's history."
Former U.S. Ambassador Anne Patterson left Egypt in November 2013.
Sheera Frenkel is a cybersecurity correspondent for BuzzFeed News based in San Francisco. She has reported from Israel, Egypt, Jordan and across the Middle East. Her secure PGP fingerprint is 4A53 A35C 06BE 5339 E9B6 D54E 73A6 0F6A E252 A50F

Contact Sheera Frenkel at sheera.frenkel@buzzfeed.com.

Got a confidential tip? Submit it here.