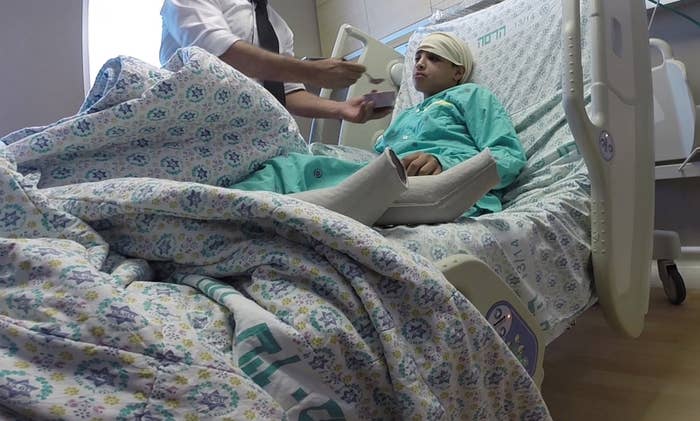 JERUSALEM — Posters hang outside the Manasrah family home declaring their son a martyr and "hero of Jerusalem" for his part in a stabbing attack. But inside, the mother of Ahmed Manasrah cries and cries.
She says she still doesn't understand how her son, 13-year-old Ahmed Manasrah, and his cousin, 15-year-old Hassan Manasrah, stabbed and critically wounded a 24-year old Jewish man and a 13-year-old Jewish teen. Hassan is dead, shot at the scene in the East Jerusalem settlement of Pisgat Ze'ev. Ahmed remains in the hospital, in critical condition after a series of operations after police say he was run over by a car at the scene.
Rumors and conspiracy theories are swirling around the neighborhood, suggesting the stabbing was staged or that the cousins were provoked. Similar rumors have followed many of the other attacks, bolstered by grisly videos that have gone viral as each side seeks to establish its narrative of events amid the spiraling violence in Jerusalem. But for Manasrah and the family of the boy he stabbed, who have chosen not to have their family name published, time has stopped as the 13-year-olds are treated for life-threatening injuries.
"I'm not sure there are many places in the world where you would have an attacker and the boy he attacked being treated in the same place," says Moti Valerie, a nurse at Hadassah hospital. "That is the problem with Jerusalem, we are stuck sharing the same city but we can't stand to live in it together."
The Manasrah family say they are not political, and that the sole TV in their home is more often turned to cooking shows and sports than the increasingly grim news of the violence that has taken hold of Jerusalem over the last week. The shrieks of children playing can be heard from the front yard, but it's unclear if the noise is coming from the children living in the largely Palestinian neighborhood of Beit Hanina, or from just 100 feet away, where the largely Jewish East Jerusalem settlement of Pisgat Ze'ev begins. In another city, another time, Manasrah's son may have frolicked in the same playground as the boy he stabbed, or shared a class at school. Instead, they are sharing the same recovery wing at Jerusalem's Hadassah hospital.
"They could have been friends, they could have played together. I can't imagine my son, who is sweet and so sensitive, could have done this to another boy," said Maysoon Manasrah, Ahmed's mother, who has been in a state of shock since police called her husband on Monday to say that her son had taken part in an attack. "We are a quiet family, we don't look for trouble. We have lived next to Jews our whole lives. I just can't understand."
A series of shootings, stabbings, and clashes have left Israelis and Palestinians on edge this week, with each side fearful that the violence is heralding a new wave of unrest similar to that of the first and second intifadas. At least seven Israelis have been killed in attacks that have ranged from Jerusalem to central Israeli cities, while 31 Palestinians have been killed, some while attempting to carry out attacks, many others during protests.
Naor, the teen whom Ahmed and Hassan Mansarah stabbed, has only been named in the Israeli press by his first name, according to his parents' wishes. Several friends of the family who spoke to BuzzFeed News this week said the family was "in shock" and praying for Naor's recovery.
"They are in the hospital with him. He is a strong boy with a strong family, we believe he will recover," said one friend of the family, who asked not to be named as the family did not want to speak to press. "We want the government to step up, to do something to stop terrorism from taking hold of our city again."
On Thursday, Israeli Prime Minister Benjamin Netanyahu began to deploy Israeli army units across Israeli cities as reinforcement to local police. Concrete barriers were placed overnight blocking Palestinian East Jerusalem neighborhoods like Issawiya and Shuafat from West Jerusalem. Along major thoroughfares, police set up flying checkpoints, detaining cars across the city.
Tensions, however, have continued to simmer, spurred by videos of attacks that have gone viral online.
"When the terrorists attack we kill them, we kill them 100 times over," said Daniel Maoz, a 16-year-old from Pisgat Ze'ev who frequently visits the kiosk where the Manasrah brothers attacked their victims. "In the videos you can see them dying. That should be a message to anyone who tried to attack us."
But 17-year-old Muhammed Kattab, from Beit Hanina, sees something very different in the videos. "These are heroes of Palestine willing to stand up against the occupation," he told BuzzFeed News. "Their deaths are recorded and they have died a martyr's death."
The Manasrah parents, however, say they refuse to watch any videos.
"I just want to see my son and speak to him," said Maysoon, who hasn't been allowed to see her son since the attack. "I won't ever watch the video of him. I want to hear from him what happened."
But it's viral videos that are spreading the story since the attack earlier this week. Shot from cell phone cameras and often heavily edited, the videos have circulated quickly among the WhatsApp and Facebook groups that are ubiquitous among Israelis and Palestinians.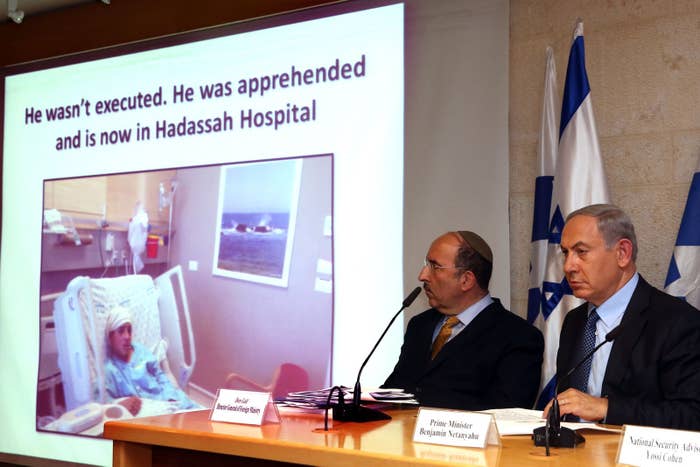 The videos have become so ubiquitous, and free of context, that Netanyahu held a press conference on Thursday to dispel the rumor that Mansarah had been executed. ""First of all, he isn't dead, he's alive, and he isn't innocent, he tried to kill a 13-year-old riding a bike, who was the true innocent," Netanyahu said of the attack, showing pictures of Abdel in his hospital bed.
In the case of the Mansarah cousins, there were two separate videos of their attack were circulated.
The first video, released Monday night following the attack, opens with Ahmed Mansarah lying on the ground, legs splayed awkwardly beneath him, and a pool of blood under his head. Male voices can be heard cursing, "Die you fucker … die you son of a bitch," as Israeli police mill nearby. An ambulance appears to pass by, but the boy remains untended to for the duration of the video as he looks about bewildered, attempting to raise his head or move his legs.
No context is given in the video. On some Facebook pages the video was shared with comments alleging that Ahmed had been attacked by settlers or killed in a hit-and-run. On Wednesday, Palestinian Authority Chair Mahmoud Abbas's office referenced the video, saying that both the Manasrah cousins had been executed in cold blood.
On Wednesday, Israel's government press office released a video of several edited sequences showing Ahmed and Hassan Manasrah running through the roads of Pisgat Ze'ev with knives in their hands. A second camera shows the moment the boys come across a man and appear to stab him several times before he escapes. They chase after him before turning a corner and running in a different direction. A third video, which appears to be shot inside a kiosk, shows a young boy on his bike preparing to leave a market. The footage is blurry, but it appears the boy is knocked off his bike. The feet of two figures, which Israeli police say are the Manasrah cousins, can be seen standing over him, and then one figure bends down.
What isn't shown in either footage is what happens next. Israeli police say Ahmed Manasrah was hit by a car attempting to stop the teen, and that his cousin, Hassan, was shot and killed when he attempted to attack an armed policeman.
"I didn't want to see my son die like that," said Khaled Manasrah, Hassan's father, who was shown footage from the attack and asked to go to the morgue and identify his son's body. "No father should have to see that."
Nobody yet knows what the families of Ahmed Manasrah's victims think of the videos; they continue to decline to comment, as they keep vigil.