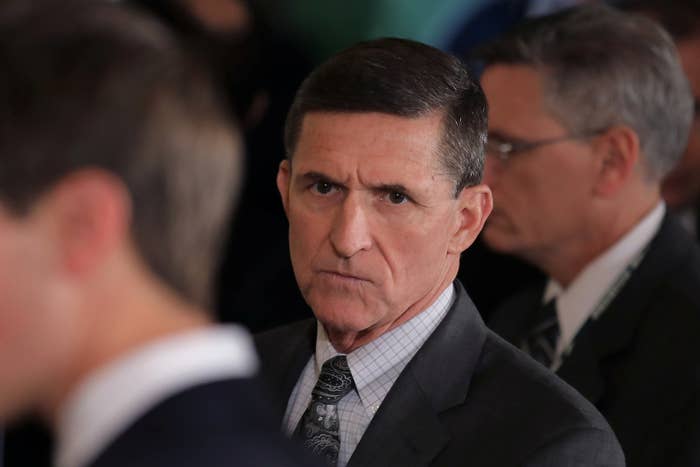 LOS ANGELES — Trump's former national security advisor Michael Flynn was paid $11,250 by the US arm of Russian cyber security company Kaspersky Lab, newly released documents show.
Flynn's work for a host of Russian companies, including Kaspersky, was revealed through documents released Thursday by Rep. Elijah E. Cummings, the top Democrat on the House Oversight Committee. Cummings questioned whether the payments Flynn received, the bulk of which consisted of $45,000 from Kremlin-owned TV outlet Russia Today, violated prohibitions on retired military officers accepting payment from foreign governments.
"I cannot recall any time in our nation's history when the President selected as his National Security Advisor someone who violated the Constitution by accepting tens of thousands of dollars," Cummings said in a Thursday letter.
Flynn, who resigned under pressure last month after revelations he had misled the vice president on calls with Russia's ambassador to the US, was the keynote speaker at Kaspersky's October 2015 "Government Cybersecurity Forum."
"He was billed as a cybersecurity expert, though his speech was not what would you call technical or specific," said one Kaspersky researcher who attended the speech. The researcher agreed to speak to BuzzFeed News on condition of anonymity as he was still employed with the company and was not authorized to speak to the press. "He was brought in as a big military name, which is what the company, Kaspersky, likes to do."
Kaspersky Lab is a Moscow-based company that provides anti-virus, endpoint, and other cybersecurity services. Various reports have tied CEO Eugene Kaspersky, to Russia's Federal Security Service, or FSB, though he has denied those claims.
The Forum at which Flynn spoke was a flagship event for the company's US subsidiary, Kaspersky Government Security Solutions (KGSS). KGSS was launched in the summer of 2014 to try and secure US federal contracts for the Russian cybersecurity company. Located in Washington DC, KGSS was originally staffed with US cybersecurity veterans including Adam Firestone, who had spent decades working with various cybersecurity firms in DC, as well as executives who were moved from Kaspersky to the subsidiary. Three years later, it appears that nearly all of the senior management of KGSS has been replaced, and the original executives put in charge of KGSS have all moved on to other firms.
"It was a mess," said a former Kaspersky employee, who worked closely with KGSS throughout its formation. He also asked for anonymity, on the basis of an non-disclosure agreement he signed preventing him from speaking to media. "They wanted contracts in DC but that takes a lot of time and there wasn't a lot of trust in a company that didn't just come from Russia, but was rumored to have all these ties to the FSB."
Chris Doggett, a former president of Kaspersky Lab who worked with KGSS at its inception, told BuzzFeed News the company wanted to, "not only reactively provide info, but proactively provide information on cyberattacks."
"The thought process was that Kaspersky Lab has a lot of capabilities that would be useful around the world to governments and organizations in terms of cybersecurity," said Doggett. He said Kaspersky readily shared information gleaned from their cybersecurity investigations and reporting with officials around Washington, DC.
"There is a lot of good threat intel and threat research that the company made available to intel community and that was readily offered and accepted," said Doggett, though he added that there was a "cold war mentality," among some DC-insiders and that it "was not a warm climate" to KGSS at the outset.
BuzzFeed News has repeatedly contacted KGSS and requested interviews with their US-based staff, as well as background on the sort of contracts the Kaspersky subsidiary is seeking in DC. BuzzFeed News also requested that Kaspersky confirm that Flynn had appeared at their 2015 Forum, and asked whether he had spoken at previous events. Neither Kaspersky or KGSS have responded to those requests.
Concern over Flynn's ties to Kaspersky, as well as other Russian companies, has been driven by mistrust over Russia's role in hacking the emails of senior Democratic Party members, and trying — according to US intelligence assessments — to influence the US vote in favor of President Donald Trump.