A Bunch Of ISIS Fanboys Posted Photo Messages And Accidentally Revealed Their Locations
Followers of ISIS from around the world tweeted in support of an ISIS speech on Saturday, which allowed intelligence agencies to trace their exact locations.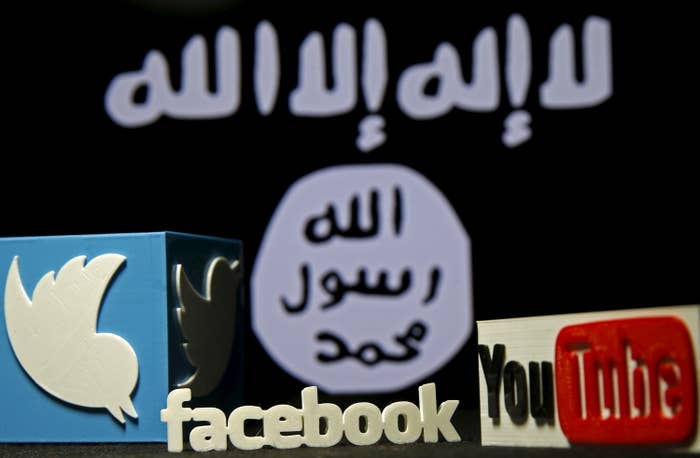 SAN FRANCISCO — The exact location of ISIS supporters in several European cities were allegedly found Saturday, when photographs published by those in support of the group were used by internet sleuths to track them down.
As rumors spread that an ISIS-affiliated media group would be releasing a recording from the top leadership on Saturday, thousands of ISIS supporters, also known as fanboys, took to social media sites to try and create a buzz about the release.
Among the tweets and uploads to Telegram, a messaging app with many ISIS channels, were dozens of photographs showing the fanboys holding pieces of papers with messages scribbled on them in support of ISIS, from countries around the world, including Germany, France, and England.
Their photos were supposed to instill fear by showing that the group had supporters in major European cities. Instead, the photos were used to geolocate the fanboys, and give tips to local law enforcement officials on how to find them.
Eliot Higgins, one of the founders of Bellingcat, a website devoted to civic data journalism, was the first to ask his followers to help him geolocate the photos.
"We're currently looking at a small number of photos, but we're working through them one by one to keep people focused," Higgins wrote BuzzFeed News in an email. "Hopefully law enforcement will take notice, especially as the one in Paris appears to have been taken from a private home."

Higgins tweeted that he believed that with the help of several other people, he had traced one ISIS fanboy to an exact location.

A reader in London then helped identify a second location he believed a note was posted from:

Using his Twitter account, Higgins is still working through the visual clues offered in other photos posted by the ISIS supporters. Using CCTV footage, and other cameras, Higgins hopes local police may be able to track down the persons who posted the messages in support of ISIS.
One intelligence official, who spoke to BuzzFeed News earlier this year about the ways in which ISIS uses the internet, noted if law enforcement are able to get their hands on the raw photo uploads, they could often see photo's metadata, which includes specific details on where the photo was taken and a time stamp.
"The more they use these programs the greater the chance someone slips up and uses them incorrectly and exposes themselves," one U.S. military intelligence official told BuzzFeed News during a briefing in D.C. He spoke to BuzzFeed on the condition that he not be named as he wasn't authorized to speak to press. "In a way, it's best for us when they increase their presence online as much as possible. The more they do online, the more of a digital footprint we have to follow."

Those who follow ISIS closely on the internet, meanwhile, couldn't help celebrating that ISIS fanboys had made the mistake:
Sheera Frenkel is a cybersecurity correspondent for BuzzFeed News based in San Francisco. She has reported from Israel, Egypt, Jordan and across the Middle East. Her secure PGP fingerprint is 4A53 A35C 06BE 5339 E9B6 D54E 73A6 0F6A E252 A50F

Contact Sheera Frenkel at sheera.frenkel@buzzfeed.com.

Got a confidential tip? Submit it here.