180 Israeli Security Officials Tell Netanyahu That Speaking To Congress Is A Mistake
"It is time the prime minister listened to us before he wrecks our strategic interests with our closest ally. Nothing good for Israel can come from humiliating the U.S. president."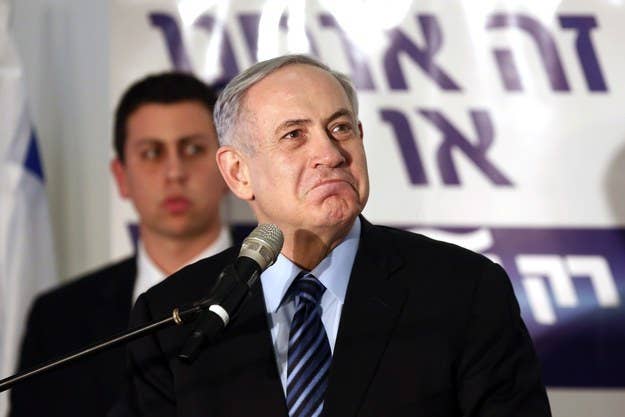 TEL AVIV — An alliance of 180 of Israel's top former military and intelligence officials are criticizing Israeli Prime Minister Benjamin Netanyahu's decision to speak to Congress, in a rare public stance against the Israeli leader.
Just hours after Netanyahu boarded a plane bound for Washington, the group of former generals and intelligence heads held a press conference in Tel Aviv where they stated that Netanyahu's policies and upcoming speech to Congress were doing irreparable harm to U.S.-Israel relations and would do nothing to stop Iran's nuclear program.
"When the Israeli prime minister argues that his speech will stop Iran from obtaining nuclear weapons, he is not only misleading Israel – he is actually strengthening Iran," said Gen. (Res). Amnon Reshef, head of the group, Commanders for Israel's Security, and former head of Israel's armored corps. "It is time the prime minister listened to us before he wrecks our strategic interests with our closest ally. Nothing good for Israel can come from humiliating the U.S. president."
Netanyahu's invitation to speak in D.C., was issued by Speaker John Boehner, who has said he deliberately kept the White House in the dark. The move has angered many Democrats, who see it as an attempt by Netanyahu to use the invitation to bolster the Republican Party's hawkish view on Iran, while snubbing the White House's ongoing efforts to reach a deal over Iran's nuclear program.
Netanyahu is scheduled to address a conference Sunday of the pro-Israel lobbying group AIPAC, a precursor to his speech to Congress on Tuesday. The speech to Congress has led to what officials in both countries are calling the most serious crisis in U.S.- Israel relations in decades. The White House has voiced their dismay at Netanyahu's decision to address Congress about what the Israeli premier has labeled as an address to stop the U.S. from agreeing to a bad deal with Iran. Unnamed Israeli officials, who asked to remain anonymous as they are currently in active service with the Israeli military, spoke to BuzzFeed News last week about their concern regarding Netanyahu's speech. Sunday's press conference, however was rare in that the generals and intelligence officers in attendance represent parties from across Israel's political spectrum, yet spoke publicly against Netanyahu's decision to speak to Congress.
Reshef founded the Commanders group last year to call for Netanyahu to restart the peace process with Palestinians. Other members include Dan Halutz, who just recently stepped down as head of the Israeli Defense Forces, and former Mossad director Zvi Zamir. It was the group's second press conference in its short history.
Reshef said Sunday that his group was non-partisan.
"We are not telling Israelis who to vote for and are not politically motivated. All we care about is Israel's security and the policy needed to strengthen it — including a security-diplomatic initiative between Israel and moderate Arab countries," said Reshef.
The press conference held by the Commanders group came just days after Meir Dagan, former head of the Mossad, gave an interview to one of Israel's most popular newspapers stating that Netanyahu was taking "intolerable risks" with Israel's security.
"The veto umbrella provided by the Americans [at the United Nations Security Council] could vanish, and Israel would promptly find itself facing international sanctions," he told Yediot Ahronot. Dagan, who will also appear at an anti-Netanyahu rally next weekend, called on Israelis not to vote for Netanyahu's Likud Party.
With Israel going to the polls in just over two weeks, Likud and its rivals remain in a tightly-locked race for control of the government. It's unclear what effect, if any, Netanyahu's speech to Congress will have on voters — though his Likud Party has referenced the speech in several recent advertisements likening Netanyahu's stance against the U.S. to the defiant stances taken by some of Israel's earliest prime ministers.
On Sunday, just before boarding his plane to Washington, Netanyahu released a photo of himself praying at the Western Wall, one of Judaism's holiest sites, and invoked the story of Esther, which Jews will read during the holiday of Purim this week.
"A few days before the Fast of Esther, I am leaving for Washington on a fateful, even historic, mission," said Netanyahu in a statement to the press. "I feel that I am the emissary of all Israelis, even those who disagree with me, of the entire Jewish People. I am deeply and genuinely concerned for the security of all Israelis, for the fate of the nation, and for the fate of our people and I will do my utmost to ensure our future."
In a video uploaded to Netanyahu's Facebook page, he is also heard telling Israel's orthodox radio station, "whoever is Prime Minister of Israel should stand for Israel's national security interests."
Sheera Frenkel is a cybersecurity correspondent for BuzzFeed News based in San Francisco. She has reported from Israel, Egypt, Jordan and across the Middle East. Her secure PGP fingerprint is 4A53 A35C 06BE 5339 E9B6 D54E 73A6 0F6A E252 A50F

Contact Sheera Frenkel at sheera.frenkel@buzzfeed.com.

Got a confidential tip? Submit it here.