Last November, a 15-year-old named Steele kissed a girl for the first time. While she waited for The Weeknd to take the stage at the MTS Centre in Winnipeg, she watched the opening act, Halsey, whom she'd never heard of before. But the rising electropop star made a quick first impression.
During the performance of her song "Colors," Halsey, who is openly bisexual, asked for all the single ladies in the audience to raise their hands. Halsey beckoned for Steele to come closer to the stage.
"She leans over and kisses me," Steele recounted recently over Twitter DM. "And of course I kiss back, and we totally made out!!"
This was far from the first time that Halsey, who is now 21, had kissed a girl in her audience. On Tumblr — where, a few years ago, Halsey was a popular Harry Styles stan who wrote and recorded goofy songs trashing Taylor Swift — the phenomenon has been extensively catalogued. Bestowing casual kisses has been one of the ways in which the pop singer connects with her fanbase: a group which tends to skew young, female, and at least a little bi-curious.
Ever since Halsey's album Badlands debuted in August 2015, she's been on an astronomical rise from a modestly popular Tumblr user posting tracks on SoundCloud to a musical force with millions of social media followers. But 2015, which saw her opening for The Weeknd and Imagine Dragons, was only the beginning. Last month, she headlined her own sold-out show at Madison Square Garden, and she's featured on The Chainsmokers' smash hit "Closer," which has been number one on the Billboard 100 chart for the last 6 weeks. And her young queer and queer-friendly fans have made it all happen.
After Steele tweeted the video she'd taken of her kiss, some people online questioned how consensual it really could have been, since she was only 15, while Halsey was 20 at the time — not to mention in a position of power as a rising celebrity. But the drama soon died down, and Steele now remembers it with nothing but fondness and delight. Kissing Halsey helped her realize she's a lesbian.
"I always thought about girls that way, you know," Steele said. "When Halsey kissed me, it felt so right. I got butterflies and everything. It was so beautiful, honestly."
Those kisses were one of the ways that Halsey had told her queer and questioning fans: I'm just like you. But there aren't many new fan kiss shots circulating on Tumblr or Twitter lately, indicating that perhaps Halsey isn't making a habit of it anymore. As she figures out boundaries with her fans — who often demand direct access to the "real" her at all times — she's also been subtly transforming her concert looks, performing with the likes of Justin Bieber and the Chainsmokers' insufferable dude-bro Andrew Taggart, and making music videos in which she lusts (sometimes illicitly) after men.
Halsey remains an out bisexual woman, no matter what she does with her art. But she's also working her way through the thorny tangle of an old-fashioned and male-dominated music industry, which places enormous demands on how women look and act.
Just like every major female performer before her, Halsey will be pressed to constantly re-evaluate the way she performs her sexuality. Pop music is hardly overflowing with androgynous, openly queer women; in many ways, Halsey is forging her own path. But she also shares a legacy with other openly gay and bisexual celebrities, past and present, who must negotiate how visibly and vocally queer they can be when moving into the mainstream, even long after coming out. Embracing queerness — hers, and that of her fans — helped get Halsey here. But will she have to tone down that embrace in order to stay?
Halsey isn't the first out female singer to be supported in part by queer fans. Others have included everyone from Melissa Etheridge and the Indigo Girls, to Courtney Barnett and Laura Jane Grace, to Syd tha Kyd and Angel Haze (who was assigned female at birth but identifies as agender). All of these artists have thrived in their own particular musical niches, whether hip-hop or folk or rock or punk. Halsey, however, resides in the land of pop: alternative, electronic indie pop, granted, but pop nonetheless. And pop, historically, has not been a place where many out queer women have thrived. Those who have been queer and successful — like lesbian singer Lesley Gore in the '60s and '70s — were mostly closeted at the height of their fame, or passed easily as straight, or (in her case) both. Masculine or androgynous queer women haven't seen similar success.

Male pop singers, for their part, have traditionally been vehicles through which preteen girls have explored and expressed their budding sexuality, to the dismissal and disgust of "real" (read: male) music fans. Countless girls over the last 60 years fell in love for the first time with the likes of a Beatle or a Backstreet Boy; their fandom has sustained pop from the get-go. But for the girls who eventually realize they're attracted to masculine or androgynous women, there has long since been a dearth of mainstream singers capable of inciting their sexual awakenings.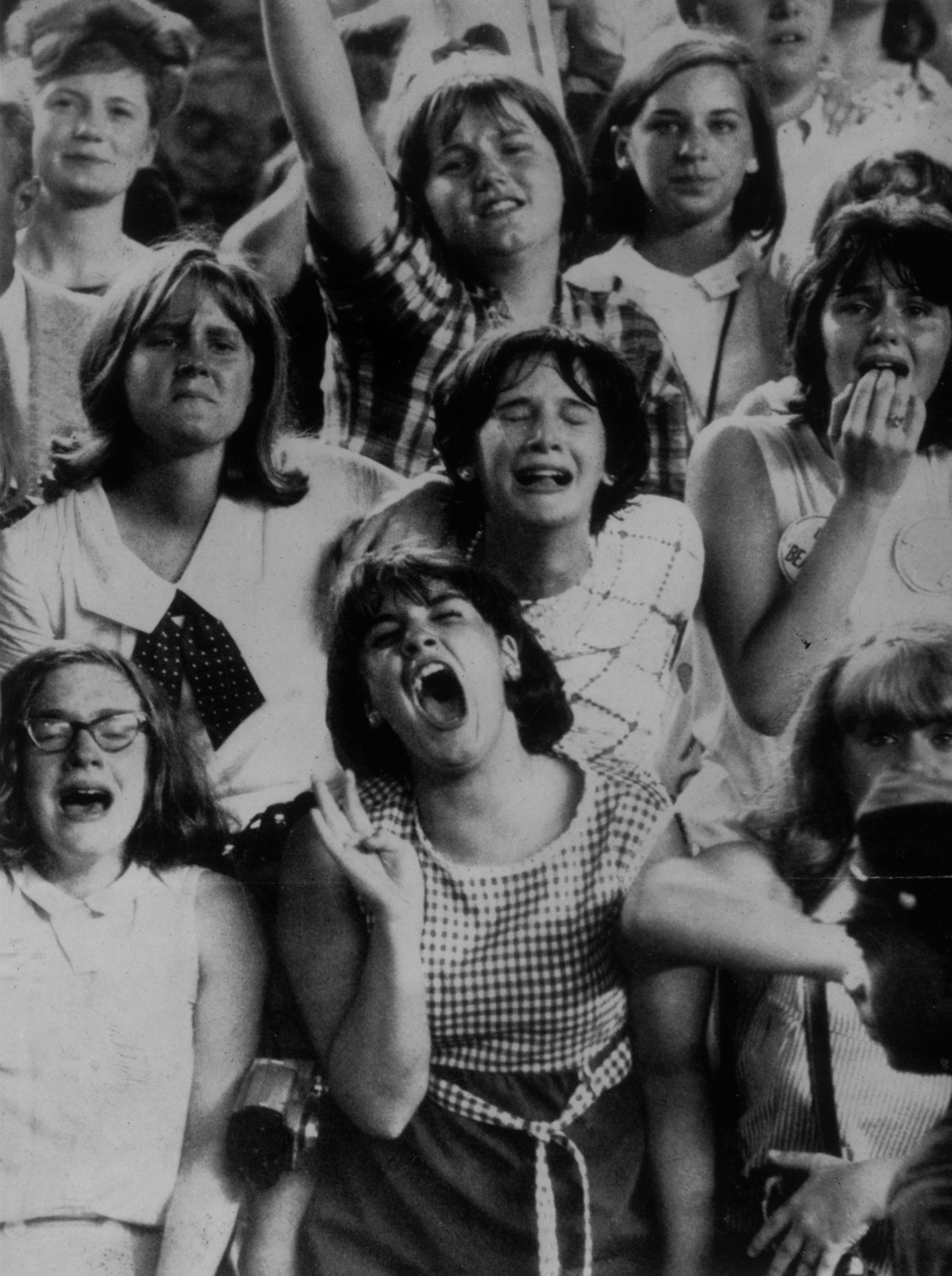 Tegan and Sara, the beloved androgynous indie pop duo, have arguably been the only gay pop stars to shatter that particular glass ceiling. When they were working on their 2013 album Heartthrob — which pushed them, finally, into mainstream success — their label head urged them to avoid thinking there was a ceiling overhead at all. "Well there is, quite literally," Tegan told her label, according to an interview with BuzzFeed News earlier this year. "I can't think of a gay woman that's on the pop charts. And they were like, 'Well, why can't that be you?'"
Though Tegan and Sara have since climbed those charts, they still aren't Taylor Swift–level famous — but it's easy to imagine that they might be if they were more palatable to a wider, straighter audience. Tegan and Sara are currently headlining their Love You to Death tour, but recently opened stadium shows for acts like Katy Perry, despite being exponentially more talented. Katy kissed a girl just to try it (~taste of her cherry ChapStick~), but was able to leave her brief and titillating queer experimentation phase behind her. Tegan and Sara don't get the privilege of picking up their lesbianism, trying it on for a sexy show, and packing it safely away again. Katy is also the ultimate femme, while both Tegan and Sara are more androgynous — and female musicians often have to sell their image to mainstream audiences just as much as they do their sound.
Even in 2016, when we all want to believe that out celebrities won't be penalized or pigeonholed for their queerness, there are precious few openly lesbian and queer women making waves in mainstream music. Remember when Jessie J said her bisexuality was just a phase? Or when Demi Lovato released "Cool for the Summer," co-written with four male songwriters, which relegated a fling with a woman to "just something that we wanna try" and made sure to emphasize in interviews that the song was about nothing more than experimentation?
It doesn't seem coincidental that when Miley Cyrus, a megawatt star, started anti-Disneying her image by cutting off her hair and embracing gender and sexual fluidity (as well as appropriating black culture to a nightmarish degree), she became a weird girl, a deviant, a performer of gross and wacky stunts. She remains famous without being particularly popular.
Full-blown, unapologetic outness, which encompasses gender nonconformity, is still dangerous for queer female celebrities.
Being openly queer may devastate a public figure's career, or it might be just a small blip. The particular industry has a lot to do with that distinction, says Howard Bragman, a veteran celebrity publicist who has devoted a portion of his career to helping celebrities like Chely Wright and Michael Sam come out. Queer country and Christian musicians have the hardest time transitioning into living openly, but in general, "musicians have a little more latitude," Bragman said in a recent phone interview. "I think music is a lot less judgmental for the most part than acting."
With musicians, says Bragman, you're not so much putting on an act — presumed authenticity, therefore, holds more value. "I think we live in a world where being outrageous can serve you well," he said. "There's been a long history of sexual fluidity in pop music."
But there's also been a long history in pop music of stars who, after rocketing to fame precisely because they fucked with mainstream ideas of gender and sex, reneged on their queerness later in life. Prince waffled on his support of gay marriage; in the '90s, David Bowie said he'd always been a "closeted heterosexual."
Even though musicians have more wiggle room, says Bragman, "in most of the entertainment world, you want to keep as broad of a fanbase as possible." And when our most famous gender-bending pop stars have been men like Prince and Bowie, women — who, in 2016, still have to sell their appeal to straight men — have more reason to be concerned about securing that broad base.
Full-blown, unapologetic outness, which encompasses gender nonconformity, is still dangerous for queer female celebrities. And now Halsey, who began her career as a champion of the outsiders, someone who was visibly queer and outspoken about lifting those on the margins, may be facing a ceiling of her own.
In 2014, when she was 19, Halsey recorded a track called "Ghost" in a New Jersey basement and uploaded it to SoundCloud. She'd shared parody songs and covers before, but this was her first original song. Halsey's internet fans shared the link like crazy, and soon afterward A&R reps from major labels were clamoring for development meetings with her. She signed with Astralwerks and became, almost literally, an overnight sensation.

Musically, Halsey is a darker Ellie Goulding combined with a less cerebral Lorde, with some Taylor Swift thrown in. Her electronic indie pop throws boys, liquor, and cars into a lyrical blender and dumps them into a futuristic dystopian society called the Badlands, which is what she called both her debut album and the state of her mind as she was writing it.
Her music video for "Ghost", released in June 2015, is set in a dreamy but alienating Japan, its aesthetics lifted right out of Lost in Translation. Halsey, in a short blue wig, rolls around on a bed with a woman played by model Courtney McCullough, who wears the same wig in pink. They're captured in their underwear, in slo-mo, sometimes kissing but mostly just touching each other's bare expanses of skin.
"I put up the 'Ghost' video and it's [about] this lesbian relationship," Halsey told Popjustice last year, in one of her earliest feature-length interviews. "I'm bisexual so it's my opportunity to take heteronormativity out of this world of media and culture and blah blah blah. And also I just wanted to piss off Capitol because they were like, 'Cool, we're going to cast you a guy' and I was like, 'Fuck you, don't assume that I want a guy in my video, fuck off!'"
When music videos tend to skew as straight as the rest of mainstream media, seeing two women together is still noteworthy; all the better that both women are out as queer. Still, the challenge "Ghost" poses to heteronormativity feels rather coolly theoretical. The woman Halsey's paired with, played by McCullough, doesn't quite stand alone as her own person — she functions more as Halsey's racebent mirror. The neon-lit, futuristic Tokyo setting seems distant, touristic, even otherworldly. It's a dream sequence — unlike the less-viewed Room 93 alternate video for "Ghost," which exists in the same universe as Halsey's earlier "Hurricane" and pairs her with a guy. Set at the Pink Motel in LA, the male love interest version of "Ghost" feels modern and hyperrealistic, even autobiographical.
In the few music videos Halsey has released since, none have featured a same-sex pairing. In last year's big-budget dystopian video for "New Americana," she has no love interest; she's a cool alt-hero to the young and disaffected, battling the forces that be in short blue hair, a full face of makeup, and an extremely sexy armor-bra thing. This past April, Halsey released the forgettable video for "Castle," a song from the soundtrack for the (equally forgettable) film The Huntsman: Winter's War. Lots of shots of her singing in a queenly gold dress, but again, no love interest.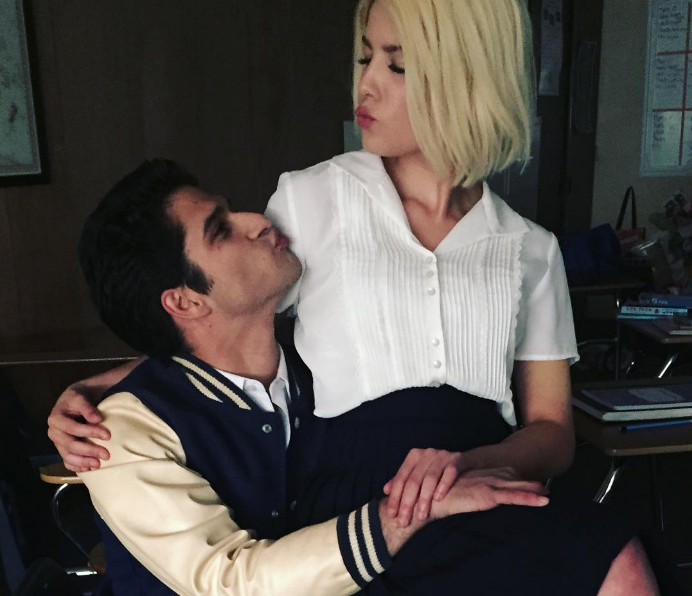 Which, great! Women don't need love interests. But since Halsey uses them infrequently, they're all the more notable when she does. The February 2016 video for her latest single, "Colors" (which sounds a lot like Taylor Swift's "Red," in both theme and melody), features Teen Wolf star Tyler Posey. He's one of those celebrities who's kind of known for acting but is much more famous for being good at Instagram, where he has 3.1 million followers. Posey is Halsey's perfect male complement: They're both relative newcomers to their fields who have amassed insane online followings in a few short years. Halsey is beautiful, but tweets about still loving boy bands; Posey is hot (to teens?), but posts pictures of himself pooping. Relatable!
In "Colors," these two relatable stars play country club members in a sepia-toned 1950s flashback, dressed impeccably in tennis whites. Halsey's been taking secret photographs, which Tyler eventually discovers — and they're all of his dad, whom Halsey's been lusting after the whole time. Twist. In some ways, you can't get any straighter than this plotline: Young hot girl is into older hot dude. But the sheer illicitness of a teenager fantasizing about a grown adult adds a complicating layer to the video — it's a queering of the narrative, a disruption of the natural pairing between teen girl and teen boy. "Colors" manages, at once, to affirm heteronormativity even while straining it uncomfortably at the seams.
Working with someone like Tyler Posey has become par for the course for Halsey, who has spent the past year collaborating with hyper-exposed men. On her Instagram — where she has about 3 million followers — you'll find cameos from cool-boy DJs, musicians, and photographers, like Diplo, both Chainsmokers, Steve Aoki, Rory Kramer, Machine Gun Kelly, G-Eazy, Brendon Urie, and Skrillex. You'll definitely spot some girls — mostly a pair of sisters named Paige and Payton Selzer — but Halsey's public image tends to have her flanked by guys.

This has been the case for her musically, too. She and Bieber performed "The Feeling" on the Today show last November in an awkward and teasingly sexual set. Halsey wore a letter jacket, short blonde hair, heels, and baggy white jeans, mixing the masculine and feminine in a way she's perfected. Bieber, as usual, looked strikingly like a lesbian. They sung to each other, often on the verge of touching. Smack in the middle, they shared a weird and sensual hug.
"It was a fucking train wreck," Halsey told Billboard, laughing. "You don't know fear until it's 7 a.m. and freezing cold on live television and you're not sure if Justin Bieber is going to kiss you or not."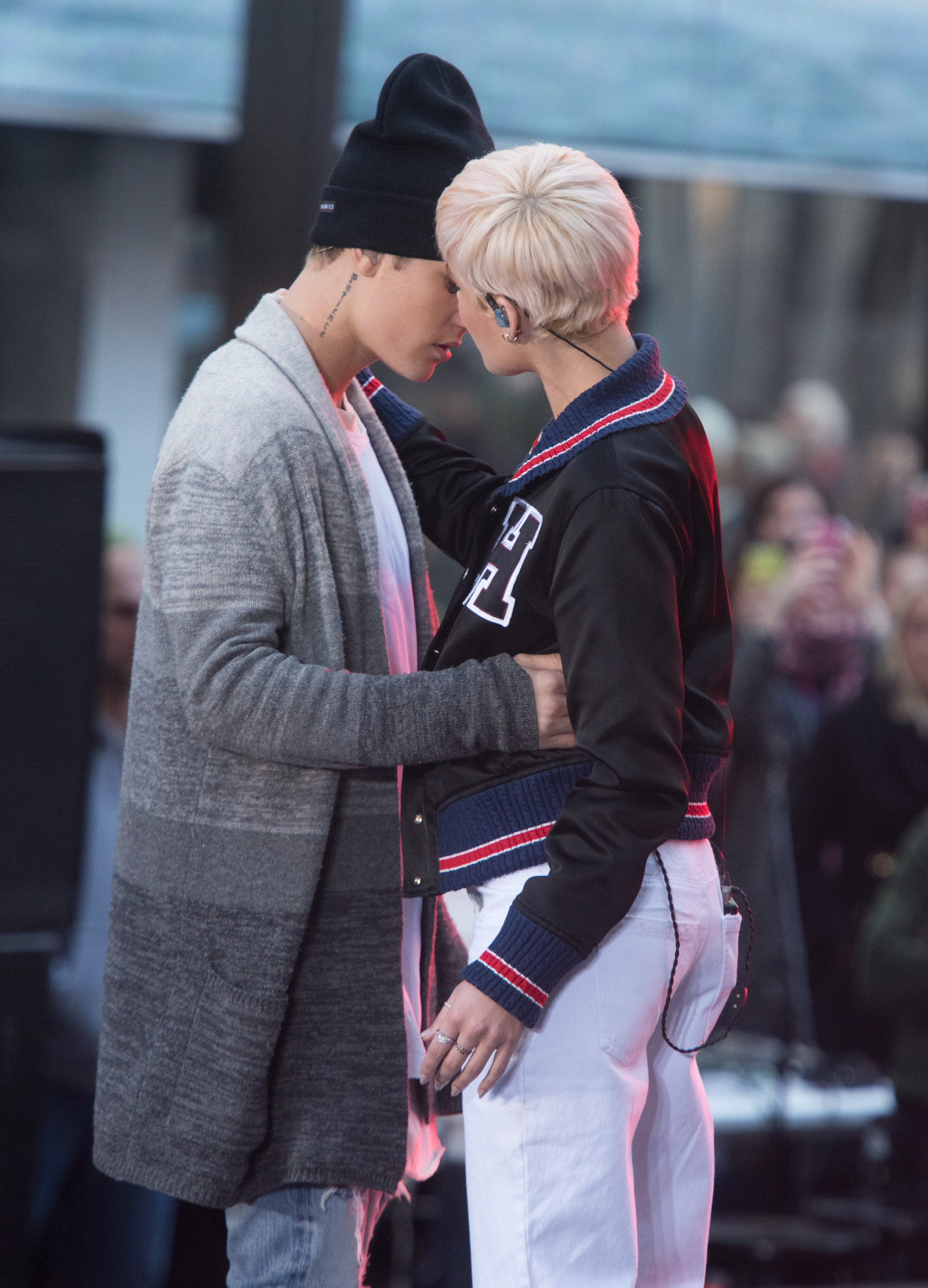 Most recently, she and Andrew Taggart gave a rocky performance of the Chainsmokers' No. 1 song "Closer" at the 2016 VMAs. During the bridge, Taggart approached Halsey from behind, pressed himself against her, and let his fingers drift momentarily over her crotch. Halsey always brings a lot of high-femme game to her stage looks, but usually mixes in touches of the masculine and the androgynous. Her VMAs outfit, however, was one of her most traditionally feminine picks: sparkly white bell bottoms and a tiny matching crop top showing a peek of underboob, the look topped off with a plain long brown wig. She and Taggart might have looked like an unremarkable straight couple to anyone who didn't know better.
In last year's Popjustice interview, Halsey discussed how difficult it had been to get onstage in front of Imagine Dragons' fans when she was opening for them. "When you get to an arena standpoint, a lot of those people are there because they are casual fans," she said. "I walk out, I've got short blue hair and I'm playing to conservative America like, 'Is she gay? I don't get it. She's singing about guys but she looks like a lesbian.'"
The VMA audience wasn't subjected to that kind of cognitive dissonance.
There could be any number of reasons why that particular performance of that particular song looked and felt the way it did. Even though VMA ratings have tanked in the past few years, a few million TV viewers is still the most visibility Halsey's ever received at one time. In the name of mass exposure, might Halsey be experimenting with toning down the queerness of her image?
Halsey is relatively private about her dating life. She's been confirmedly on-again, off-again with the Norwegian rapper and producer Lido for years, but that's as far as confirmations go. After Ruby Rose split up with her fiancé Phoebe Dahl last year, Ruby and Halsey rumors flew. Other whispers: Bieber, Taggart, Jared Leto. All, for now, just rumors.
Hanging with a lot of dudes, and gender-fluid people like Ruby, is another way in which Halsey raises complicated questions about her constructed identity. One could look at her Instagram, her music videos, and her guy-heavy song lyrics and discern that she's a one-of-the-boys kind of girl, someone who may appear to sit on the straighter end of the Kinsey scale. But one could also read her as a classic Lez Bro, masculine-leaning and simply more comfortable around other masculine people. (If she truly is just a bro to most or all of these guys, that might explain why her performances with people like Bieber are so awkward.)
When it comes to her songs themselves, Halsey tends to use male pronouns or no pronouns at all, which doesn't explicitly mean she's hiding anything. But there's a chance she might feel internal or external pressure to keep her songs appealing to a broad base. Howard Bragman, the PR coming-out guru, said that it makes sense for musicians to be steered in a gender-neutral lyrical direction: "Again, you want to appeal to as wide an audience as possible. It's the business impact."
Regardless of how she projects her image — or how we might read it — Halsey is through-and-through bisexual because she says she is.
In one of Halsey's songs from the deluxe edition of Badlands, "Strange Love," it's heavily implied that she's singing about a girl: "They think I'm insane / They think my lover is strange." The song is all about a secret Halsey's determined to keep — presumably, one about the gender of the person she's sleeping with. It has the same evasiveness as something like Demi Lovato's "Cool for the Summer," but it's less coy and more fuck-you.
In 2014, Sam Smith stirred online drama when he said he doesn't identify gender markers in his songs so that they can have more of a universal appeal. Olly Alexander of Years & Years, who uses male pronouns on his debut album, has said, "It's kind of sad to me that we don't have gay pop stars singing about men."
But regardless of how she projects her image — or how we might read it — Halsey is through-and-through bisexual because she says she is, no matter how many men she collaborates with, no matter how she dresses, no matter who she dates. She doesn't need to prove that fact to anyone.
Nor, for that matter, does Halsey need to commit her career to battling heteronormativity. In the past, however, she has considered that battle one of her professional goals — something that matters to her personally. Now that the stakes are higher and the game has changed, it's not a big leap to think that her goals might have changed too.
If there is one common piece of knowledge among queer people, it's that you never come out just once. You come out constantly: to your family, your co-workers, your doctors, that guy hitting on you at the bar who you wish would just please leave you alone. Even for celebrities — who, in 2016, might announce their sexuality in a single word or a long, heartfelt post; an op-ed or a televised speech; a Snapchat or a tweeted screenshot of an iPhone note — coming out on huge, well-publicized platforms doesn't guarantee the public will listen, or listen for long. Straightness is the assumed norm, and always has been — particularly for women.

For queer female celebrities, the negotiation between outness versus openness is often extraordinarily fraught. Kristen Stewart, for example, spent years being seen holding hands with girlfriends in public — not technically hiding anything, so, one might say, living openly — but avoided talking about her sexuality or her relationships to the press. Then, this past July, she explicitly told Elle UK about her relationship with Alicia Cargile for the first time, saying that "to hide it provides the implication that I'm not down with it or I'm ashamed of it." She's no longer hiding anymore.
Then you have someone like Kate McKinnon, who has been out as gay for her entire career. Starting in 2007, she was a cast member for all three seasons of Logo's The Big Gay Sketch Show. Now, on SNL, she continues to act in sketches with gay themes — "Dyke and Fats," "Lesbian Cat Ladies" — but doesn't publicly discuss lesbianism nearly as much as she did earlier in her career. In a recent New York Times profile, she didn't confirm or deny that her very queer character in Ghostbusters is queer; it's easy to assume that the studio might have pressured her to appeal to a broad audience by keeping Holtzmann unlabeled. She's in no way back in the closet — in versus out has never been a realistic binary — but the way McKinnon expresses and performs her queerness has changed as her career has become more mainstream.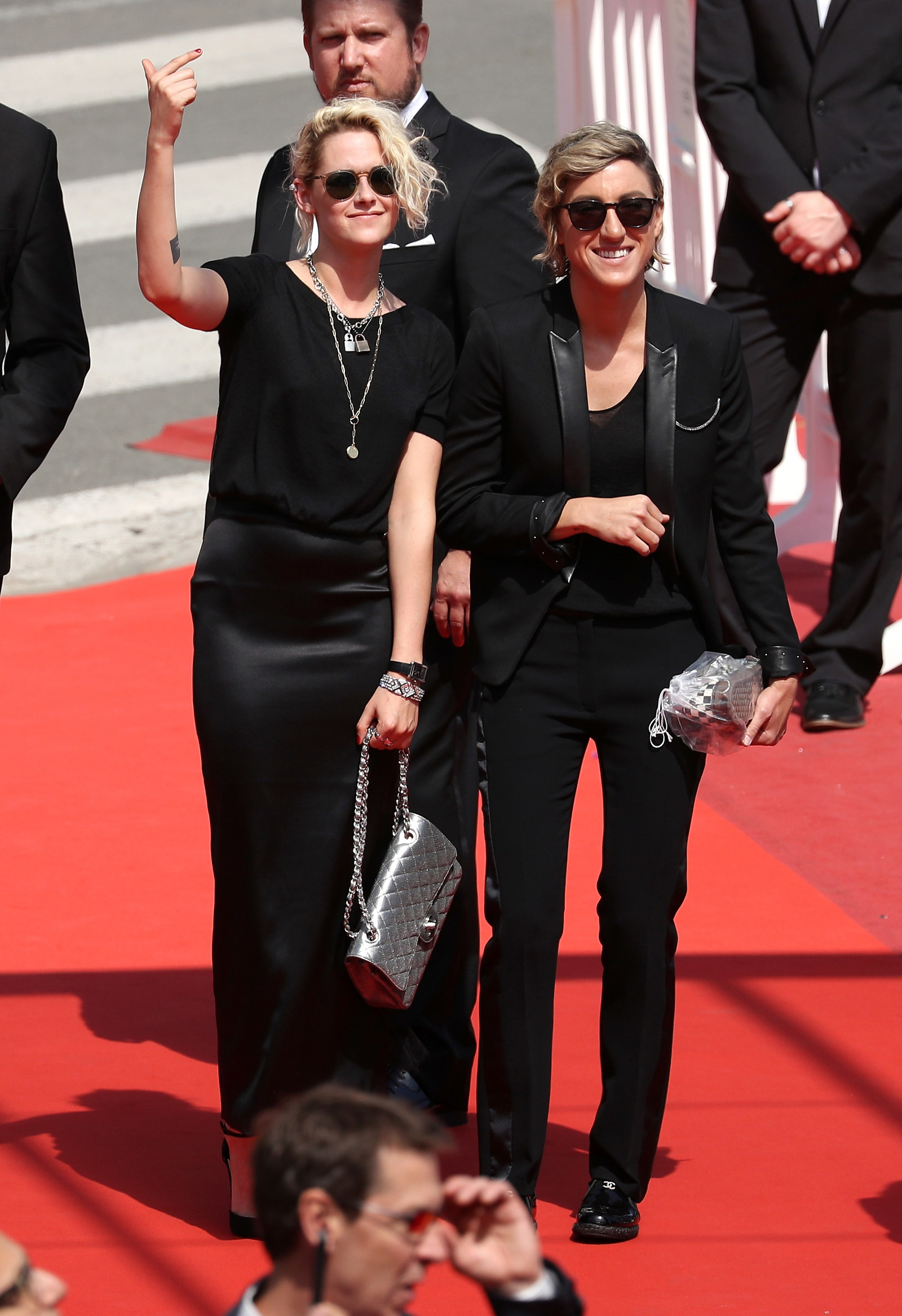 Which is fine. Far be it from anyone to police the way a queer person expresses their queerness. But when a celebrity grows more prominent on the national stage — when she is held to different and more significant pressures, from labels and agents and managers and publicists — it's hard to know where a personal choice ends and a commercial imperative might begin.
With someone like Halsey, who rose to fame outside of the industry and doesn't have the might of an enormous label behind her, it's easier to assume that her personal choices might be just that. She signed with Astralwerks for only $100,000, telling Billboard she liked the people there best. She writes and cuts her own songs. Her manager is one of her good friends from before she was famous. And, like all celebs who have mastered social media, Halsey manages to live within the musical-industrial machine while also operating largely outside of it: Her Twitter and Instagram are direct, personal routes to her fans. After having already lived a hard-partying whirlwind of a life — and after having already been, for years, more or less an open book — Halsey is no stranger to expressing herself.
But no one is ever entirely free from the expectations of a heteronormative world. Last year, in an interview with BuzzFeed News, Ellen Page explained both the external and internal pressure she'd felt to remain closeted. She'd request that women she was dating leave her hotel from a different entrance, or hide in the bathroom when room service came. She discussed "not even necessarily being told" that she wouldn't be able to act anymore if she came out as gay — there was instead "the believed, subtly expressed idea" that she would be out of the job. "And that is a huge part of my life.'"
It's hard to know where a personal choice ends and a commercial imperative might begin.
Celebrities who aren't explicitly instructed not to come out are still doused in the entertainment-industry-wide belief that to be successful, one must be as close to the mainstream ideal as possible: straight, white, cisgender, and conventionally (for women: femininely) beautiful. Straight celebrities perpetuate it too — like when Matt Damon implied that gay actors should stay in the closet so that they could play straight more convincingly. Howard Bragman confirmed that coming out is much tougher with actors: "You wanna be able to say you can do a lot of things."
Of course, when it comes to celebrities, there is no such thing as genuine authenticity. Perhaps nothing this year has demonstrated the illusion of celebrity sincerity quite so clearly as Taylor Swift's fall from grace; her previously well-oiled (and well-hidden) PR machine has been steadily exposed, Swift's nice-girl image slipping to show the gears grinding furiously away behind her.
Halsey's had her own small bumps in the road with fans. Celebrities are human, just as much as they are performers. Like Bowie and Prince before her, Halsey decks herself out in costumes and casts herself as a character in faraway worlds. She is a chameleon, someone who floats between the supposed binaries of straight and gay, white and black, outsider and insider. Her fans are still here for her by the millions.
But they don't always make things easy for her. This past July, in her most recent major interview, Halsey spoke to Rolling Stone about how she's fielded abuse for being bisexual but singing about boys. "I've had female relationships, but you could have dated no one and be bisexual," she said. "The funniest thing," she added, "is that the biggest battle that I've had to overcome in my career was not being bisexual, was not being biracial, was not being bipolar. It was everybody thinking that I was exploiting those things."
So she's damned if she does, damned if she doesn't. If Halsey goes full-blown queer in her music, she'll be told she's doing it for attention, or will risk alienating her wider fanbase; if she avoids publicly dating women or referencing them in her songs, people will think she's a fake. Being able to directly and intimately reach her fans is a double-edged sword: They brought her fame, but now they think she owes them everything.
Perhaps Halsey will avoid incorporating too much queerness into her image in the future, and teen girls like Steele will find their sexual awakenings elsewhere. Or perhaps she'll prove that being an androgynous, bisexual pop star is a real possibility in the mainstream. Maybe she'll avoid that path altogether, veering back into the alt-internet world from whence she came. Or maybe, if she continues dancing up and down the spectrums she navigates every day, Halsey will force us to question why we're still trying to place people on those spectrums at all.
In "Strange Love" — her song that's likely about a girl, but we can't really tell for sure — Halsey puts it this way: "I don't have to fucking tell you anything." ●