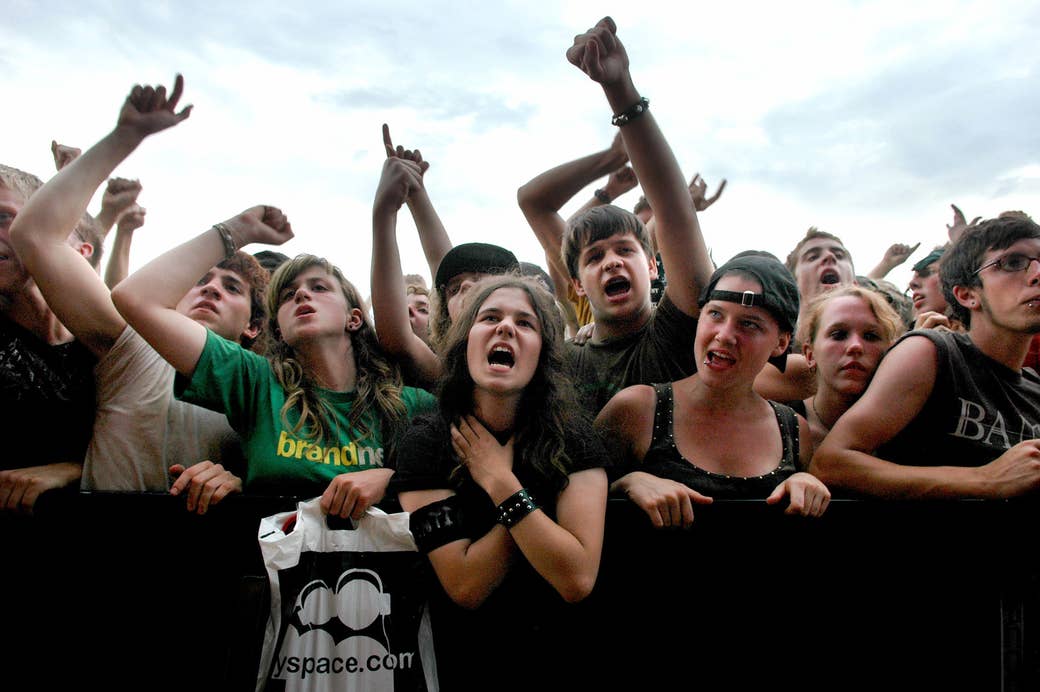 When I was a surly teen with a rat's nest of purple-striped hair, far too many studded belts, and a lower lip I'd pierced myself (when it was still numb after a trip to the dentist), the alt-rock band Brand New was my religion.

Trapped in the monotony of suburban Connecticut, I felt a kinship with this motley group of hardcore dudes from Long Island, who sang about trashed friendships and soured love. At 13, I held my beat-up CD player on my lap and rode my bike in circles on my long, winding driveway, listening to Your Favorite Weapon and, later, Deja Entendu. By the time I'd graduated from the CD player to an iPod shuffle, my mild sadness had bloomed into clinical depression with a side of anorexia, and Brand New's music — with The Devil and God are Raging Inside Me and, years later, the less-loved Daisy — had gotten darker and and angrier, too, as if just for me. I wore skinny jeans years before they became universally popular and gigantic band T-shirts meant to hide my steadily withering body. And when I no longer had the energy to ride my bike to town to loiter in front of the CVS, or even just do endless loops around my driveway, I'd lie spread-eagled in my backyard, earbuds in my ears.
Even upon a thousandth listen, I always found the tangled metaphors in Brand New's lyrics shocking and profound. Many had regular rotations in my moody AIM away messages, and I nearly got a couple of them tattooed on my wrists — an idea that, thank god, I didn't have the guts to follow through on. I used to fall asleep to "The Boy Who Blocked His Own Shot" playing on repeat from my candy-purple stereo, willing myself to cry, the song at once an impetus and a salve for my many teenage heartaches.
At some point, virtually every teenager has a relationship like this with a band: practically druglike, all-consuming. For those of us with a commitment to an alternative aesthetic — goths, punks, emos (groups that looked like the same brand of bad news to our parents, but were Totally different things, Mom, god!) — band worship was all the more intense, all the more sacred. The way we dressed, after all, signified the stuff we listened to: If you were in the know, you could easily tell a Marilyn Manson devotee from a Nausea-loving crust punk from a My Chemical Romance–sort of scene kid. Preps and jocks thought we were all fucking weirdos, but we had our own allegiances. Our own religions.
The world looks different now than it did when we were 13.
And shows, of course, were where we went to church: in shag-carpeted basements, in dive bars, at festivals like Warped Tour, and, later, bafflingly, in stadiums. We slammed our bodies into one another while the music played, turning ourselves inside out. Just as we were on the verge of being smacked in the face by adulthood, here were a bunch of bona fide adults singing to us about how much everything sucks — jobs, relationships, life itself — and swearing that they were never going to grow up. Maybe we didn't need to, either.
But, of course, we did. And the world looks different now than it did when we were 13. This week it was announced that in 2018, after what will be their 24th year on the road, the Vans Warped Tour, a "punk rock summer camp" and the last major US traveling rock concert, will be ending. Many emo fans past and present have mourned the tour's disbandment on social media as the end of an era. And in even grimmer news, just a few months after Brand New surprise-dropped their long-awaited, supposedly final album Science Fiction, sexual misconduct allegations against Brand New's frontman, Jesse Lacey, have surfaced.
The alternative rock, emo, and punk scenes have been just as bad at stamping out rampant strains of misogyny and sexual harassment as the music world at large, but the Lacey allegations feel like a particularly heartbreaking blow. Because Brand New was such a formative force for budding musicians and fans. Because, in hindsight, these allegations were alluded to in lyrics about mistreating women that we romanticized as teenagers. (You can sin or spend the night all alone.) And because, just maybe, even though we certainly know better by now, we'd hoped that men who could make us feel so much — who got us through the darkest times in our lives when nothing else could — might be the good guys. So much for that.
Last Friday, in a since-deleted Facebook post, a woman named Nicole Elizabeth Garey wrote that Lacey had solicited nude photos from her when she was 15 and Lacey was 24, among other accusations. Lacey then released a statement on Brand New's Facebook page in which he didn't specifically address Garey's post, but instead talked more generally about his past behavior. Lacey wrote that he "developed a dependent and addictive relationship with sex" earlier in his life, "and I am sorry for how I have hurt people, mistreated them, lied, and cheated. I am sorry for ignoring the way in which my position, status, and power as a member of a band affected the way people viewed me or their approach to their interactions with me. And I am sorry for how often I have not afforded women the respect, support, or honesty that they deserved, and which is their right."
Garey has since spoken to Pitchfork about her story. In addition to asking her for nude photos when she was 15, Garey said that Lacey also Skyped her while masturbating when she was 22 or 23. Another woman who spoke to Pitchfork, Emily Driskill, said she, too, was solicited for nude photos by Lacey when she was 17, that he initiated "countless masturbatory video chat sessions," and "attempted to manipulate [her] into engaging in sexual situations with other people, on camera, for his viewing pleasure." The band's representatives didn't respond to Pitchfork's requests for comment.
"You're flattered because [the singer of] one of your favorite bands is interested in you and nobody's taken interest in you before," Garey said. "I didn't really see it for what it was because when you're a teenager you think, 'I know everything, I'm an adult.'"
As a 15-year-old, if I had been approached by the lead singer of a band I believed had saved my life, there's no telling what I would have done for him, had he asked. He and other punk-rock icons stared out at me from my bedroom walls every day, where I'd obscured my pathetically girly cloud-swirled blue wallpaper with posters and photo spreads from the Alternative Press. Lacey was my hero. I have a feeling I would have given him anything he wanted.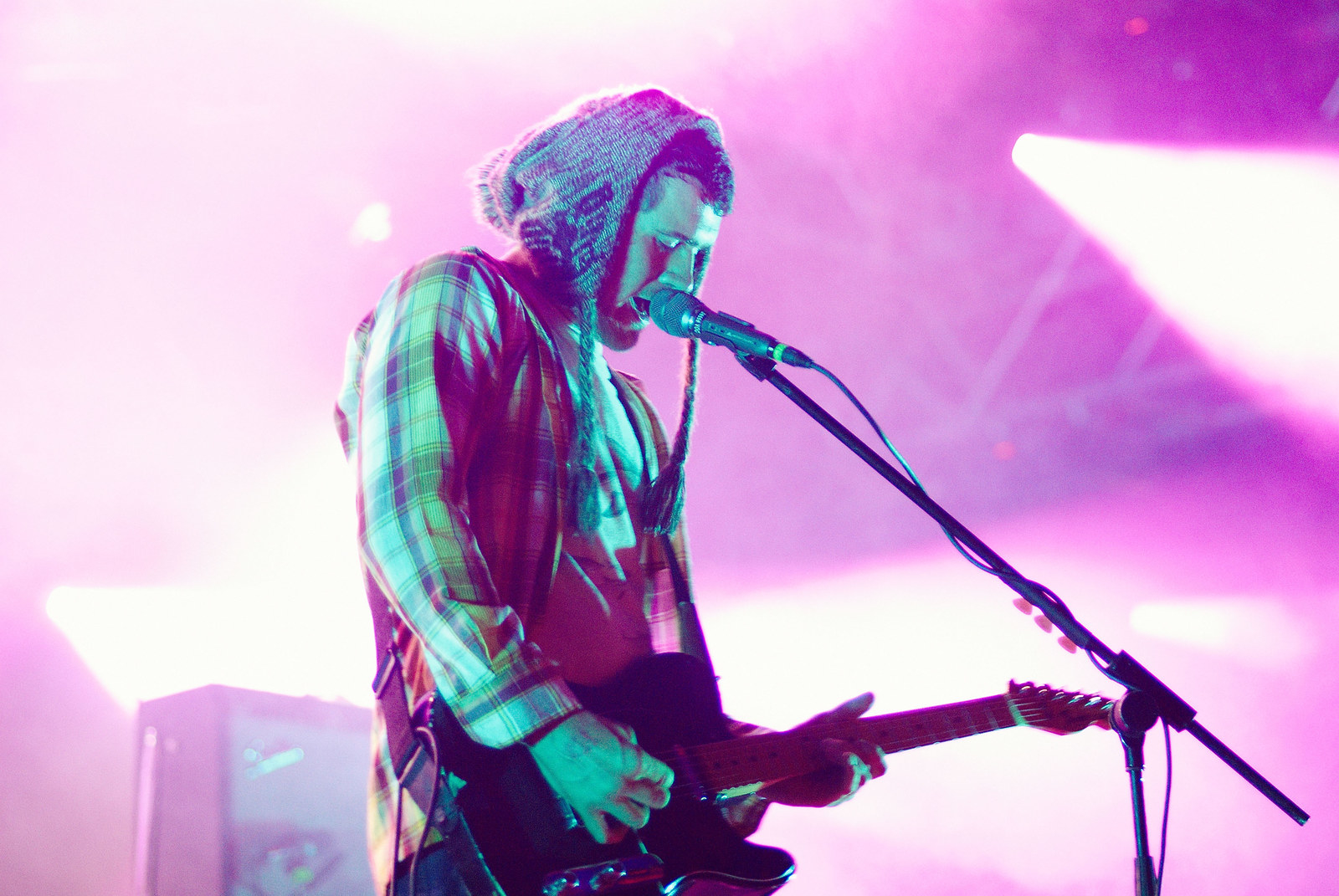 Like Garey, like every teenager, I was a know-it-all who thought I was a grown-up, so I wouldn't have recognized that kind of behavior for what it was. But I also believed, at 15, that emo boys — and men — were different from "regular" guys. Emo guys were, yes, "emotional," and introspective, and artistic, and they imbued everything with the kind of emotional weight I did as a shitty-poetry-writing teen. They weren't like all the dumb jocks who went home to play hours of Madden; they were sensitive souls, writing their own shitty poetry.
For the first couple years of high school, I thought these were the only kinds of boys I could connect with: boys with whom I could discuss music and books; boys who weren't afraid of their feelings. Boys who would understand me. Boys who, I thought, wouldn't hurt me.
That was a ridiculous thing to assume, of course. But when dating my first couple of boyfriends, overjoyed and overwhelmed to be with guys who listened to the same bands and loved the same things that I did, I excused a lot of bad shit. There was the smart, artsy writer who threatened to stab himself with a pencil if I got off the phone with him before he was ready to hang up, who pressured me to do certain sexual things before I was ready and spread nasty rumors about me around school when I wouldn't oblige. There was the quiet, melancholy hardcore punk kid who shoved his hand up my shirt when we were supposed to be watching my 10-year-old brother's soccer game, a few dozen yards away. It turns out that emo boys were not inherently any worse or any better than other dipshit teen guys. But still, I held them to a higher standard; I expected better, wanted better.
It turns out that emo boys were not inherently any worse or any better than other dipshit teen guys.
One of my oldest, dearest friends, a coworker at the snack shack where I worked during every middle and high school summer, took me to my first ever Warped Tour when I was 14. He was a few years older at the time — a proper teenager on the verge of proper manhood — and we'd discovered during my first few weeks at work that we listened to the same music. Packed in a crappy car with a bunch of gangly older boys on the way to Warped, I felt inadequate and shy, but when we cranked down all the windows and cranked up the music, I eased up, screaming along to the lyrics like everybody else. When we got there, I shoved against them all in the Against Me! pit, forgetting to feel like I was being sucked down into a spiral of sadness, becoming just one flailing body among many, a piece of a whole. And I felt grateful, for years afterward, that my friend had taken me along to experience that.
He was a big guy, covered in tattoos, gentle and soft-spoken and kind. Even as I got older and stopped having such an obsessive relationship with Brand New and other bands, I could still get in the car with him after work and drive around with the windows down, screaming the words to the songs I had loved so much. He was like an older brother to me — the last person I would have expected to trap me in the back room of a punk party and drunkenly coerce me to have sex with him after I'd come out as gay. He was supposed to be one of the good ones. Now we no longer speak.
What happened in that room at that party soured the joyous memory of being a 14-year-old taken in by a motley crew of older boys — young men — who shepherded me through the messy world of alt-rock when it seemed like music was all I had. Now that golden-hued trip to Warped Tour seems predatory. Lecherous.
In Science Fiction, Brand New's latest album, Lacey seems like he's trying, at last, to grow up. Now in his forties with a wife and family, he reflects on his past wrongs. On "In The Water," he sings, "'Hide your daughters,' the old men say / You were young once before, you know how we get our way."

Men inside and outside of the mid-2000s alt-rock scene have gotten away with far too much shit for too long. But now, an era is ending. Long before the band started selling in-memoriam merch that reads "Brand New 2000–2018," Brand New's impending retirement felt inevitable. Fans were quick to point out that should Brand New really call it quits next year, they'd be fulfilling a promise made in "Soco Amaretto Lime," a track off their debut album as beloved as it is poked fun at: "I'm gonna stay 18 forever, so we can stay like this forever."
Science Fiction and the tour that followed it were supposed to be a way for Brand New to grow up and graduate with accolades and grace. After an eight-year hiatus during which the will-they-or-won't-they speculation about Brand New's possible breakup started reaching fever pitch, they quietly dropped an album that would become their first to reach No. 1 on the Billboard 200 chart. The good reviews seemed primed to launch them on a triumphant comeback tour. Along with the end of Warped, it felt like the fitting last act of an era: bittersweet, but necessary. Time to grow up.
It felt like the fitting last act of an era: bittersweet, but necessary. Time to grow up.
Instead, Brand New's openers backed out, as did Kevin Devine, one of Brand New's touring band members and Lacey's close friend. They've canceled their remaining 2017 tour dates. It's a shameful way to go, and leaves Brand New fans wondering what the hell we're supposed to do with their legacy. If Brand New stops producing and touring for good, fans will be spared from having to actively choose not to spend their money supporting an alleged serial sexual exploiter of minors. But what to do with all the music that already exists in the world — music that gave Lacey the kind of power he might have traded on to coerce and manipulate teen girls?
Now that Emo Nights are gathering ex-scene kids by the hundreds across the country, dousing their crowds in nostalgia, it might get harder to figure out how to indulge in that wistfulness when music becomes contaminated the way Brand New's has. Something similar happened earlier this year when one half of the queer punk duo PWR BTTM, Ben Hopkins, was accused of sexual assault. In the past month in particular, when and whether to separate art from the flawed artists who make it has been exhaustively debated. I don't believe that's ever really possible. Our brains are hardwired to ascribe intense meaning to the songs we listen to when we're young; playing Deja Entendu in full can still make me cry. But now I wonder if, whenever I hear it in the future, I'll be able to suppress thoughts about Lacey preying on girls who had trusted and adored him.
A few years ago, when I started dating my current partner, we spent one dreary winter night in drinking PBRs and playing nothing but Taking Back Sunday and Brand New. I was no longer the miserable, struggling teen who used these lyrics like a lifeline, but it still felt so good to sing these songs with a person I was starting to love, to pay homage to the sad, closeted queer kids we'd once been.
Even if Brand New eventually starts touring again, I don't ever intend to support them with my money, to buy another concert ticket or an album. Lacey's taken away the pleasure of being a devoted fan of Brand New, of giving your heart and soul to this band — but for me and for so many listeners, that kind of obsessive fandom had already worn off. What I'm trying to figure out now is whether we're supposed to let him take away our memories of what his music meant to us, at a time when we were trying to figure out who we were and who we should be. Because it would have been nice to return to that music now and then, if only to remember what it's like to blindly love a song with a wild, wholehearted fierceness. The kind you can only really manage when you're young. ●