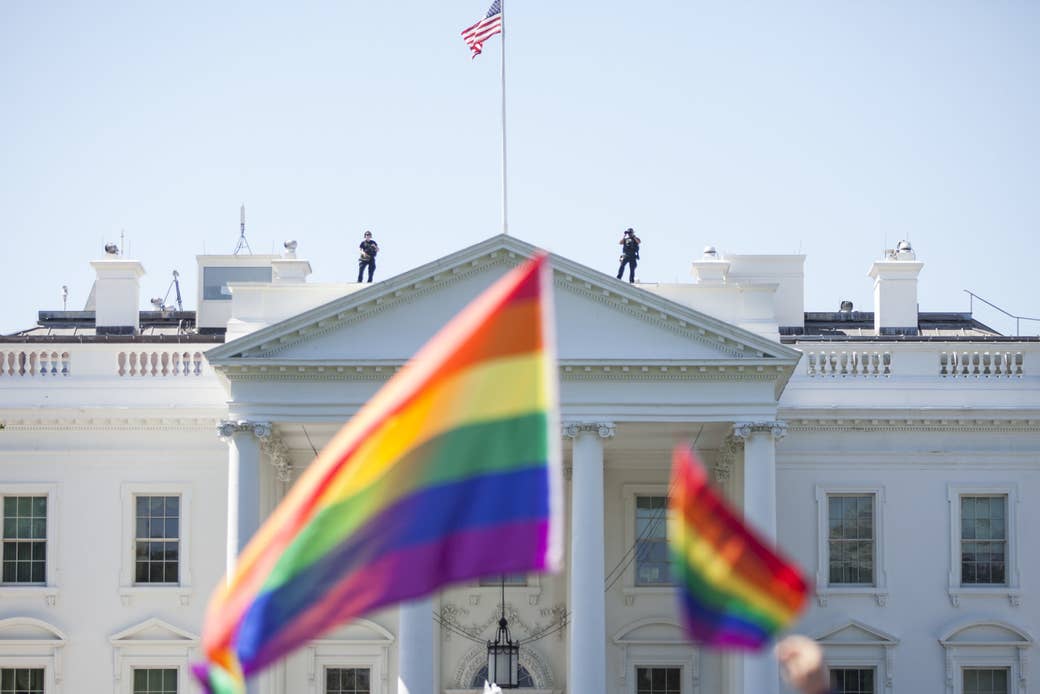 Early on a mid-June Sunday morning in Washington, DC, almost all of the people at the Peet's Coffee by Logan Circle were decked out in rainbow. It was one of those nice, small moments you come across during any Pride weekend: people in unicorn onesies and multicolored tutus and glittery body paint going about some banal, everyday activity — in this case, ordering coffees and eating their breakfast sandwiches.

One of the few patrons at Peet's who was dressed unremarkably asked a couple of fully rainbow-fied guys what was going on. "I thought the Pride parade was yesterday," she said, confused.
"It was," they explained to her. "Today's the Equality March."
She had reason to be a little puzzled. The people gearing up that morning for the Equality March, a mass protest planned to address LGBT persecution and discrimination, did look very much like the Pride revelers from the day before (same onesies, same tutus, same body paint, same knee-high rainbow socks) — except many now carried protest signs that have become ubiquitous on American streets in the wake of Donald Trump's election.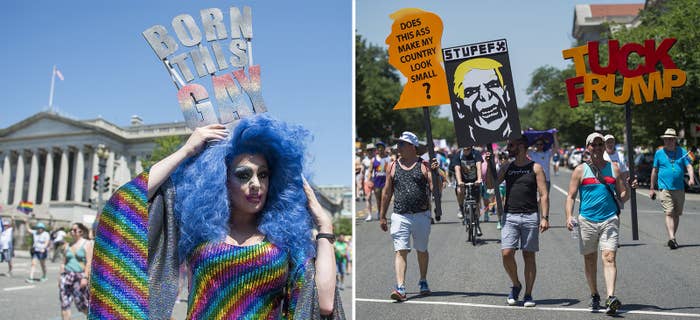 Back in January, according to the Washington Blade, a 42-year-old Brooklyn resident named David Bruinooge was at home watching the Women's March on Washington unfold on television when he was inspired to create a Facebook event for a gay spinoff march during Pride weekend in DC. As Bruinooge started conversations with organizers at the Capital Pride Alliance, who run DC's Pride activities, his Facebook event page — originally titled Gays on the Mall — was renamed the National Pride March, before eventually becoming the Equality March for Unity and Pride. The updated event page quickly attracted over 150,000 people interested in participating, tens of thousands of whom would show up to march on June 11.
Over the past few months, the event ballooned into an international grassroots movement endorsed by virtually every major LGBT advocacy group. As more people got involved, and more cities signed on for sister marches, Bruinooge was joined by 11 other queer and trans national co-chairs representing those in the LGBT community who have been "actively silenced and neglected." At the same time, the Equality March's place in the Pride weekend lineup has grown steadily more fraught. According to Catalina Velasquez, one of the national co-chairs and a senior director at Casa Ruby, the Equality March was not really intended to be a Pride event at all.
"There's lot of collective trauma — lots of folks in the community who don't feel particularly represented," she told me over the phone, a week before the event would kick off. "What can you celebrate when you're still fighting to breathe and walk unapologetically in your truth?"
"What can you celebrate when you're still fighting to breathe and walk unapologetically in your truth?"
While Velasquez said that she and the other national co-chairs were "working with Capital Pride to build synergy," the march would be its own separate event, one that would not rely on corporate sponsorships, in order to foreground "people, not organizations."
Queer joy has always had a radical role to play in the face of institutional violence and neglect. From the ballroom scene to the basements of dyke bars, queer people have carved out their own spaces for community-building and celebration in spite of a world that has refused to make room for them. But now, when rights for middle- and upper-class white, cisgender gay men and women seem much more assured than those of the community's most marginalized members (including trans women of color), some LGBT people are asking whether we have much to collectively celebrate, and questioning the role that Pride events could, or should, play in the larger political #resistance movement. Protesters demanding an end to corporate pinkwashing and police involvement in Pride events have been disrupting Pride parades from Phoenix to DC, while some cities have decided to do away with Pride parades altogether — like in Los Angeles, where organizers ditched the corporate floats and replaced them with a #ResistMarch.
Two years after the Supreme Court's historic marriage equality decision and barely five months into Donald Trump's presidency, the national LGBT movement is grappling with whether Pride should be a party or a protest, and whether it could possibly be both. And Washington's Equality March, billed as an international call to arms on behalf of the queer and trans people who have been left behind by the mainstream gay rights movement — an event technically separate from Pride, but smack dab in the middle of a Pride weekend — put those questions to the test.
Corporate sponsorships of Pride parades have long been a sore spot for many queer people. The first Pride march in New York City, in 1970, marked the first anniversary of the Stonewall riots, an uprising led by trans women of color like Sylvia Rivera and Marsha P. Johnson in response to a 1969 police raid on the historically queer Stonewall Inn. But over the years, as (white, cis, safely domesticated) queer people have become more easily assimilated into the mainstream, Pride events started to become less explicitly about rising up against oppression and more about joy, visibility, affirmation, and celebration in the face of that oppression — which had started lessening for some, but certainly not for all. Plus, Pride marches turned parades eventually became advertising opportunities for liquor brands, hotels, and banks, whose big, flashy floats make their way down Pride parade routes in cities around the country every year, alongside the oftentimes more modest floats of LGBT nonprofits and community organizations.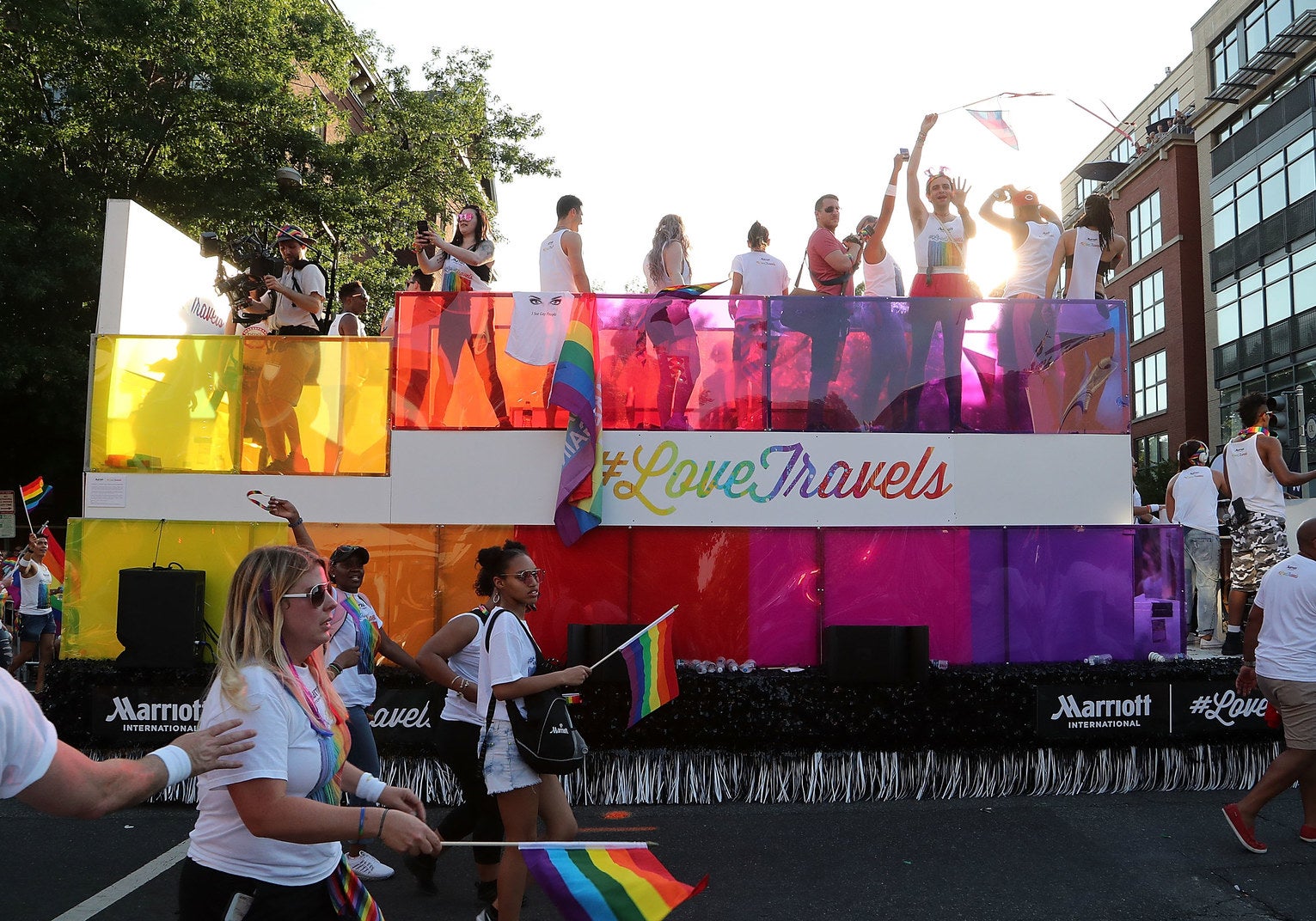 This year in DC was no exception. The Capital Pride Alliance produces one of the largest Pride events in the country, which includes a parade, festival, and concert. On Saturday, the day before the Equality March, Washington's official Pride Parade kicked off from Dupont Circle, featuring thousands of marchers representing groups that ranged from McDonald's to the local Star Wars costume community. It was a beautiful late afternoon, and the mood was light and cheery as spectators caught branded stress balls and sunglasses tossed down to them by people dancing on the sponsored floats. But the parade was interrupted — not once, but three times — by an ad-hoc collection of local organizers going under the name No Justice No Pride.
"We came together specifically to address Capital Pride and its exclusion of queer and trans people of color," Ntebo Mokuena, one of the action participants, told me. No Justice No Pride targeted three floats in the parade: the Metropolitan Police Department, according to Mokuena, because of "policing and police brutality" that disproportionately affects queer and trans people of color; Lockheed Martin, a defense contractor, for manufacturing "drones, jets, and different weapons that are used against black and brown people here and abroad"; and Wells Fargo, for "participating in Native genocide" due to its involvement in the Dakota Access Pipeline, as well as its predatory lending practices targeting people of color.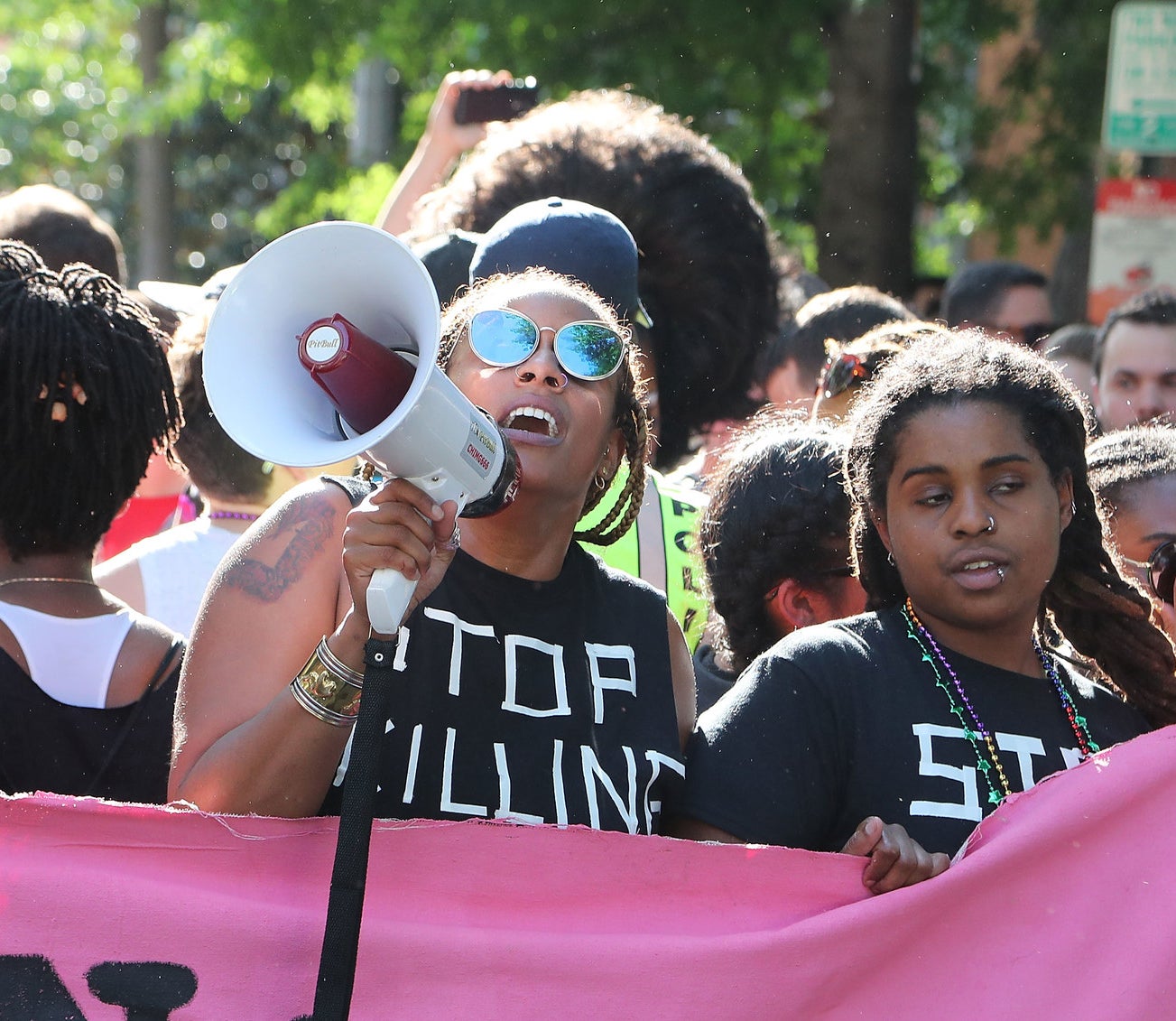 "Mainstream liberal queer and trans folks want to whitewash our history," Mokuena said. "I think it's really important that marginalized voices are lifted up and not ignored — it's the responsibility of organizations with power and money to elevate our voices. We're following in the footsteps of all of the amazing trans people of color who fought for us in the late '60s."
Mokuena was a part of the group that waited at the intersection of 18th and P to blockade the Wells Fargo float, where they successfully forced the parade to reroute. "One person on the Wells Fargo float was curious what was happening — they said they didn't even work there – and they joined us and started chanting with us," she said. About a hundred or so people participated in the blockades, and hundreds more joined the group in a pre-parade march.
But not everyone was happy with the disruptions. Though many on social media supported #NoJusticeNoPride, there were others online who were furious at the "far left for blaming fellow progressives for their woes." At the event itself, protesters were booed and yelled at by spectators who were unhappy with the parade's delays, one of whom (according to Zack Ford, a reporter at Think Progress) started shouting, "Fuck you for ruining a nice parade!" before attempting to start a counter-chant of "No respect, no pride," which did not catch on.
After the parade was rerouted, Mokuena said she and the other protesters waited while the protest leaders spoke with the police and with Capital Pride officials. "One of the Capital Pride organizers called one of our lead organizers a terrorist and said, 'We don't organize with terrorists."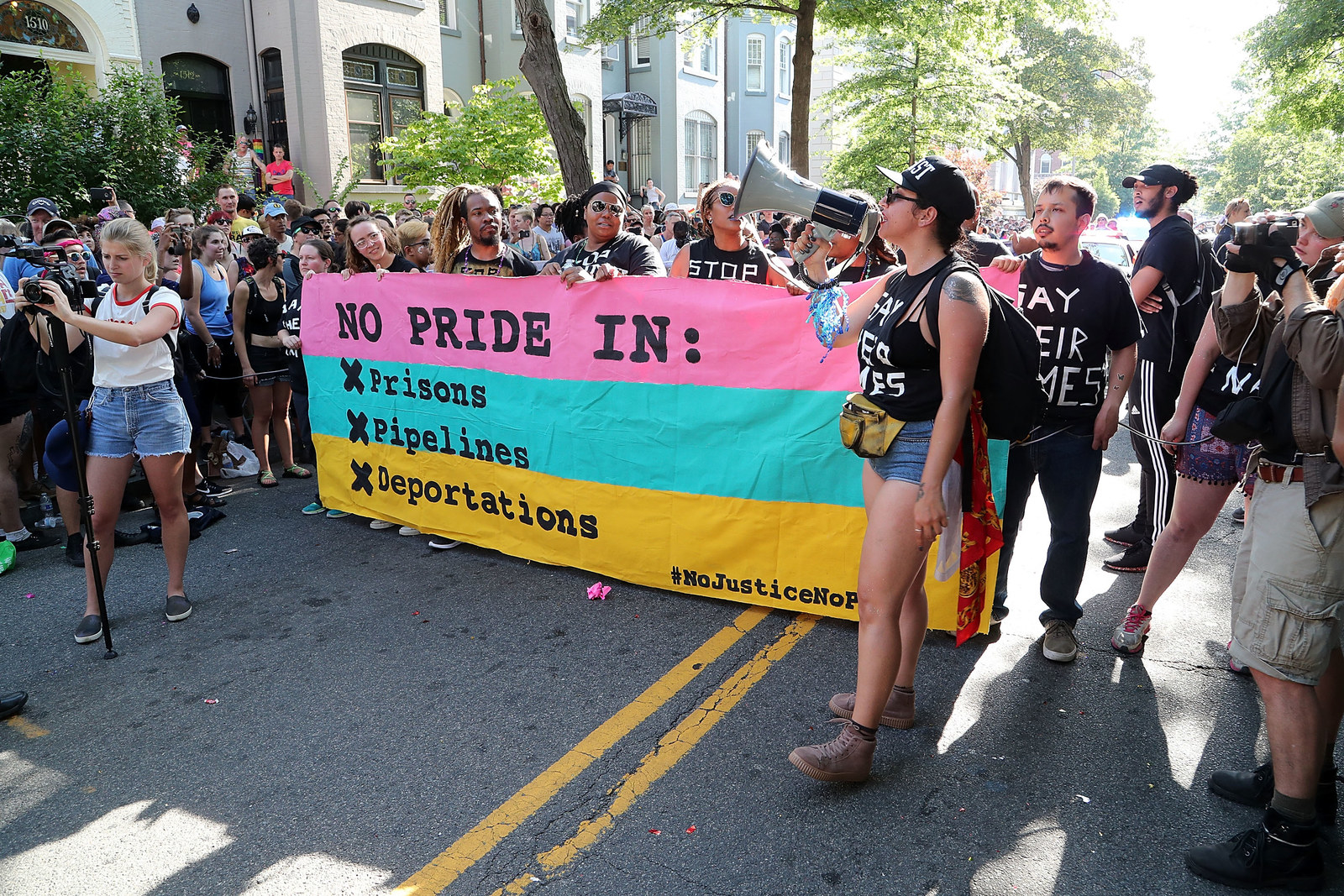 A spokesperson for Capital Pride, Cathy Renna, confirmed that yes, "that was said by a board member. And it is absolutely unacceptable and it is being addressed." Renna, who has worked in LGBT advocacy and communications for 25 years, said that the Capital Pride protests started a "firestorm" in Washington's queer community "unlike anything I've seen before. And it's heartbreaking to watch."
"We know our community is not immune to sexism — I've experienced it myself — or racism, or classism, or transphobia," she added. "There are issues in our community we should all be working on, and Capital Pride should be working on it. But I'm not sure how much this really helps the discussion."
"Mainstream liberal queer and trans folks want to whitewash our history."
The thorny subjects of corporate sponsorships and the inclusion of police and the military in Pride events "are not new issues — we've been talking about these issues forever," Renna said. But she argues there are two sides to the coin.
"The politicians are not gonna do anything for us, especially now. But even over the last several decades, we still don't have workplace protections. It was corporations who said we are going to protect our employees, who took money out of North Carolina after HB2." Since she figures we're stuck with a capitalist society for the foreseeable future, "Do we work with folks to make them more responsible businesses, or do we completely reject them? Do we work with LGBT liaisons at police forces so the abuse we've seen happen slows or stops? This is really, at the end of the day, about tactics."
"And this isn't just about Capital Pride, or just about Pride," she said. "It's about our whole movement. And not even the LGBT movement, but the progressive movement. We're all struggling with this."
On Sunday morning, in the wake of Saturday's parade and protests, tens of thousands of people poured into downtown Washington in the blazing heat for the Equality March, dressed in their Pride-meets-Resistance best. On I Street and 17th, the slowly gathering crowds buzzed excitedly as block after block filled up. The energy was slow to build; it was 10 a.m. on the morning after a major Pride night, and more than a few people were nursing hangovers, chugging Gatorade. There were Pride flags galore, a smattering of trans flags, and friend groups that had come wearing matching shirts. ("I'm totally straight," written in bubble letters exploding with stars and glitter, was a popular one.)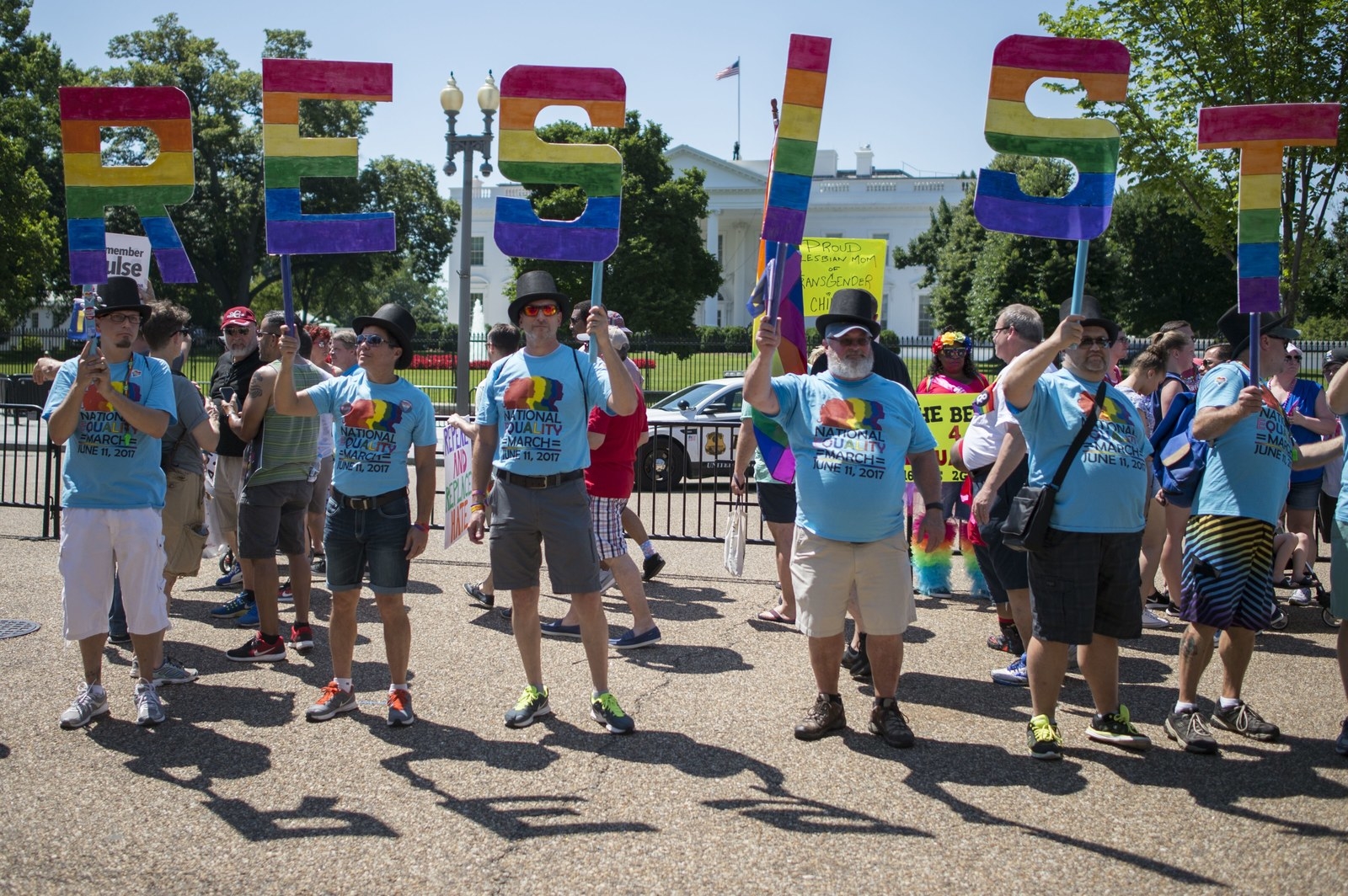 The only thing that made the scene look different than your typical Pride event were the signs, hoisted as far as the eye could see. According to national co-chair Catalina Velasquez, the Equality March was not technically, or at least not exclusively, an anti-Trump protest — but you might think otherwise based on the event itself, which was a veritable sea of anti-Trump protest signs ("Resign, sweetie"; "Fags hate Trump" in the style of the Westboro Baptist Church's "God hates fags"; seemingly endless Drag Race references).
"Trans people have been murdered, and this is not new," said Velasquez. "We're fighting for the opportunities to make our pain public." Chalking all of the LGBT community's issues up to Trump would "not be helpful to communities facing violence prior to him." Of course, Valasquez added, the Equality March was intended be "a sign of resistance to current bigoted messages and strategies" from this administration. "But we would be remiss not to mention that the previous administration deported the largest number of people in the history of the United States."
The Equality March's official platform is wide-ranging, covering everything from disability rights to indigenous/two-spirit rights to reproductive and racial justice. People marched on Sunday for reasons that ran the gamut. On some people's minds: love and marriage.
"This isn't just about Capital Pride, or just about Pride. It's about our whole movement."
Many queer people were worried immediately after the election that the administration could potentially overturn marriage equality — some even rushing to get married before the inauguration — but that possibility remains extremely unlikely. Last fall Trump said he was "fine" with the Supreme Court's marriage decision, calling it "settled law." Regardless, the LGBT movement's extraordinarily successful campaign for marriage equality — which was cemented in part by the 2017 Equality March's predecessor, the National Equality March in 2009 — has continued to build momentum even now, two years after the Supreme Court's decision. Love and marriage have always been some of the LGBT movement's most lucrative selling points.
"Love Wins" and "Love Is Love," slogans popularized by the fight for marriage, have now become synonymous with the LGBT rights movement. Those slogans were everywhere on Sunday, along with the newer, more cross-movement "Love Trumps Hate." And even though same-sex couples across the nation won the right to marry two years ago, many were marching to make sure that right remained protected.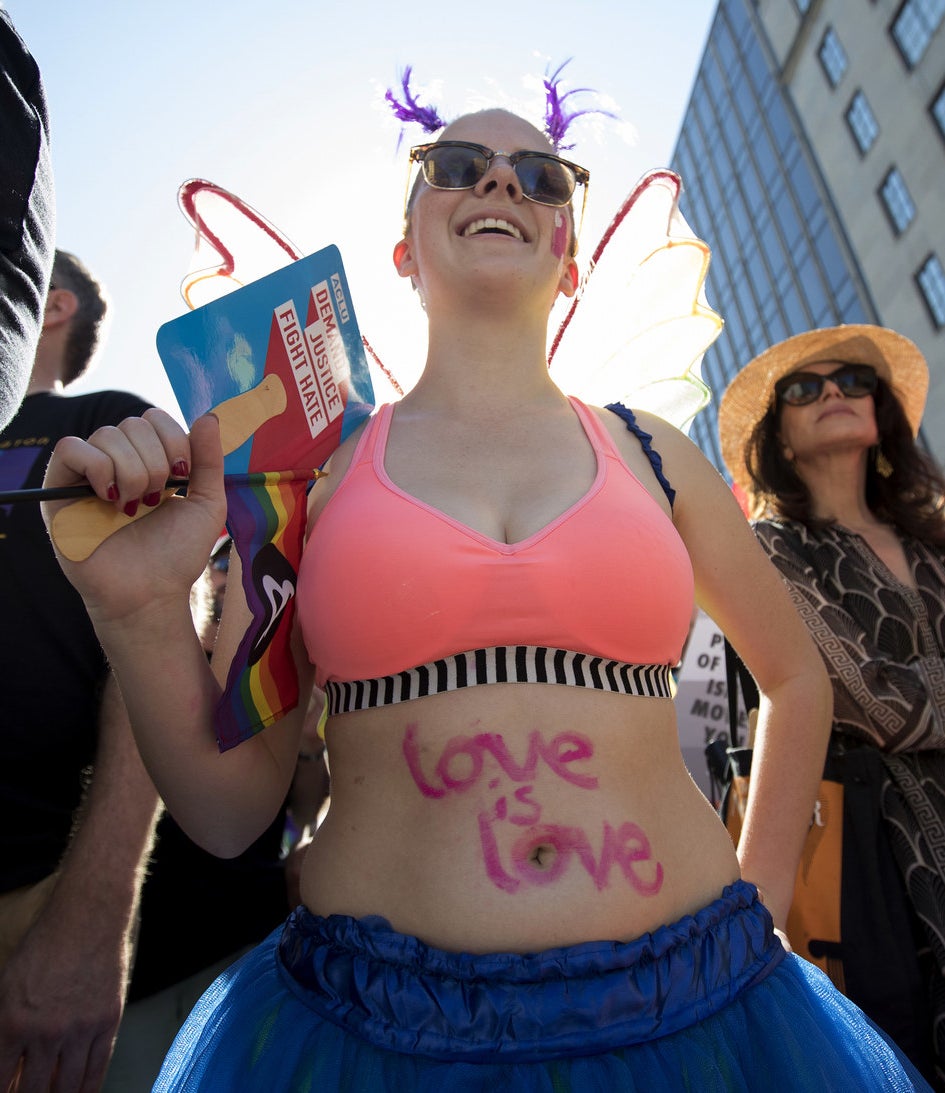 Steve and Bob from Fort Lauderdale, Florida, who have been married for almost 25 years (first in Washington in 1993, and a second time in 2014 in New Jersey), were marching because those in the government who may want to roll back gay rights "really need to know we're here; if not, they'll overpower us." Steve and Bob had been active in New Jersey in the fight for domestic partnership benefits. "We need to protect those rights," Steve told me.
Others I spoke with gave similar answers, saying they were marching for "the basic right to love who you want to love." One woman held a sign saying "My son deserves the right to marry the man of his dreams."
Many others had come to Washington to celebrate Pride weekend, considering the Equality March to be just one piece of the celebrations. One college student from Atlanta wrapped in a giant trans Pride flag was marching to "support LGBTQ rights." They had missed Pride back home, so came up to DC instead. I asked them if they considered the Equality March to be a Pride event.
"I guess it's its own special thing," they said.
Sam and Clarity from Cincinnati were also in Washington that weekend to celebrate Pride. Clarity said, "There's been lots of protest activity at home, but it's nice to do fun things, too." Sam had started transitioning when Trump got elected, so coming to DC this weekend — for Sam's first Pride since then — was "a way to be proud of myself, as well as to speak out against all the things going on. To stand together as a community."
Leyla and Michelle, who live in DC, were marching to stand against the wave of hate crimes that have spiked since the election. They mentioned the lesbian couple who were brutally attacked on a Brooklyn-bound Q train last month, which left one woman unconscious. "We've been dating for five years, and we go to New York all the time," Michelle said.
Still others marched to pay tribute to Sylvia Rivera and Marsha P. Johnson, two of the many trans women of color who sparked the modern LGBT rights movement; to support Black Lives Matter; to remember the victims of the Pulse nightclub shooting in Orlando almost exactly a year before; to support their queer and trans friends and family members.
"What do we want?" "Equality!" went one chant. "When do we want it?" "Now, bitches!"
When Bruinooge first started planning the event, he envisioned that the march would end at the site of the Capital Pride festival on Pennsylvania Avenue near the US Capitol, which is exactly what ended up happening. Marchers were funneled onto the mall, where a rally of speakers spoke about different intersectional LGBT issues throughout the day. The crowd thinned out somewhat later in the afternoon — people had been marching for hours in sweltering heat — and some ended up swinging by the rally and then ultimately ending up at the Capital Pride festival and concert across the street, which included a free performance by Miley Cyrus and others. Some people I spoke with were still confused about which event was which, or whether there was even an official distinction between them.
In the end, the Equality March felt a little more joyous and loose than the Women's Marches had back in January — in other words, it felt (for better or worse) like a Pride event, with aspects of the new 2017 resistance mixed in.

Even though the Equality March was originally inspired by the Women's March, the two ended up being very different events. The worldwide Women's March in January, the largest single-day protest in US history, was directly inspired by Trump's inauguration the day before. People's anguish was fresh. It was wintertime, the perfect season to dwell on how terrible everything is, and the perfect season to be crushed in a big crowd of people without melting. Though those marches were fraught with political conflicts like any other mass movement, there was no denying it: This was new, and this was big.
By now, a lot of progressives are suffering from an onset of protest fatigue. Tens of thousands of people showed up for the Equality March, but the numbers couldn't possibly compare to the protests on January 21. The Women's March had no other major events to compete with, while the Equality March, as much as the national co-chairs wanted to ensure it was its own separate event, inevitably got swept up into the spirit of Pride. Many people wanted to take a break from angry protesting and celebrate with their community.
Though the Women's March official platform tackled a whole host of intersectional issues, just as the Equality March's did, there was no denying the Women's March had a very specific and very, very angry anti-Trump bent — despite the fact that its organizers, just like those for the Equality March, insisted the protests were not anti-Trump. Marchers, in both cases, took their anger at the administration and ran with it. But the Women's March had "grab her by the pussy" and "pussy grabs back." The Equality March, and to some extent the LGBT movement at large, doesn't have something clearly egregious and direct to point to.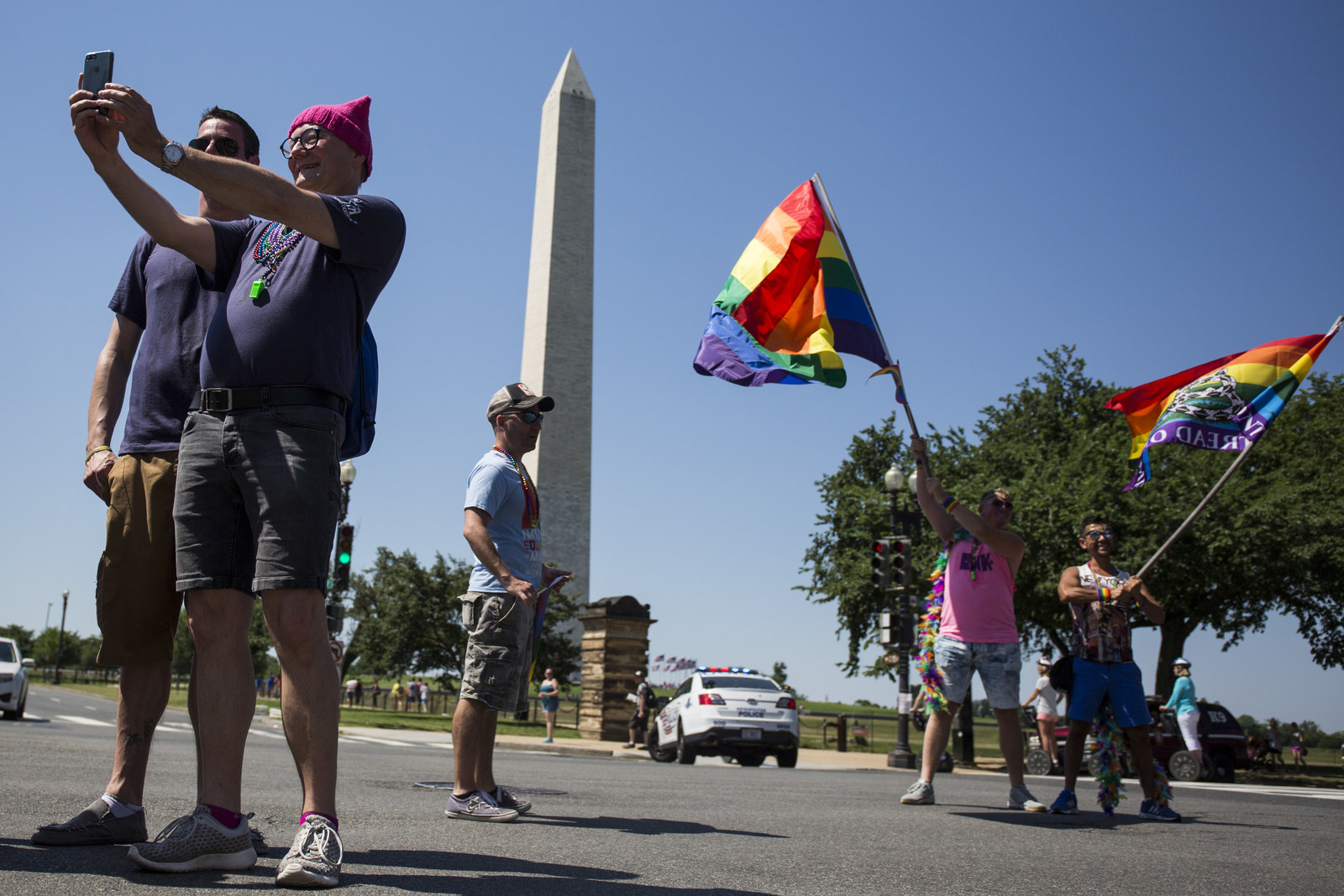 But that doesn't mean there's been nothing for LGBT people to protest. The Trump administration's most significant anti-LGBT action so far has been withdrawing Obama-era guidelines protecting trans students in February. Trump also has yet to formally declare June as Pride Month, as Barack Obama and Bill Clinton have done before him — something that upset a few of the marchers I spoke with. More broadly, Trump's administration is packed with politicians who have long track records of anti-LGBT stances, the most high-profile of whom is Vice President Mike Pence, alongside US Attorney General Jeff Sessions. The Education Department under Secretary of Education Betsy DeVos — another cabinet member who's been noted for her associations with groups that are hostile to LGBT rights — recently invited anti-LGBT groups to a Father's Day event. And even though the White House said in January that Obama's order protecting LGBT federal employees from discrimination would "remain intact," the Commerce Department just mysteriously removed sexual orientation and gender identity from its equal employment policy.
Though Trump's administration does have the power to ignore or exacerbate certain LGBT issues, many of the problems plaguing the LGBT community's most vulnerable members have existed since long before last November's presidential election: As Velasquez points out, trans women of color have been getting killed at epidemic levels for years; black and bisexual men in the US have long since had a higher HIV rate than in any other country in the world; trans and gender-nonconforming kids face staggering rates of bullying, homelessness, and suicide. The federal government and most states still do not explicitly prohibit anti-LGBT discrimination in public accommodations, housing, workplaces, and schools.
"We're not really one community — we're multiple communities fighting for sexual and gender justice."
"Often people talk of the LGBTQIA+ community and fail to realize we are more than an acronym," Velasquez said. "We're not really one community — we're multiple communities fighting for sexual and gender justice."
But even though the Equality March's leaders hoped to convey that many of the most marginalized LGBT people have felt neglected and harmed by the federal government since long before Trump took office, not all marchers got that message. "If Hillary had won, we'd be at brunch right now" — a popular sign in Washington and at sister marches throughout the country — caught some flack on Twitter, including from the writer Ira Madison, who called it "my favorite sign held by white people at Pride who just discovered oppression in 2017."
As at the Women's March, when some newly radicalized white women started speaking out against national injustices for the first time, some people at the Equality March were finally showing up to the protesting party. But (depending on who you ask) maybe it's better late than never.
About a month before the long-brewing conflict between No Justice No Pride and Capital Pride in Washington came to a head, Bernie Delia, the board president of Capital Pride Alliance, wrote a post in an attempt to "dialogue openly" about issues that had been raised about police and corporate involvement in the parade. The post was titled "Reflections on Pride: Celebration and Protest." In Washington, Pride was supposed to be both. But Pride organizers in other cities around the country have approached that question — celebration or resistance; march or parade? — differently.

Three thousand miles away from the Equality March on Sunday, Los Angeles was holding the Resist March as a sister march in solidarity. But the Resist March didn't have to compete with other Pride events, because it completely replaced LA's usual Pride parade. The Los Angeles Times declared that "Trump's presidency sparked the LA Pride Parade to return to its resistance roots." This time around, "LA Pride went from party to protest." Tens of thousands of people flooded West Hollywood, with not a single corporate float in sight.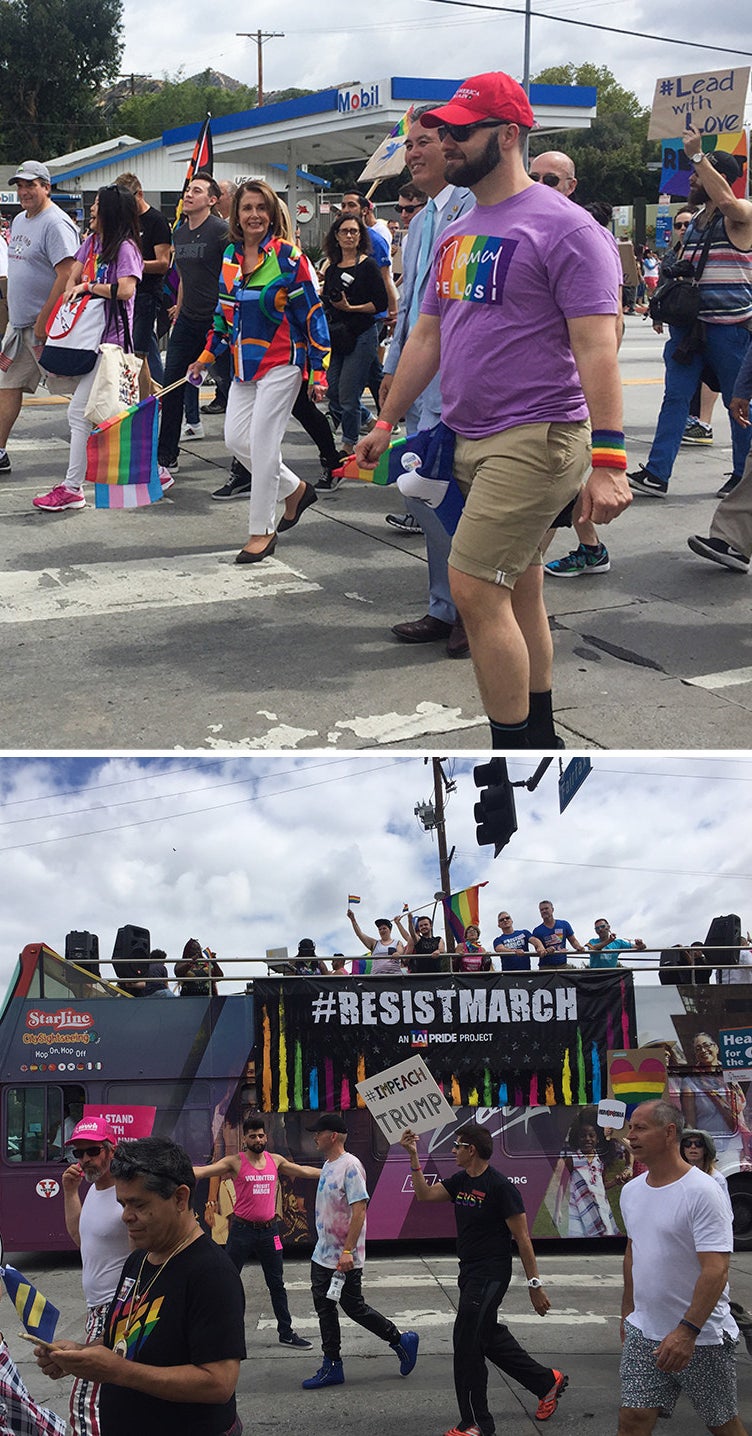 In Philadelphia, an organization called More Color More Pride added black and brown stripes to the Pride flag, which was raised over City Hall last week. The addition was meant to recognize and affirm LGBT people of color, who have too often been whitewashed out of LGBT history, excluded from traditional Pride events, and disproportionately affected by institutional violence. The flag inspired some pushback — is this move implying that queer people of color aren't already included in the flag's spectrum? — while others embraced the gesture toward inclusivity.
Earlier this year, other protesters have disrupted Pride parades, including a group called Trans Queer Pueblo in Phoenix, who called for Phoenix Pride to advocate for undocumented immigrants. Elsewhere — like in Utah — Pride protesters have fallen at the opposite end of the ideological spectrum, showing up because "these people need the gospel."
New York Pride is coming up on the weekend of June 24, and Heritage of Pride is offering a variety of different events, as the organization does every year. The traditional rally on Friday, June 16, is being billed as a "reimagined rally experience," involving organizers, politicians, and more gathering to speak about the LGBT and human rights "under attack by the current political environment." Though the rally will have a specific resistance spin, the usual Pride march down Fifth Ave is scheduled to go on as planned — and it remains to be seen whether or not one of the biggest and most famous Pride parades in the country will take on a new tone this year.
As always, many queer people in New York are making alternative plans. On Sunday the 25th, while the parade rumbles toward the West Village, hundreds of people will skip out on the events in Manhattan and opt instead for a day at Riis Beach, a community beach in Queens that has long been a haven for queer and trans people of color. A Facebook event for that Sunday reads, "Screw capitalist-centered pride. Let's do our highest holiday right with all-gender queer hotties at the beach. Bring snacks, sass, & the queers that give you heart-ons & hardons."
There were alternative Pride events in Washington last weekend, too: a drum circle of queer people in Dupont on Saturday night; queer picnics in Meridian Hill Park on Sunday. Pride can look like anything, really — like a party or a protest or just making dinner with some friends, ignoring all the crowds outside.
But Pride does feel markedly different this year. Cathy Renna thinks that's because after the election, "we were all thrown for an incredible loop — we were shocked and hurt — and that's made Pride in general feel a whole lot more important on every level, whether it's protesting or being visible as a community." There remains no broad LGBT consensus on the right way to do Pride — there never has been one, and most likely there never will be.
Most queer people's relationship to Pride evolves over time. For many of us, that first-ever Pride event after coming out, whether to others or just to ourselves, was our first entry point into queer community. You could have been marching with one of those corporate or nonprofit floats; you could have been watching one of the parades roll by, amazed at the bodies on display; you could have been at a small-town bar watching the best local drag queen in town. As the years went by, especially if you've ended up in a major city with other entry points to queer community, Pride might have started to seem way too corporate, way too homogenous, no longer so essential. Or maybe you kept loving it, year after year. Maybe you've hated it all along. Maybe, at this point, you're just tired.
Or maybe, like No Justice No Pride, you're newly invigorated. NJNP is planning to build on its momentum after its protests made national news. "We're going to debrief this weekend to talk about how we can support the most marginalized members of the LGBTQ and two-spirit community to push the LGBT movement to be more worldly and less exclusive," Ntebo Mokuena told me. Capital Pride will also be "continuing the conversation."
According to Ashley Smith, another national co-chair, the Equality March is also hoping to keep pushing its agenda in the coming months. The co-chairs want to mobilize the collective that formed out of the march this past weekend.
"We plan on continuing that work together," said Smith. "We know we had work going into it, we still have work going out of it. We're not done yet."