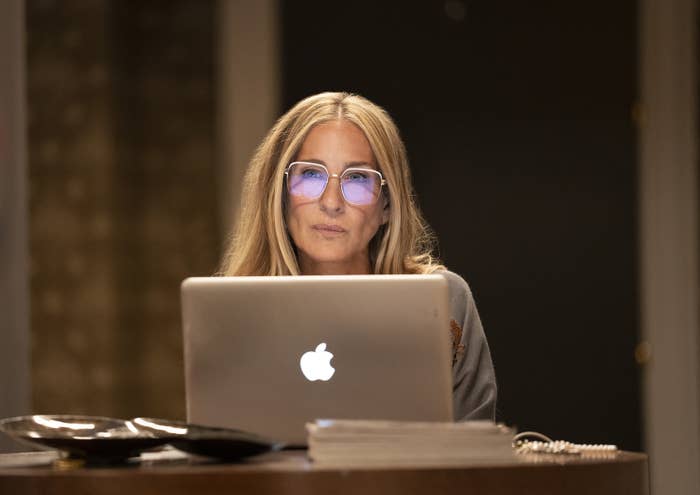 In the highly anticipated limited series reprisal of Sex and the City, HBO Max's And Just Like That…, nobody's having a particularly good time — Sarah Jessica Parker's Carrie Bradshaw least of all.
Poor Carrie. By the end of the first episode, she's suffered a couple of tragic losses — one more ambiguous, one sadly definitive — and she no longer knows what to do with herself. Though she's apparently working on another book, it doesn't seem as though writing remains a central focus of her life, which is a shame; her iconic voiceovers have been reduced to a single "And just like that…" at the end of every episode, with a short fill in the blank. (I won't spoil it, but the first one is so shocking and stupid that I laughed aloud.)
Instead of pouring herself into her column, 55-year-old Carrie is trying to up her social media game and get more candidly raunchy on a sex and gender podcast, her only recurring gig. She's "representing the cisgender women" on the show, which is helmed by nonbinary comedian Che Diaz (Sara Ramirez), who is, unfortunately, not very funny.
There aren't a lot of laughs to be had in general throughout these first four episodes (two are streaming now on HBO Max, and the next two were made available to critics). At around 45 minutes long, they seem to fall more firmly on the drama side of the comedy-drama spectrum, whereas the original series kept installments short 'n sweet, and overall exuded more gaiety, more fun.
At the beginning of the pandemic, I binged all of Sex and the City, for probably the fourth or fifth time in my life, and I felt immediately at home among a group of women who were always trying to make each other laugh, even and especially when times got hard. Of course, I didn't feel too at home; escaping into a far more elegant and exciting universe than my own was also one of the series' great draws. But as has been the case with other reboots from the past couple of years — Gossip Girl and The L Word come to mind — modernizing the original's much-beloved and extremely glamorous world has for some reason meant making it drearier, more awkward, and overall less joyful to inhabit.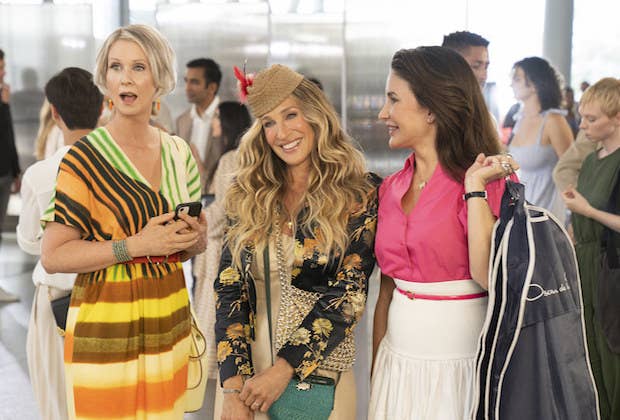 Like those other shows, And Just Like That… has a more diverse cast than its source material: four new characters are all people of color. But so far, they seem to exist mostly in service of the original white women. Che, for example, encourages Carrie to let her freak flag fly, provides a learning experience in gender diversity for Charlotte, and stirs some long-dormant sexual feelings in Miranda. (That last part I can get on board with, and not only because so many of us have wanted our favorite bossy short-haired lawyer to explore her queer side for ages now: Remember the "sex" in the original Sex and the City? I'd like to see some of that, please!!!)
In my least favorite plotline, Miranda is taking classes for her master's degree with Dr. Nya Wallace (Karen Pittman), and the two have become friends despite the fact that Miranda keeps dumping a bunch of bizarre racial microaggressions all over Nya whenever they interact. Neither am I a fan of Charlotte's budding friendship with Lisa Todd Wexley (Nicole Ari Parker), a documentary filmmaker who forces Charlotte to realize that she has no other Black friends. It feels true to both Miranda and Charlotte's characters that they'd be clueless though well-meaning Karens on their respective journeys toward some sense of racial consciousness, but their blunders do not make for pleasant television.
Modernizing the original's much-beloved and extremely glamorous world has for some reason meant making it drearier, more awkward, and overall less joyful to inhabit.
One of the best things about the original show was how expansive the world felt. You wanted to live in Carrie's New York: one where there's always some hot new bar or restaurant to try, where traversing to a different borough means ill-fated adventures with good-looking strangers. In the reboot, we're postpandemic — I envy these characters, for whom COVID is ancient history to quip about rather than the present-day nightmare it remains for us in the real world — which should mean the city coming joyously alive again, back and better than ever. The show does make its way around Manhattan, but only because Carrie is too depressed to eat or sleep, so she just glumly walks everywhere. In the process, New York has been reduced to mere backdrop: Not only is there barely any sex in this new Sex and the City (except the teenaged kind had by Miranda's son, Brady — gross), there's barely any city, either. Its most prominent role now is as a vintage charm on Carrie's necklace, an outline of New York state replacing the gold nameplate of her youth.
Okay, the good: Carrie still looks fabulous, if a little bonkers, which feels just right. Longtime costume designer Patricia Field didn't return for the reboot — she's too busy working on Emily in Paris, which only wishes it was as good as the original SATC — but her legacy lives on in Carrie's signature maximalism. My favorite outfit so far has Carrie colorblocked in a suit of different shades of blue, topped off with a string of pearls and a necklace studded with a big blue gem in the shape of a heart, à la Rose's in Titanic. Surprising, on the verge of tacky, completely over the top, especially for a casual weekday podcast taping — that's Carrie. That's fun! It's too bad most of the show's lightness and whimsy is confined to the clothes.
You'd have to imagine that the ladies would be having more fun — and more sex — if Samantha were still around. Sadly, it seems highly doubtful that the show's most convivial character will ever return, since Kim Catrall retired the role when she turned 60, her long-running feud with SJP and other cast members likely spurring the decision. I almost wish the show had decided that the ladies had simply drifted apart, rather than turning Samantha's absence into yet another bummer for Carrie to be sad about.
There's still time for the series to turn itself around: for the new characters to get their own dedicated plotlines, rather than driving everybody else's; for Carrie to figure out what comes next; for Miranda to hopefully have some hot gay sex. Obviously I'm going to watch no matter what. But I hope morale improves, for both these characters' sakes and for ours. ●