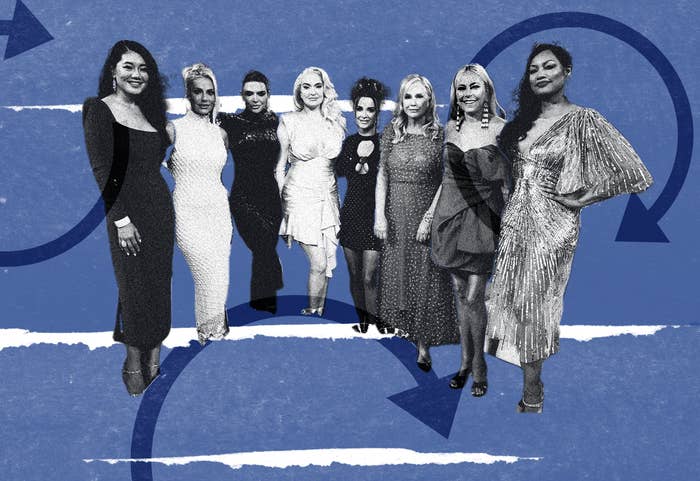 It's been another weird, rocky season of The Real Housewives of Beverly Hills. The so-called Fox Force Five, an alliance of old-guard cast members that includes Kyle Richards, Erika Jayne Girardi, and Lisa Rinna, might finally be crumbling after a four-season reign, and most fans seem ready to say good riddance. The group is all white and skews older than the cast's three newcomers, two of whom are women of color. I hate to put this thought out into the universe, but I worry that Beverly Hills, a crown jewel of the franchise, might be poised to go the way of The Real Housewives of New York, which "has almost become a commentary on white women's cluelessness about racism," culture writer Alessa Dominguez notes in a 2021 piece for BuzzFeed News about how The Real Housewives got political.
New York in particular had gotten so disastrously unwatchable that Bravo was forced to get creative; they're overhauling the series with a brand-new cast as well as a separate spinoff "legacy" showcase featuring a mix of current and ex-New York wives. Meanwhile, Beverly Hills is chugging along with the same increasingly odious old-timers. They get the most screen time, seats closest to host Andy Cohen during reunions (deeply significant, supposedly, indicating who Andy deems most central to the show), and seemingly favorable treatment by producers — all despite fans' growing resentment. Former model and current QVC queen Lisa Rinna was recently booed at BravoCon amid calls for her firing (she flipped the crowd the finger). Andy, for his part, hasn't answered whether Rinna's contract will be renewed, telling fans to "let the reunions play out."
We've now seen two out of three of those reunion episodes, and Rinna, alongside her newish bestie Erika Jayne — whose husband remains embroiled in a nasty lawsuit alleging he stole from clients he'd represented in huge civil lawsuits, including orphans and burn victims — is nastier than ever. Fans are outraged at her continually cruel behavior toward lone Black cast member Garcelle Beauvais, on display in the most recent episode when Rinna, Erika, and even Andy laughed at Rinna's having thrown Garcelle's memoir in the trash over Erika's Instagram stories. (Andy has since apologized.)
Against this ugly backdrop comes the humbly sneakered, peace-declaring Kathy Hilton, a friend of the wives whose increased presence in recent seasons has charmed and comforted fans, myself included. Kathy, wife of real estate magnate Richard Hilton and mother of socialites Nicky and Paris, is both stupidly rich and delightfully daffy. You might think she's down to earth because, unlike the other housewives, she often dresses like the Midwestern grandmothers you see wandering around Walmart, down to the slogan-forward T-shirts. But you'd be forgetting her extravagant house, for one thing, and the extent to which she's sought to control her family's image in the public eye. But Kathy keeps whatever those desires may be pretty well hidden, and the snippets of her personality we do see are mostly that of a brazenly no-nonsense, pleasantly eccentric prankster. And because she doesn't need the show the way other cast members do, she can call things as she sees them and say what's really on her mind.
This whole bumpy season has been leading up to tonight's final reunion episode, promised to be an earth-shattering showdown between Kathy and Lisa Rinna. We'll finally hear Kathy address, at length, the season's most explosive bit of drama — all of which, confusingly and EXTREMELY annoyingly, happened off-camera.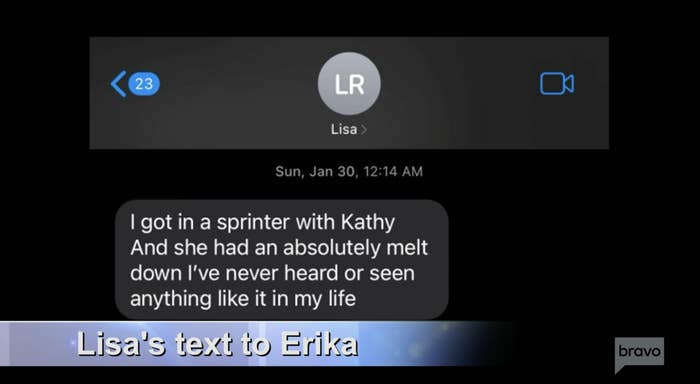 The gist is this: Rinna accused Kathy of having a "meltdown" and "psychotic break" during a girls' trip to Aspen late in the season, after Rinna had accompanied her home from a members-only club where, at least, we do have some witnesses to Kathy's behavior. Other wives who were there report that Kathy got upset when no one joined in on a conga line (per Sutton Stracke) and that she was "raging, screaming at the girls and mostly at [her half-sister] Kyle" (Diana Jenkins). Reports leaked to the press immediately after filming alleging that Hilton had used an anti-gay slur after a DJ refused to play Michael Jackson, who had been her close personal friend until his death. (Erika Jayne has since claimed on Instagram to have heard Kathy use the slur, though Kathy and the other wives have vehemently denied it.) After the women left the club, we have only Rinna and Kathy's accounts of what happened that night to go on. Rinna claims that in the van and when they arrived back at the house, Kathy ranted and raved, threatening to "take down this show singlehandedly. I will fucking ruin you all." The threats, Rinna alleges, extended to Kathy's little sister: "'I have big deals over at NBC, everyone is protecting me, and I will fucking ruin Kyle.'"
The horribly sad thing about it all is that it seems Kyle believes that that's what happened — she just doesn't want, or need, to hear about it. She tells Rinna multiple times in wake of the allegations that all she wants is to have her nieces and nephews at her oldest daughter's wedding. The last thing Kyle wants, right now or ever, is more drama with her sister Kathy, who, we've seen over many years of the show, has at times iced Kyle out for months at a time for perceived transgressions against her and the family. Rinna insinuates in talking heads that Kyle's afraid of Kathy, and Kyle probably wouldn't deny that. Rinna is stirring up what seems like very real, very deep wells of family pain and trauma. It's ugly.
When, in one of the final episodes of the season, Rinna confronted Kathy about the meltdown and where, exactly, all the hate in Kathy's heart came from, Kathy didn't outright deny the allegations. She apologized to her sister, without describing what had really happened, and Kyle quickly accepted the apology. But Rinna won't let it go.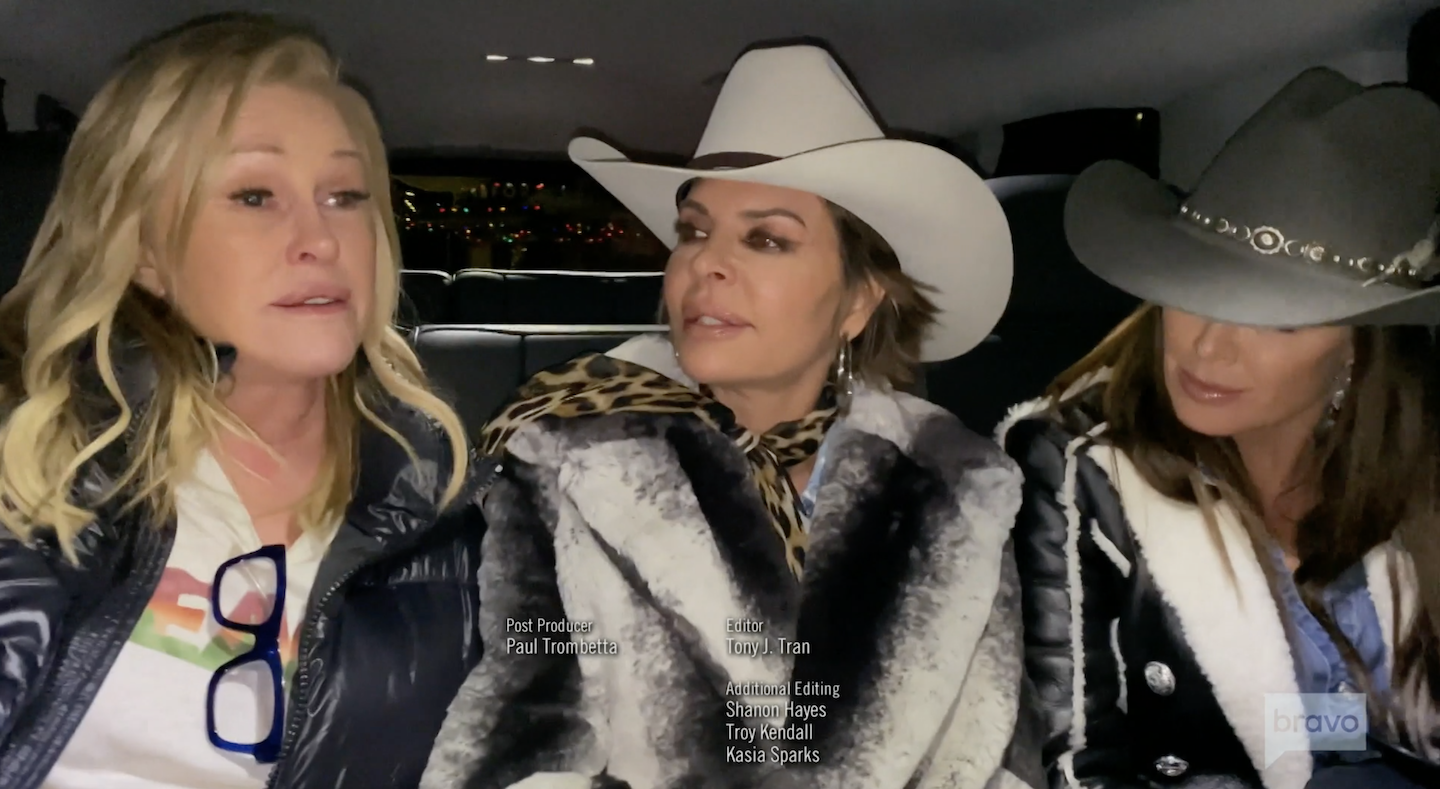 On social media, among celebrities, fans, and former wives alike, a narrative started coalescing in defense of poor, sweet Kathy. "So unkind," her daughter Paris Hilton tweeted, quoting a fan who thought it was mean how all the women, including Kyle, ignored Kathy during an episode when she tries to hawk her tequila. Ex-wife Denise Richards, who was basically run off of Beverly Hills in a wave of gay panic, agreed: "I felt bad for her you could see her feelings were genuinely hurt." Yet another ex–cast member, Camille Meyer (formerly Grammer), tweeted what many fans also seemed to be thinking: "So what if Kathy lost her temper around these ladies. Who hasn't on #rhobh," she added, "especially when you are being gaslit" by some of them. A thread on r/Realhousewives wondered what Kathy could have said that was bad enough to give Lisa Rinna PTSD (as Rinna later alleged, making her whole case seem even more dubious), and most of the top responses are memes; it's hard to believe, given the world's most unreliable narrator in Lisa Rinna, it could have possibly been that bad.
But a lot of fans are also convinced that something fishy has been going on with this plotline — what one person in the Beverly Hills subreddit called the "big black hole in the narrative of this season."
Why is there no footage?
Andy Cohen recently said on Twitter that it was a "cameras down" night, due to the members club not allowing filming. But are we to believe that the Sprinter van that took the women home afterward wasn't outfitted with the mics and cameras used to capture candid moments, à la Jen Shah on Real Housewives of Salt Lake City? Lisa Rinna live-texted the incident to Erika Jayne, but didn't record any of it? Redditors were quick to surmise that something was up, with a popular theory going that the powerful and uberwealthy Kathy Hilton, using money and/or influence and/or a fleet of lawyers, managed to make any footage of the night disappear.
Whether Kathy did have something to do with the suspicious lack of receipts from the season's biggest storyline, the allure of her taking down Lisa Rinna is too strong for most fans to resist. Previews of tonight's episode show Kathy joining the reunion for its last leg, accusing Rinna of being the "biggest bully in Hollywood," and claiming that, when she was saying mean things about everybody, Rinna had said that Kathy was "preaching to the choir."
Whether Kathy did have something to do with the suspicious lack of receipts from the season's biggest storyline, the allure of her taking down Lisa Rinna is too strong for most fans to resist.
I'm ready for Rinna to be subjected to some of her own poison just as much as the next Housewiveshead, but I also can't help but feel wary of Kathy, who's being hailed by many fans online as the savior of the season. One wrote that Kathy and Garcelle "bring hope" to the show.
Bethenny Frankel, former New York wife, recently recorded a TikTok in which she said that Kathy and Kyle's "only mistake" was choosing to go on a show where, "contrary to reports," they have no control over the outcome, unlike, say, the Kardashians. To "go on a reality show where someone is always winning and someone is always losing doesn't seem like a recipe for [family] success," Frankel said, wise as she sometimes is. Right now, Kathy is very clearly winning; she has an increasingly cartoonish villain against whom to buff her own kindly, down-home image.
Crystal Kung-Minkoff, the youngest cast member, who's frequently teased and questioned about her millennial softness and what the others see as a perceived sense of victimhood, didn't get any backup when she pointed out during the reunion that it makes perfect sense why someone in this day and age wouldn't want to play a Michael Jackson song. We can clearly guess where Kathy stands on the issue of believing Jackson's multiple accusers that he sexually abused them as children.
I don't need my reality TV stars to be "good" people, whatever that even means — truly, I don't. But I do regret "thanking the gay gods" for Kathy in an essay last year, especially in light of the allegations that she used an anti-gay slur in Aspen, and with the increasingly available evidence that she is a close personal friend of Donald Trump's.
This is a woman who cut off her sister, seemingly for good, because Kyle made one season of a TV show about their childhood, and Kathy didn't believe — without having ever watched it — that the program would portray their mother in a favorable enough light. If Kathy truly respected her family's privacy, I might find her case more sympathetic here, but this is the mother of one of the aughts' most infamous reality TV stars.
Kathy's daughter Paris, who opened up about being physically and emotionally abused at a Utah boarding school as a teenager in her documentary This Is Paris, said in an episode of last year's Peacock TV series Paris in Love that her mother "changes the subject" when Paris tries to discuss the abuse she suffered. "She just likes to be happy. I don't want to kill her vibe."
You do get the impression, from watching RHOBH, that when things are going Kathy's way, she's the most fun person in the world to be around. But when things aren't — like, say, her attempts to promote the tequila brand her family's invested in — we've seen her throw tantrums and storm out of rooms. Now, as Camille Meyer reminds us, this isn't wild behavior for a Housewife by any means. But it's clear to me that there must be a darker side to Kathy we haven't gotten the chance to really see yet, whether or not she's used her money and power to influence what version of herself gets shown to the world. Remember recently on Andy Cohen's Watch What Happens Live, when Kathy mistook Lizzo for Precious? Some people generously thought she was referring to the plus-size model, rather than the fictitious movie character, but to me this was a clear warning sign: Kathy Hilton might be fun and kooky and coming for Lisa Rinna's wig, but at the end of the day, she's Trump and Michael Jackson's friend. Not yours.●
Shannon Keating is a writer, jeweler, and culture critic. She lives in northern England.