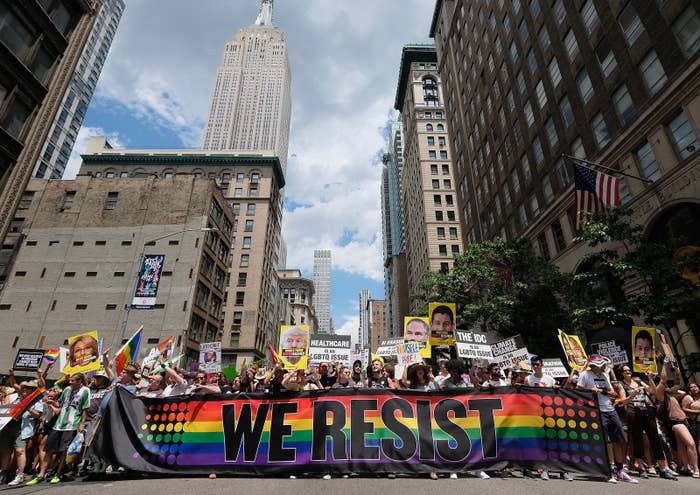 Last year's Pride March in New York City was one for the record books. For the first time, the event was broadcast live on network television, and the number of marchers reached a reported all-time high — some 40,000 people. Marchers, along with 80 floats, were cheered on by approximately 2 million spectators. After the march kicked off at noon, the final contingent crossed the finish line nine and a half hours later — in the dark, when there were very few of those spectators left to cheer for them.
For those in charge of logistics for the march, it was clear that the event — one of the oldest and most famous of its kind in the world — had simply gotten too long. Heritage of Pride (HOP), the nonprofit organization that produces and runs New York's pride events, recently announced some relatively large and seemingly unprecedented changes to operations for 2018, in attempts to shorten the length of the march. The route has been reversed and shortened, groups have been limited to 200 participants each, the number of floats and vehicles has been reduced, and HOP is requiring that all marchers wear wristbands — all decisions that have enraged certain factions of the LGBT community.
For many queer people, the month of June doesn't only mean the chance to celebrate LGBT pride. It means we've got yet another opportunity to debate how, exactly, we're supposed to celebrate it.
Should we even be celebrating at all, when the LGBT rights movement was born from a rebellion by queer and trans people, many of color, rising up against police violence and oppression? And speaking of cops: Since Pride commemorates the Stonewall riots of 1969, which were a direct response to a police raid on a gay bar in Manhattan, what role — if any — should the New York Police Department play in city-sanctioned pride events? Those events have exploded in recent years; now, in New York, there's not only the historical march, but over a dozen other happenings throughout "Pride Week" — Pride Fest, Pride Island, Youth Pride — that offer ever-more branding opportunities for corporate sponsors. Has Pride become too whitewashed, too mainstream, too corporate?
These questions aren't anything new, of course. But they have taken on renewed vigor this year now that Pride is bigger, and seemingly less manageable, than ever before. Other cities across the country have been grappling with huge swells in Pride participation as well; last weekend, LA Pride sold out for the first time in its history, and even some ticket holders were turned away.
So what to do in New York? Last week, in the wake of the announced changes, dozens of community members crammed into a conference room on the ground floor of the LGBTQ Center in Manhattan with representatives from HOP, the mayor's office, and the NYPD to discuss the hotly contested future of NYC Pride.
The conversations between activists and HOP, both during and far beyond the town hall, have addressed local concerns with many international implications: New York, where Pride began, is one of the world's queer capitals, and our pride march has the power to influence the ways that prides around the globe unfold. Plus, next year New York will host WorldPride to mark the 50th anniversary of the Stonewall uprising, which could be the largest pride celebration the world has ever seen.
As we approach Pride's 50th iteration, New York has been tasked with figuring out how to manage and contain a march that is expected to draw still bigger and bigger crowds. Meanwhile, activists, nonprofits, and queer people from all walks of life are responding in kind. Who's allowed to take part in an ever-growing event once driven by queer people on the fringes seeking a revolution — and who should be left out?
Julian Sanjivan, HOP's march director, explained at the town hall via PowerPoint that this year's changes have largely been driven by the anticipation of Stonewall's 50th anniversary next year; 2018's march is supposed to function "as a trial run for 2019." HOP anticipates that WorldPride for the Stonewall 50 will draw up to 5 million people, double the number expected for this year. Sanjivan's first mention of the proposed route change drew hisses from the crowd.

Sanjivan, undeterred, explained that the new, slightly shorter route, which now starts instead of ends in the Village, is intended to "reduce bottlenecks" and "reduce wait times." The march will now spend more time on wider avenues with more sidewalk space for spectators.
Many participants at the town hall accused HOP, which began internally discussing these changes in December 2016 and meeting with the city and NYPD in 2017, of a lack of transparency. Some activists were further incensed that it was actually the NYPD, after being supplied with six potential route options, who made the ultimate route choice. One attendee, Sheri Clemons, said, "HOP has not consulted with the community. We are stakeholders. I know you work hard, but you have to listen to the community ... It escapes me why no one knew the change to this route would be disturbing."
Sanjivan pointed out that HOP's meetings are open to the public, but conceded that the organization could have done more in terms of transparency. "Could we have done a better job at it?" he said. "Clearly, yes, we could have done a better job at it."
The airing of grievances at the town hall came after a couple months of mounting tension between HOP and certain activist groups. Last year, for the first Pride of Donald Trump's presidential term, a number of individuals, organizations, and advocacy groups marched toward the front of the assembly in a resistance contingent. But when leaders from that group reached out to HOP earlier this year about reprising the resistance contingent for the 2018 march, they were rebuffed. Jake Tolan, a member of the newly formed Reclaim Pride Coalition, told me that HOP said at the time there would be "no organized contingents of multiple groups in the parade" this time around.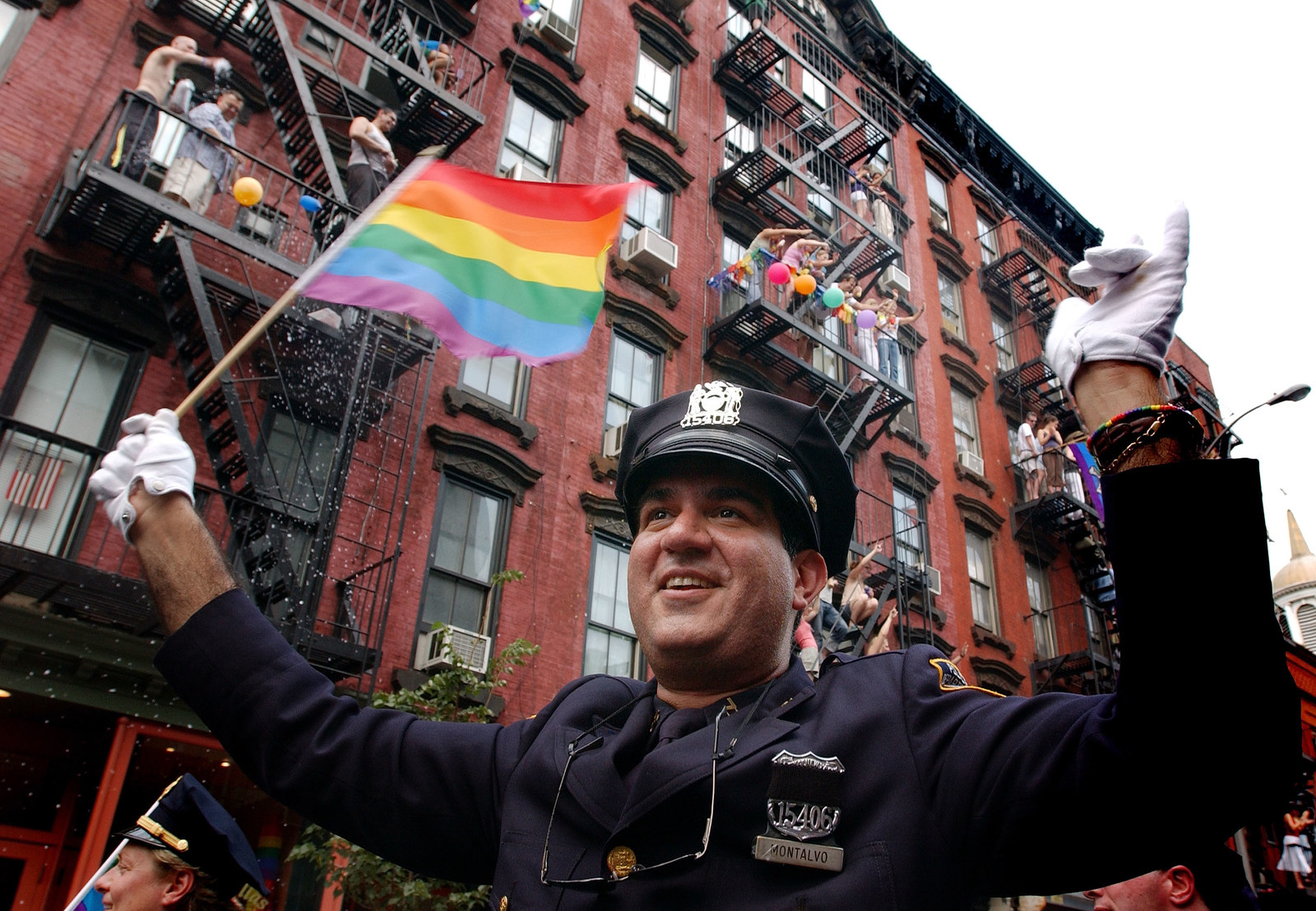 Reclaim Pride was born out of outrage over HOP's actions and comprises resistance groups like ACT UP, Rise and Resist, Gays Against Guns, Democratic Socialists of America, and Jewish Voice for Peace NY. According to their mission statement, the group, which called for the town hall, "seeks to forge a community response to the historic and ongoing problems with Heritage of Pride (HOP) and the Manhattan Pride March, which have spanned decades, and include corporate saturation, unnecessary restrictions, and excessive police presence, as well as new and unacceptable changes to the March made by HOP since last year."
HOP eventually relented after pushback, and the resistance contingent will march thousands strong again in a little over a week. "This is what pride is about," Tolan said. "Standing up for our community."
But to Reclaim Pride's chagrin, their step-off time isn't until 3 p.m., which is exactly when ABC will stop airing its live coverage of the march. At the town hall, Sanjivan pointed out that the resistance contingent is placed exactly halfway through the march order, and there were a lot of other groups that deserved attention from spectators in New York and watching at home.
One of those other groups marching will be GOAL, the Gay Officers Action League. GOAL was established in 1982 to address the issues and concerns of gay and lesbian members of law enforcement, a year after sergeant Charles H. Cochrane Jr. testified before the City Council in support of an anti-discrimination proposal. Through the course of his testimony, Cochrane became the first cop in New York City to come out as openly gay. After the proposal was defeated, he became a founding member of GOAL, thought to be the first group of its kind in the world. Cochrane and other founders reportedly received death threats. GOAL's history with Pride is both storied and fraught: When they marched openly at Pride soon after the group's formation, cops who were policing the route turned their backs on them. The group also famously sued the NYPD in 1996 for discrimination when they were denied resources afforded to other fraternal groups in the department, including the use of a league van for the pride march.
One of Reclaim Pride's biggest demands, Tolan told me, is that "the only police marching in the parade will be GOAL — no police band, no detention facility band, and that they march out of uniform" (which would mean they won't be carrying guns). "The police have done so much damage to sections of our community, not least of all trans people and people of color," he said. "It's uninviting and threatening to people to see police walking through a parade. We don't believe we can exclude them — they are LGBT people — but being gay doesn't excuse you from being a cop."
"The police have done so much damage to sections of our community, not least of all trans people and people of color."
Detective Brian Downey, the president of GOAL, summarized the group's history when he spoke at the town hall. For a lot of that time, he said, "cops lived in sheer terror of our own." Now, "I would say we're tolerated. I wouldn't say we're respected. We continue to put ourselves on the proverbial chopping block inside of these agencies." He told the gathered activists that if they were to speak one on one, "queer to queer," he bets "there'd be a lot more we agree on than we disagree on." Downey's remarks were met with applause by a number of officers and other supporters who'd come to the meeting. But many of the activists remained skeptical. One attendee, Carol Demech, said that she's been marching for 50 years, since her mid-twenties, and even now, "we're being erased. Our rights are being eroded." She asked, to enormous applause, that if police really don't accept their own, how can we expect them to treat the rest of us?
Another attendee, Mark Milano, echoed Tolan: "You may say you're a gay man," he said to Downey, "but you're a cop to me." He said that the NYPD should formally apologize "not just for Stonewall, but for 100 years of mistreating queer people and people of color." He and others accused HOP of colluding with the NYPD to control and suppress queer New Yorkers.
Detective Carl Locke, the NYPD's LGBTQ liaison, said that he "can't speak for the commissioner," but when it comes to making decisions like formal apologies, "the police department doesn't move too quickly." He plans to discuss the matter with the commissioner, but "I don't know how, when, or if he'll apologize." (The commissioner, through the NYPD's communications office, hasn't returned a request for comment.)
Many activists from groups like ACT UP, Queer Nation, and Black Lives Matter brought up their histories of being arrested by the police. One person, who was black, spoke directly to Downey: "People in my community don't see your uniform as a source of pride, but as a sign of danger." That speaker and others encouraged GOAL to "put your uniform aside in solidarity," like the Minneapolis police at the Twin Cities Pride Parade decided to do this year.
But Downey, even when faced with chants of "Take it off, take it off, take it off," stood firm, saying that if GOAL marched out of uniform, it would be an insult to Cochrane's memory — he died in 2008 — and an insult to the work of other gay police officers who fought for rights and recognition within the NYPD. "We force [the department] to deal with us," he said, quoting Cochrane. "We're here, and we're not going away."
James Fallarino, the media director for HOP, confirmed after the town hall that HOP would not change its policy about allowing GOAL to march in uniform. "Here in NYC, any organization that registers and follows our policies and procedures may march, and may legally express themselves any way they wish." He said that HOP voted on the matter in a recent membership meeting, and the vote was nearly unanimous.
Fallarino mentioned that there have been a number of groups whose inclusion in the march have drawn controversy, like a few years ago when Queers Against Israeli Apartheid inspired protests. But the group was still allowed to march, because "the march is a free speech platform for all the areas of our movement." A similar controversy cropped up last year when three women with pride flags emblazoned with the Star of David were ejected from the Dyke March in Chicago, inciting national outrage and a furious debate among the left about what kinds of messages and ideologies are, and are not, allowed in progressive LGBT spaces.
"Here in NYC, any organization that registers and follows our policies and procedures may march, and may legally express themselves any way they wish."
Many of the activists were especially angered by HOP's new policy limiting groups to 200 marchers, which would be monitored with the use of wristbands. One mentioned having been handcuffed by the police, saying he would refuse to wear another "cuff" on his hand, especially one that felt otherizing. At one point, a chant of "no wristbands" had to be quelled by the moderator.
Tolan made a similar point: "Marking people for being a minority, historically, hasn't been super popular," he said. Plus, attendees asked, who would be put in charge of monitoring who was, and who was not, wearing a wristband and therefore allowed to march — cops with guns?
Locke, the NYPD's LGBTQ liaison, said that "the NYPD is not in the business of enforcing wristbands — that's not our job." The wristbands were instituted by HOP alone, and according to Fallarino, there was "never an intention for us to be forcibly removing people from the event." He said, "It's wonderful to have a great turnout, but big disparities in the size of groups impacts the flow and speed of the march." He referenced a recent contingent from Facebook that involved over 800 people. HOP instituted the wristbands, he said, to control group size — they're supposed to be "self-monitoring tools for people in the march."
Some of the activists advocated for reducing the number of corporate groups allowed to march, rather than limiting the size of every single marching contingent. Fallarino pointed out that "a business can't just march in the march, or just put a float in the march — they have to have an employee resource group attached." He conceded that yes, "this is in part an advertising event." But in the end, the corporate groups are intended to promote "visibility for people proud of who they are, employees who are proud to be a part of their group."
In regard to overall transparency about the changes, Fallarino allowed, as Sanjivan did during the town hall, that HOP could have done a better job. "I think there's always room for us to be more transparent and to engage more people in the process. But at the same time, all of our committee meetings are open to the public." HOP does intend to hold debriefing meetings after the event to determine what went well this year, and what could be changed in preparation for WorldPride.
Though the town hall didn't sway HOP to veer away from any proposed changes, Reclaim Pride isn't giving up. The weekend after next, when hundreds of thousands of people descend on downtown Manhattan to either participate or watch the march unfold, Reclaim Pride protesters will be "gathering and marching to the staging area of the resistance contingent together and will then attempt to gain entry without their wristbands," Tolan said. A newly created Facebook event for the protest seems to have garnered little interest, but whether it gains traction remains to be seen. Other protests are also likely; at last year's march, groups like No Justice No Pride blocked the NYPD and Toronto police contingents, temporarily halting the proceedings (12 of the activists were arrested). Some queer people will skip the festivities altogether, opting for a day at somewhere like Riis beach instead. And the debate about who belongs in the march, and who the march belongs to, will rage on.