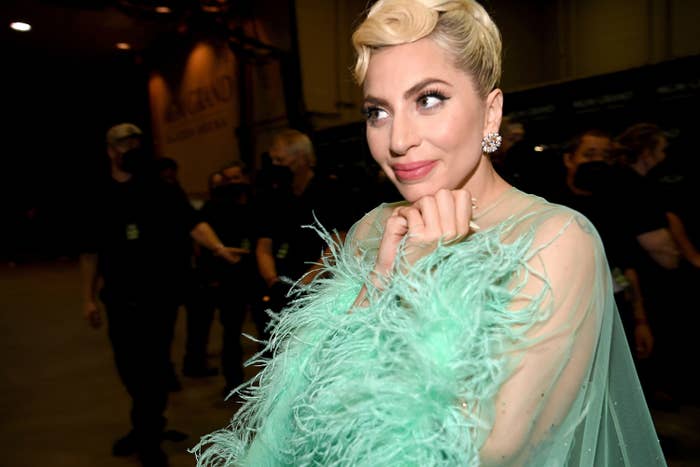 Lady Gaga's delightfully over-the-top performance in 2021's House of Gucci — as Patrizia Reggiani, infamously convicted of hiring an assassin to kill her ex-husband, Maurizio Gucci, heir to the iconic Italian fashion house — was, alas, not enough to redeem an otherwise bloated, dour, disorganized mess of a film. But by god, Gaga was going to sell it to you anyway.
House of Gucci's press tour was, if anything, even more of a spectacle than the film itself, thanks to Gaga's ability to whip out some pull quote–worthy lines in what seemed like every new interview. Perhaps haunted by her much-memed "there could be 100 people in a room" spiel, which she trotted out seemingly dozens of times in praise of costar and director Bradley Cooper while they were promoting the far superior A Star Is Born, Gaga committed to shaking things up this time around. She gave us major theater kid energy by obsessively studying up on Reggiani, who is still alive, and whom Gaga thinks sent swarms of flies to follow her on set, shared cute moments with Gucci costar Adam Driver, teased a different version of the film in which "it gets hot" between her and costar Salma Hayek, and, my personal favorite, girlbossed murder.
Gaga's valiant efforts to talk up the movie in her signature ostentatious style weren't enough, in the end, to earn her an Oscar nomination, especially during a particularly stacked year for the Best Actress category (justice for Kristen!!!). But no matter, Gaga. We all know the best is yet to come.
What's more: Gaga not getting major awards recognition this year has only given us more opportunities to fall in love with her, the world's most gracious loser.
It wasn't only the Oscars: When she missed out on one of her Grammy nominations this year, bested by SZA and Doja Cat in the Best Pop Duo/Group Performance category, Gaga literally got down on her hands and knees to help SZA with her dress as she walked to the stage in crutches to accept the award. The moment went viral. So did the way Gaga kindly and carefully supported Liza Minnelli during a rare public appearance at the Oscars barely more than a week earlier, which earned her praise for assisting the icon with her lines onstage without being "patronizing or awkward." We've already come to associate Gaga as a dear friend and supporter of older entertainment titans due to her close relationship with frequent collaborator Tony Bennett, to whom she gave a tearful tribute at the Grammys as well. But Gaga's best, more subtle Grammy moment might have been one captured backstage, in which she praised Jon Batiste and SZA: "I'm happy the world has artists like you. … It made me proud to be a musician tonight, to see you both."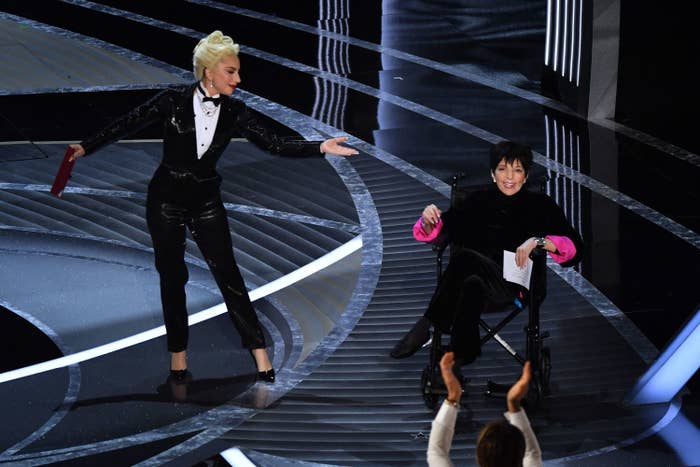 It's hard to imagine someone with less talent and charisma than Gaga successfully evolving from alt-freak in a meat dress to old Hollywood glamour A-lister over the course of a decade — who else could make either end of the spectrum feel both exciting and authentic? Who else could convince us that all her various personas aren't just (or at least only) savvy marketing but joyous expressions of an artist always searching for new ways to get to know herself?
To see the near-widespread coverage of Gaga's ethereal beauty, "great kindness," and her status as an all-around "class act" is rather remarkable, considering that, 10 years ago, Gaga headlines tended to feature vicious gossip about her gender and boycotts by pissed-off Catholics. That's not to say she wasn't famous — she was a household name as early as, what, 2009? — but she was certainly less widely adored. When did someone famously freaky become, suddenly, "wholesome"?
It's hard to pinpoint when, exactly, this shift might have taken place, in part because it hasn't ever really felt sudden or forced. For many longtime Gaga fans, it might not even come as a surprise. Because while Gaga has proved her serious musician chops in recent years by dabbling in more old people–friendly genres, like jazz, there have been those of us who knew she was the real deal all along, and that she'd never stick exclusively to dance or pop. (I remember once forcing my classmates to listen to the acoustic version of "Poker Face" in my 11th-grade homeroom.) Gaga has always been a chameleon, transforming for the sake of her art, performing the self as art. In the early aughts, she was an avowed weirdo, a champion of queer kids in the time of "don't ask, don't tell," a maximalist pop star who celebrated difference.
Following Gaga's commercial flop turned cult hit, 2013's Artpop, which included an extremely unfortunate R. Kelly collab, she and her team began to work on something of a reinvention. That led to Gaga's first album with Tony Bennett, Cheek to Cheek, in 2014, and the next year, a lovely Sound of Music medley at the Oscars gave every gay millennial an opportunity to turn to their parents and say, "See?" (Ditto in 2016, when she killed it while performing the national anthem at the Super Bowl.)
By the time Gaga ascended to movie stardom, with none other than Cooper's A Star Is Born — a film that is itself about what it means to be an authentic artist — her audience had already been primed to consider she's capable of far more than what we've yet to see. And, as always, it's her performance of that stardom — arriving to the Venice Film Festival for the Gucci premiere in a boat; flirting with Bradley Cooper; going retro glamour — that takes Gaga to the next level. And just because she's doing normie red carpet now doesn't mean her freakier side is gone for good. This week, a fan commented on her Instagram, saying they missed the old Gaga, and she made a rare response: "I'm still here," she wrote, adding the upside-down smiley face and "see you at #TheChromaticaBall." A reminder that she continues to make and perform her less commercially successful work, for all the weirdos who want and need it.
Now, for all the ways that Gaga's earnestness and capital-A Actor pretension can be — to certain crowds — annoying and alienating, she mostly manages to transcend cringe by seemingly believing so wholeheartedly in the essential roles of music and film to transform and uplift our world. In these darkly cynical times, when most celebrities would do better to just be quiet, when the forces of streaming, Marvel, and evil billionaires have conspired to corporatize and commercialize art to the extent that everything and everyone becomes a mere product to be bought and sold, here's Lady Gaga, charming everyone's pants off with her appreciation for her peers and for their work, her modesty and grace.
It helps, too, that Gaga gives 120% to everything she does. Her Gucci costar Adam Driver is one of the best actors of his generation, but most definitely phoned it in this time, making Gaga acting her little heart out beside him in this weird, way-too-long film even more of a marvel. I've seen her perform live twice, and both took me to places I've never been, before or since: Once in 2010, for the Monster Ball tour, during which she played the piano with her feet and battled an animatronic monster onstage, and once a few years ago during her Enigma residency in Vegas, during which she flew around on wires, cried about how much she loves her friends, fought with her alter ego, and traveled with her captive audience into the future.
You get the sense Gaga hasn't phoned it in a day in her life. She is here, and she is going to give you a show, honey! And what else could we possibly want from our celebrities: fiery passion, endless innovation, a commitment to supporting LGBTQ youth experiencing homelessness, blanking Caitlyn Jenner, and, yes, kindness, not something you see much of these days. Lady Gaga, everybody! What a star. What a gift. ●