When writer and comedian Joel Kim Booster decided to go to Fire Island for the first time eight years ago, he initially had some reservations. He knew he wasn't your "typical Fire Island boy" (white, rich, well connected), Booster told me in a recent interview — but he and his friend SNL star Bowen Yang went anyway.
Though they had a great time, Booster said, "there were moments when it became clear: There are no straight people around to oppress us, but gay men find a way." During their vacation to the historic Long Island gay resort, Booster was rereading Jane Austen's Pride and Prejudice for the first time since he was a teenager, and "it really struck me while I was there how relevant its observations about class are, specifically ways in which people communicate across class lines." As great as Fire Island and other spaces for gay men can be, there's also "a lot of toxicity," and Booster realized that Austen's comedy of manners "could so easily be mapped onto our experience."
When he got home, Booster reflected on Austen and the island in an essay for Penguin Random House. "Austen may not have realized it at the time," he wrote, "but her novels are covered in wall-to-wall shade, the modern homosexual's secret language that involves stealthily insulting each other with enough plausible deniability to keep the party going." She may have been writing about five middle-class sisters during the Regency period, but "she was also writing about my experience as a gay man in the 21st century."
Booster's agent suggested he expand on the essay's ideas into a fictional project. The seeds of Fire Island, the delightful Andrew Ahn–directed romantic comedy that Booster wrote, executive produced, and stars in, out now on Hulu, were officially planted. The movie stars Booster as Noah, gay, broke, and proudly single, who, during an annual weeklong friends trip to the island, tries to get his best friend, Howie (played by his IRL best friend, Bowen Yang), to stop fantasizing about traditional romance and just have fun and get laid. In the Penguin Random House blog, Booster referred to Yang as "the gay Chinese Jane to my gay Korean Lizzy," and now he's brought those characters to life in this gay spin on Pride and Prejudice: Noah is our Elizabeth, proud and quick to judge, gossipping with his sister Howie/Jane "about all the ways we were somehow above all this, just as everyone else considered us below it."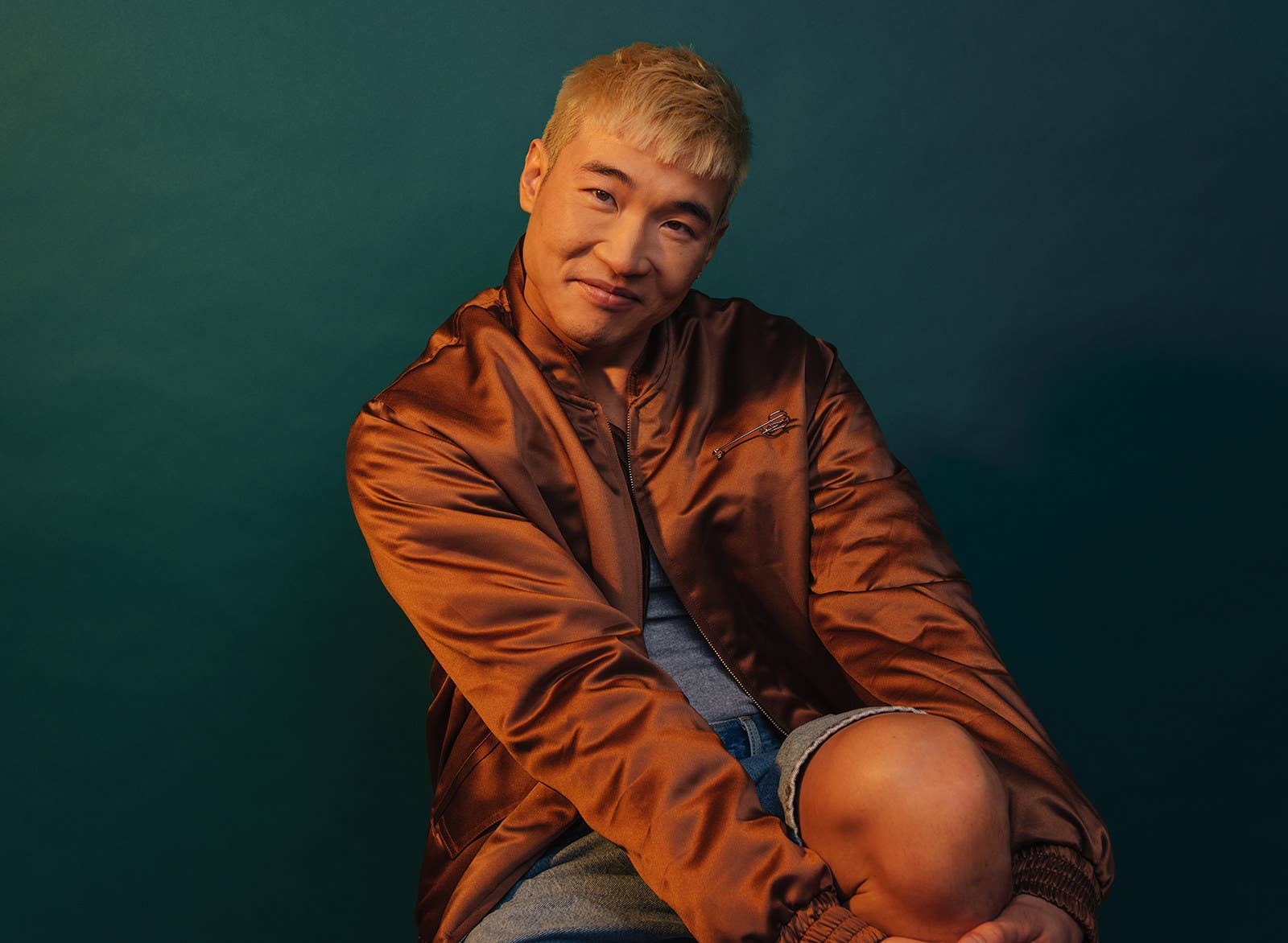 So much of the movie is "ripped from the headlines of our friendship," Booster told me, referring to his intimate bond with Yang. The two met doing comedy in New York a few years ago, thrown together by mutual friends who thought that because they were both gay Asian comedians they'd hit it off. "We resented that," Booster said, not wanting to be pigeonholed, "but we met at a show and quickly hit it off. And it was like, 'Oh, fuck, they were right.'"
"There's so much freedom in extricating yourself from oppressively hetero society for the first time. You don't realize how much you need it till you're there."
Finding each other "made the other person feel seen in a really visceral way," Booster said. Yang is his first and closest gay Asian friend, and both have "felt like outsiders in the gay community to varying degrees — feeling out of place no matter where we were," he said. "I think our trip to Fire Island crystalized that in a really interesting way. We both felt like outsiders but we also didn't let that dampen our time. If they don't want us here, then fuck them! We came to be gay and stupid, there's no reason to impress anybody here. And for all its toxicity, there's also so much freedom in extricating yourself from oppressively hetero society for the first time. You don't realize how much you need it till you're there."
Booster doesn't think "an opportunity to play with Bowen" on set was ever going to happen organically. The performers have auditioned for the same roles for years now, because there's "a lack of imagination in Hollywood about what's possible." So Booster had his "Mrs. Dalloway moment": "Fuck it, I'll do it myself."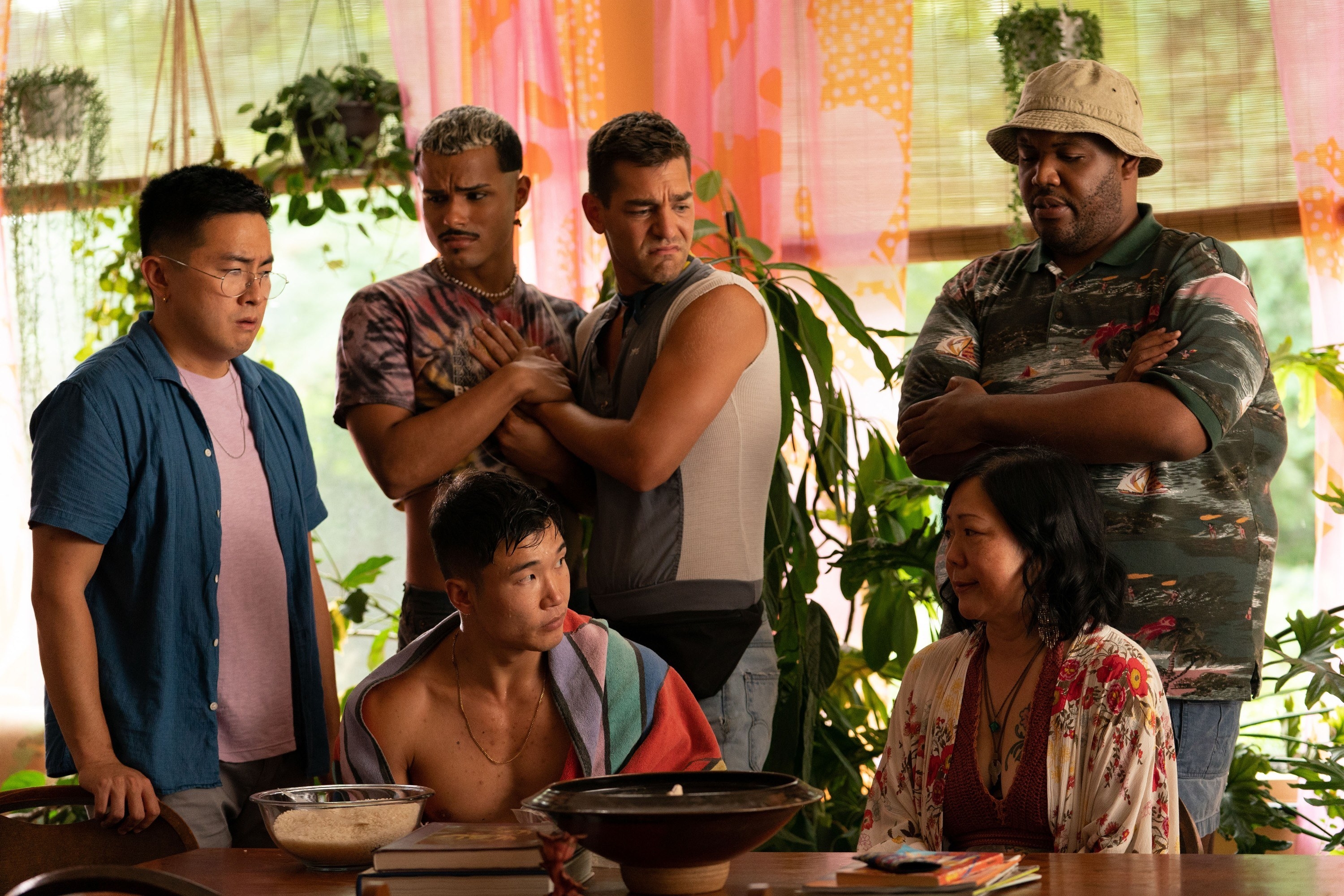 Fire Island, for Booster, represents many firsts: It's the first thing he's written that's actually gotten made — "it's not someone else's vision" — and the first time he's been in a starring role. So "the stakes are quite high on this," he said.
Booster, 34, has always wanted to write and act; standup comedy, where he got his start in entertainment, wasn't necessarily part of the plan. At Millikin University in his home state of Illinois, Booster had studied theater. "Comedy never felt like an avenue available to me as a gay Asian man," he said. "There was no model. Margaret [Cho] was the closest thing." But spending time in the Chicago underground indie scene, outside of the official comedy club system, showed him what might be possible. He discovered that standup "was a nice outlet for me to represent myself as a performer and a writer in a way that felt more authentic than the parts I was getting called in for." This was back in 2010; "we weren't having conversations about diversity in casting" the way the industry is today.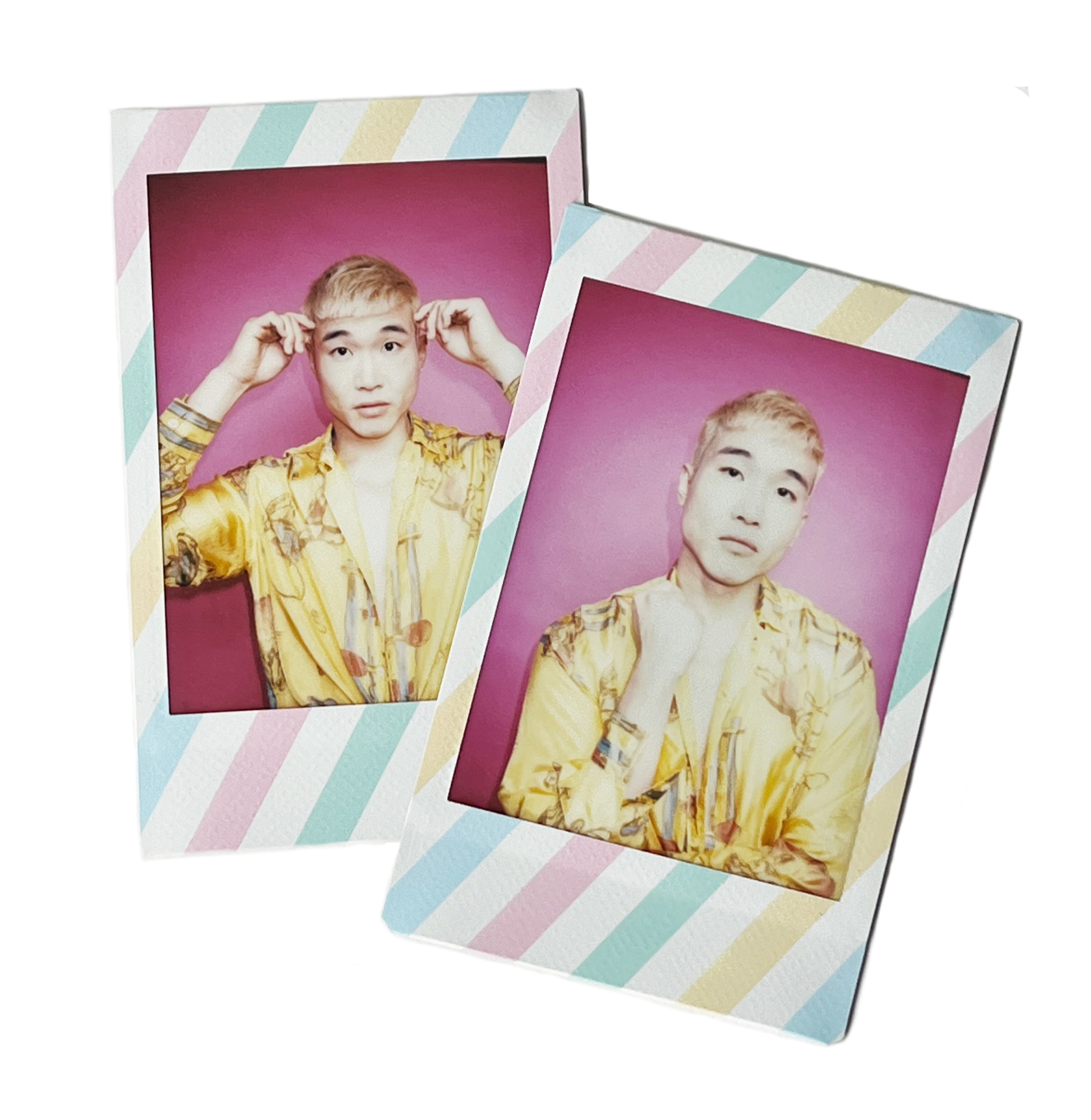 A few years later, Booster moved to New York to pursue standup full time. His breakout was when he did a set on Conan in 2016, followed by a Comedy Central special and his debut standup album, Model Minority, in 2018. He wrote and performed stories about growing up in Plainfield, Illinois, with white evangelical parents who'd adopted him from South Korea as an infant. In his Conan set, he jokes, in one of his most well-known quips, "I knew I was gay before I knew I was Asian." Early in his career, Booster used standup to process what he's called his "identity dysphoria" and the traumas of his childhood, as well as dating in the often racist gay world. When his parents found out he was gay by reading his diary in high school and weren't very happy about it, they sent him to a mental institution. He ended up moving out, couchsurfing, and living temporarily with a family friend. "If you have a strong enough point of view or comedic voice," Booster told Vice in 2017, "you're able to just explain to someone that your parents didn't talk to you for a year and a half. Everything is comedy and it's just a matter of taking a step back and disassociating for a moment."
"I fucking worship Nora Ephron."
The more successful he got, the more feasible Booster's original dreams became. He has over 100,000 followers on Twitter, where he's popular for his acerbic wit, on-point Real Housewives commentary, and, of course, plenty of gay jokes ("Will Smith slapping Chris Rock is straight people's Adele Dazeem," "A gay remake of Gentleman Prefer Blondes called It's just a Preference"). Industry folks started asking him for scripts. But writing something for the screen is no guarantee you'll get to see it come to life. He spent a couple years developing a pilot with Comedy Central that never got picked up, and he "was feeling really lost."
That was when he started working on what would become Fire Island. At first, nobody bit. Then Quibi, the short-lived short-form streaming platform that launched in 2018 and dissolved in 2020, expressed interest in the project, initially titled Trip, and Booster wrote 10 mini episodes. When Quibi folded, Booster's team scrambled to find another partner. Searchlight Pictures stepped in, reimagining the show as a feature film.
Growing up, Booster loved rom-coms — "I fucking worship Nora Ephron" — and "those movies affected the way I viewed love and romance for so long. It created a lot of expectations for what love could be." While writing Fire Island, he wanted to honor the part of himself that's "a big, sappy romantic," which he poured into Howie's storyline, while also making sure that "I wasn't showing just one way of falling in love. I also wanted to honor people forging their own path. There's no real model for nonmonogamy because it's different for every person, every relationship." Booster himself is in a nonmonogamous relationship right now, and his character Noah shares those sensibilities, railing against "the monogamy industrial complex" and crediting The Ethical Slut for why he's "so fucking annoying."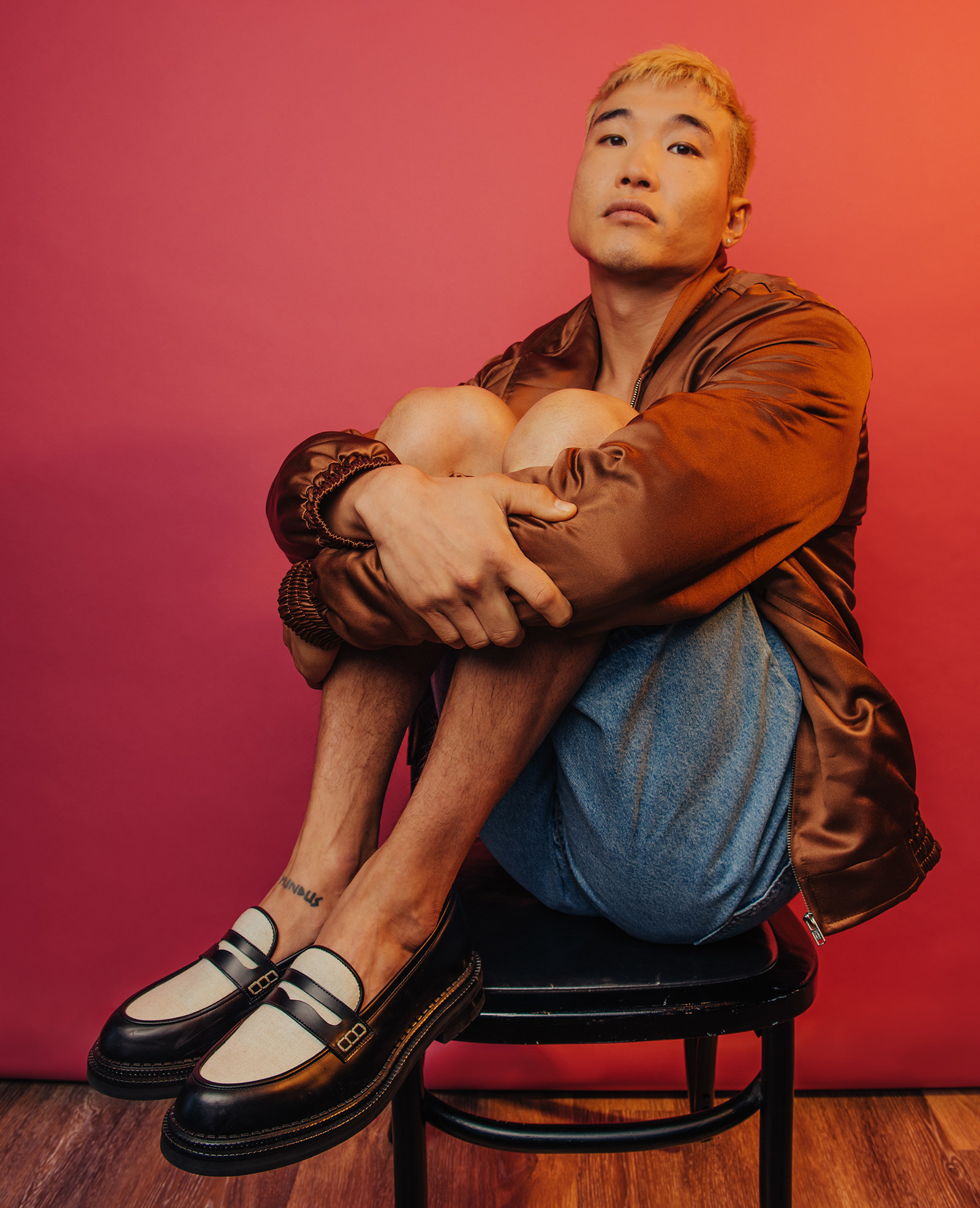 As lovely and butterfly-inducing as the romances in Fire Island are (Conrad Ricamora as our Mr. Darcy is totally charming), the real draw of the movie — at least for me — is its explorations of the great dramas and joys of queer friendship. When Noah thinks about family, he says in loving voiceover at the beginning of the film while meeting his crew on the Fire Island ferry, "I think about those faggots." What he means, he clarifies, after a quick "please don't cancel me," is that his friends are his sisters.
The fact that the cast is close in real life adds to the cozy, comforting feeling you're enveloped in while watching Fire Island: You can tell that this was so much fun to make. "It was singular and special," Booster said, of their experience shooting on location in the summer of 2021. "Something none of us will ever experience ever again." 2001's Wet Hot American Summer "shaped a lot of my sensibilities," he said, pointing out that the dynamite cast (Paul Rudd, Janeane Garofalo, Amy Poehler) weren't working with a big budget on that film, "but they had so much fun it didn't matter."
One of the best parts about shooting, Booster said, was working with the legendary comedian Margaret Cho, who plays Erin, a loving lesbian mother figure who provides yearly refuge to Noah, Howie, and their friends at her beach house. Over dinner one night, she tells them about having sex with a woman in the Meat Rack — an infamous and historic stretch of oceanside woodland connecting the two Fire Island neighborhoods of Cherry Grove and the Pines, where queers have been illicitly hooking up for generations — and trying to use the light from her flip phone "to check this chick's pussy for crabs." (Indeed, crabs were present, but the hookup "was so worth it.") It's one of many hilarious moments in the film plucked from the wilds of real life: Booster told me Erin's story was sourced from Cho's own Fire Island misadventures (!!!).
Working with Cho was "a dream come true," Booster said. "She's incredible, so generous, and gracious." You're not supposed to meet your heroes, they tell us, but Booster advises otherwise: "Maybe cast your heroes in your first big movie." Cho, for her part, says that working with Booster and Yang has been one of her favorite collaborations of her career.
"There aren't a lot of gay Asian people in the industry. It was really important to me to work with someone who understood the core of this movie."
Korean American filmmaker Andrew Ahn, known previously for his indie dramas, was drawn to give comedy a spin by Booster's screenplay. "I laughed out loud so many times," Ahn said about his first read. "What I loved about the script was how funny it was, but at the same time how much heart it had. It was a real Trojan Horse for emotion and interesting themes about gay social class. It felt like it had a little bit of everything wrapped up in a delicious package."
"There aren't a lot of gay Asian people in the industry," Booster said. "It was really important to me to work with someone who understood the core of this movie and the experience of Howie and Noah. He had such a beautiful vision for the movie … I don't know if I've ever worked with someone that I've trusted more creatively."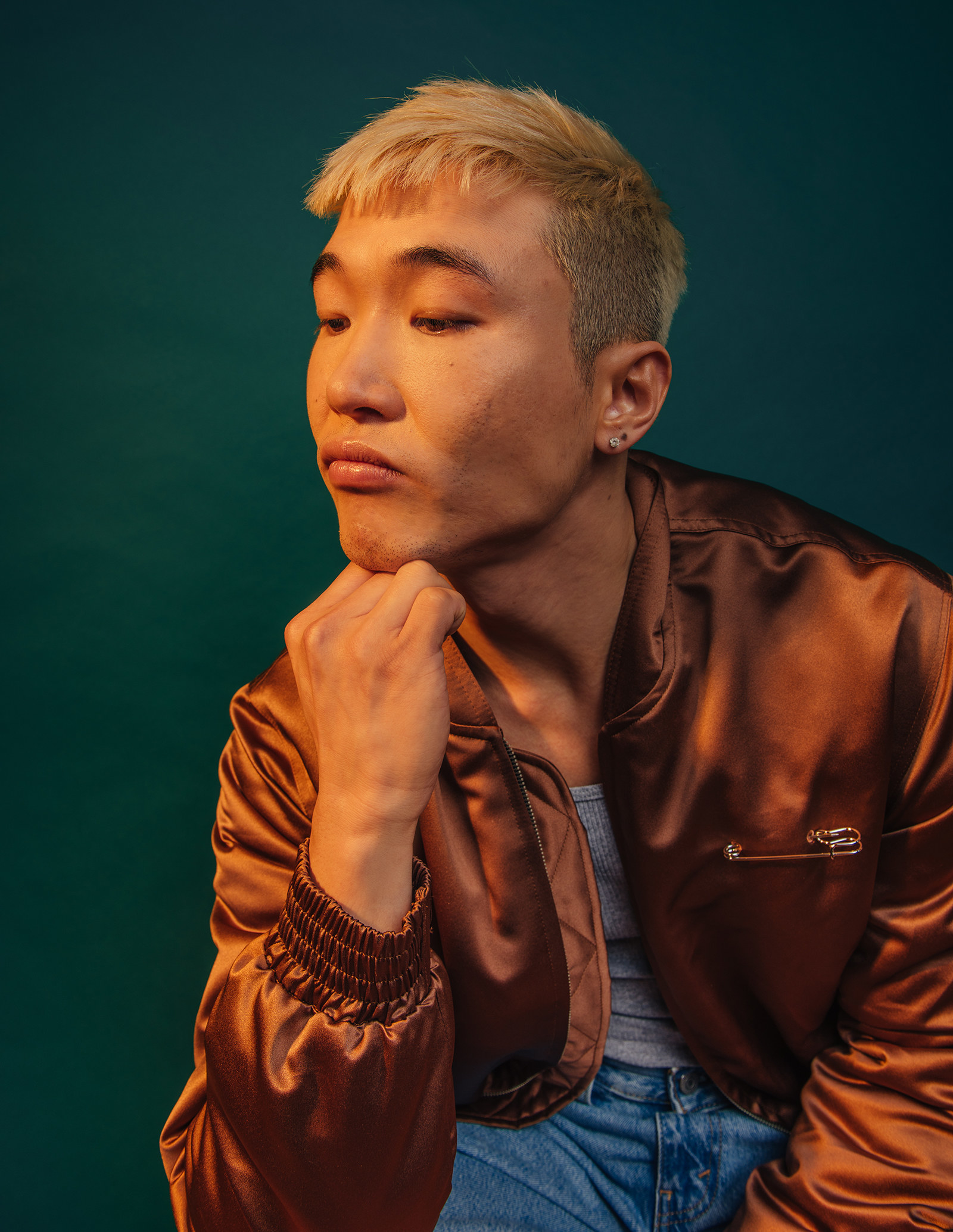 Booster has big things ahead of him. His Netflix comedy special, Psychosexual, debuts later this month, which he says is "very different" from his last, and so does Loot, a half-hour series on Apple TV led by Maya Rudolph. But he's wary of predicting how much these new projects might change the trajectory of his life. "I've been hearing I'm about to make it since 2016," he said.
Right now, Yang is easily the most famous Fire Island cast member, having become a beloved and Emmy-nominated performer on SNL in 2019 as its first-ever Chinese American cast member, and only the third openly gay man; he also hosts a popular podcast with costar Matt Rogers (who plays Luke, or Lydia, in Fire Island, if you're into the Pride and Prejudice of it all) where Booster is a frequent guest. Booster used to wonder what it would be like to be on SNL, but now he sees how Yang "is mobbed when we go out to the gay bar," and the "things he has to go through to exist as the premier gay Asian comedian takes a lot. He handles it so gracefully in a way I'm not sure I would. I'm happy he was the first and not me. I'm happy just working and getting my shit made." Booster doesn't know yet how his new projects will shape his career. What he does know: "I don't necessarily want my life to change in any social way. I want to be able to still use Grindr." ●