On a disconcertingly warm October afternoon, Hannah Hart wanders around the West Village, sharing her emotions in real time with thousands of her fans. It's the release day for her new memoir, Buffering: Unshared Tales of a Life Fully Loaded, and she snapchats breathlessly about her nerves and excitement from the sidewalks of New York.
By the time she bounds into Julius, New York City's oldest gay bar, it's sparsely populated with a few older, gray-bearded guys nursing beers and poring over the paper. She stands out. Her snap successfully posted, Hart is all smiles, overflowing with seemingly limitless energy: a five-foot-four ball of blonde sunshine. She's wearing a dressy, androgynous black button-up shirt, which she'd chosen (according to a snap she'd posted earlier that day) because she was feeling vulnerable.
"This is the coolest spot for an interview ever," she says, sliding into a booth at the back of the bar, which is dimly lit and bedecked with the requisite rainbow flags. "Mind if I Snapchat this?"
Hart, a self-described "internet demigod," soared to viral fame in 2011 when she made a video of getting drunk while cooking to cheer up a friend. The one-off YouTube upload has since evolved into Hart's most well-known series: My Drunk Kitchen, which inspired the bestselling 2014 book of the same name. She's spent the past five years taking the most beloved tenets from her early viral videos — silliness, unrelenting positivity, self-love, and support for others — and building them into the Harto (as she's known on her channels) mega-brand. Today, her main YouTube channel has 2.5 million followers, while her Twitter and Instagram have just over a million each. In addition to writing two books, she's starred in two straight-to-VOD movies, hosted dozens of live #NoFilterShows, and built My Drunk Kitchen into an empire.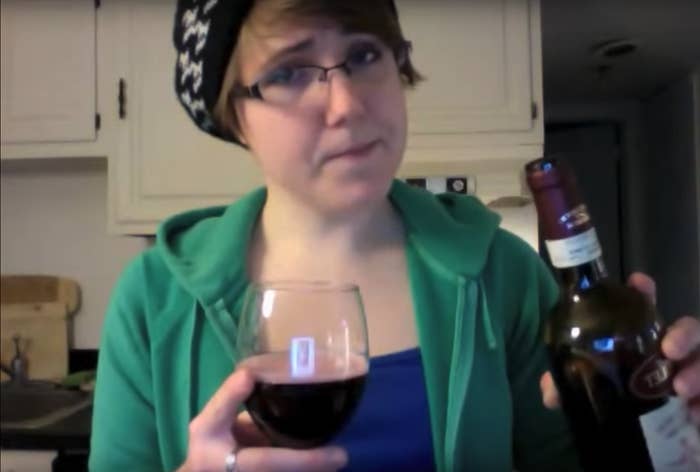 But for over a year of My Drunk Kitchen's early success, Hart's followers had no idea about an important but invisible part of her identity. In 2012, when she was feeling exhausted by the entertainment world and considered leaving YouTube for good, she decided to get over the "self-hating gay" phase of her life by coming out publicly (in a video, of course — the first of many coming out "chapters"), which reinvigorated her commitment to the form. Suddenly, she was no longer just an accidental YouTuber with a punny cooking show. She was a role model for the young LGBT people who subscribed to her channels, myharto and yourharto, by the hundreds of thousands.
Though most people born before 1980 don't know her name, Hart has millions of millennial followers who attend her meet and greets, write her fan mail, and generally obsess over her every move. Like other social media stars, Hart's brand is all about relatability: She fools around with charcoal face masks and gets drunk with her friends. She is aspirational — undeniably famous by internet standards; wealthy; a video-producing, book-writing jill-of-all-trades — but also, paradoxically, positions herself as a regular old person, just like everybody else. And that regularity, paired with the constant stream of hyper-personal content that's delivered straight into the feeds of her followers, is part of her enormous appeal.
To Hart's fans, she isn't an untouchable megastar, preserved in a gold-plated bubble of stardom, but a friend and an ally who cares. They say she's given them the courage to come out to their families; they say she's helped them through life's heartaches, whether the death of a family member or the latest round of chemo; they say she gives them the strength to just keep moving forward. "The older I get, it's like, I'm just gonna cry my way through every meet and greet," Hart tells me, laughing, sounding at once humbled and astonished.
Now, on the eve of her 30th birthday, Hannah Hart is still playing herself: her nice, vulnerable, earnest, positive self. She has no intention of slowing down her YouTube output anytime soon. Meanwhile, she's prepping for the release of her new Food Network show and someday wants to become the face of lesbian rom-coms. After spending years wrestling with internalized homophobia, then finding her footing in a constantly shifting digital media landscape, all Hart wants is to keep flooding the internet with her goofy, punny, uplifting brand of self-acceptance — and to show young LGBT people positive representations of queer life.
Her brand, in a word, is niceness. And in these loud, scary, cynical times, niceness doesn't often get a lot of traction. Her popularity is about to be tested outside of the youth-oriented corners of the internet that already love her. In the process, can Hannah Hart make niceness cool again?
Hart doesn't spend a lot of time in gay bars. Before moving to LA, she'd sometimes go to Cubbyhole, in the West Village, which is as tiny as its name suggests, but is unequivocally the best lesbian bar in New York. (Not like we have that many options.)

"I don't go to gay bars because I live in pretty progressive cities," she says. "But if you ever want to cry and think about America, you should watch Small Town Gay Bar. I used to do this thing called Harto Movie Night, where we would all get together and watch movies — and I was like okay guys, Small Town Gay Bar, gonna be fun, whee! I wept. It was about people in all these cities in America in the middle of nowhere that are really desperate. Really funny livestream! People were being like, 'I'm crying!'" and I was like 'Me too, me too.'"
Hart, like so many gay people before her, spent years struggling to come to terms with her sexuality. She grew up in Burlingame, California, where she was raised to believe that homosexuality is a sin. Her father, a Jehovah's witness, still thinks that being gay is a perversion; the two of them no longer speak.
For a long time, Hart couldn't bring herself to use the word "queer." "I used to say, like, 'I hate using the word, I'm not queer cause queer means weird.' And now I'm like, 'The queer community, dada dada dada dada' —" she fleshes out her hypothetical sentences this way a lot — "I'm totally fine with it."
In Buffering, Hart details the account of her first relationship with a woman, back in college, which will sound familiar to a lot of other lesbians: She and her girlfriend (although they didn't think of each other as girlfriends, exactly) were constantly all over each other and had plenty of sex, but insisted that they weren't gay. Now, almost 10 years later, she's a beacon for others wrestling with the same demons. But that wasn't always the plan.
Unlike other YouTubers, Hart didn't arrive on the platform with ambitions to become an internet personality or entertainer. Her first upload in 2011 — titled "Butter Yo Shit," which would become the first installment of My Drunk Kitchen — was thrown together to cheer up a friend in the throes of depression who was living across the country. A year after launching her channel, Hart became a paid YouTube partner, quitting her day job as a proofreader at a translation firm and moving from New York to Los Angeles.
In her memoir, she details how difficult it was to navigate the isolating world of fast fame: It was hard to know whether people were interested in her as a person, or whether they simply wanted to use her to fuel their own ambitions.
"I was a much less trusting person when I started out," she says. "And I think it's because I didn't trust myself to make good decisions about my friendships."
"I didn't think of myself as an entertainer," she adds. "It was my second year — my second year of anything. It was a lot to learn really fast." Her friends and frequent collaborators, Mamrie Hart and Grace Helbig, came out of traditional theater and improv backgrounds; for them, YouTube was a stepping stone toward other opportunities to act and write. Hannah, meanwhile, was still figuring out what she wanted — for her brand and for herself.
As 2012 drew to a close, she was feeling exhausted by the superficiality and nepotism of Los Angeles. Plus, she'd been making videos for nearly two years, but her fast-growing audience didn't know she was gay. Her brand was all about self-love, but she hadn't yet publicly embraced this important part of her identity. Inspired by Anderson Cooper's recent coming out, she uploaded one of her own: 11 minutes of pure heart to heart. She'd found a new purpose in promoting and celebrating LGBT visibility. Almost immediately, Hart was en route to becoming one of the internet's biggest gay icons.
For Hart, it's a point of pride that in the film Dirty 30 — which was simultaneously released in select theaters and to VOD in September — her character is openly gay and it's "just chill."She plays Charlie, who teams up with Grace Helbig's Evie to throw their best friend Kate (Mamrie Hart) a 30th birthday party. All three stars also executive-produced the project, which was made on a micro-budget, like their first feature film together, 2014's Camp Takota. Neither film was widely reviewed, and audience consensus for both was generally poor, but they were financial successes. According to RockStream, which produced Camp Takota, the movie was profitable from day one. Preteens lapped the films up, and the Tumblr crowd was thrilled with their queer representation, particularly in Dirty 30.
"I wanna make like, fifty gay rom-coms with adorable little plots. Wouldn't that be nice? Just a little joy?"
Since mainstream media has a bad habit of killing off lesbian characters, Hart hoped her role in Dirty 30 could provide a counter-narrative to near-constant depictions of gay suffering. "Entertainment is one of the best ways to undercover-message that everything will be okay, and that it gets better — when we show more happy, healthy relationships," she says. "If I was a little like baby gay in Oklahoma somewhere, and fucking Lexa dies" — last March, a lesbian character named Lexa was killed off on The 100, which led fans to outrage and action — "that would…that is DEVASTATING. Because then you're like, maybe I shouldn't be gay. Because I'm gonna fucking die."
So she's committed herself to presenting more positive possibilities for gay life. Even if predictably plotted summer camp and house party movies aren't exactly reinventing the wheel, happy endings for queer characters in any context are still rare. Hart advised Mamrie, who wrote the screenplay for Dirty 30, on what her character's personality and plotline should be. "We got four smooches in that movie," Hart says, with a smirk. (Yes, she's the kind of person who uses the word "smooches.") "So much better than a lot of other movies that are about coming out and they have, like, one kiss at the end."
I ask her if she's ever seen Jenny's Wedding, the 2015 indie film about two women's impending nuptials in the face of familial homophobia with Katherine Heigl and Alexis Bledel. She hasn't, but she's not missing out. "They don't even kiss at their wedding," I tell her.
"Are you fucking kidding me? I am horrified," she says. "But this is my mission!" She puts on her dramatic announcer voice again, leaning in close to my recorder. "Listen up, everybody. I really wanna make LGBT rom-coms." She sits back up, laughing. "I wanna be like the lesbian Hugh Grant. That would be like my dream of dreams." She pauses, backtracks. "Not, like, Hugh Grant himself, but I wanna make like, 50 gay rom-coms with adorable little plots. Wouldn't that be nice? Just a little joy?"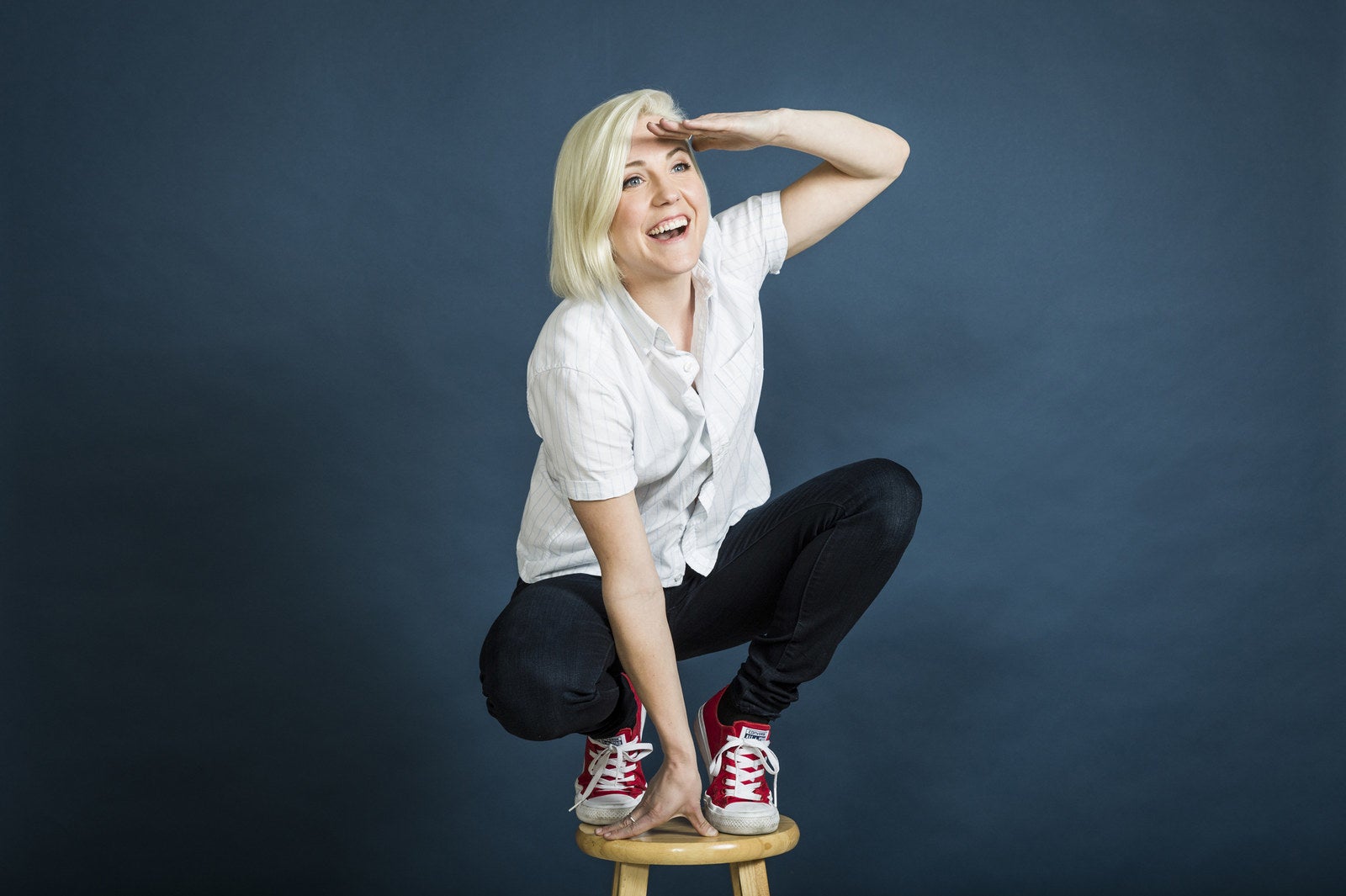 Hart is less strictly confessional than other YouTubers. Though she'll dip regularly into vlogging territory — particularly on her second channel, yourharto — Hart says that format is a bit too voyeuristic for her tastes. It's what sets her apart from many other lesbian YouTubers for whom documenting their own lives intersects with highlighting different queer issues: Couples like Bria and Chrissy and Rose and Rosie, or individuals like ElloSteph and Now This Is Living, base their channels around their own personalities, infusing that representation with general LGBT advocacy. Others, like Ashley Mardell, put LGBT topics front and center, while also bringing in plenty of elements from their own lives and relationships. Some lesbian YouTubers have artistic side projects they highlight — like Bria and Chrissy's music, for example — but the main thing they do is just be themselves. That's where Hart is a little bit different: She is playing herself (particularly across non-YouTube social media, and on her second channel), but she's also playing herself getting drunk for a cooking show.

"When people ask me what it's like to perform as yourself, I'm like, 'Well you are, too.'"
"I think it's a hyperbolized version of aspects of myself," she says. "It's interesting because it is performance, but it's not superficial." She says making the mental switch from Hannah Hart to Harto is akin to her being at home, about to shoot a video, and physically switching out of her pajamas into her clothes. "I'm gonna put a shirt on. I'm going to work. Is getting dressed a performance? When people ask me what it's like to perform as yourself, I'm like, 'Well you are, too.'"
Performing as yourself is one thing, but performing your intimate relationships for an audience of millions is, perhaps, something else entirely. Unlike the Rose and Rosies of the internet, Hart didn't rise to fame as a part of a couple — and neither did Ingrid Nilsen, a popular beauty YouTuber, who came out to her four million subscribers in 2015. Soon after Nilsen's coming out, fans quickly surmised that she and Hart, whose videos she'd begun to appear in, were dating. Hart confirmed the relationship that fall. It was the first time she'd dated someone else in the public eye.
Soon enough, "Hangrid" were peak #relationshipgoals, appearing in each other's videos, Snapchats, and Instagrams, screenshots of which would end up passed around feverishly on Tumblr and Twitter. Fans shipped them like crazy. Then, in March of 2016, both Hart and Nilsen tweeted screenshots of their own — messages from their Notes apps, a now-infamous way for celebrities to control their own narratives — announcing they'd broken up in January. The replies to both tweets were rivers of reaction GIFs expressing shock and despair, as well as messages of support and comfort.
Early on, Hart says, "I was really excited to see an LGBT couple being reported on in mainstream media — to see people gossiping about a couple and it wasn't because they were LGBT, it was just them as a couple. And that to me was like, yay. I think BuzzFeed did an article that was like, times me and Ingrid were relationship goals." (We did.) "And that made me super happy, as a gay person. I was like, oh, cute! That's great!"
Hart is glad that, as public figures, she and Nilsen could promote the same kind of LGBT positivity she champions in her content. But she and Nilsen are also real people, with interiority none of her fans will ever see. The same goes for the rest of us normals, albeit on a much smaller scale: We only share the pieces of our lives, and our relationships, that are fit for public consumption — virtually packaging the best of ourselves for our social media platforms, while keeping all the dark shit safely hidden from view. The difference with celebrities, particularly those who use their own marginalized identities and dating lives as proof that #itgetsbetter — is that they're beholden, in part, to an enormous audience, whose expectations can easily become overwhelming.
"Privately, as I evolve in this space of being in entertainment, I have to learn my own boundaries about involving people — not only in my life, but the life of someone I might care about," says Hart, carefully. "That's just a learning curve."
Boundaries, self-care, forgiveness, compassion — these are core values of the wholesome Harto brand. Hart (the person) is brimming with recommendations for meditation apps (she uses HeadSpace) and self-help books; she's open about being on antidepressants. She thinks everyone over a certain income level should be required to go to therapy ("Like, it should be a rule. It should be a law. So you're not fucking bringing your daddy issues into the way you handle your corporation").
Most chapters of her book end with a simple platitude, the kind that would resonate with preteens in the midst of identity crises — about being proud of who you are, proud of your body, and processing things at your own speeds. Buffering, the title of Hart's book, is an appropriate digital metaphor for "the time you spend processing the data of your life." They're very basic, borderline hokey tenets of self-help — but Hart champions these teachings because she wouldn't be here without them.
Her life as a kid was far from easy. She'd have occasional visits with her dad, who enforced strict cleanliness rules in addition to those of the church. Otherwise, she and her two sisters lived full-time with her mother, who was creative and kind, but sliding slowly deeper into schizophrenic delusions. Eventually, Hart's youngest sister was put into foster care and placed with an adoptive family, because their home life was too consumed by low-grade chaos. Hart self-harmed for years, until she was able to start recovery in college.
She says that, even now, she lacks compassion for herself. "I've internalized a lot of what's happened in my life. It's a classic PTSD trauma survivor thing." She channels her feelings into actions like Have a Hart Day, her volunteering program: "an initiative to organize & mobilize Hartosexuals & friendly humans to spread service and reckless optimism all over the world!"
"Sometimes I feel like I'm just the most, like, sentimental grandma kind of person."
"Every day is a new gift," Hart tells me, laughing at herself as soon as she hears the words come out of her mouth. "It's true, though! It's funny because I hear myself talk and I'm like yeah, but I MEAN everything I say! Sometimes I feel like I'm just the most, like, sentimental grandma kind of person."
I mention that, in our current cultural climate, positivity isn't very cool.
"Oh my god, I know," she says. "I know. I'm trying to make it cool to care, and hip to be hopeful." Even as she's making a point about sincerity, she says the phrase in a jokey sing-song. "I am having a great time being a happy person!"
That's not always easy. She's held to certain standards by her legion of LGBT fans, and sometimes, like all humans, she messes up. Any time her book or her videos touch upon LGBT topics, she's sure to include a general disclaimer that she's speaking for herself, and for herself only. "One mistake," she says, "and you are the enemy."
Once, at a convention, someone asked her about a trans issue. "I was like, 'You know, I'm not trans so I really can't answer that, but I hope there's someone in the YouTube community that can.'" She was accused of failing to be a good ally. "I was super homophobic growing up, and partially transphobic growing up — because I didn't even think about it — so now, as an LGBT public figure, I have to be informed, and I'm really grateful for that."
She sympathizes with those who will hold her accountable. "The LGBT community has felt so marginalized and so disenfranchised that you're so tired of screaming into the void, so you're gonna scream at the person that's gonna listen," she says. "But I mean it when I say I'm sorry, and I mean it when I say I'm trying, and I've gotta give myself that. And you should give yourself that, too."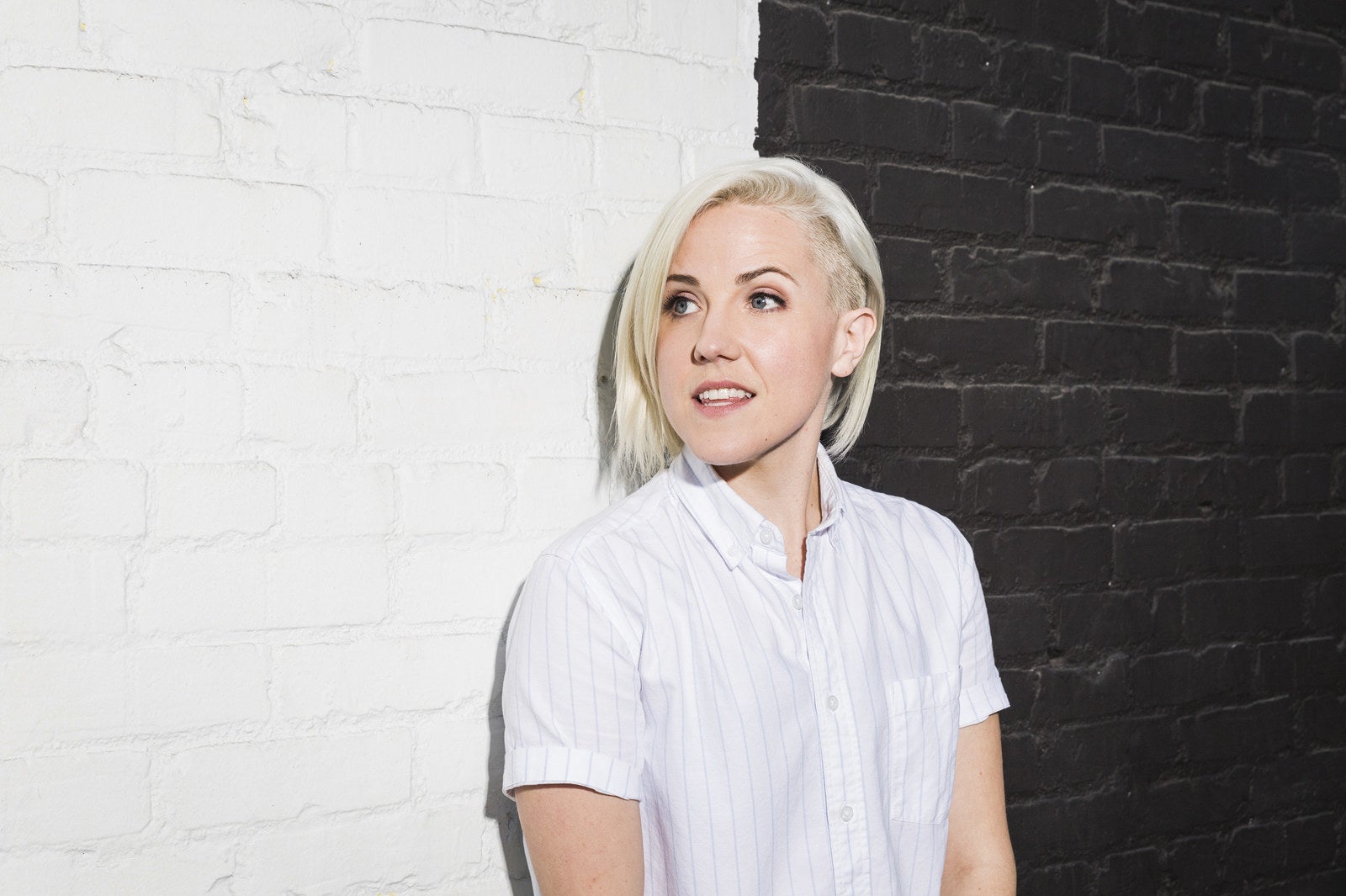 Soon after she first moved to Los Angeles, Hart would find herself sitting in bars across from self-important independent filmmakers who'd ask her why the internet — and she, by extension — were ruining art.

"I was just like, Wow," she says. "What are you talking about?" She puts it this way, in Buffering: "I'm not trying to ruin art! I'm trying to run a small business."
There's plenty of hand-wringing these days about what YouTube, and the ever-rising prominence of digital content, will mean for the future: for art, for entertainment, for the nature of celebrity itself.
"People are like, what's happening to media?" She adopts a blustery newscaster voice. "'Do you think that traditional is ever gonna merge with digital?' And I'm like, 'I don't care!' I don't know what to say."
"It's not happening," she says, shrugging, taking a sip of her vodka soda. "It's already happened."
Nor does she have patience for the widespread worry that young people, her primary audience, are glued to their phones, watching (or posting) videos like Hart's, getting addicted to instant gratification of notifications and likes — caught in an endless loop of low self-esteem and narcissism.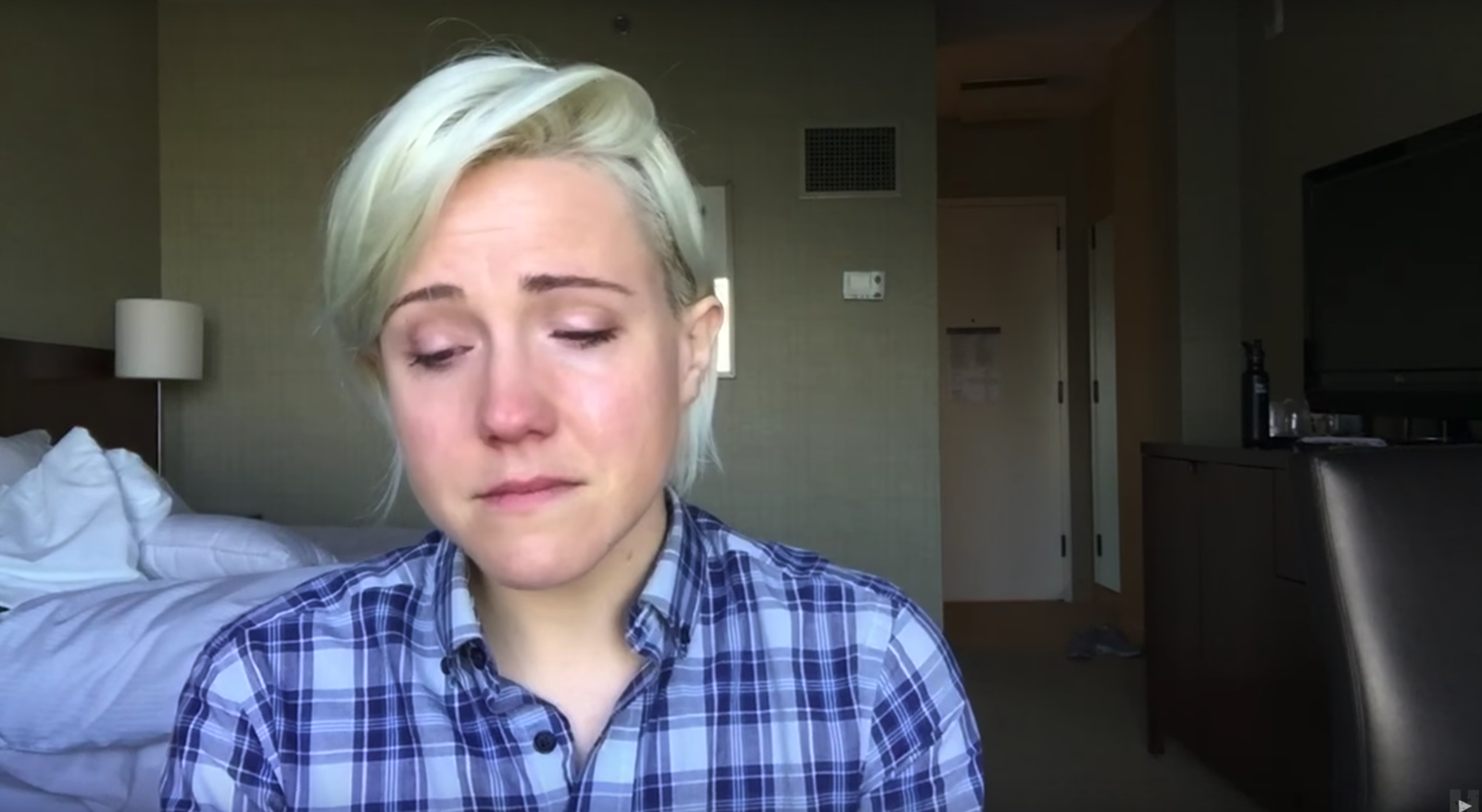 "When people are looking at their phones, they're not talking to themselves," she says, adamantly. "They're talking to other people. If I'm liking someone's picture on Instagram or Facebook and being like hey, great job today, is that really 'generation me'? No, it's 'generation we.'" She's pro-selfie and most definitely pro-self-promotion. The way she signs merchandise for her fans perfectly combines her commitment to spreading positivity with promoting her brand: "Follow your @harto." It's some extremely savvy marketing: To love Hannah Hart is to love yourself.
But Hart isn't immune to the urge to constantly calculate her brand's returns; the internet makes numerical measures of success readily available for the world to see. "I have to really temper myself from getting obsessed," she says. She's incredibly active on all her platforms: Snapchatting, checking Twitter, checking Instagram, reading her YouTube comments. "Numbers are so tempting. And they're so easy and tangible and black and white."
She tries to focus, instead, on impact. The tearful, impassioned video she made after the Pulse shooting in Orlando was a gun control call-to-arms. And when it comes to her new book, she wants readers to walk away with increased awareness of mental illness. She recently fought to get conservatorship of her mother, whom she and her sister have placed in a facility to work toward rehabilitation.
"Which is such a miracle, literally," she says. "I'm kind of worried everyone's gonna be like, oh my god, it's a happy ending! And I want to be like no no no, it's a fluke! I'm rich, I'm famous, I'm white. This is not what happens, people. I want them to walk by every single homeless person and look at them differently, having read this book. Or anyone muttering on the street, or anyone who has trouble, or suffers from psychosis — I want them to understand that this person is just a person."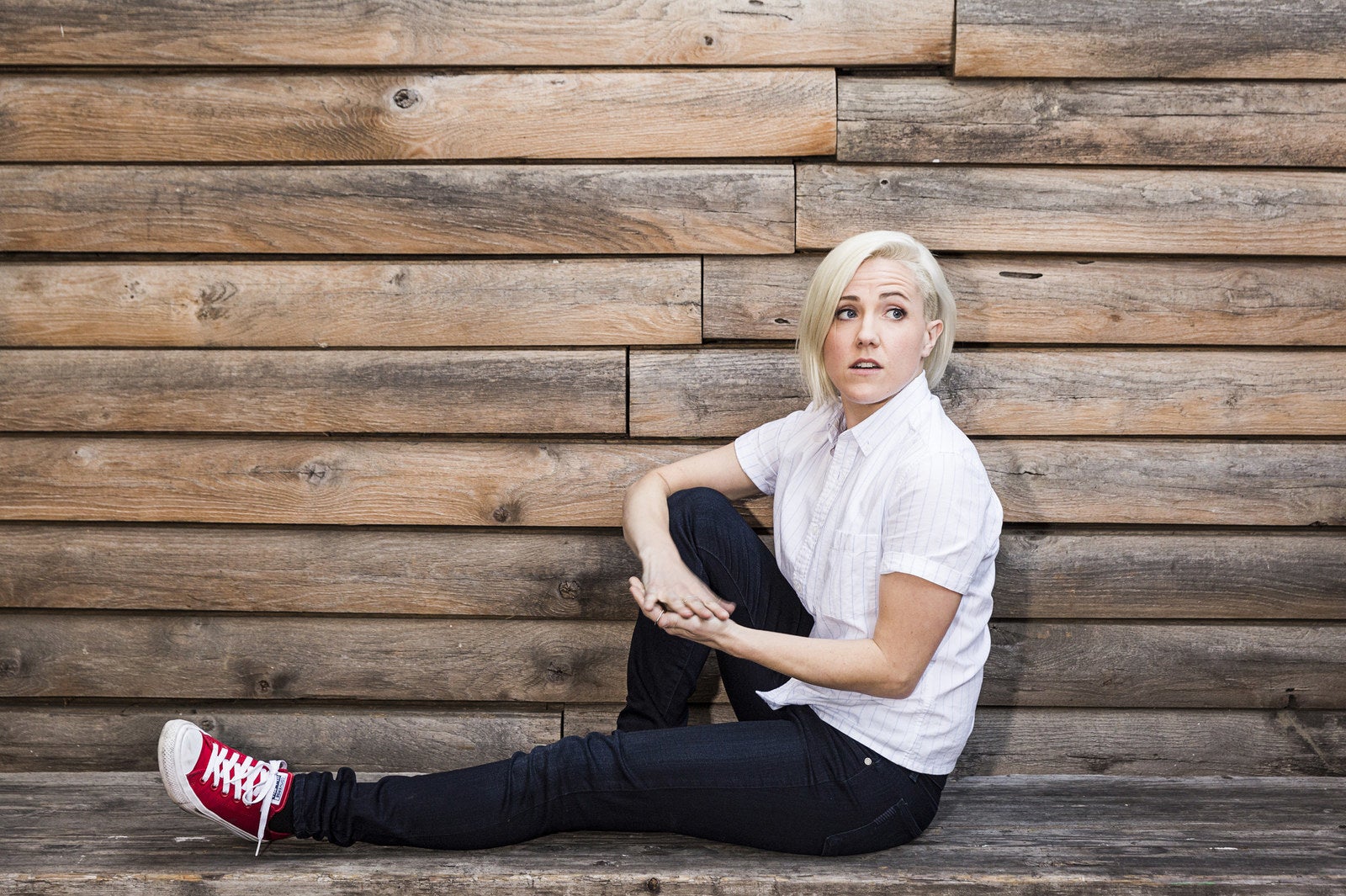 Hart's been building an audience of people who will listen — and, perhaps, take action on issues that matter to her, if they choose to take their activism beyond hitting like or share — for half a decade. But there's no guarantee the path she's forged for herself will still exist in the future for the creative young people flooding her comment sections, requesting follow for follows, trying to break into an entertainment industry that's constantly shifting underfoot. If Twitter recently shuttering Vine is any indication, there is no permanence to platforms — nor is there a guarantee that fame built from an unstable corner of the digital world can last.

"Today, I'm not sure a young person's start is on YouTube," Hart says. "I don't know, man. There's no one answer, so I can't pretend to give one."
Her impending six-episode culinary travel series with the Food Network will be the first time she's attempted to leap from the Internet to mainstream television, and she's decidedly flippant about it. "I'm dabbling," she says.
"I mean it when I say I'm sorry, and I mean it when I say I'm trying, and I've gotta give myself that."
The question remains whether her fans will follow her there. When Grace Helbig got her own late-night show on E! In early 2015, it tanked after just eight episodes — but just this week, Helbig inked a new film and television deal with Lionsgate, who distributed Dirty 30. Traditional media has yet to crack the code when it comes to getting true digital talent crossover; but that doesn't mean they won't keep trying. And Hart — after years of staying devotedly digital — is going to give it a shot, too.
In the meantime, she has no intention of shutting down her channel anywhere in the near future. "I view my YouTube channel now as a social platform," she says. "It's like asking me if I'm going to stop tweeting now that I've written a book. It's like, no. I love making YouTube videos."
It helps that, now that she's so well established, she can afford to be a little more relaxed. "When I got started I was a lot more pretentious. A lot more precious. Youtube was the only way I was expressing myself and I was like" — she gasps — "What does it mean??? Now I'm like, fucking gonna make a charcoal mask in this hotel room because I've got a shoot tomorrow. " She's cracking herself up, remembering the making of her face mask video. "It was so fun. I almost ripped my eyebrows off."
A lot of the time her content is just about making herself, and others, laugh. There's nothing much more to it than that. 20 years ago, a closeted gay kid growing up in Nowheresville, USA might not have known a single other gay person. Now, that kid can turn on their computer and hear Hannah Hart tell them they're not alone. Her cheeriness, her goofiness, her niceness — it's all still working, right here and right now, regardless of what the future (for digital media, for her as a brand, for her as a person) will hold.
In a few days, her book will debut at #4 on the New York Times Best Sellers list; a few days after that — on Nov. 2 — she'll turn 30. But today, she'll relax for a few more minutes at Julius, take a walk, and find some time between wall-to-wall promotions for her book to sneak back to her hotel room and edit the latest My Drunk Kitchen. Throughout the day, even while sharing, over and over, the dark elements of her past, she'll be buoyed by her own commitment to staying grounded and positive and kind. It's all a matter of perspective — instead of choosing to see the world as a series of past and future sadnesses, she chooses instead to see the possibilities. The good.
At Julius, tucked under the rainbow flags, our conversation turns to the uncertain future of the gay bar — because even as queer spaces online are thriving, the ones in real life are dying out. The key to saving gay bars, Hart muses, might just be expanding their patronage. "Maybe," she says, "instead of it being a gay bar, now it's just a bar. Instead of shutting the bar down, you just open up your doors."
CORRECTION
Hannah Hart moved to Los Angeles a year after starting her YouTube channel. An earlier version of this story said she moved after two months.