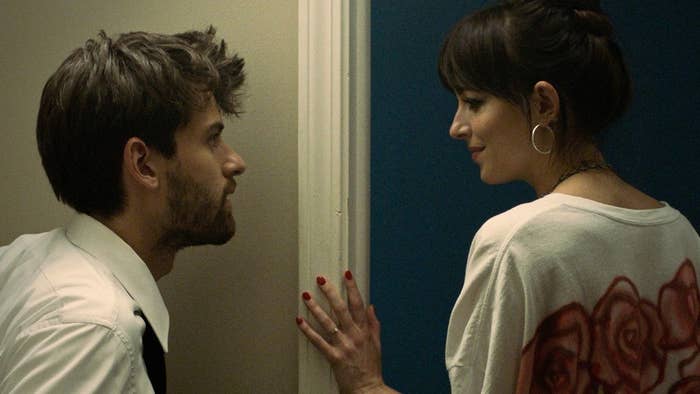 Cooper Raiff, the 25-year-old writer, director, and star of Cha Cha Real Smooth, a warm hug of a new movie premiering on Apple TV+ this Friday, originally sold the project with only a vague idea in mind. For his first 10 or so pitch meetings, he told Vanity Fair's Little Gold Men podcast this week, "I was just like, 'I think moms are cool,' and people were like, 'That's not a movie idea.'" (Someone born in the humbling year of 1997 had all these high-profile meetings to begin with because his 2020 film Shithouse, made on a micro-budget at Occidental College before he dropped out to finish production, had won the Best Narrative Feature award at South by Southwest.) "And then at some point, I had this other character that I was thinking about," Raiff continued, "which was just the person that I know best, which is a 22-year-old dumbass. And so I kind of put them together."
The result — after partnering with costar Dakota Johnson's new production company, TeaTime Pictures, founded with former Netflixer Ro Donnelly — is a loving, tender-hearted, and very funny portrait of Andrew (Raiff), a college grad who's just moved home with his mom (Leslie Mann) and stepdad, Greg (Brad Garrett). He works at a hot dog stand in the mall until, at a dud of a bar mitzvah for a friend of his little brother David (Evan Assante), Andrew successfully gets the party going, and suddenly all the parents in the neighborhood want to hire him as their own party motivator. The film's title cleverly borrows from DJ Casper's "Cha Cha Slide," a song and dance that's plagued us all since its release in 2000.
At one of these parties, Andrew meets Domino (Johnson), a beautiful, mysterious young mom, and her autistic tween daughter Lola, played by newcomer Vanessa Burghardt, who is autistic herself. Andrew bets Domino $300 that he can get introverted Lola out onto the dance floor, and Domino is so impressed when he succeeds that she asks him to babysit for them. Andrew is supportive and defensive of his new young friend, who's sometimes bullied by her peers, without being patronizing or condescending; their relationship feels warm and natural.
The relationship between Andrew and Domino, meanwhile, unfolds with a quiet but crackling intensity. Domino is engaged to Joseph (the devastatingly handsome Raúl Castillo, of Looking fame), a serious-seeming lawyer who's often away on business. Domino clearly adores her daughter — when Andrew asks her if being a mother is hard, she acknowledges that it can be, sometimes, though "not because of her" — but because she'd given birth so young, Domino is also mourning a youth she was never really able to have. The promise of childlike freedom and momentary escape presents itself in 22-year-old Andrew: charmingly goofy, prone to drinking too much, sweet and open, and vulnerable and kind.
Raiff's heroes include Lena Dunham and Greta Gerwig, millennial masters of capturing both the cringey disasters and rare joys of young womanhood.
More than it is a romance, or even a romantic comedy, Cha Cha Real Smooth is a coming-of-age story, one whose influences clearly shine through: Raiff's heroes include Lena Dunham and Greta Gerwig, millennial masters of capturing both the cringey disasters and rare joys of young womanhood. He was also inspired by his own mother, a psychologist who cares for his sister, Andrea, who has holoprosencephaly, a condition that results in abnormal development of the brain; Andrea can't walk or talk. "My mom was the inspiration for Domino," Raiff recently told the Financial Times. "She's just meeting her exactly where she is, every single day."
Andrew admires Domino for how well she cares for her child, especially since she was practically a child herself when she had her. He also has an adorable relationship with his younger brother, David, who sees none of Andrew's faults — his lack of momentum, his alcohol abuse, the fact that he's sleeping on a cot in David's bedroom — and looks to him for guidance about life and love. Andrew is a big kid himself; it's why he's so good at hyping up the 12-year-olds at their bar and bat mitzvahs. (There's a dance-off scene between kids and adults that charmed my socks off.) But that's also why he's not ultimately good for Domino, who's on stable ground for what might be the first time in her life. "You don't even know who you are yet," she tells Andrew, one of the many times she tries unsuccessfully to keep him at bay.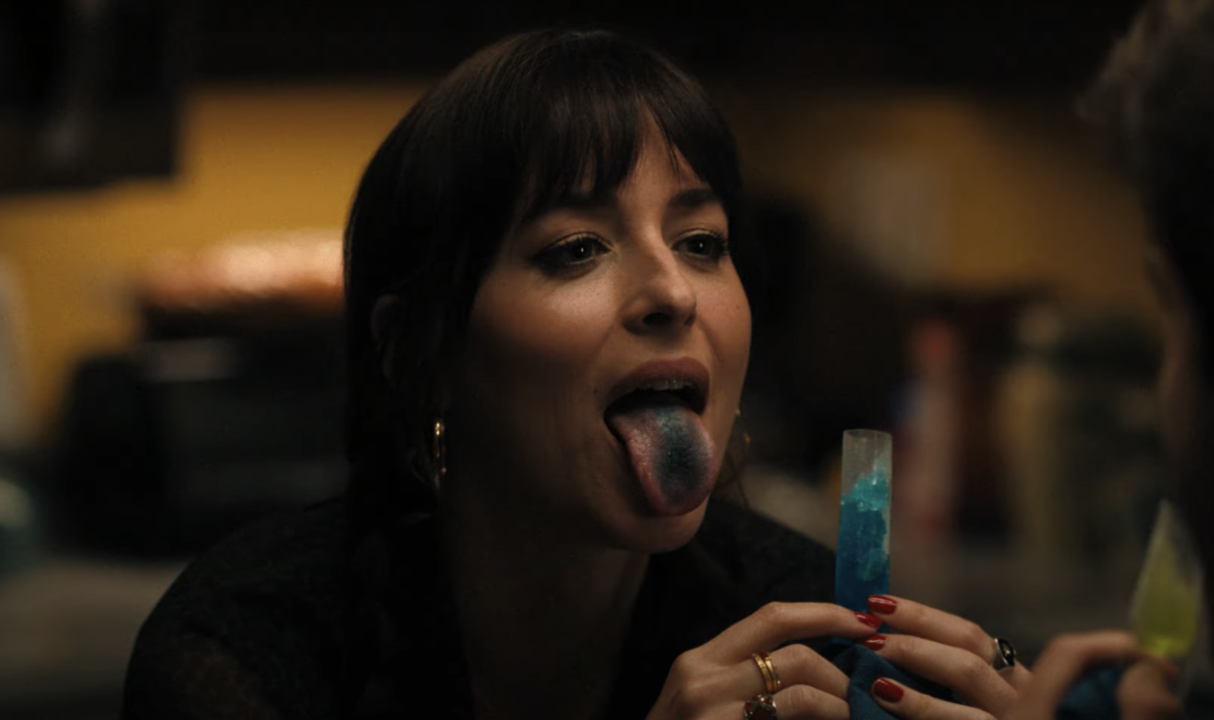 Both times I watched this film, I was moved by its great generosity of spirit. Raiff clearly cares deeply for all of his characters, including the "22-year-old dumbass" he plays, a version of his just-slightly-younger self. It isn't often we see a straight romance unfold from the guy's perspective, and I found myself comparing Andrew to Tom Hansen of 2009's 500 Days of Summer, the Joseph Gordon-Levitt character who falls in love with a projection of Zooey Deschanel's Summer, more attached to a product of his own wants and desires than to the real-life woman standing before him (and who eventually leaves him for precisely that reason). Andrew suffers from similar postadolescent delusions, taking stolen moments with Domino — helping her through a mini medical emergency, eating ice pops at the kitchen counter late at night — and constructing for himself an idea of who she really is and what she needs. You might even accuse him of turning Domino into the manic pixie dream girl trope of the aughts, if Raiff hadn't imbued Andrew with some of those same characteristics — he's a bit of a manic pixie dream boy himself, offering youthful and spritely spiritual salvation to a woman stuck in adult domesticity. Both characters have to learn to see each other as more than mere extensions of themselves.
The moment Andrew realizes that the real-life Domino is someone else entirely from who he's dreamed up precedes a beautiful interaction with her fiancé, Joseph, who delivers a line that twice now brought me to tears. These characters give me hope for the future of American masculinity, both onscreen and (dare we dream?) off of it.
Apple TV+ bought Cha Cha for $15 million just a couple of months before its previous Sundance acquisition, CODA, won the Oscar for Best Picture. Raiff, who was not too long ago a college dropout from Dallas delivering Uber Eats to make ends meet, has now found himself one of the biggest new names in the industry. In true Gen Z fashion, he first got his big break when he'd tweeted a short film shot in his college dorm room and tagged filmmaker Jay Duplass, writing, "Bet you won't click on this link." Duplass messaged him later to tell him he'd won the bet, and the indie heavy-hitter is now Raiff's mentor. It's an auspicious start for this young talent; I can't wait to see what he does next. ●