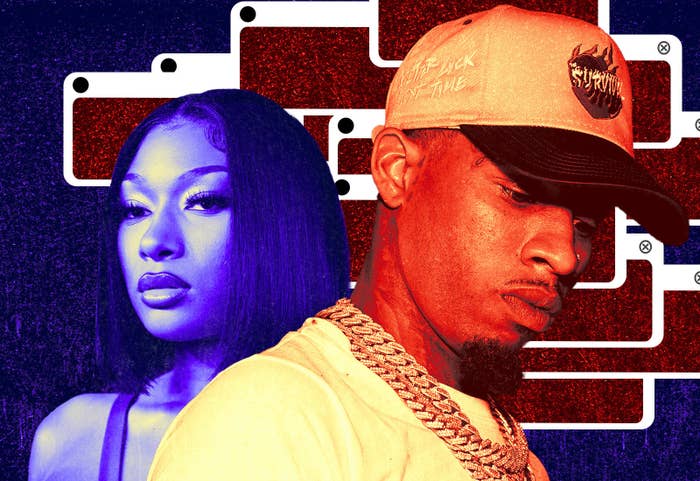 Since the day rapper Megan Thee Stallion — née Megan Pete — revealed that she was shot during an argument on the way back from a party at Kylie Jenner's house back in July 2020 and named Tory Lanez as the culprit, she has remained under endless public scrutiny. Her decision-making on that fateful night, the speculated series of events that placed her in such a precarious position, her recollection of what happened, and available footage have been parsed with such a fine-tooth comb, you would think that Megan was on trial, despite the official name of the current legal proceedings: The People of the State of California v. Daystar Peterson (Lanez's given name). Lanez has been charged with assault with a semiautomatic handgun, carrying a loaded, unregistered firearm in a vehicle, and discharging a firearm with gross negligence. He has pleaded not guilty and faces up to 22 years in prison if convicted. Jurors are currently deliberating, but some unverified blogs have prematurely announced a not guilty verdict for Lanez.

Originally, Lanez and his supporters claimed Megan was never shot in the first place, after she admitted in a CBS interview that, since this was soon after police murdered George Floyd and the LAPD was continuously clashing with protesters, she told authorities she had stepped on broken glass instead of being shot back in 2020.
Lanez fueled those claims with the opening track of his 2020 album, Daystar, "Money Over Fallouts": "Gotta see a couple questions / How the fuck you get shot in your foot / Don't hit no bones or tendons?" Lanez then continued to sow mistrust in the court of public opinion, rebuffing text evidence of his apology by tweeting a counternarrative of a love triangle involving himself, Meg, and her former assistant and best friend, Kelsey Harris: "Good Dick had me fucking 2 best friends .... and I got caught." What has ensued has been two years of endless speculation and rumormongering through a network of blogs, influencers, and high-profile social media platforms in the lead-up to the trial, all working to perpetuate a conspiratorial premise of a Black man being railroaded into a criminal conviction.
The strength of Lanez's support seemingly trumps his reach as an entertainer: The artist has never had a No. 1 debut for any of his nine projects that charted on the Billboard 200, and has never made it to the top 10 of the Hot 100 with any single where he's the lead artist. There are a few caveats to that: Jack Harlow's "Whats Poppin (Remix)," which features Lanez, landed at No. 2; Lanez's Chixtape 5 also topped the R&B charts on its debut week. To truly understand his cultural foothold, you've got to consider his Instagram live venture called Quarantine Radio. It was a boisterous digital experience that was part shock jock banter, part burlesque show, and regularly garnered approximately 400,000 viewers on Instagram live and quickly gained him 2 million followers. Celebrities and entertainers, from 21 Savage to Chris Brown to Swizz Beatz and DMX, would regularly appear in the chat and occasionally jump onto the live. Drake came on and the live broke 300,000 streams for the first time; Lizzo came on and collected her flowers for the fellow BBWs who loved to twerk. It maximized the parasocial relationship between viewers and their favorite artists while capturing the essence of "demon time," the wave of illicit Instagram strip clubs that inundated the app untiI Instagram unceremoniously shut many of those accounts and Quarantine Radio for violating community guidelines.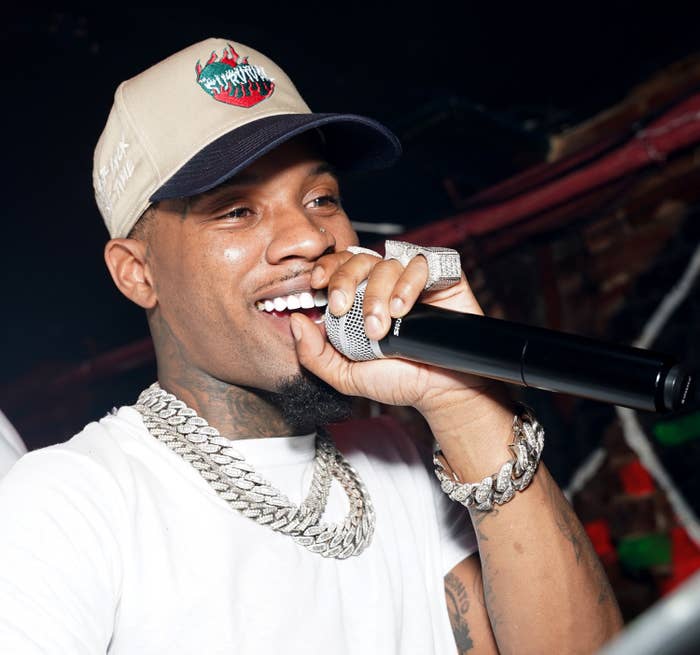 The cultural currency that Lanez accumulated over those few months was potent enough to draw prominent defenders. Hip-hop platforms like The Joe Budden Podcast went from being sympathetic to Megan's trauma to calling her "disgusting"; commenters such as DJ Akademiks and YouTuber Adam22, host of the No Jumper podcast, proceeded to spread unsubstantiated information to impugn her credibility while occasionally receiving a ringing endorsement from Lanez himself. Tweets claiming that "doctors" had confirmed the Houston rapper merely stepped on glass rapidly gained attention throughout the internet, and, most damningly, false reports continued to spread that there was no gunshot residue found on Lanez. Jason Lee, founder of the gossip blog Hollywood Unlocked, questioned whether Megan was being "aggressive" toward Lanez. Her critics and Lanez's lawyers insisted that her sexualized public persona and initial inconsistencies meant her claims weren't true. Adding further insult to injury, Drake made a crass allusion to her assault earlier this year, rapping, "This bitch lie 'bout getting shots, but she still a stallion" on his song "Circo Loco" with 21 Savage. In her recent testimony on the stand, the rapper expressed her despair: "I wish he would've just killed me if I knew I'd have to go through this."

Now that the trial is underway, a few narrative facts have been made clear. It has been confirmed that Lanez tested positive for gunshot residue, as did Harris; it has also been confirmed not only that Megan was shot but also that remnants from the bullet remained in her feet to this day. Despite the defense positing that Harris was possibly the offender in question, Lanez said in an Instagram comment that she wasn't. This comment, apologetic texts and audio from him, and a detailed 80-minute testimony Harris gave police in September 2022 that corroborated the major details Megan offered about the nature of their conflict were all formally submitted into evidence.
Though Harris has since invoked her right to immunity and used the Fifth Amendment when she took the stand earlier this week, her original testimony confirmed that the argument between Lanez and Megan was rooted in low blows over each other's career. Yet major Black entertainment platforms, such as HotNewHipHop, Raphouse TV, and the Shade Room, first focused on Megan's initial denial of a sexual relationship with him as evidence of her lack of credibility about the details around the assault. The Shade Room emphasized in other posts how intoxicated and aggressive Megan seemed at Jenner's house. The defense has employed similar tactics; lead defense attorney George Mgdesyan asked the jury why Megan lied about her sexual relationship with Lanez: "How do you believe anything Megan Pete says, ladies and gentlemen? And keep in mind reasonable doubt."
HotNewHipHop reported that Lanez's DNA was not found on the gun, as opposed to specifying that it was "inconclusive," an indicator that his DNA could not be definitively excluded from the forensic material provided. More discord has been sown by her peers in entertainment, with 50 Cent comparing Megan to Jussie Smollett, who was convicted of staging a hate crime, despite the fact that she is not on trial and was never accused of any wrongdoing.
The misogynist commentary is a tale as old as time, as are the structures in place in society that not only normalize abuse but also enable and protect people accused of abuse at the expense of their victims. Rihanna experienced a torrent of victim-blaming after Chris Brown pleaded guilty to assaulting her in 2009, with a particularly vicious rumor spreading that she had given him an STD, as if that's a valid reason to assault someone.
Megan's humanity has been rendered immaterial in the court of public opinion.
There has also been a lack of media literacy when it comes to this case. Court reporters who faithfully provide updates and file daily stories don't take center stage in the hip-hop discourse around the trial; unaccredited blogs, influencers with known sympathies for the defendant, and unsourced propaganda do. Headlines such as "Tory Lanez's Lawyer Admits That Her Ex-Best Friend Kelsey Allegedly Shot Meg" get superimposed on Canva-style collages for thousands of retweets, despite Lanez's legal team not having the authority to "admit" anything of the sort on Harris's behalf. When NBC News reporter Kat Tenbarge asked Milagro Gramz about distributing reports that doubted Megan was ever shot, the vlogger replied that she was "not a notable journalist or anything" and that "everything is not going to be something that was intended to be a factual statement."
The effect is similar to the sort of press obfuscation that took place during the Johnny Depp v. Amber Heard trial, where reconstituted or misinterpreted statements spread throughout social media. Lost in the mix is an acknowledgment of a victim's real trauma, as it now serves as an avatar for all men who have felt wronged by women in their lives. Megan has expressed this repeatedly beyond her recent admissions of mental anguish, tweeting in September, "It might be funny to y'all on the internet and just another messy topic for you to talk about but this is my real life and I'm real life hurt and traumatized."
It doesn't matter that the revelations of the sequence of events line up with Megan's lyrics in "Shots Fired," or that multiple people — including witnesses for the defense — have shown weaknesses in the defense's argument. It doesn't matter that the recent deaths of high-profile rappers such as PnB Rock and Takeoff have led to calls for sensitivity around violence, or that Megan visibly teared up onstage while performing a song about her mental health issues on Saturday Night Live back in October. Megan's humanity has been rendered immaterial in the court of public opinion, with her perceived flaws and failings becoming relevant only if they can be somehow interpreted as exculpatory for Lanez.
Ultimately, no version of these legal proceedings will amount to justice for Megan. She has expressly stated that she never sought for this trial to happen in the first place, due to the potential backlash, and has tragically been proved right. After the conclusion of this trial, she will have to contend with many of the same media platforms that have challenged her version of events, while attempting to shift the focus back to her career. A conviction won't repair the two and a half years of humiliation she has endured; nor will it bring nerve sensation back to her foot. A guilty verdict won't erase the knowledge of the numerous industry peers who were willing to make jokes at her expense, knowing that she was not only recovering from the trauma of being shot but also still grieving after the deaths of her mother and great-grandmother within weeks of each other in 2020.
A conviction also will not be relevant for the people who have convinced themselves that Lanez is innocent, even though he has a history of accusations of violence. (He is currently under investigation by the LAPD for the alleged assault of the artist August Alsina.) Regardless of the results of this trial, Megan will have to come to terms with the reality of her fragile positioning in the industry as a Black woman who demanded the acknowledgment of the violence she experienced. All the public speculation will fall away, and she will be left to contend with the realization that all the public posturing about safety and protection in hip-hop falls short of including her; there is no verdict that will help her make peace with that morbid fact.●