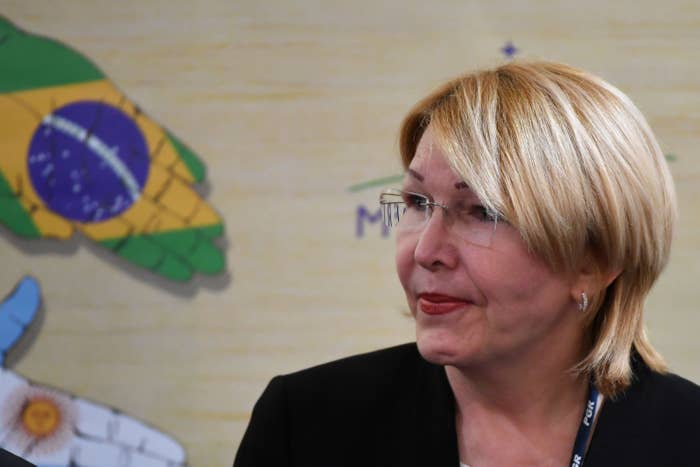 Venezuelan former attorney general Luisa Ortega, ousted by President Nicolas Maduro's constituent assembly, on Wednesday said that she had received death threats and warned that Maduro's government would be to blame if anything were to happen to her.
The government has adopted a discourse of "either you do what I want or I'll jail you," Ortega said at a small press conference. "I received threats that could harm my life, and the Venezuelan government will be responsible if that happens."
The former attorney general fled the country with her husband, legislator Germán "El Chino" Ferrer, earlier this month. Ortega and Ferrer are part of a growing faction of chavistas, supporters of former president Hugo Chavez's brand of socialist government, who oppose Maduro's constituent assembly, which stripped the opposition-controlled Congress of its powers. Ortega and Ferrer's loyalty to the movement once ran deep; the two participated in the attempted coup orchestrated by Chavez in 1992.
According to her, the government is harassing the prosecutor's office and other independent offices in Venezuela so that Maduro and his allies can avoid being investigated for corruption and human rights violations.
Ortega said she will send evidence of the crimes committed by Maduro and other top government officials to the United States, Colombia, Spain, and Brazil. She also said she has material related to corruption cases involving Odebrecht and other international companies.
"I want to denounce the grave situation that is happening in Venezuela: rampant corruption and violations to the constitution," she said.
Ortega spoke from the headquarters of Brazil's Federal Public Prosecutor's Office, in Brasilia, during a meeting of prosecutor's offices from the regional bloc Mercosur.
Ortega detailed her forceful removal from the Venezuelan Public Prosecutor's Office, which was carried out by 300 armed soldiers. Ortega added that Maduro's political police are currently filling up prisons in Venezuela, where detainees have no right to due process.
She appealed to other countries to create a humanitarian aid channel. Venezuelans are suffering from a widespread shortage of food and medicine, causing people to lose an average of 19 pounds per year and forcing many to plead for everything from aspirin to chemotherapy drugs on Twitter.
Ortega said she has received an offer of political asylum from Colombia, but has not yet decided whether to go to the country or seek protection in another nation.
This post originally appeared in Portuguese on BuzzFeed Brasil.