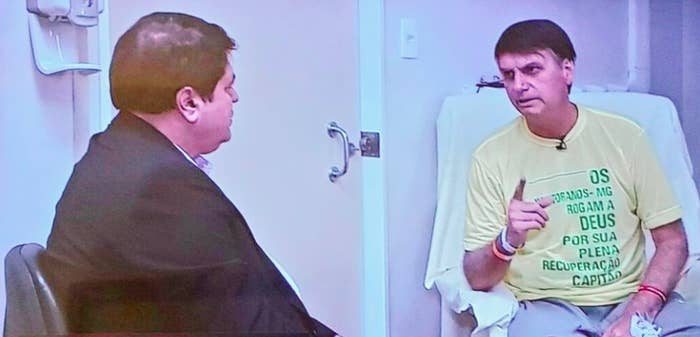 Jair Bolsonaro, the far-right candidate leading the polls in Brazil's presidential election, said on Friday that he will not accept any election results where he is not the winner.
"I do not accept election results other than my election," Bolsonaro, who is running on the Social Liberal Party (PSL) ticket, said in an interview with local journalist José Luiz Datena from the hospital where he's been recovering from a stab wound inflicted while campaigning earlier this month.
He elaborated that the only way his main opponent in the first round of the polls, the Workers Party (PT) candidate Fernando Haddad, could win is through electronic voting fraud.
"For the PT to return, only through fraud, and we cannot audit [the ballot boxes]. For the PT to win, only through fraud," he said.
His statements closely resemble those of President Donald Trump in the run-up to the 2016 presidential election, when he assured his supporters that the election is "rigged." Bolsonaro has been compared to Trump with growing frequency.
According to Ibope, one of the country's leading polling firms, Bolsonaro leads ahead of the Oct. 7 election with 27% of the vote. Haddad — who was handpicked to replace former president Luiz Inácio Lula da Silva on the ballot, when Lula ended his own campaign — is running a close second with 21%. If current trends play out, they will face-off in the second round of balloting at the end of October.
Bolsonaro also said that he doesn't distrust the ministers who run the Higher Electoral Court (TSE), but raised suspicions about professionals working within the body.
"I do not suspect the TSE ministers, because they have no ability to hack. But I do suspect some professionals within the TSE," he said.

Used in Brazil since the 1990s, electronic ballot boxes have fueled conspiracy theories and have become an obsession for the candidate and his followers, although there's been no evidence of fraud.
Bolsonaro further claimed that with a Haddad victory, Lula would end his prison sentence early for a role in the new government, potentially as chief of staff or as minister of defense.
As a way of supporting his theory, Bolsonaro claimed that Lula — who was arrested and convicted on corruption charges and jailed in April — wouldn't have agreed to go to prison if there wasn't some sort of scheme to fix the election in place.
"You, Datena, if you were Lula, would you agree to go to jail without having a Plan B in your pocket?" he asked the interviewer.
Asked if he would have the support of the military in a scenario where he does face electoral defeat, Bolsonaro said, enigmatically, that he does not speak for the command of the Armed Forces.
This post was translated from Portuguese.