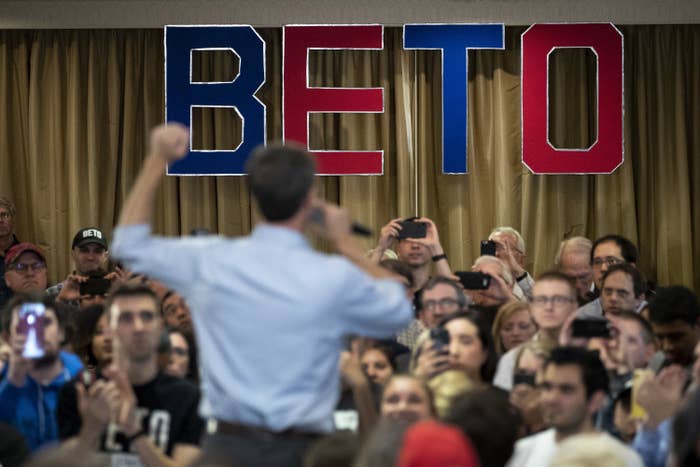 It was April and we were furious. Democrats had been favored to flip an elected Wisconsin Supreme Court seat, only to be shocked on election night as a right-wing ideologue eked out a narrow win. Across the country, liberals had been glued to their screens, trying to figure out how to best take on Donald Trump in a year and a half — but they had mostly ignored an important election happening that very spring. Combined with egregious gerrymandering, that court loss significantly decreased the likelihood that Wisconsin would get fair legislative maps in the next decade, meaning the Badger State could continue to be governed like a Koch-run banana republic, rather than the birthplace of the progressive movement.

We knew it would be difficult to get Democrats to pay attention to state-level races while the base is understandably focused on getting rid of the president. But what if we could incentivize presidential candidates to use their bully pulpits to put state elections at the forefront? While there aren't too many more critical state Supreme Court races coming up, there are thousands of state legislative seats on the ballot in the next two years, and they must be won.
That's why our organizations came up with the Party Builder Index. Each month, we will measure which presidential candidates did the most to boost state-level legislators and candidates. You can see the full scoring system on the site, but in short: We hand the candidates points for each time they bring attention to state-level candidates in person, over email, or through the media.
And with that, we're excited to announce the August update to the index. First, the top tier:
Beto has led the pack in our rankings for two months now. He particularly deserves praise for barnstorming through Virginia ahead of the state's 2019 elections, campaigning for Democrats in swing seats who could flip the state legislature. That's exactly the type of initiative Democrats should look for in their next presidential nominee, and we'll be looking to see if other candidates do the same.

Klobuchar had a big jump this month as she campaigned with lots of state legislators — many in places other candidates overlook, like Arkansas. Booker appears with them frequently in the early states, which has helped him land in third place. Warren has highlighted a number legislators who flipped GOP seats in 2018 as part of her campaign, a great sign for purple-seat candidates if she's the nominee. And Castro has campaigned with numerous members of the Texas House, which could be the most important redistricting play in 2020. The rest of the field should follow these candidates' examples.
THE MIDDLE OF THE PACK
The candidates in this tier belong together because all four pair strong national networks with intermittent focus on state legislators. We'd love to see them become more focused on a comprehensive strategy to flip and defend state legislatures nationwide. Unleash the dragon, guys!

THE BOTTOM TIER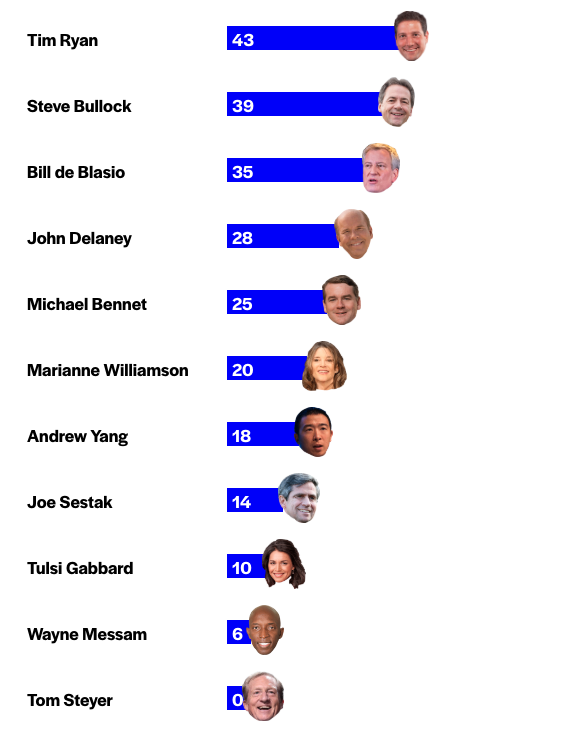 We come here to encourage these candidates, not bury them. Even some of the least prominent members of this tier still have profiles and social media followings that far surpass those of the best known state legislators. They should use their platforms — both in real life and online — to show how much they care about building the party from the ground up and engage with the candidates whose success or failure will depend on the strength of their campaigns.

And as attention descends upon Houston for the third primary debate, we'd like to use this opportunity to give all candidates a chance to show that they're helping in state legislative races. There's a special election in the Houston suburbs on Nov. 5 that could give Democrats a big leg up on taking back the state chamber in 2020.
We talked to the Democratic candidate, Eliz Markowitz, about what would help her the most, and we'll be giving special bonus points to any presidential candidate who steps up to the plate.
You're already going to be in Houston, candidates. What better time to show how dedicated you are to building the party.
Sean McElwee is a cofounder of Data for Progress.

Aaron Kleinman is the director of research at Future Now and the Future Now Fund.