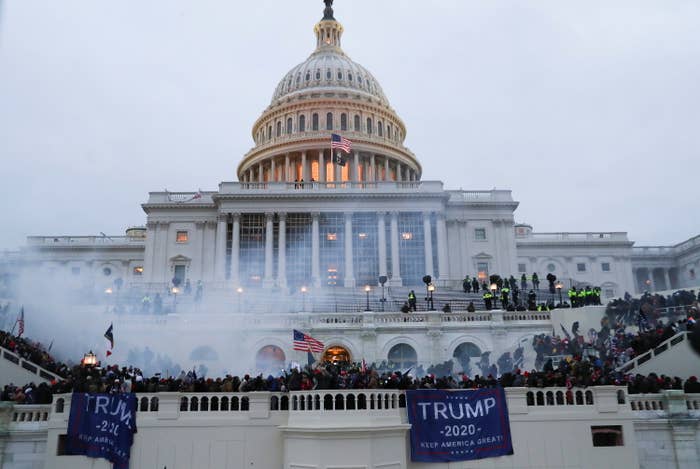 Twitter has locked President Donald Trump out of his account for the next 12 hours, following his use of social media to attempt a coup.
In a series of tweets, Twitter Safety justified the temporary ban on the basis of three tweets that supported political violence against the United States Congress as it met to certify his loss in the presidential election. If Trump were to agree to delete those tweets, Twitter would return his access. If not, he would remain locked out permanently.
"As a result of the unprecedented and ongoing violent situation in Washington, D.C., we have required the removal of three @realDonaldTrump Tweets that were posted earlier today for repeated and severe violations of our Civic Integrity policy. This means that the account of @realDonaldTrump will be locked for 12 hours following the removal of these Tweets," wrote Twitter Safety. "If the Tweets are not removed, the account will remain locked. Future violations of the Twitter Rules, including our Civic Integrity or Violent Threats policies, will result in permanent suspension of the @realDonaldTrump account."
"Future violations of the Twitter Rules ... will result in permanent suspension of the @realDonaldTrump account."
Just after 6 p.m. ET, Trump defended the mob that forced Congress to flee, writing on Twitter, "These are the things and events that happen when a sacred landslide election victory is so unceremoniously & viciously stripped away from great patriots who have been badly & unfairly treated for so long. Go home with love & in peace. Remember this day forever!"
Followed by almost 89 million people, Trump's Twitter account has been to his presidency what radio was to FDR — a medium that he dominated like no other politician could. Twitter has been criticized for allowing Trump to violate rules that would lead to severe penalties for other people on the site. But the service has defended keeping the president's feed active on the grounds that as a world leader it is important for the public to have access to his messages. In addition to settling personal scores, dictating personnel changes and policy, and interacting with supporters, Trump is also notorious for tweeting racist or otherwise false material.
After it announced the decision, some people were glad Twitter took action:
Others felt the platform didn't go far enough:

Meanwhile, Facebook said it would remove a video that Trump posted speaking about the protests from Facebook and Instagram, which it owns. "We made the decision that on balance these posts contribute to, rather than diminish, the risk of ongoing violence," wrote Guy Rosen, Facebook's vice president of integrity, and Monika Bickert, Facebook's vice president of global policy management, in a post.

Trump remains active on Facebook.
A video the president posted on his YouTube channel earlier today was removed, though his account appears to remain active.