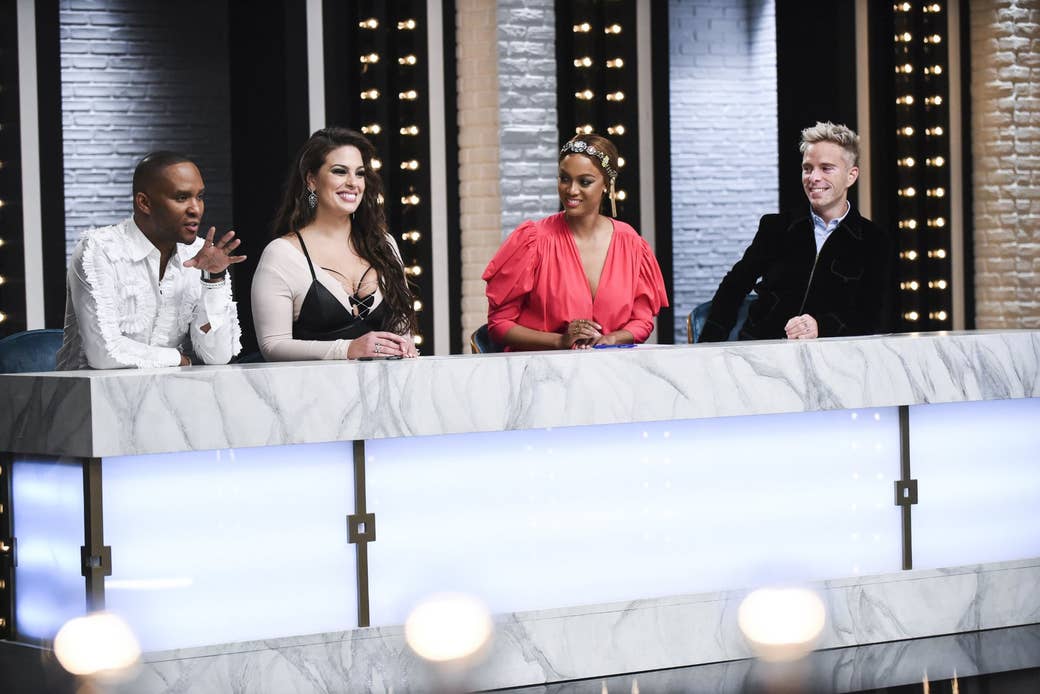 How did we ever live in a world where America's Next Top Model was hosted by Rita Ora? Nothing against Ora in particular — I'm sure she's very good at whatever it is that she does — but ANTM lives and dies by Tyra Banks's energy. A reality show about modeling isn't enough on its own: For it to truly thrive, you need the charisma and condescension of a woman who's been in the industry for 30 years, and who knows that to make good TV, you have to be willing, two or three times a season, to be the crazy person in the room.
Even if Banks is rejoining a new judging panel, assembled for the show's reboot on VH1 last year — stylist Law Roach, Paper creative director Drew Elliott, and model Ashley Graham — her return to ANTM still feels like a homecoming, and the premiere of Cycle 24 (how??) is a clear return to form. But there are a few marked changes that come along with Banks returning as host: The age limit for contestants has been done away with, and at the top of the first episode, which premieres tonight, Banks preens about how this is their "most diverse group ever." She's referring, presumably, to the few "plus-size" models (though plus-size is still relative; none of these women appear to be much larger than an 8 or a 10), women of color, the one Muslim contestant, and the one woman in her forties.
This "diversity" peg seems like a big one for the show's newest iteration. "This [season] is in alignment with me always wanting to break down barriers when it comes to beauty and acceptance," Banks told Entertainment Weekly at the beginning of December. "Now it's time to celebrate the women." Her judging panel is fully behind her in this messaging, too. "Tyra's a spokesperson for diversity," Elliott told Entertainment Weekly.
"America's Next Top Model has changed the definition of beauty, and empowered women when they needed it the most," Banks says in a voiceover during the first episode's introduction. "We celebrate the beauty in all of us: all shapes, all sizes, and all colors. The fight continues to show you that you are beautiful." Spliced between her comments are black-and-white closeups of the models talking about when they've been judged for their looks and how they will persevere. In her audition tape, 32-year-old plus-size model Khrystyana shows off the stretchmarks and cellulite on the back of her thighs. "I love America's Next Top Model," she says. "The fact that they're breaking all the molds and the idea of what's beautiful."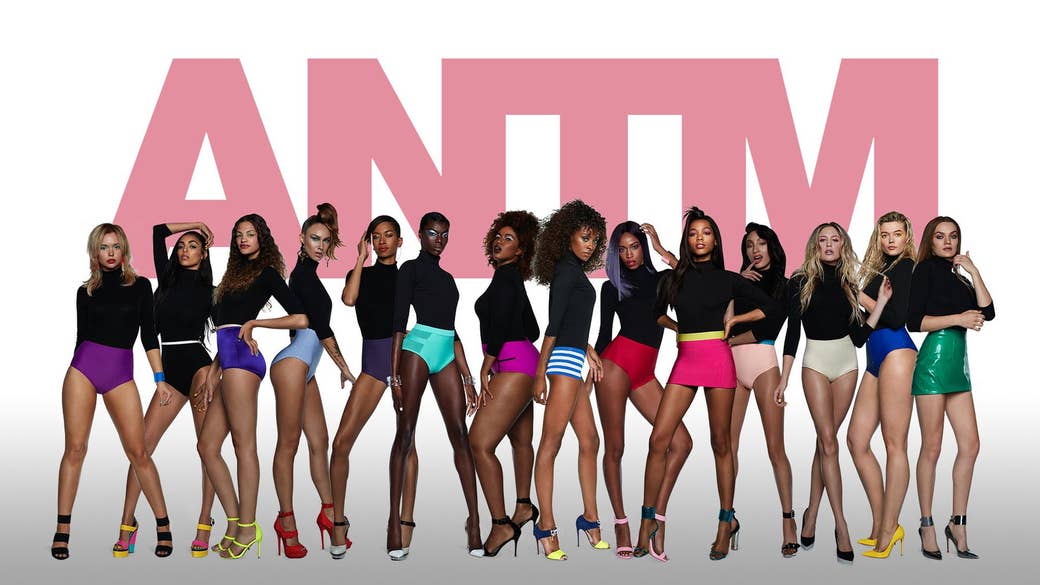 The show is being rebranded partly as an exercise in nostalgia (remember, ANTM premiered in the halcyon days of 2003, when a chunky highlight was still acceptable); both contestants and judges grew up watching it. "I have had my smize down since middle school," Graham says in a promo video. But it's also now being explicitly positioned as a leading force in changing social norms and influencing the beauty industry at large, despite the fact that the show is rooted in an often toxic industry that promotes the exact opposite.
"I really want the fashion industry to love [the winner] and everybody on social media and in society to love her too," says Tyra in one promo video. Of course, ANTM has never really been about just modeling — there was some fighting and weeping in there too, for good measure — but Banks is now more direct than ever about her desire for these models to represent something bigger. But even if Banks is sincere in wanting ANTM to foster social change, and about boosting young models, the show has never proven itself to be truly successful at either. What ANTM has done well is entertain, but selling it as a show with holier-than-thou intentions isn't entirely convincing.
"I do feel like girls everywhere either feel better about themselves or are recognizing certain things that aren't like the stereotype as beautiful," she told BuzzFeed News last week. "I think Top Model has a lot to do with that, and I think it's worldwide." You could certainly make a case — and Banks does — that ANTM has influenced the way some of its viewers think and talk about our culture's standards of beauty. But there's no evidence the show has had any tangible impact on changing the modeling industry it promises to help its winners break into.
ANTM has always been more of a fantasy loosely based on the world of modeling than a functional launchpad into it. Most of the women who've won cycles of the show fall into obscurity; the arguable exceptions are Cycle 1's Adrianne Curry (The Surreal Life), Eva Marcille (on multiple BET and VH1 shows), Analeigh Tipton (now an actor), and CariDee English, who is now the spokesperson for the National Psoriasis Foundation.
And the modeling world certainly hasn't become much more welcoming to different body types. In 2016, ANTM host Graham, who describes herself as "curvy," was on the cover of British Vogue — but designers refused to dress her. After Graham appeared as the first plus-size model on the cover of Sports Illustrated's swimsuit edition, former SI model Cheryl Tiegs called her weight unhealthy. And models in ad campaigns are still overwhelmingly white. Black models, seemingly, can't even get their hair styled appropriately.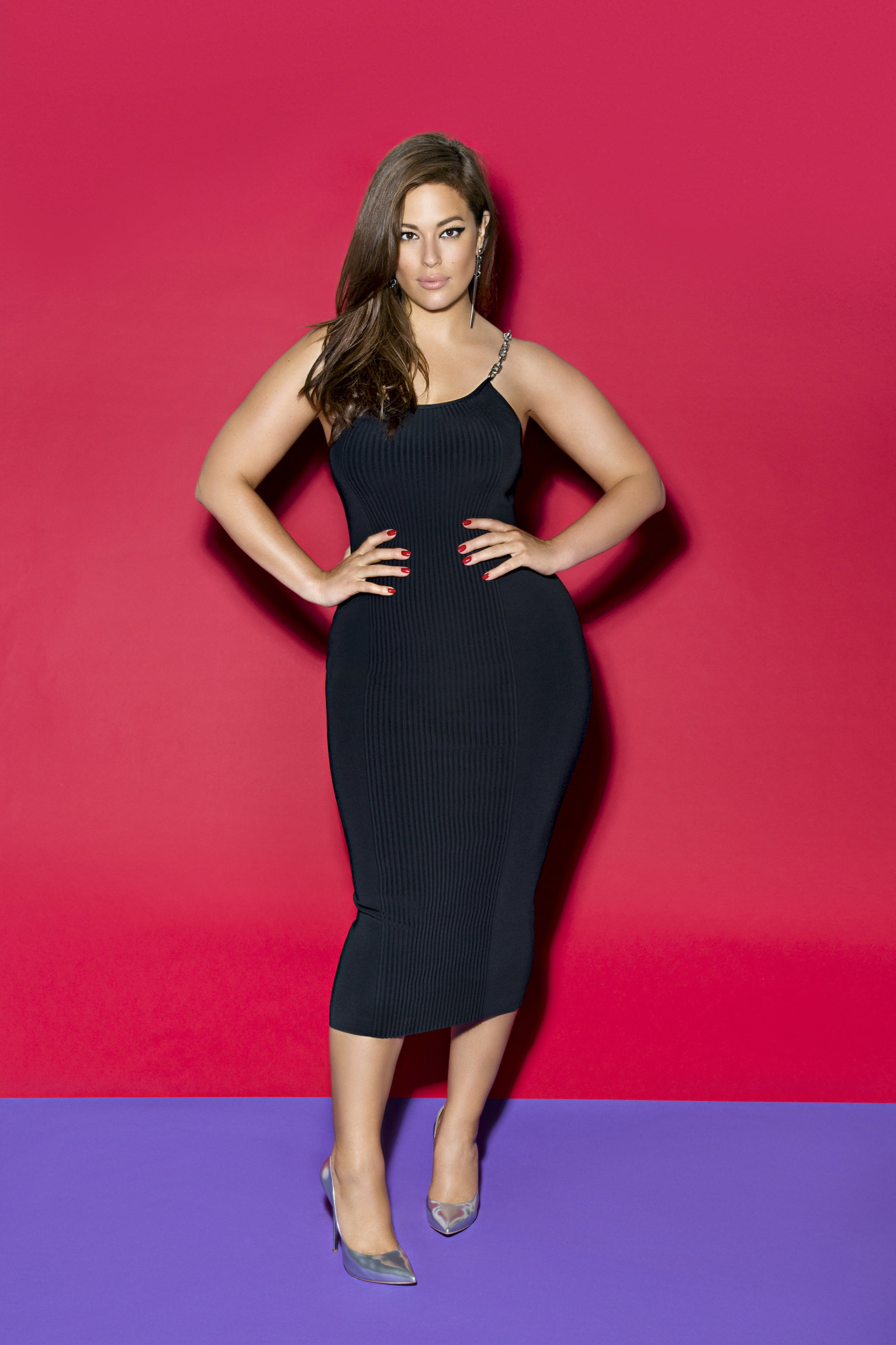 ANTM's own track record isn't that much better. The first 23 cycles of the show yielded just nine winners of color. Most were fair-skinned. Only one was plus-size. (This is a show that once zoomed in on a thin woman's flat stomach as a bulging sound effect played.) "In the real world, you're a thin girl but the fashion industry is so extreme," Banks told the contestant in the judging room. "I would love to change the rules, but until that happens I think it's all about choices. … If you don't fit the clothes, you don't work."
In past cycles, multiple contestants have been accused of disordered eating by one another and the judges, and the few plus-size women present are routinely told that there aren't any clothes in their size, which is absurd unto itself: The show casts them, but can't get them a size 12? (A personal favorite moment is when Banks made an Indian girl in Cycle 7 get her forehead threaded in order to make it bigger. Some of us have small foreheads! Leave me alone!!)
The first few episodes of Cycle 24 seemingly try to reflect the world we're currently living in — one that's complicated, and often forces people of different backgrounds and beliefs to confront one another. One contestant is a very earnest, very blonde 20-year-old woman from Lava Hot Springs, Idaho, who talks about why she supports Trump. (In her makeover — excuse me, her Ty-Over — Banks says that because she voted red, she's getting red hair. This results in, of course, a rush of tears.) "I know your parents — they might be racist and they might be Trump supporters," says Chrissy from Atlanta. "But you don't have to follow that cycle. You can get out of there."
But there's clear callousness in the show's attempt to become political; it's no mistake that they've put a Trump supporter in a house with a handful of black women and one Muslim woman. (Her name is Liberty, for Christ's sake.) What the show is doing in Cycle 24 is still what they did in every season past: putting together personalities and backgrounds that will inevitably clash for the purpose of onscreen fighting. They've had devout Christians, virulent racists, virgins, someone with Asperger's syndrome, a trans woman, and put them all together with people who would, of course, disagree with them.
ANTM has always been more of a fantasy loosely based on the world of modeling than a functional launchpad into it.
If you want to give the show the benefit of the doubt, you could argue that these were social experiments that aimed to promote understanding and communication. But a more cynical, and more likely, explanation is that the show has always been happy to fetishize different identities, boiling girls down to the one thing that made them different: The One With Vitiligo, The One Who Doesn't Believe in Affirmative Action, or The "Only Oriental Girl Here."
Of course, many reality shows that debuted more than a decade ago haven't aged well, and could never survive in our current ecosystem. Shows like Extreme Makeover or The Swan, where women have their noses and chins cracked and reshaped, and become (physically) entirely new people, would now rightly be seen as grotesque entertainment that hinges on women feeling bad about their (perfectly functional and attractive) bodies. Weight loss shows like The Biggest Loser have been debunked and criticized for treating contestants like hamsters. ANTM is one of the last vestiges of an age in which mainstream reality shows focused explicitly on what makes a woman, or a body, beautiful. Out of necessity, the show has had to update its messaging to justify that focus.
But it's hard not to shake the feeling that ANTM is trying to do something it might not need to do. Does the show really need to be inspirational? Couldn't it just be a fun reality competition where models have to walk in giant bubbles on a thin plank (unnecessary!) and learn how to pose with Benny Ninja (they are so bad at it!) and seemingly forget how to speak English as they film a CoverGirl commercial in one take? It seems unnecessary for the producers to play the role of social provocateur, putting nonblack women in blackface or using their one trans contestant as a lightning rod for other women to be transphobic.
After all, the Real Housewives franchise is at its best when it's just rich women wearing dumb shoes fighting with each other at a christening, not when it falls down a rabbit hole about domestic abuse. The Bachelor, which hit a hiccup with last season's Bachelor in Paradise because of a sexual misconduct allegation, continues to thrive because it doesn't put on any airs about what it's supposed to be: self-indulgent, sometimes ugly, often dramatic entertainment. It doesn't need to be more.
But no show about modeling can really succeed in the same way, because no one wants to watch a show where 18- and 19-year-old women conform to the standards and expectations of the fashion industry as it still is — destructive, deeply cruel, and divisive. There's no perfect solution, then. Either ANTM is disingenuous in claiming that they're changing modeling and society by picking "diverse" girls, or they're honest about what they are: a show that provokes drama first and promotes models second. It's impossible, for now, for the show to be rooted in wokeness while still engaged in an industry that will never adapt fast enough.
There are moments of moving sincerity tucked away in the new incarnation of ANTM. It's wholly touching when the contestant with alopecia, Jeana, agrees to take off her wig and maintain a bald head, and touching again when Roach shaves his head too, and talks about how his weight made him hide in clothes and weaves, and touching again when Elliott comes out without the makeup he uses to hide his vitiligo. But these moments are still at direct odds with the fashion and modeling world, where models as conventionally beautiful, average-size, and white as Ashley Graham are still swimming upstream. In doing away with the age limit, ANTM is able to talk about the work women do when they raise children alone, and the dreams they put aside in doing so. But how much can you trust a show that tells its one 42-year-old contestant that her age doesn't matter so long as she doesn't look her age? What's wrong with looking 42?
It's impossible, for now, for the show to be rooted in wokeness while still engaged in an industry that will never adapt fast enough.
The makeover episode of ANTM is always the best of the season: There are still enough contestants to keep your interest, there's always crying, there's always arrogance, there's always a very stupid makeover. (The beard weave will forever take the cake.) But this cycle's makeovers don't end up feeling like hedonistic fun; instead it's all after-school special. There's crying, but this time it's all about feeling your true beauty and confidence, a brief detour into scalp psoriasis, and some more crying about feeling too masculine in a buzz cut. Ivana, a black plus-size model, weeps with joy and release when her makeover includes keeping her hair natural.
In another scene, once she removes her wig, Roach tells Jeana to "take your tragedy and turn it into your platform," and it's the clearest distillation of what ANTM has morphed into. It's not really about modeling, and it's not really about the industry, and it's not really about changing what we typically consider beautiful. But it is still, inevitably, a competition. ANTM is about changing a narrative — yours, or the show's, or Banks's — into whatever will help you come out on top. ●