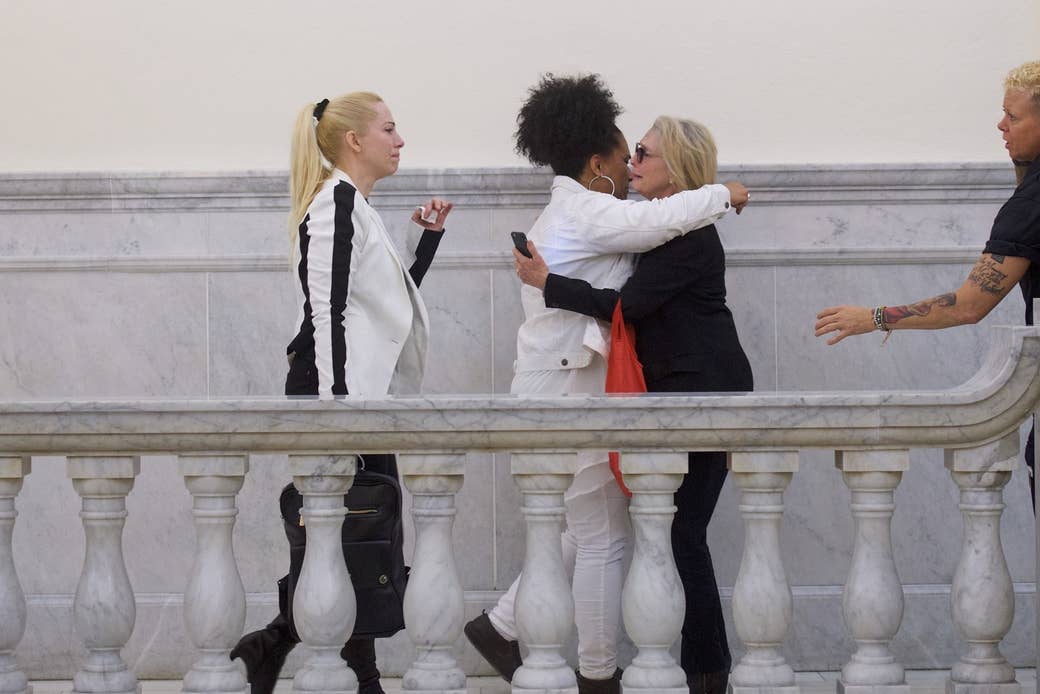 Girls grow up with lowered expectations. We're told we're not as strong, not as smart, not as worthy. We're warned that we'll make less money, get less respect, that we'll earn less of everything by doing the same — if not more — work. (And of course, there's data to prove that it's true.) If we're taught to live with less, we're also taught to expect less from the people around us, namely from men — that anything we're offered is more than we deserve. And so most of us live defensively for a reason: It's better than being perennially disappointed.
But lately, we've gotten some evidence that there are reasons to be hopeful, little bits of proof that maybe women can not only ask for more but can expect more from now on. While it certainly feels like a door is opening, it's one that most women expect to slam shut (or slowly close), like it always does.
Today, in a retrial, Bill Cosby was convicted of drugging and raping Andrea Constand in 2004. He now faces up to 30 years in prison. Cosby's first rape trial ended in a mistrial in June 2017, after the jury deliberated for six days only to end in a deadlock. For many women, watching that first trial end without a satisfying conviction felt like such an intense disappointment. So many women had come forward to tell their own stories about Cosby — 35 on the cover of New York magazine alone. How was it possible he would not be held accountable? This retrial, then, became a do-over, not just for Cosby and his accusers, but for people everywhere who wanted a win for themselves.
"It is not just a victory for the 62 of us publicly known Cosby survivors," Lili Bernard, one of Cosby's accusers, told reporters after the trial. "It is also a victory for womanhood and it is a victory for all sexual assault survivors, female and male."
But judging by the Twitter reaction to today's verdict, it's a victory no one really expected for Constand, or symbolically, for the other women who have accused Cosby of the same behavior. These things so rarely go our way.
There was every reason to believe Cosby wouldn't be found guilty. Cosby was in his late seventies before the allegations against him actually coalesced into a widely followed news story in late 2014, largely because a male comedian, Hannibal Buress, started talking about them. Cosby's costars and family were actively defending him in public, as were other celebrities. If he had done what he was accused of doing, that would mean he'd gotten away with it for decades. Why would things be different now?
#MeToo was supposed to change everything, and in a lot of ways, it did. It took down (for now) powerful men like Harvey Weinstein and Kevin Spacey, forced industries beyond just Hollywood to acknowledge and examine the way they treat women, and led to fundraising efforts for legal defense funds like the Time's Up initiative for abuse and harassment survivors. "Today, this jury has shown what the #MeToo movement is saying ... that women are worthy of being believed," Bernard said. At the very least, #MeToo has sent a clear message that men in power can't get away with the same old shit anymore. People are paying attention.
We've spent lifetimes trying to dismantle rape culture and an environment that protects rapists and abusers instead of their accusers.
The immediate aftermath of #MeToo and Time's Up was encouraging, but lately the old pattern of backsliding has started to reemerge: Earlier today, it was reported that Charlie Rose might be pitching a television series where he interviews other men accused of sexual assault and harassment. (Rose himself was accused of harassing multiple women he's worked with, with the allegations spanning from the late '90s to as recent as 2011.) After being accused of dozens of instances of sexual harassment, Garrison Keillor is now "ready" to bring back his two radio shows. Only a few months after their own moments of public reckoning, there are rumors that men like Louis C.K., Matt Lauer, and Mario Batali are planning their own comeback tours. When one of these men is seen in public, like James Franco, the narrative is framed as them "stepping out," as if it's brave for them to do so, and switches the narrative back to concerns around the accused rather than the women involved in #MeToo. Even this year's tepid Oscars show felt like Hollywood was — in February — already ready to move beyond #MeToo and get back to the business of making movies (and money).
Yet the same kind of abuses of power and violence again women and marginalized people are still happening — even if those in power wish we could all move on already. Just today singer Kelis said in an interview with Hollywood Unlocked that her relationship with Nas was emotionally and physically abusive. And earlier this week, Alek Minassian was charged with 10 counts of murder and 13 counts of attempted murder after driving a van through a crowd of people in Toronto. Before the attack, Minassian posted a Facebook status message talking about the "Incel Rebellion" (incel stands for "involuntarily celibate"), a movement of men who are fixated on their inability to get women to sleep with them and are consequently furious with women as the cause. He also praised Elliot Rodger, who killed six people near the University of California, Santa Barbara, campus in a misogynistic rage that women were rejecting his sexual advances.
The names of the alleged perpetrators or level of violence in any given story might be a gut punch, but the reasons why, and the way these kinds of sexism, abuse, and violence manifest are mundane — and unsurprising — to most women. It's rarely shocking to women when men do harm. The only thing that actually surprises us anymore is when those men are held responsible. It seemed that even Cosby was surprised by the verdict — he cursed at the prosecutor after he suggested his $1 million bail should be revoked, a crack in his facade revealing that perhaps even Cosby thought he might get away with it again.
Even Bernard couldn't believe the verdict at first. "I feel like I'm dreaming," she told reporters. "Can you pinch me? I feel like my faith in humanity is restored."
Women may be shocked by the Cosby verdict, but not because we thought he was innocent or because we believe he deserves another chance. It's because we're conditioned to be suspicious of a legal system that so often ignores us or fails us. And considering the countless alleged abusers now trying to crawl back into the culture's good graces (and considering how many of them have been able to do so, rather seamlessly, in the past), it feels dangerous to settle into any expectation that justice will be served in a meaningful way.
This is a victory, but it's hard to let the whole weight of it sink in. There's still time for the world, and those in power who continue to control it, to fail victims of abuse. There's still time for the men we've already taken down to rise back up like they have in the past. How can anyone expect women, or anyone vulnerable to abuse of power, to let their guard down? Yet it's impossible not to get emotional watching the video of the women who ran from the courtroom and tearfully embraced after the guilty verdict came in.

We've spent lifetimes trying to dismantle rape culture and an environment that protects rapists and abusers, instead of their accusers. This might be one of the largest and most unified social movements that's getting tremendous media attention yet. And even as it's starting to change the way people think about assault and other abuses of power, it's going to take even longer to dismantle our own lowered expectations that a culture that hasn't given us much to be hopeful about will see meaningful, lasting change. That's because we're still faced with the daunting task of fighting against an entrenched way of thinking and a system that allows it.
A real shift in how we look at harassment and assault cases will be in whether men continue to be shocked when they or their friends or their idols are held accountable for their actions. It'll be in who we believe, instinctually. It'll be in whether we continue to be surprised when the justice system works in our favor. But we've lived like this for a long time; it might take more than one jury to change our minds for good.
Change comes at a slow drip. Usually by the time tangible change is visible, it's taken so long that we haven't even noticed all the little ways things have (hopefully) improved. So the Cosby verdict feels like a rare and concrete victory. We're accustomed to flashes of improvement before everything goes back to normal, but watching something like #MeToo impact the justice system is proof that something substantial has shifted — and we may actually be able to force the door to stay open this time. ●