The fifth season of Showtime's Homeland premiered earlier this month, and this season will include plot lines around major news stories, weaving Carrie Mathison, the show's heroine, into the fight against ISIS and the Charlie Hebdo attacks earlier this year.
The award-winning show has enjoyed tremendous success since it first premiered in 2011. However, despite its success, the show has been slammed for its reductive portrayal of Muslims.
The second episode takes Mathison to a refugee camp on the Lebanese/Syrian border. But the Arabic graffiti seen on the walls of the refugee camp, actually contain messages critiquing the television show.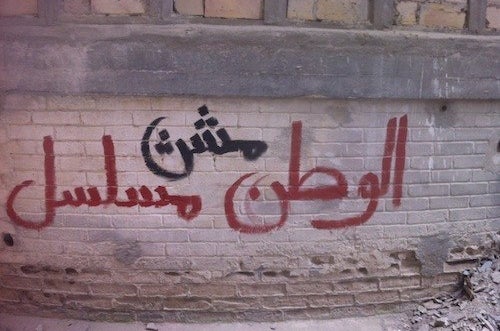 The artists hired by the show scrawled messages like "Homeland Is Racist" on the show's set in Berlin. They wanted to use the show itself to illustrate its "inaccurate, undifferentiated and highly biased depiction" of Muslims and Arabs, the artists said in a statement released today.
A friend contacted the artists — Heba Amin, Caram Kapp, and Stone — telling them that the show's set production company was on the hunt for "Arabian street artists" for an episode shot in Berlin.
The artists were instructed to make the graffiti "apolitical," and since set decoration had to be completed in two days, the set's designers were "too frantic to pay any attention" to what the artists were doing.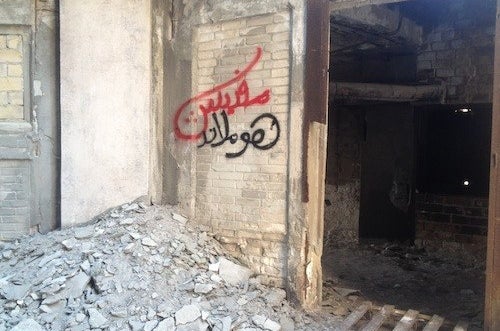 Amin told BuzzFeed News that the group used "politics with a bit of humor" in the messages they selected. They wrote things like "There Is No Homeland" and "Homeland Is Watermelon" (playing off of a way of saying something is a sham in Arabic).
Amin said she hopes that people who are inspired to go back and watch the episodes think about the artists' message.
"We are attempting to highlight the danger that popular shows like this have on real people," Amin said. "Filled with stereotypes and inaccuracies, Homeland poses a threat by not only fueling racism and manipulating perspectives on a mass scale, but further plays a role in American foreign policy and the ways in which politics are conducted in our region."