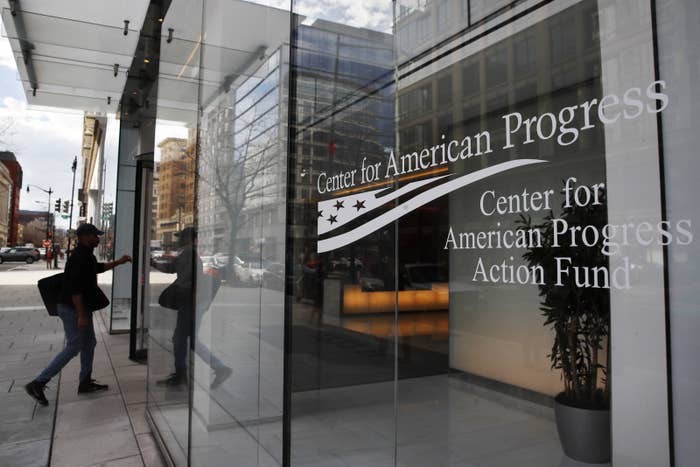 The Center For American Progress is hiring an outside "evaluator" to investigate how it handled allegations of sexual harassment and retaliation first reported by BuzzFeed News, as well as to examine the liberal think tank's sexual harassment policies more broadly, said former Sen. Tom Daschle, the chair of CAP's board of directors.

The decision to hire an outside investigator comes after BuzzFeed News reported Monday on two allegations of sexual harassment at CAP against Benton Strong, a former employee, as well as allegations of retaliation by management against the women who reported him.
In an email to staff following the publication of that story, CAP President Neera Tanden said that she was "deeply sorry that anyone has felt unsupported after having the courage to come forward" and said that the organization would make changes to ensure that CAP was a "safe work environment."
In an email to BuzzFeed News on Friday, Daschle said that CAP's new outside evaluator will "examine [CAP's] actions and practices around this incident and its aftermath as well as ensure that its sexual harassment policies and procedures are as strong as they can possibly be."
"The evaluator will also examine past practices and inform us of any ways that we can improve our current policies to establish the highest standards and a proactive program to certify that incidents like this never occur in the future," he added.
In an email to all employees Thursday, which was obtained by BuzzFeed News, Tanden highlighted other changes CAP is making to its policies in light of BuzzFeed's report, including annual, mandatory sexual harassment trainings for staff and managers, the first of which will occur "in the next several weeks." CAP has not had a sexual harassment training for employees since Strong left the company in July 2016.
Tanden also said in the email that CAP will send out a climate survey to all employees "to provide anonymous feedback on the current environment of their individual teams — and the organization as a whole." CAP also plans to create an anonymous tip line for employees to report harassment or discrimination and hire additional HR staff. The organization is making outside counselors "available to any employee who has experienced any pain because of everything that has happened." Tanden and other senior CAP leaders are also holding office hours this week for staff to bring up their concerns, she said.
"We are not above self-examination and critique. When staff tell us we've fallen short, we take that seriously and want to be responsive," Tanden wrote in the email.
In an all-staff meeting on Wednesday, Tanden named one of the women who reported Strong "unintentionally," according to a CAP spokesperson. But the name disclosure left some staffers questioning Tanden's ability to handle issues of sexual harassment at the organization.
When asked for comment, a spokesperson for CAP pointed BuzzFeed News to a statement from Tanden posted online Friday evening, which includes some of the steps the organization plans to take as outlined in her all-staff email Thursday.
"The Center for American Progress, as a progressive organization, should and must hold itself to the highest standard against sexual harassment. It is our obligation to ensure that every one of our employees feels safe, valued, and protected. In recent days, we as an organization, and I as its leader, have fallen short of this obligation. We must — and we will — do better," Tanden said in the statement.
UPDATE
This story was updated to include comment from Tanden, as well as information from an all-staff email she sent on Thursday.