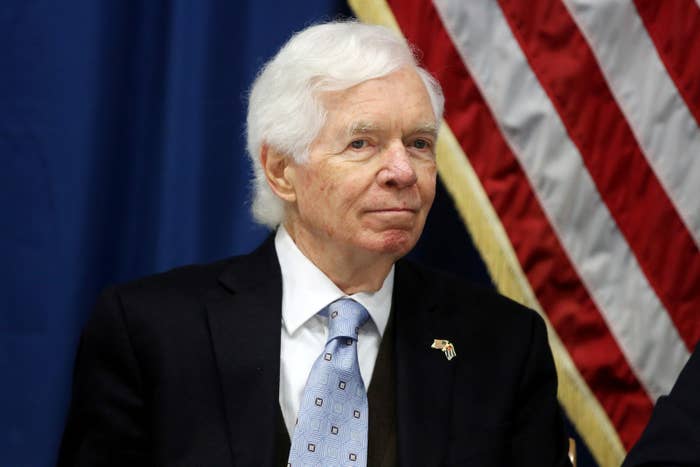 Republican Sen. Thad Cochran's office says his "focus continues to be on getting back to work" following a medical absence, after Politico reported Wednesday night that the Mississippi senator "appeared frail and at times disoriented" on Capitol Hill earlier in the day.

Cochran, who is 79 years old, was assisted by staff in getting around a security checkpoint and finding the Senate chamber on Wednesday, Politico reported, after returning to the Capitol following a weeks-long absence the day before.
Cochran was "treated for a urological issue" in September, his office said at the time, and he stayed at home to recuperate. Cochran missed votes in the Senate between Sept. 18 and Wednesday, though it was not clear how much of that absence was due to his illness. Cochran was initially slated to return to Capitol Hill on Monday, but delayed his trip under the advice of his doctors due to "another urinary tract infection," his office said in a statement this week.
Upon his return to the Hill Tuesday, Cochran's office warned that he is still "under medical supervision, which could affect his work schedule."
Cochran is "continuing his work" as the chairman of the Senate Appropriations Committee, which sets federal funding caps, a spokesman said Wednesday night, but did not comment further on the Politico report.

Senate Majority Leader Mitch McConnell's office did not respond to a request for comment on Wednesday night.
President Donald Trump recently raised questions about Cochran's health during his absence, after he told reporters that an unnamed senator was in the hospital and could not provide a Republican vote for a plan to repeal and replace Obamacare. In response to the president's statement, Cochran's official Twitter account said that he was not in the hospital, but at home recovering, and that he hoped to return soon.
This is not the first time that reporters who cover Cochran have raised questions about fitness for office after 44 years in Congress.
In a June 2014 piece, in the middle of Cochran's last reelection campaign, Dave Weigel wrote a piece for Slate entitled: "Thad Cochran And The Age Issue That No One Wants To Talk About." In the story, Weigel wrote that Cochran "seemed confused by two questions about the race," concluding: "at best, out of practice — at worst, he's missing a few steps."
Reporter Molly Ball wrote a story for The Atlantic the following day saying that in her own interview with Cochran, Weigel's, "and others, he has often seemed confused."
"At a coffee shop here Monday morning, I watched as Cochran's staff moved him from place to place like a prop; Representative Gregg Harper, a supporter, had to remind him to greet patrons, and he was mostly silent as he shook hands, standing still and listening as Harper made conversation," Ball wrote.

Cochran's campaign went after Ball at the time, calling her report "the most unprofessional, ridiculous, hit piece thing I have ever seen."
When asked on Wednesday if he would retire, Cochran told Politico: "Don't believe everything you hear."