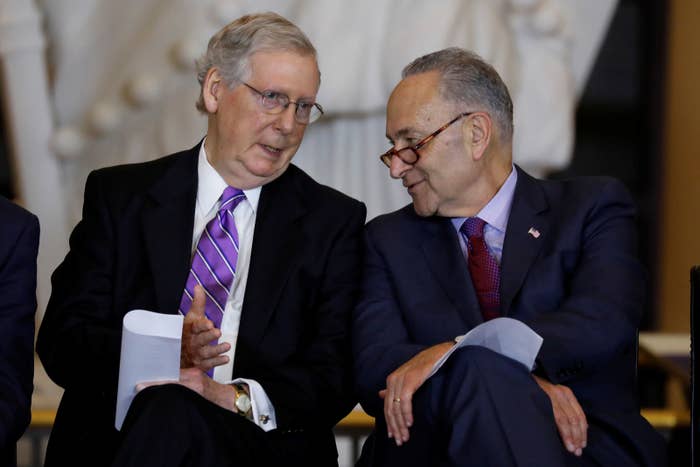 Democrats and Republicans in the Senate have struck a massive bipartisan spending deal that sets the stage to avoid another government shutdown and resolves almost every big issue Congress has to deal with this year — that is, except for immigration.

The deal authored by Senate Majority Leader Mitch McConnell and Minority Leader Chuck Schumer includes a two-year budget deal, another $6 billion to help fight the opioid epidemic, some needed funds for disaster relief efforts, money to rebuild veterans affairs clinics, $20 billion for infrastructure programs, and 10 years' worth of funding for the Children's Health Insurance Program, among other items.
House Speaker Paul Ryan and Minority Leader Nancy Pelosi were reportedly involved in the talks as well, though without a firm commitment from Ryan on immigration legislation, it's unclear if Democrats will support it.
"At the end of the day, I believe we have reached a budget deal that neither side loves but both sides can be proud of. That's compromise. That's governing. That's what we should be doing more of in this body. And it's my sincere hope that the Republican leader and I will continue to work together in this way to get things done for the American people," Schumer said on the Senate floor.
The deal on hundreds of billions of dollars' worth of government spending would raise spending for both defense and nondefense programs equally, a big priority for Democrats in the negotiations.
"This budget deal will be the best thing we've done for our economy, our military, our middle class, for a long time," Schumer added.
The deal is expected to pass the Senate this week, along with a short-term bill that would keep the government open through March 23, avoiding another government shutdown, which is slated to begin on Friday morning.
Congress will use those six weeks to come up with funding bills that will keep the government through the end of the fiscal year, on Sept. 30 — but, perhaps more importantly, end the cycle of "will they or won't they shut down" that has plagued Congress for the last four months.
But the other major item on Congress's to-do list — and the reason the government shut down last month — was left out of the final deal announced Wednesday. Members have just a month to come up with a solution to the expiring Deferred Action for Childhood Arrivals program, which allows the undocumented children of immigrants to avoid deportation. President Donald Trump has set the program to expire on March 5.
So far, there is no consensus plan in Congress to deal with the issue, although a couple dozen senators from both parties calling themselves the "Common Sense Caucus" say they have had positive meetings and working toward a bill they believe can pass.
McConnell has promised Democrats that they would get a vote on a bipartisan DACA solution, whatever it ends up being, once this shutdown threat is dealt with. McConnell reiterated that promise Wednesday and said that members will get to add their own amendments and ideas to the bill in a process that "will be fair to all sides."
Even without a firm plan on what they hope to pass, the Senate is likely to begin that process next week. McConnell said Wednesday he plans to offer a shell bill that members can then amend their ideas on to. They'll need to find 60 votes, meaning at least some members from both parties, in order to pass the final product.
Even if they do, it's not clear what will happen in the House, where Ryan has so far refused to make a similar promise to McConnell's, despite Democratic pleas that he vow to hold some kind of DACA vote on the House floor.
Trump threatened Tuesday to shut down the government if Congress can't get a deal on an immigration bill that is more conservative on border security and includes other priorities like funding for a wall along the border. "If we don't change it, let's have a shutdown," the president said in a meeting with members of Congress at the White House Tuesday. We'll do a shutdown and it's worth it for our country. I'd love to see a shutdown if we don't get this stuff taken care of."
But if Congress can pass a bill this week to keep the government open through March 23, the threat of a shutdown will be off the table.